I often get asked my opinion by buyers about how much it costs to remodel a house in Sonoma county. As with the cost of a building a home (see my blog post about the cost of building a home in Sonoma County) it is very hard to generalize because it depends on the scale and the level of finishes. In this post, I will share my thoughts on how to buy a fixer upper, the costs per sq ft to remodel a house as well as the breakdown of costs to remodel a bathroom and the costs to remodel a kitchen and all the other big ticket items that we spent money on.
In the middle of 2019, my wife and I decided we wanted to try living in downtown Healdsburg rather than at our house out in Alexander Valley. We had had a couple of years of fires with the Tubbs and Kincade fires that both came dangerously close to you house so decided living in Healdsburg itself might be a little less hectic! As with all good realtors, we purchased somewhere with as much focus on creating value as finding ourselves our dream home because we knew it would probably a short term house until we decided whether city living was for us. We had previously completed a number of big remodels in the uk and then most recently adding another floor to our a house in Mill Valley so we had a good idea of what is involved at different ends of the spectrum.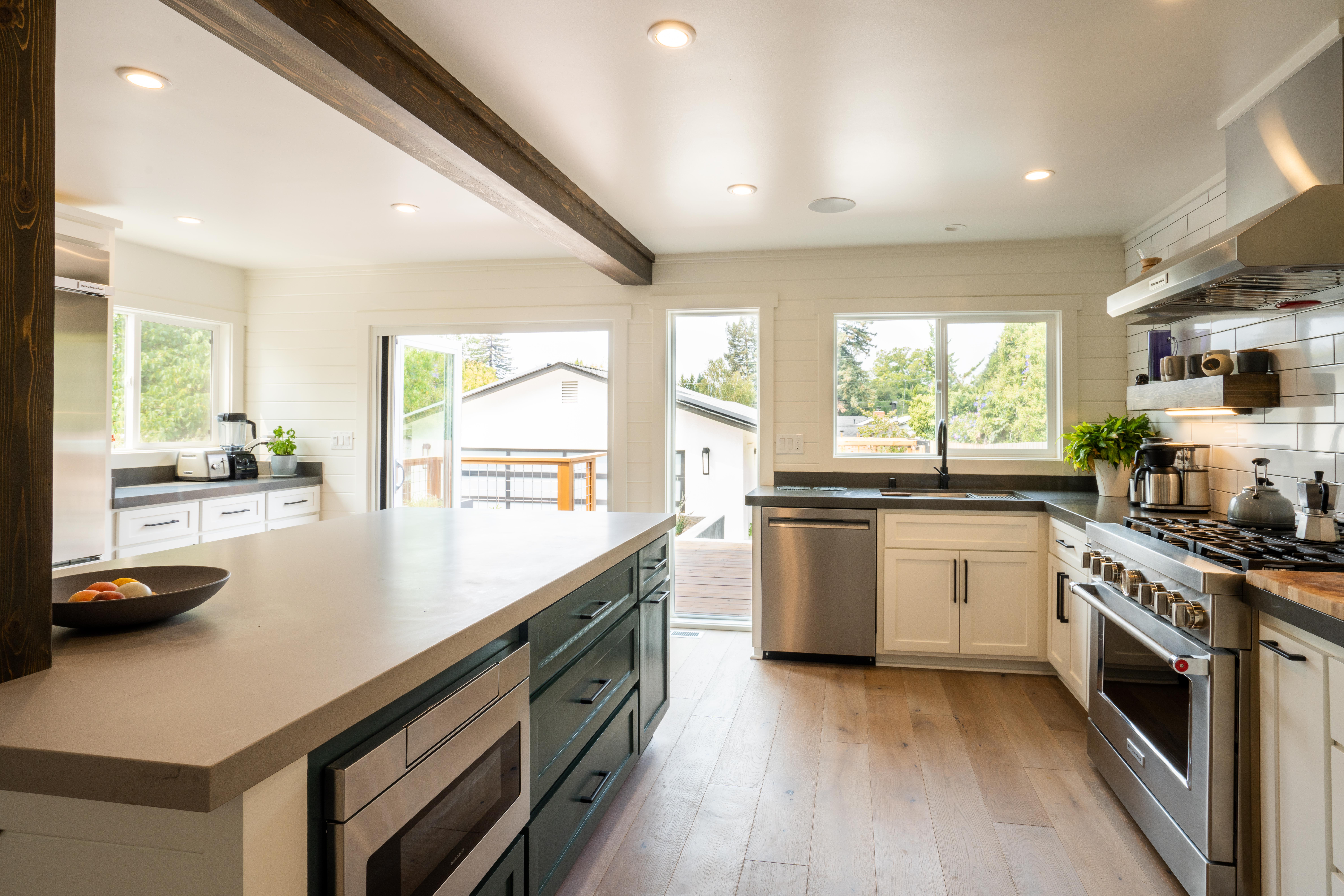 How To Choose A Fixer Upper
I should say that the criteria you use will very much depend on your goals for the property: are you purchasing it to remodel it and then sell it as soon as possible for the maximum price? and if so what is the buyer market you are aiming for? Are you remodeling it to live in for a few years and then sell it with a view to making a profit or are you remodeling it to your own needs and plan on living in it for ten years. In my case it is a case of living in it for a few years but at the same time trying to maximize value.
We knew we wanted to live within walking distance of the Healdsburg Plaza because of the lifestyle benefits that affords. While this location is expensive it is also a location that will always be desirable given there is a finite number of properties and a huge demand of buyers. There were a few other criteria that were really important to us (and also important to maximize resale value): a large master suite, a good sized yard for outdoor living and a large kitchen because we are both keen cooks. The house we found definitely checked these boxes but an additional feature which we really like is that the master bedroom suite is the only room upstairs so that when guests come to stay they are downstairs in a totally different part of the house. Another practical consideration for us, and to anyone who wants to do a "fast" remodel or a remodel that limits their exposure to risk of costs escalating out of control, is to find a house that meets your criteria but it does so without any major structural changes to the floor plan. I can't stress this enough. As soon as you start moving load bearing walls, the costs can start to escalate pretty quickly.
How To Write a Successful Offer?
As a realtor, I am clearly at an advantage, not just because I see inventory often before it comes on the market, but I also see so many inspection reports and review offers, that writing a compelling offer that will get accepted is what we do! We had deliberately left a line of credit open on another property which we could use to write a cash offer with no contingencies and a 7 day close. As it turns out, when I ran the numbers for Healdsburg in 2019, it was the fastest close of all purchases in the city that year. The house we purchased had not been re-modelled for a couple of decade. For a 1600 sq ft, 3 bed, 2 bath home on a 6100 sq ft lot we paid $850k.
What Were The Remodel Priorities?
There were some big ticket items that we knew needed taking care of such as putting in central heat and air, replacing the kitchen and bathrooms, replacing the roof, putting in a new water heater and removing an old balcony off the master bedroom that was a hazard. Because we wanted to turn the current kitchen / dining space into a large kitchen we had the choice to remove a supporting pillar or work around it. We decided to do the latter so as not to create a large amount of structural work with the only benefit of moving a pillar. Our work around was to actually incorporate the pillar into the kitchen island so that it doesn't interrupt the flow in the kitchen. As part of enhancing the kitchen, we removed an unpermitted bathroom off the kitchen and turned that into a laundry room and pantry which works really well.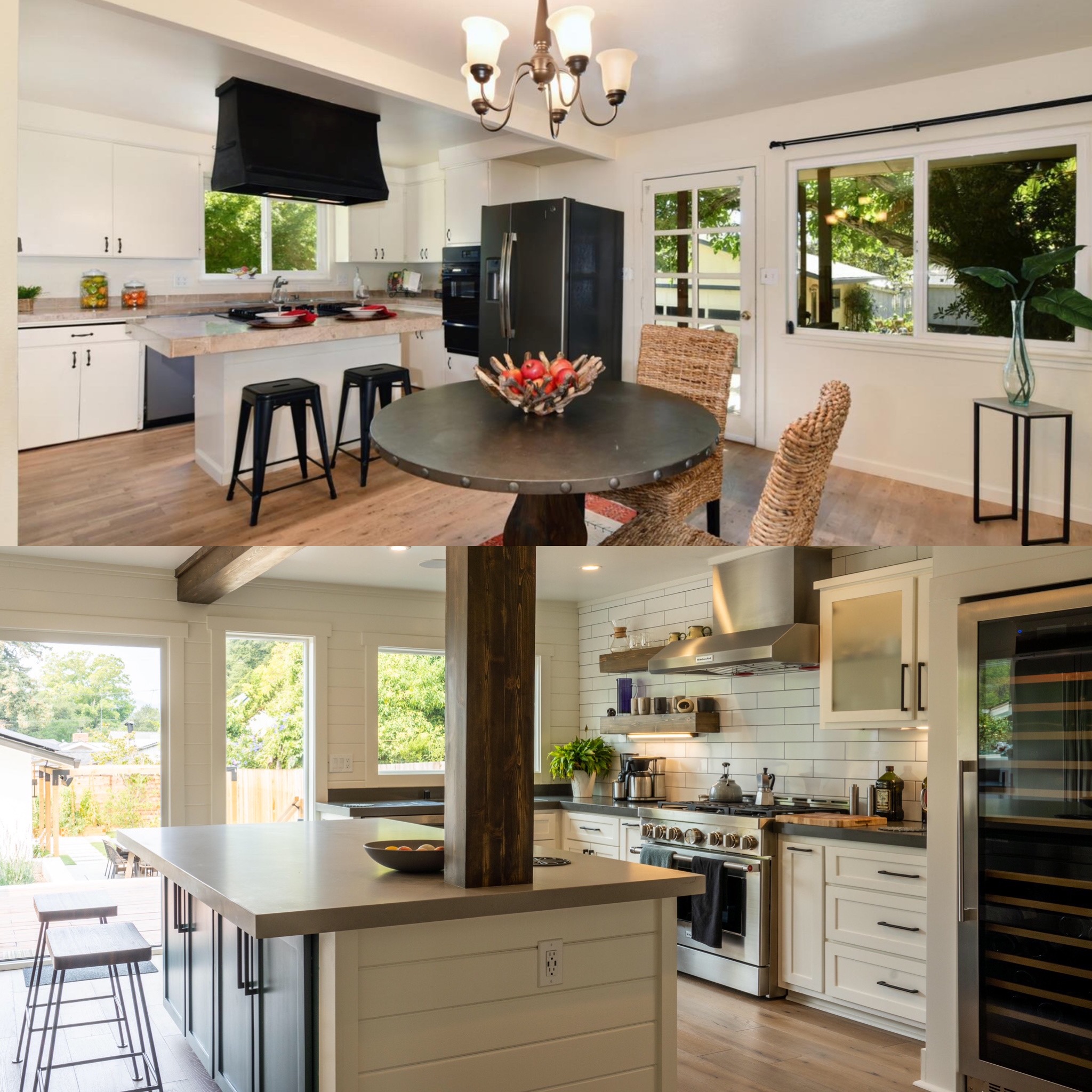 Creating the master suite upstairs was also a priority. This was pretty straightforward because the bedroom, which is large, already had a vaulted ceiling and a bathroom. Creating a really nice master bath and walk-in closet was easy. We decided to demolish the balcony rather than spend money rebuilding a balcony that we wold probably never use and which would almost inevitably slow down planning and cost money.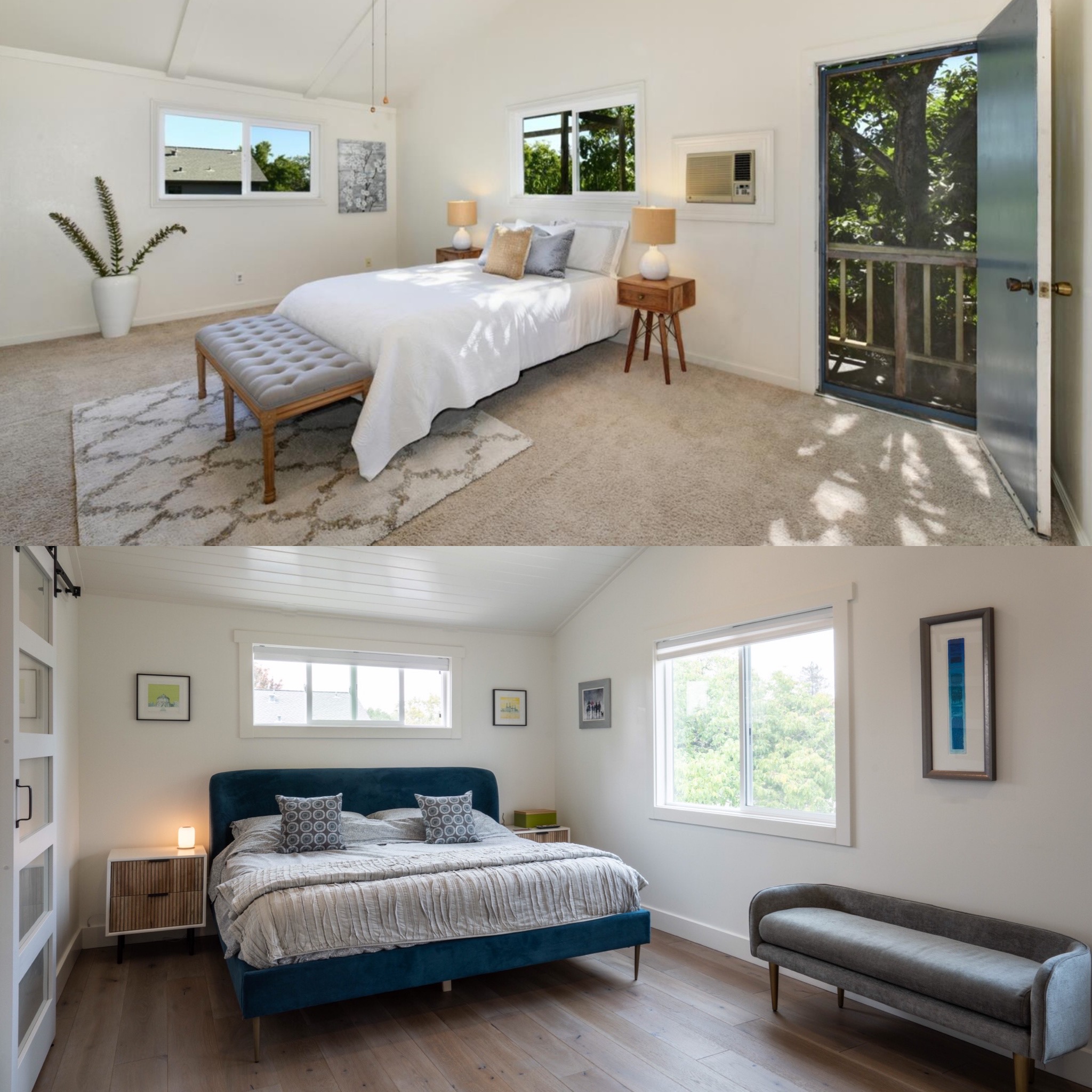 The other major priority was creating the outdoor space. Off the back of the kitchen was a door and steps down to the yard. The only structural work we did was to open up the back wall to create sliders onto a deck off the kitchen that was build over the old concrete steps. This not only creates a great deck off the back of the house but it saved us money in demolishing and then disposing of a lot of concrete. That being said, we poured two huge concrete planters and concrete steps off the deck down into the yard. It was expensive but the overall visual effect and flow works really well.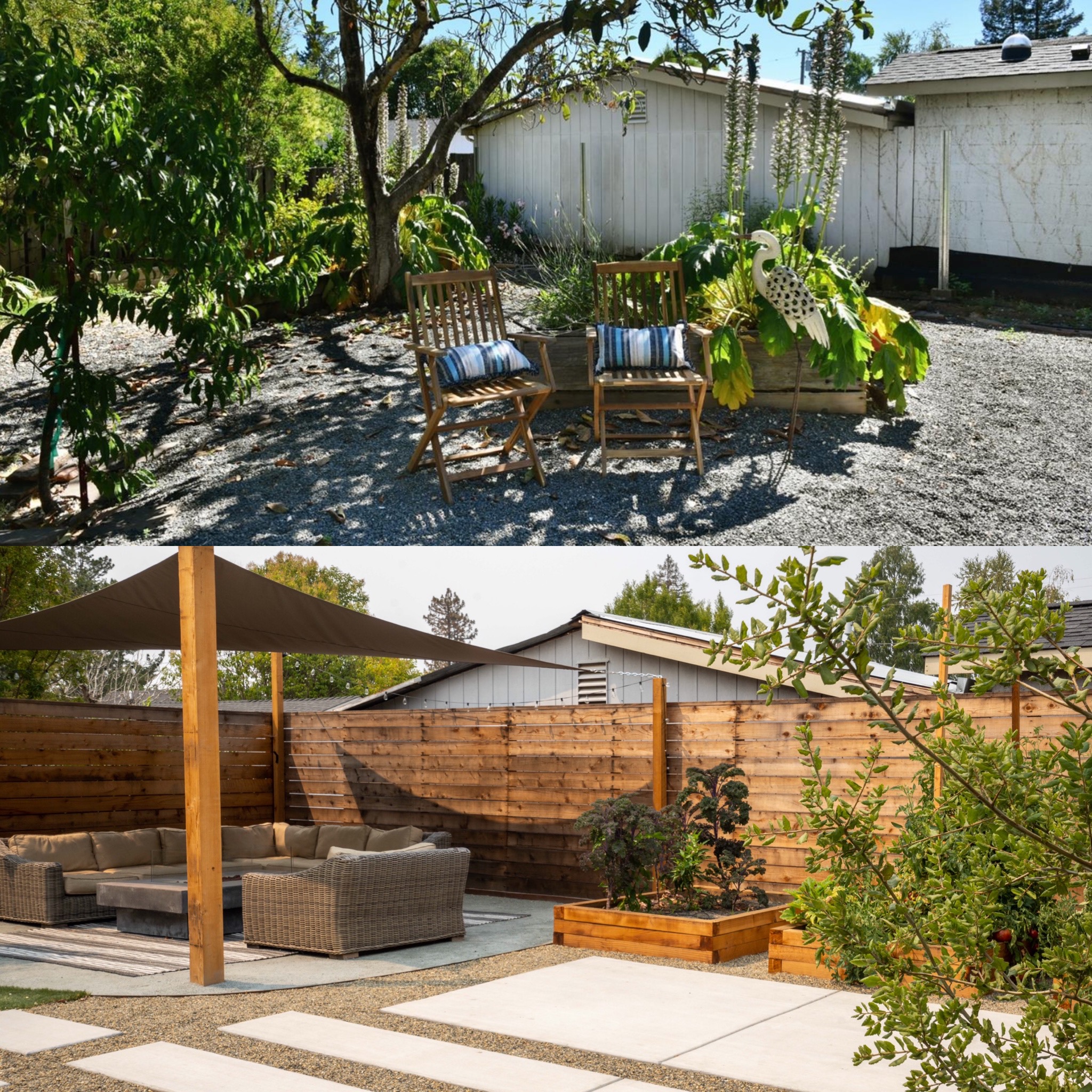 The Nice To Haves Not The Must Haves
There were a few things that we did because they were important to us given we have had them in other houses. They will definitely add value when it comes to re-selling, but you definitely wouldn't do them on this type of house if you were purely flipping it. All the walls are totally smooth with a level 5 finish and because we were opening up walls we wire the downstairs living area for sound with in wall speakers both inside and on the outside at the rear. Both my wife and I also decided to buy expensive tiles and door hardware (don't ask me why but I have a thing about nice cabinet and door handles!).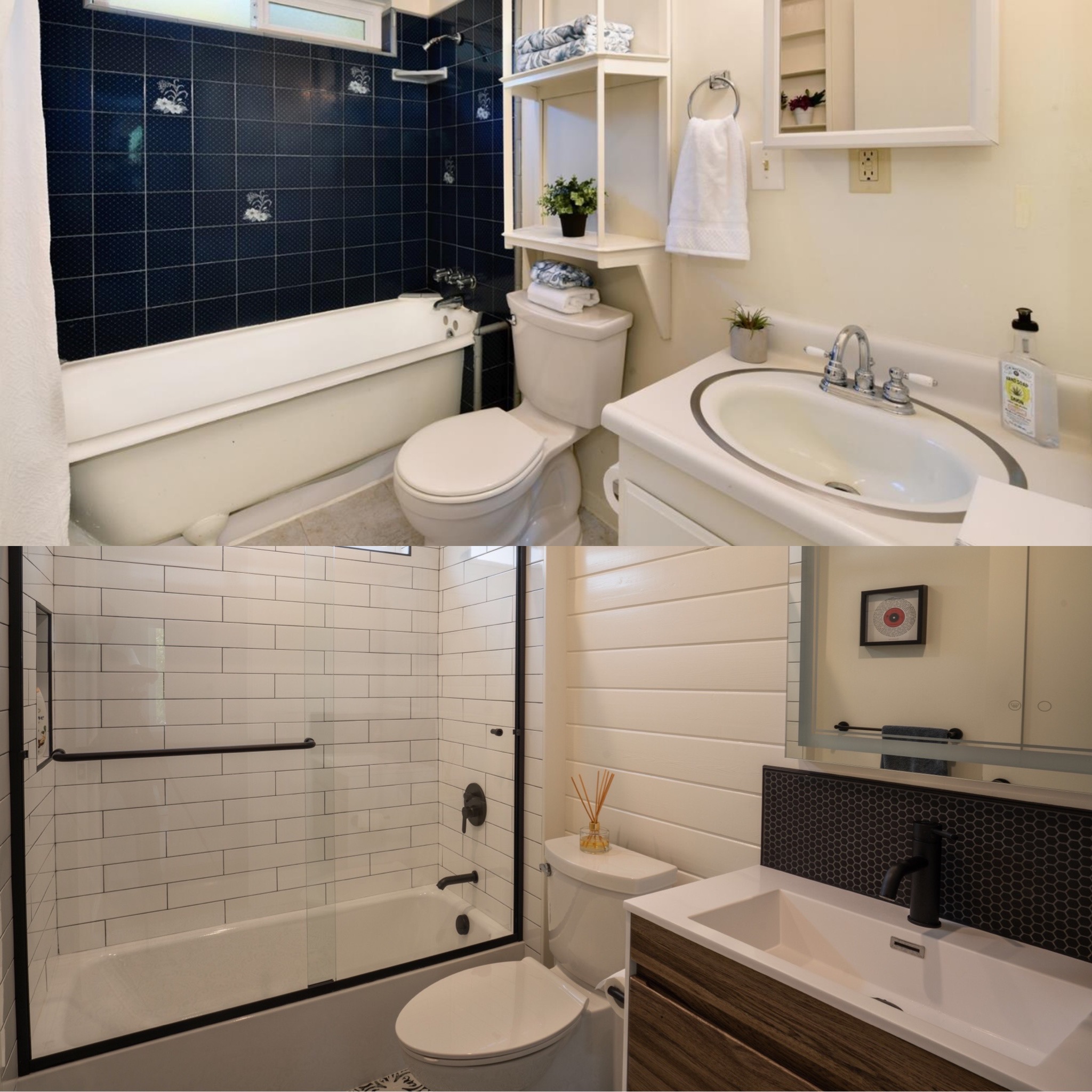 A few other luxuries were the outdoor kitchen and heater (although the kitchen is from a company called NewAge products so we can take it with us if we want. We also purchased Tesla solar and backup batteries largely because doing our bit towards stalling Climate Change but also it gives us resilience in the case of a power outage and it also means I am not buying gas for all the miles I drive in my Tesla all over Sonoma County. (See separate post on the installing solar and battery back up)
My First Job As Owner Builder
For this project, I took on the role of owner builder. although I should stay right off the bat, a friend of mine gave me a huge amount of help and taught me so much about the process because for every other project, I have always taken on a licensed contractor which definitely makes life easier but it does add a minimum of 20 - 30 per cent to the overall cost once you have paid the mark-up on subs as well as their time. Clearly you can only do this if you can rely on sub contractors for all the different disciplines required for your job such as electrical, plumbing, plastering, painting and concrete work.
Because our plans were pretty simple, we got a draughtsman (not an architect) to draw up the plans we were required to submit to the city. The overall permitting process is reasonably straightforward it just takes time because once you submit they will take up to 3 weeks to come back to you. This makes it super important to work with someone who knows the requirements of the city (or county if you are remodeling a property in Sonoma County) because every incorrect submittal introduces 3 weeks into the process. When it comes to the inspection process it is important to make sure that you are aware of all the different building inspections that are required along the way. If you call for an inspection, an inspector can generally be there the next day so it is worth being over cautious with your inspections.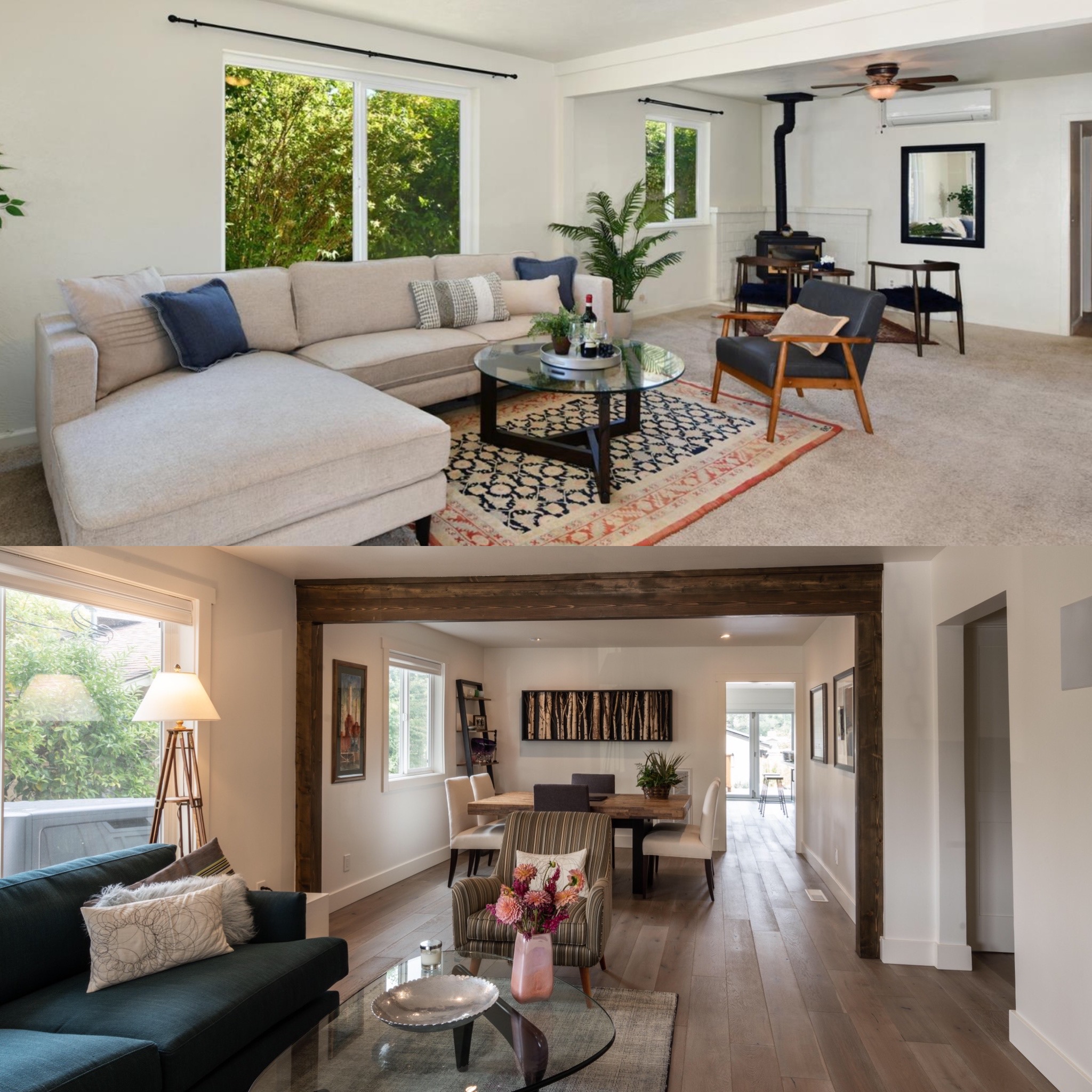 What Was The Cost?
Before I get into the costs, it is worth noting that the "nice to have" parts of the remodel probably added on an extra $100,000 between the solar, the outdoor kitchen and audio equipment with in-wall speakers. The overall cost come to $451,216 which based on the 1600 square foot of conditioned space works out at $282 per square foot. However it is worth noting that the cost of the yard, roof and solar alone came to $140,000 so if we take that off the square footage calculation, it comes out at $194 per sq ft. As you can see, estimating a remodel by the $ per square foot is almost meaningless because it depends so much on what you include/exclude from that calculation.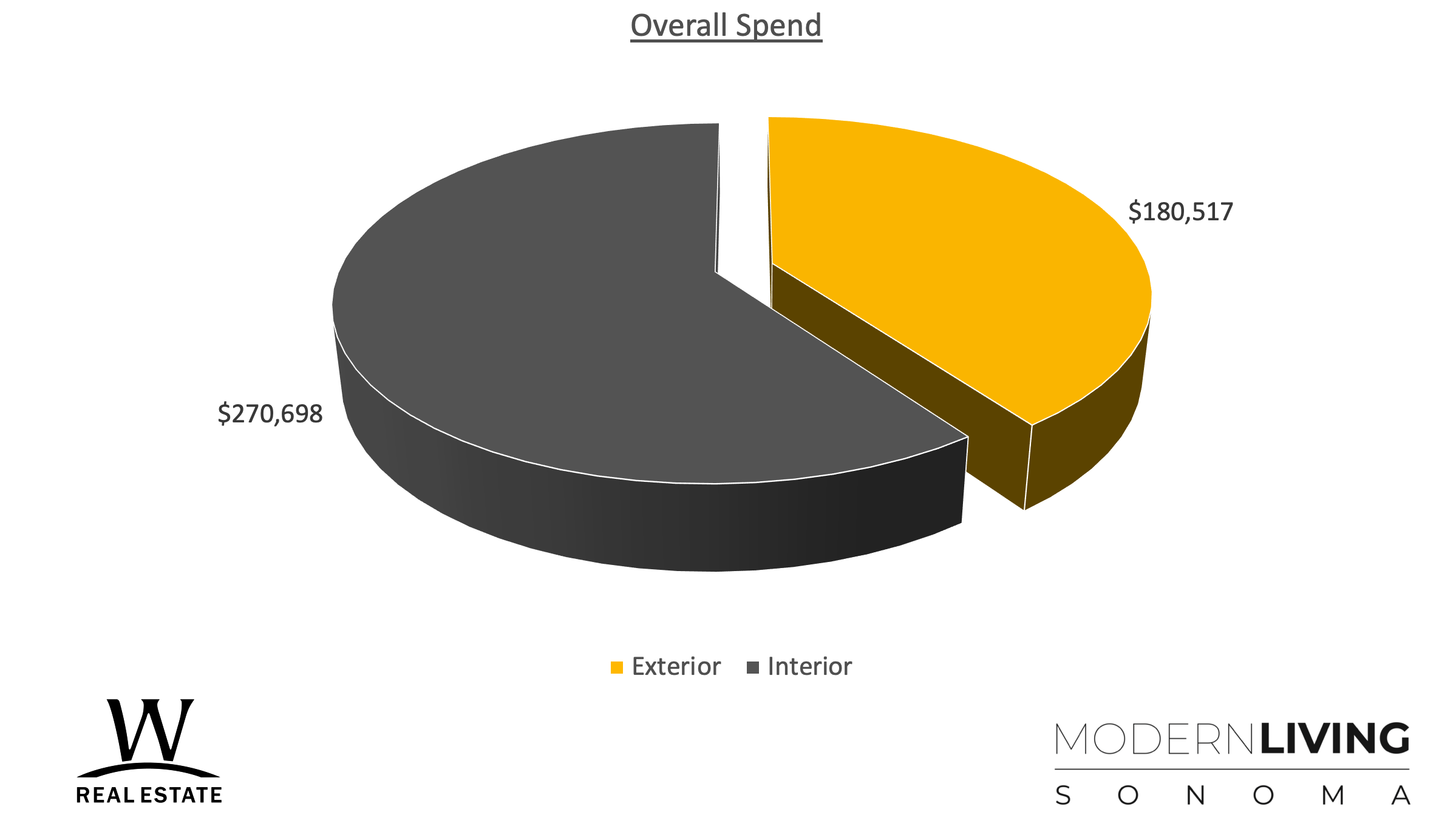 A Detailed Breakdown Of Costs
A more meaningful way to view the expenditure and hence budget, is to identify which rooms need to be invested in and then put together overall allocations for the subcontractors that are going to be needed such as electrical, plumbing, painting, sheetrock and roofing. Outlined below is a detailed breakdown of where the money was invested and a brief outline of the high ticket items within that analysis.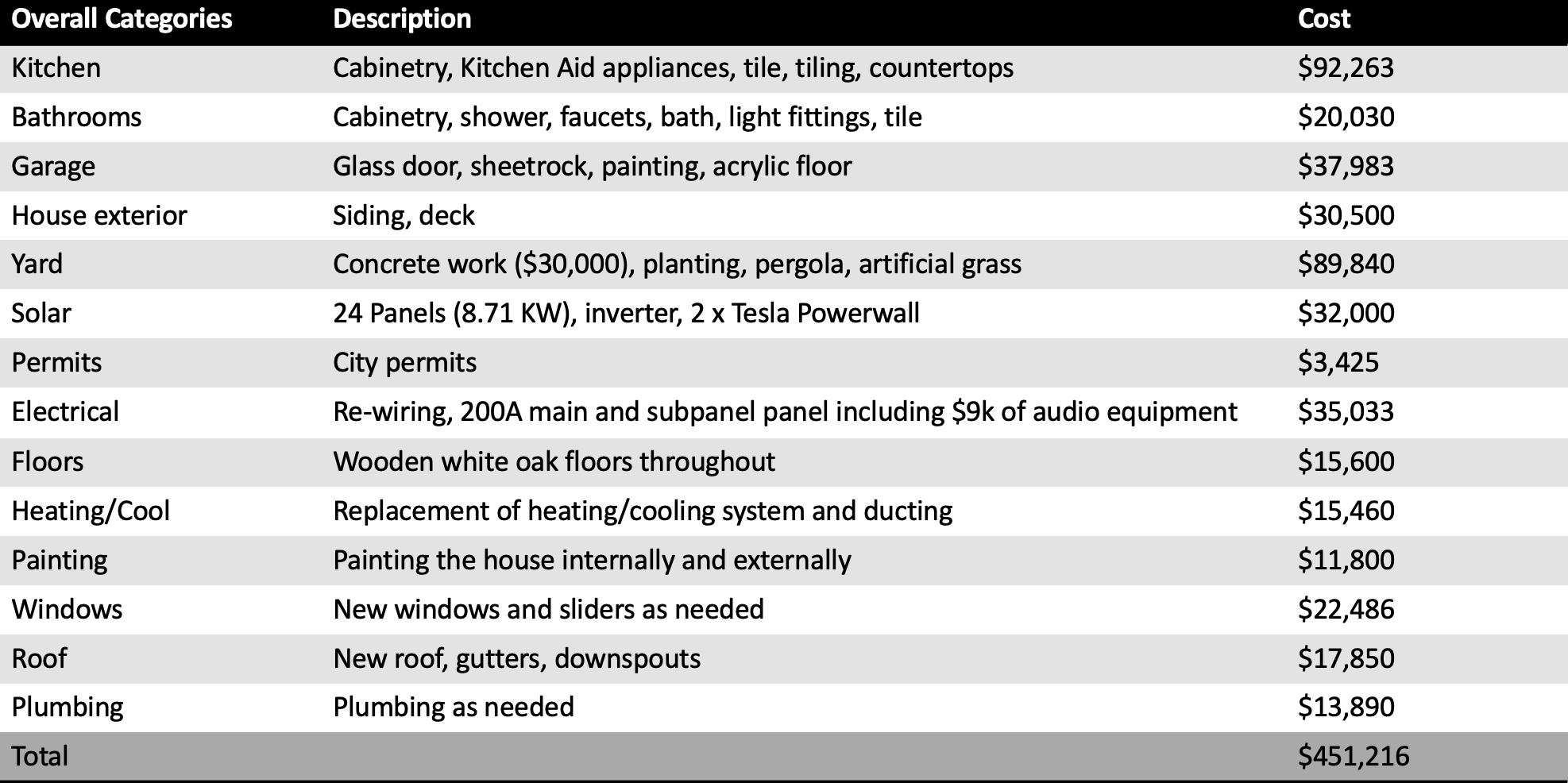 Lessons Learnt
The overall outcome we are really happy with. I feel we spent money in the right areas because we have ended up with an amazing yard for entertaining, a kitchen that is probably a more enjoyable kitchen to cook in than a kitchen we spend three times as much on in another house and a great master bedrooms suite. There were a number of things that conspired against us, not least doing this during a global pandemic with material costs increasing by the week! We also had to deal with the usual aggravations you get from neighbors. Every remodel we have done, we have had complaints from the neighbors so it comes with the territory. You just have to run with it. As I said at the outset, the goal was to create a home that we are excited to live in for a few years but also create value. A recent home on my street which as a 2 bed, 2 bath home on a smaller (corner) lot sold for $1.8m (someone paid too much in my mind!). If I look at the purchase price of $850k plus the cost of the remodel we are in at $1.3m. The absolute least we would get for it if we sold it tomorrow is $1.6m so we also met our goal of creating value. There are worse things we could have taken on during Covid!