Over the past ten years, because the housing market has been so competitive, sellers have very much had the upper hand when it comes selling their house. As long as it is priced correctly, and the basics are done well, it will sell. However, as the market now shifts in favor of buyers, sellers need to think about how they can tap into the technology and tools that are now available to maximize their house price value.

Using data effectively is now more important than ever to ensure the property is priced to maximize money in the sellers pocket. As someone who used to run a data-driven marketing firm working for the likes of Virgin, Google and Facebook, I am a fascinated by how we can use these new data and technology tools to the benefit of seller.
In another post I am going to drill down into how digital marketing can be used to reach new buyers but in this post I am going to talk about pricing and the role that data plays in a pricing strategy designed to get top dollar for your home.

How To Price Your Home To Sell It?
If you talk to any realtor, they will tell you the majority of sellers believe their house is worth more than it is. That shouldn't come as any surprise. A lot of sellers feel like there's that one buyer out there that's going to pay way over market value for their home. That just doesn't happen.

The good news is that there is now so much data and information available, it is a lot easier to take emotion out of pricing. The bad news, as I explain below using a detailed data analysis, if you price a property too high you will likely loose money!
Key Data Points To Use In Developing a Pricing Strategy
The key is to pull data specifically for homes in the location and price bracket of the target home. For example, If I am pricing a home in downtown Healdsburg that is worth about $1.5m I will pull data for Healdsburg houses within $500k of that price. (It's important to use a wide enough range to get a representative sample of homes sold).
Median Price Data
Rather than specifically looking at the median price to give an indication of the value of the specific property, it is important to understand pricing trends and the degree to which house prices are rising and falling over the most recent period. (Median Price is a better measure to use than average because it helps prevent the data being distorted by houses sold at the extremes).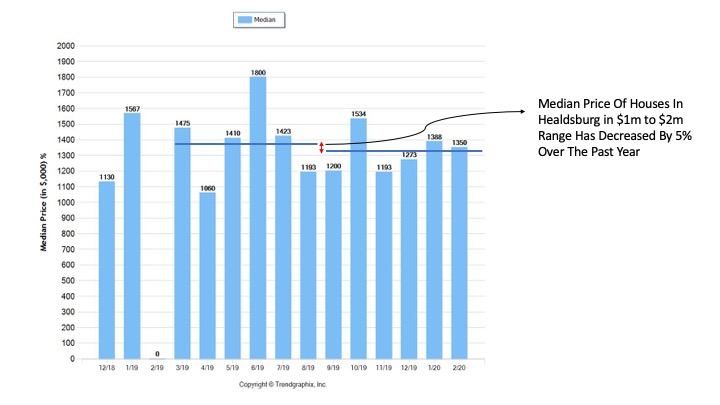 For example, from the above graph we can see that median prices have fallen by 5% over the 12 months starting March 2019. If we have a great comparison that sold in March 2019 we would need to adjust it to account for this fall and also the current market status.

Price per Sq Ft
While I would never price a property based solely on the price per sq ft, I would use it to give me an understanding of where, based on its condition, a property should fall within the dollar per sq ft range for similar properties. If a property is priced such that the price per sq ft is the highest for the area, there needs to be a stand out reason.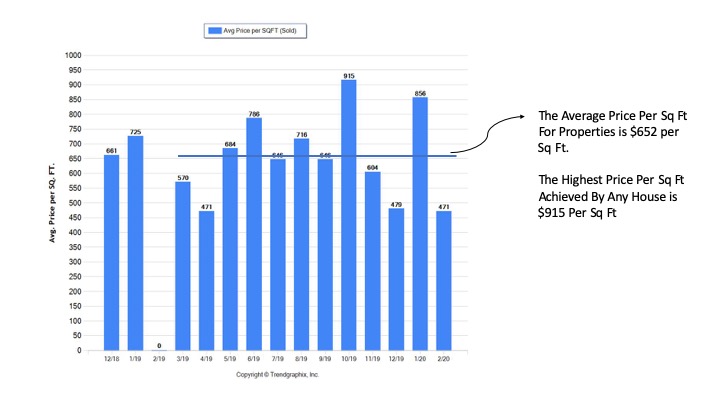 For properties with a large amount of land, we need to recognize the price per sq ft will be higher because of the value the land contributes to the overall price

Days on Market
The pricing of a property is the biggest factor in how quickly the property sells. In a sellers market, properties will sell quicker than in a buyers market. Before pricing a property, it's important to understand the seller's goals. If the purchase of a replacement home is contingent on the sale of the subject property, it will need to be priced aggressively to sell within the time period allotted. If there is no time pressure, the pricing can be a little higher, although there are dangers in being too greedy (see below)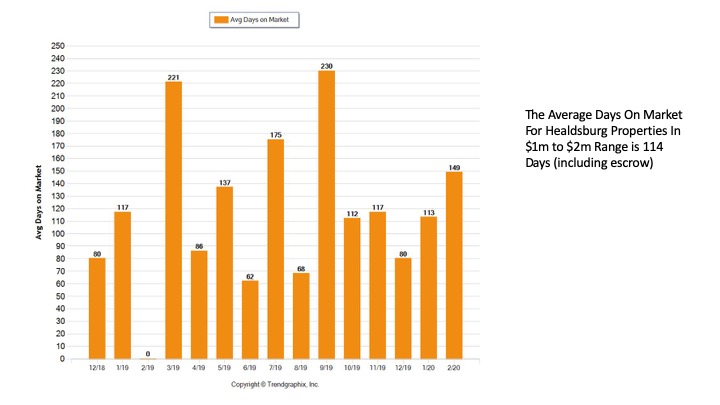 As we can see from the graph above, the average number of days it takes to sell a $1m-$2m home in Healdsburg is currently 114 Days. If we assume a 30 day escrow period that means a property priced at market value should have an accepted offer within 90 days.
Months Of Inventory
Another way to understand how long it should take to sell a property is to look at a measure called Inventory Months. This is the amount of time it would take to sell every house on the market if there was no new inventory introduced during that period.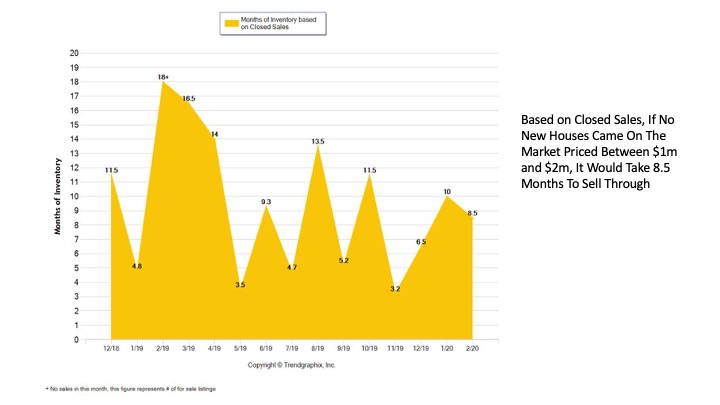 The graph above shows it would take 8.5 months to sell all of the $1m - $2m properties currently on the market.
Competition
The final question I ask is: What is the competition? If the home is priced at $1.5m what are the other homes it is competing with? It is important to understand this because every buyer will be comparing homes in similar locations with similar amenties at similar price points. If there is lots of choice, it puts additional pricing pressure into the market. This also makes it attractive to sell certain homes at times of year when there is less competition. Spring is not always the best time to sell!
Four Factors Affect House Prices

As part of establishing the fair market value for a property, in addition to the more general market data, the most important thing to understand is the different factors that determine the price:
Location
Location relates at a neighborhood level but also at a micro level such as whether the house is on a corner or opposite a school. Some of these location factors are very subtle but they make a huge difference to the price. Take Healdsburg downtown properties as an example. Properties that are a 15 minute walk to the Plaza immediately command a 20-30% price premium. Two roads, one block apart can also command different prices. A like-for-like property on Matheson, which is a fairly busy through route for Fitch Mountain will always be cheaper than a property on Tucker.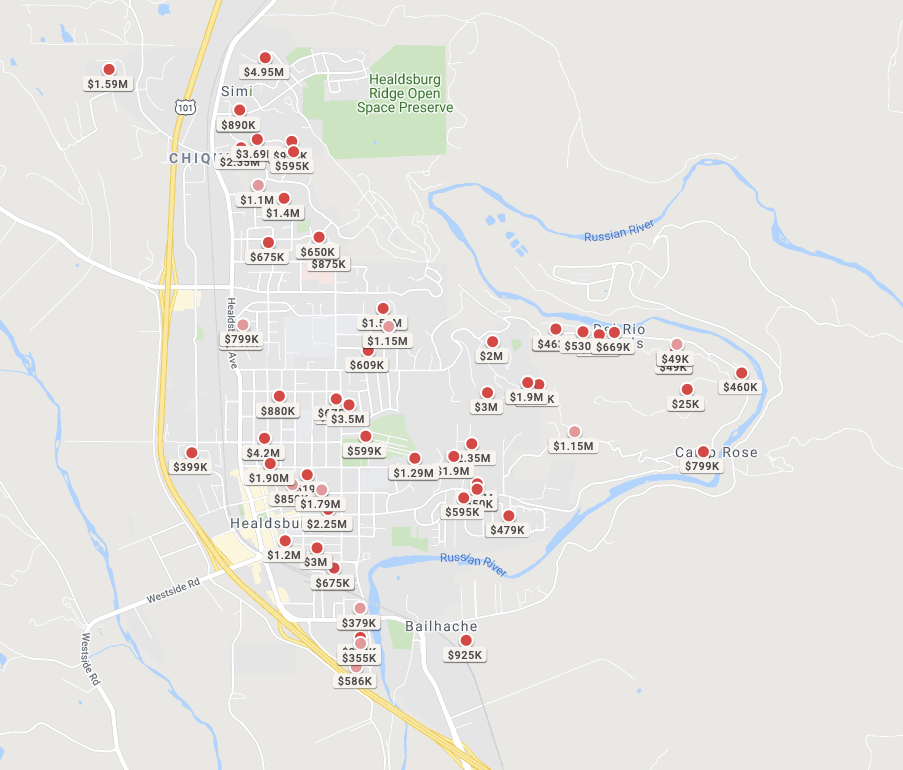 For rural properties, the same nuances exist. Similar properties on Dry Creek that are closer to the road will be cheaper than an equivalent property on West Dry Creek. A big factor impacting rural property values recently is the ease of exit in the event of a fire or the degree to which the property is surrounded by a highly forested area.

Sales Comparisons
Identifying comparisons of similar properties that have sold is key and something that is so important to take time over. For properties in a specific urban or suburban neighborhood, such as in historic downtown Healdsburg or in Parkland Farms and many other neighborhoods around town, it is usually relatively easy to find properties of a similar square footage, bedroom and bathroom count and lot size that have sold in the last 6 months.
The key to finding good comparisons is to really know the homes. I pride myself on going to the Healdsburg broker every Thursday morning so that I see inside every house that comes on the market. I then know the exact condition and layout of the house for when I am then using it in a comp.
Finding comps for rural properties is often harder, especially finding recent sales comparisons. This is where going back one, two or even three years is sometimes necessary and should not be viewed as a problem. However, prior to using an old sales comparison, it then needs to be adjusted by calculating the average percentage increase or decrease in property values of similar homes over that period.

Condition
No two houses are alike even if they have identical floor plans. The condition is largely subjective but there is a scale that appraisers use that ranges from an "excellent" maintained home through to "poor". Experience makes it easy and accurately to assess condition. Inspections are a key weapon for a home seller to have in support of the condition. I will always recommend a seller compete a pest inspection and preferably a home inspection as well. Roof, septic, well and pool inspections all help to support the price through the negotiation as completing inspections in advance take away negotiating power from the buyer.

Updates
Any repairs, remodels, renovations, upgrades will make an impact on the value of your property. I would never recommend doing a full remodel to sell a property because it is unlikely you will get your money back because the future buyer is more likely to want to choose their own tiles for example.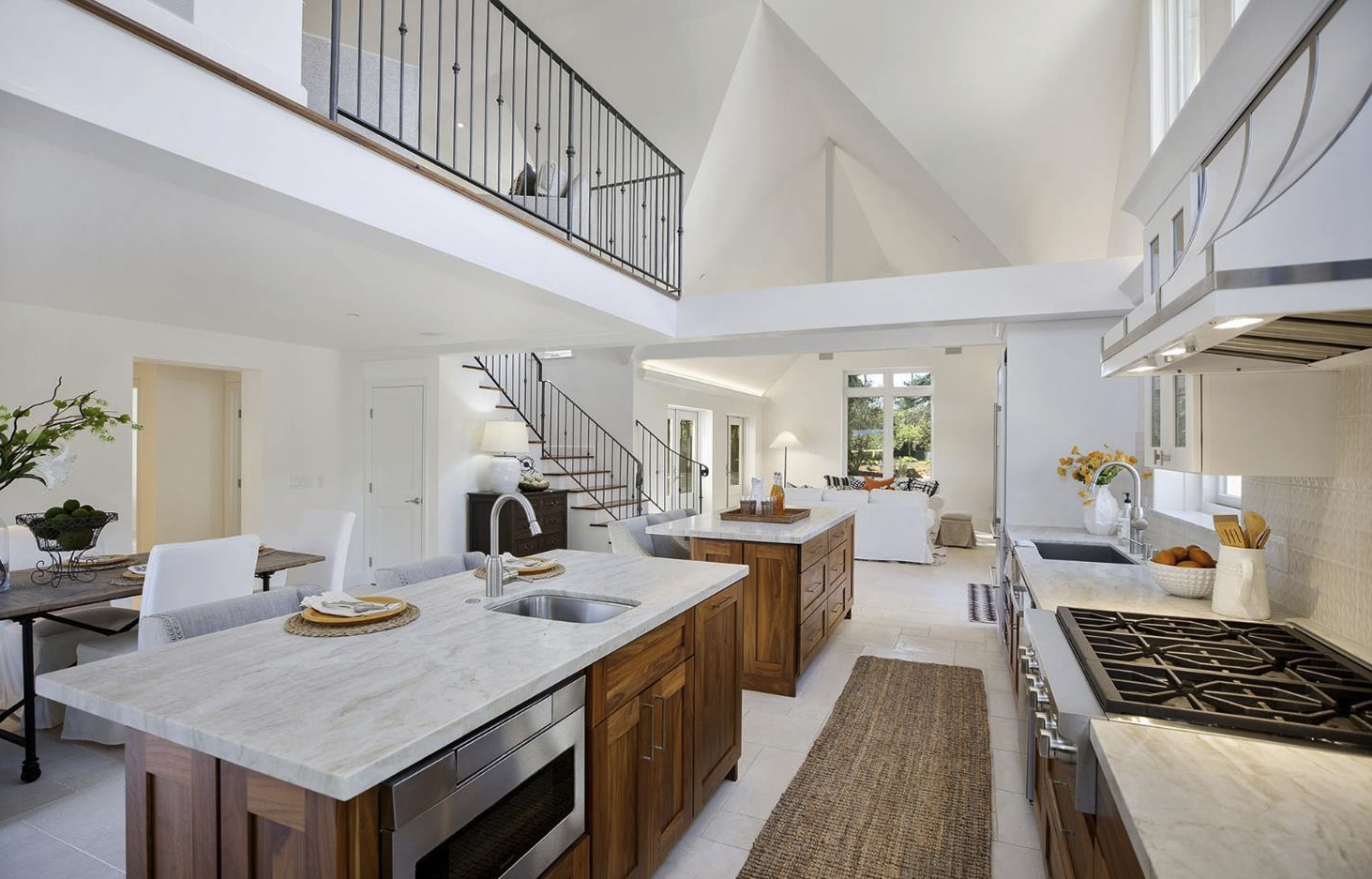 However simple upgrades such as new floor, new carpet, painting throughout help buyers feel they can "just move in" without the hassle of putting down new carpets and floors prior to them moving in.

What Are The Best Home Pricing Strategies?
Once you have established the "Fair Market Value" for a property, there are still a few ways to finalize the list price. In setting this price, we need to think about how can we attract the most number of buyers to see the property. Let's say the Fair Market Value of a home is $1.525m.
What if I Price It At $1.575m?
Maybe there is a buyer who would pay that but the chances are there isn't (and if there is, they probably own it already!). In a market where pricing pressure is downwards and the average number of days on market is increasing there is a high chance that any property priced above "fair market value" will sit on the market. If there are no offers after 30 or 45 days you will then be forced to chase the market down to stimulate buyer activity.
What If I Price It at $1.525m?
This is the fair value and as such it would be reasonable to price it at this level. However, we also need to bear in mind the market is on a downward trajectory so we want to get ahead of that but also try to appeal to multiple buyers.
What if I Price It At $1.495m?
With 50% of people searching for homes on the internet, it is important not to underestimate the power of key price breaks. For example, there will be a lot of buyers searching on Zillow, Trulia etc who have set their maximum price at $1.5m. If you price at $1.525m you will lose all those buyers, even though they might stretch to that price or more likely that if you got a strong offer at exactly $1.5m in this market, you would accept it.
Why Pricing Your Home Too High, Loses You Money
There is no magic formula for getting the most money for your house. There is definitely an element of "right time, right place". However, data can pay a big part in getting you the right price. Data shows that if you price your home too high, you will almost certainly end up with less money in your pocket than if you price it effectively from the start. This is more true than ever in a market where a market is on the turn.
If we analyze the data for houses sold in the last 12 months in Healdsburg between $1m and $1.5m you will see why pricing high will likely lose you money.
For houses that sold with no price reduction from the listing price, they sold for an average of 98% of the list price. For houses that had either one or more price reductions before being sold, they sold for an average of 81.9% of list price, representing a difference of 15.9%. So what does this mean?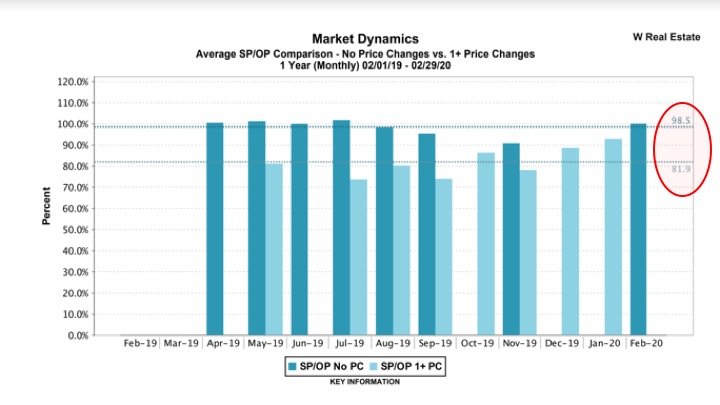 If we had a house with fair market value of $1.5m. If it goes on the market at $1.495m the property is likely to sell for $1.465m. If the agent and owner agree to put it on the market for $1.75m in the hope there is that special buyer out there, then after a price reduction it is likely to sell for $1.433m. By pricing the property too high to start with the homeowner stands to lose $32,000!
Proof Is In The Pudding!
Time and again we have shown that our use of data and taking the emotion out of agreeing the list price gets results for our clients. More than any other broker we consistently manage to get the listing price agreed with the seller for our properties.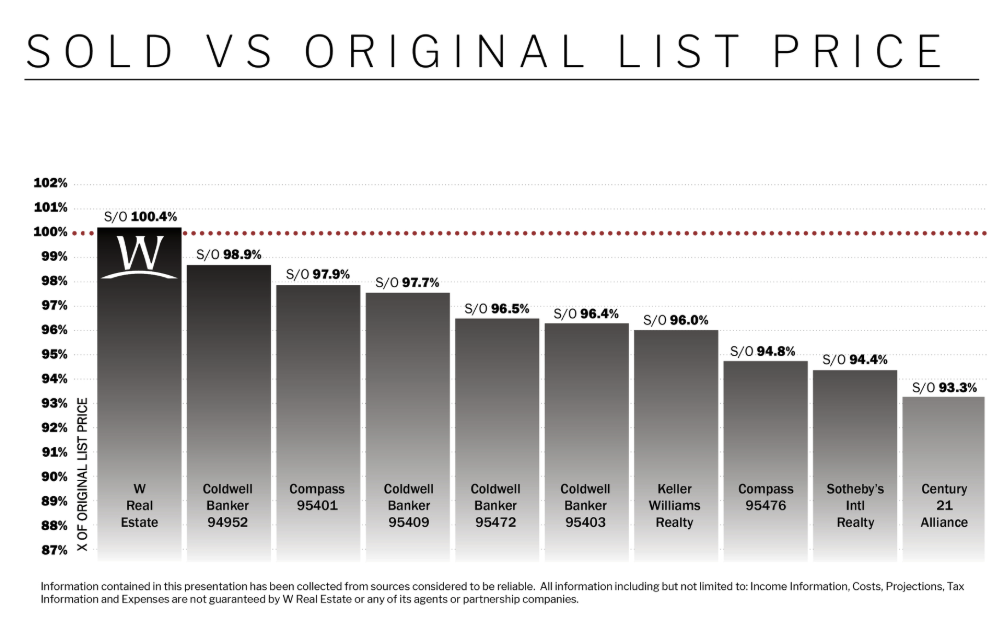 Markets don't lie. A house will ultimately find its own value, that value will just be lower if it isn't priced appropriately from the outset.