It has been well documented that Sonoma County is in the process of defining a new vacation rental ordinance as well as introducing a new business license that will be required by all home owners in Sonoma County unincorporated moving forward. The new ordinance will tighten the restrictions on which properties will be eligible for a vacation rental permit, While I totally agree that there need to be measures put in place to safeguard communities, we need to make sure that the new measures that are being proposed are based on accurate data and not just a knee jerk response to the squeaky wheels.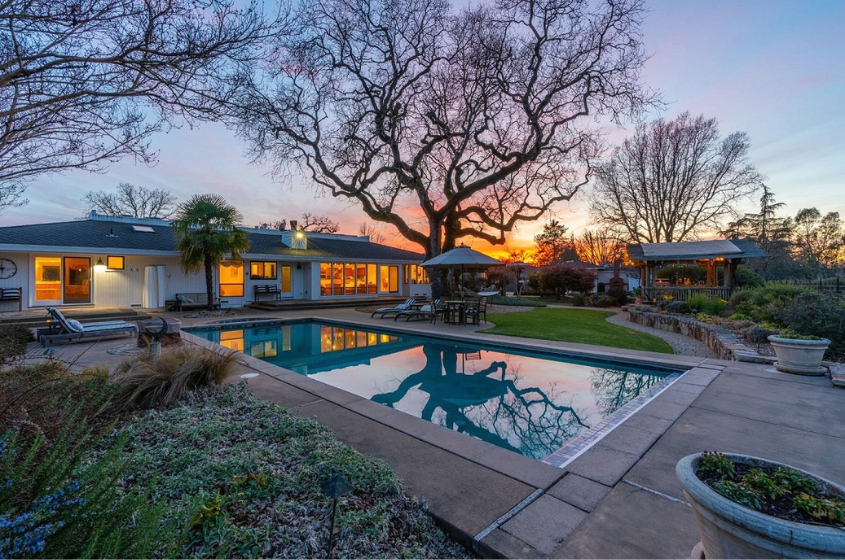 A couple of weeks ago, the planning commission met to discuss the county's recommendations which have now been thrown somewhat hurredly because just a couple of months ago we were told that the new caps would not be ready in time. The good news is that we now have the proposed specific cap areas, the bad news is they are based on old data or incorrect data. The final vote on the new ordinance is due to take place on April 24th with the moratorium due to lift on May 9th, so I thought it would be a good time to summarize where the best places to look for a wine country vacation rental are going to be under the new ordinance.
The good news is that, if you know where to look, there are still numerous places to find and buy a wine country property that you can turn into a very profitable vacation rental or, as if often the case, for people to buy a second home that they know they can also use as a vacation rental as a means of offsetting some of the costs.. One of the consequences of the new ordinance is that it will definitely make it harder to purchase a vacation rentable property for less than $800,000. The main reason for this is that properties in higher density neighborhoods with an R1 zoning are no longer eligible for a permit. When this was proposed, I think most people recognized that this makes sense because these homes tend to be lower priced and more importantly are important neighborhood areas in places like the Russian River and Boyes Hot Springs. However, in addition to this, they have also proposed caps on a huge part of the Russian river at a level which is below the current density of vacation rentals effectively banning any new vacation rentals across the majority of the Russian River area in places like Guerneville and Monte Rio.
However, it isn't all doom and gloom. Firstly there are still many great options to find a profitable vacation rental near places like Sonoma, Healdsburg, Kenwood, Windsor and Glen Ellen, you just need to know where to look and how to evaluate the different areas. With cities such as Healdsburg, Sonoma, Sebastopol, Windsor, and Cloverdale having outright bans, the key to finding a highly profitable vacation rentable wine country property is to look around the edges of these highly visited towns.
While it will be slightly harder to find a qualifying vacation rental property around places such as Glen Ellen, Kenwood and Healdsburg, it is not necessarily a bad thing the restrictions are a bit tighter because it will make the ones that do exist more profitable. But where are the best places to look? How do you know if it will qualify? How much is it likely to cost? And how do you find one that you know will 100% qualify when the rules are always changing and they are so complex? In this blog post, I will share with you the eight places you are most likely to find a great wine country second home that you can also vacation rent.
Before I talk about the best areas to look, here are the six basic rules you need to follow to evaluate any given property. (If you want a more detailed summary of the rules check out this more detailed infographic.)
1) No Cities
Again, there are some exceptions, but it is easiest to ignore any property within a city limits such as Sonoma, Healdsburg, Windsor, Cloverdale, Sebastopol and Petaluma. There are some work arounds such as buying a bed and breakfast or buying a property with commercial zoning but for most people, you should avoid cities.
2) The Correct Zoning
It is easiest to focus on the following zoned properties: Rural Residential (RR), Agricultural Residential (AR), Diverse agriculture (DA) and Rural Resource Development (RRD). You need to ignore any properties zoned R1, R2, R3 and Land Intensive Agriculture (LIA). The latter rules out a lot of wine country vineyard properties.
3) Outside an Exclusion Zone
There are various exclusion zones around the county but particularly in the Glen Ellen and Kenwood areas, north and west of the city of Sonoma, in the Foothills area of Santa Rosa and up until now, on Fitch Mountain. Some of these exclusion zones are being enlarged as part of the changes in the new ordinance
4) No HOAs
There are exceptions but it is easiest to assume that if a home is part of an HOA it won't allow vacation rentals
5) In A Cap Area
The density cap areas are not yet cast in stone but we know where they are so we know how to avoid them. In some cases, there may be a cap in place but the current density of vacation rentals is below the cap making it possible to get a vacation rentable property if you hurry!
6) Anything Goes In The Coastal area
This rule is easy. There are currently no limits for vacation renting on the coast although later this year they are introducing a business license but that doesn't change eligibility.
The Best Eight Areas To Find a Vacation Rentable Property In Wine Country
So where are the eight best areas to find a qualifying vacation rental property? The areas I am going to talk about are all outside of any proposed cap areas and are all areas that feel more like wine country than homes in the Russian River surrounded by redwood trees or homes in the coastal area.
1) Near To The City Of Sonoma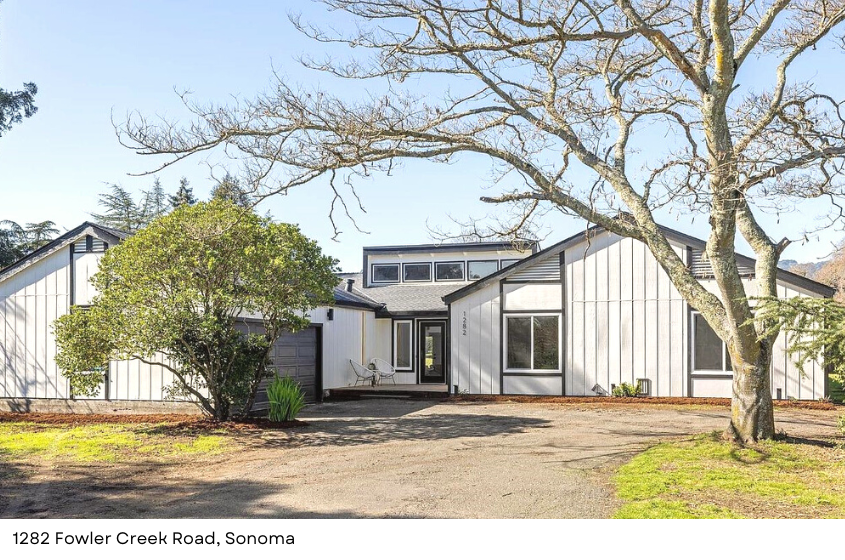 If you are looking for a home which has easy access to the City of Sonoma but which feels like wine country the best areas to look are going to be west and south of the city of Sonoma. Just off Arnold Drive is a great location where there are numerous highly profitable vacation rentals. One of the reasons this is popular is because it is so easy to get to from San Francisco and yet you have the city of Sonoma on your door step.
The other area which is a good area to look is immediately south of Napa road. There are a lot of high end places in this area. Again, this is close to San Francisco but also has very easy access to Napa Valley as well as all the wineries in and around Sonoma.
1282 Fowler Creek just off Arnold Road is a good example of what you can get in this area for $2m. This is a remodeled 4 bed 3 bath ranch home on an acre but with no pool but a flat yard so it would be easy to add later on. Given it is just a 10 min drive to the Sonoma plaza it will definitely perform well as a profitable vacation rental.
In this area it is hard to find a property that does not need a lot of work for less than $1.5m or even $2m.
2) Around Glen Ellen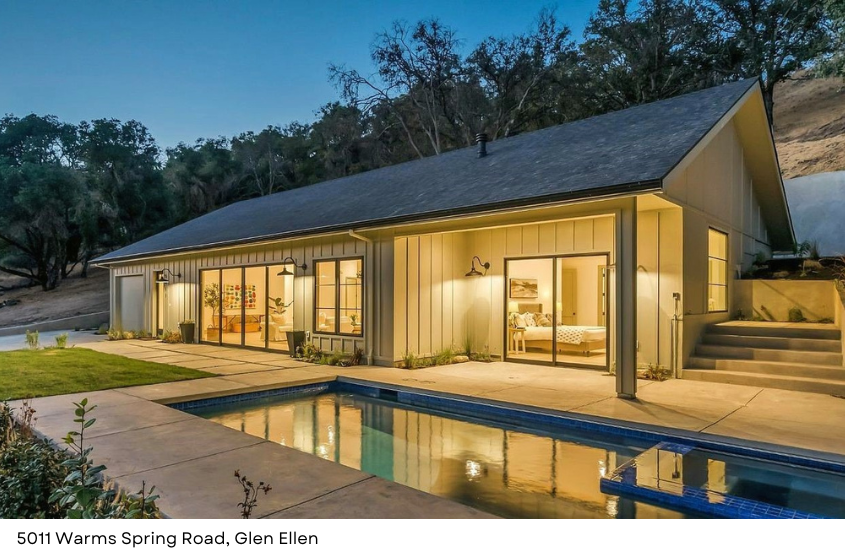 Glen Ellen is definitely one of the harder areas to find a vacation rental because there is such a large exclusion zone around it which is about to get a little bit bigger, combined with the fact that for the last few years there has been a ban on any new vacation rental permits being issued in the fire perimeter areas. Even with the fire moratorium expiring, there are not too many options. However, if you are dead set on finding one in this area, the best place to look near Glen Ellen is on the north side of Warm Springs road close into town and then north west of the town as you head towards Bennett valley as you head out of town.
By way of an example of the type of thing you can get, there was a new build house that recently came on the market, 5011 Warms Spring Road, which would be eligible for a vacation rental permit. For $2.2m, you get a 3 bed 2 bath 2300 sq ft home with a pool. If this home was on the other side of the road it would be in the exclusion zone. This shows how careful you need to be when finding a home that will qualify.
3) Near Kenwood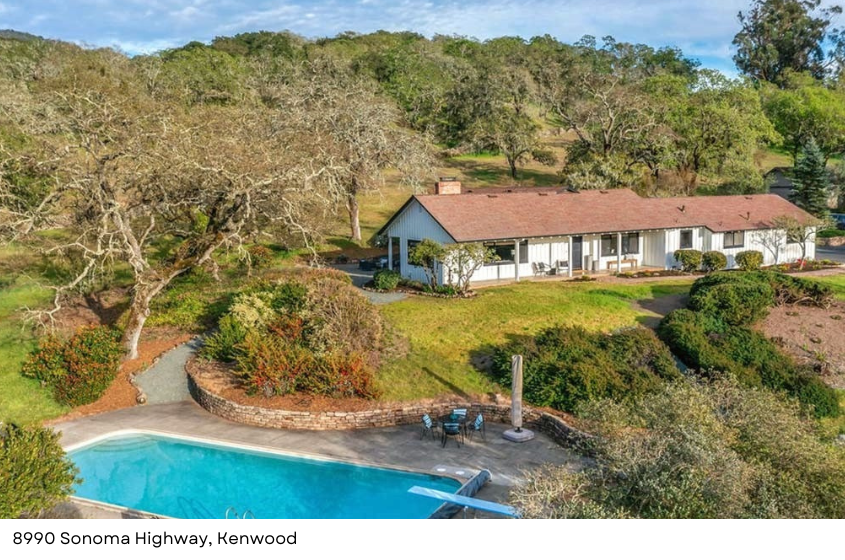 On Highway 12, past Glen Ellen is the small town of Kenwood. This is a stunning area which is picture postcard wine country with acres and acres of vineyards stretching away from the road to the hills beyond. In the immediate vicinity of Kenwood there is an exclusion zone which limits your options. However on the north side of Highway 12, there are some amazing vineyard properties and then as you head toward Oakmont, on the south side of Highway 12, there are a number of side roads such as Frey road where there are also some great properties. The thing to look out for in this area are properties that are set back from Highway 12 because there are quite a few properties that are super close to the road which can make them a bit noisy.
8990 Sonoma Hwy sold recently for $3.5m which was set back off the road and had 4 bedrooms as well as a pool. We have a listing coming up in this area for a four bed home on over an acre with a pool that will be listed for about $3m. This gives you an idea of what you can expect to pay in this area. If you want to know more about this listing or other listings we have coming up please do get in touch.
4) Bennett Valley - South West of Santa Rosa
A lot of people from the Bay Area don't know the Bennett Valley area as well as some of the other iconic areas discussed here. If you are looking for something with a wine country feel but at a price point nearer $1.5m, this is an area it is definitely worth looking into further.
It is just south west of Santa Rosa but a short drive to Kenwood and Glen Ellen so you have access to a lot of the same wineries and restaurants in these places but at a more affordable price point.
There have been a few properties for sale just of Sonoma Mountain Road on roads like Hidden Acres Road that qualify as a vacation rental at price points between $1.2m and $1.6m for a 3 bed ranch style home. Looking at the income data for this area, it actually performs a bit better than properties near Sebastopol which does surprise me given how popular Sebastopol has become. One reason is because it is so close to Santa Rosa as well as many of iconic wine country towns.
5) Mark West Springs - North east Santa Rosa
This is another area which is not top of mind when thinking about where to buy a wine country vacation rental but is worth exploring. this is an area which was badly affected by the 2017 Kincade fire. While it was devastating how badly this area got impacted by the fires. The great thing about this area is that many of the homes are new builds with spectacular views and are definitely a lot more affordable than a lot of equivalent wine country homes. At present, once the moratorium expires, because the fire perimeter moratorium expired last December, this could be a great area for buying a profitable vacation rental property.
For example, there is a home that recently came on the market in an area called Larkfield which is a modern Connect Home, with a pool, with amazing views for $1.65m. A home like this in many of the other areas I have covered off here would cost nearer $2.5m.
6) Near Windsor
With the town of Windsor putting an outright ban on new vacation rentals, the only option for a vacation rental is immediately outside of the town limits.
There are a couple of places to look. Firstly on the west side of Windsor as you head out on Eastside Road which ultimately connects with Westside road. Many of the homes here are LIA zoned which won't work but there are RRD and AR zoned homes immediately west of the town of Windsor which would definitely qualify and would make very profitable vacation rentals given their proximity to Windsor, Healdsburg and so many great wineries.
7) Around Healdsburg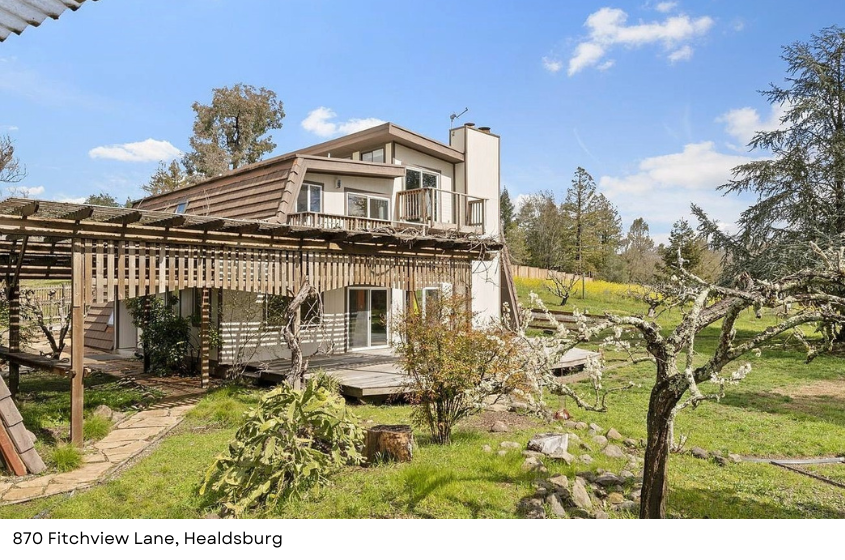 With the new ordinance coming into place, buying an eligible property around Healdsburg is about to get harder. Again, this isn't necesarily a bad thing because if you do find one it or you have a qualifying property to sell, it is just about to get more valuable!
From May, Chiquta Road is likely going to be off limits as is Pozzan and Norton Roads on the north and north west of the city
The best places to look now are going to be on the south side of Healdsburg around the Limerick Lane area or on the lower west side of Chalk Hill Road which avoids many of the LIA zoned properties further up Chalk Hill Road.
As an example, 870 Fitchview Lane has recently been on the market just south of Healdsburg. The house is a little unusual looking but is set on an acre and I do think it could be a pretty good vacation rental if someone spent $250,000 on it. For less than $1.5m you can have a vacation rental very close to Healdsburg.
The other place to consider around Healdsburg is Mill Creek Road. While Mill Creek Road itself is very forested there are numerous properties that feel like wine country and you definitely get a lot more for your money out here compared to other areas around Healdsburg.
8) Around Sebastopol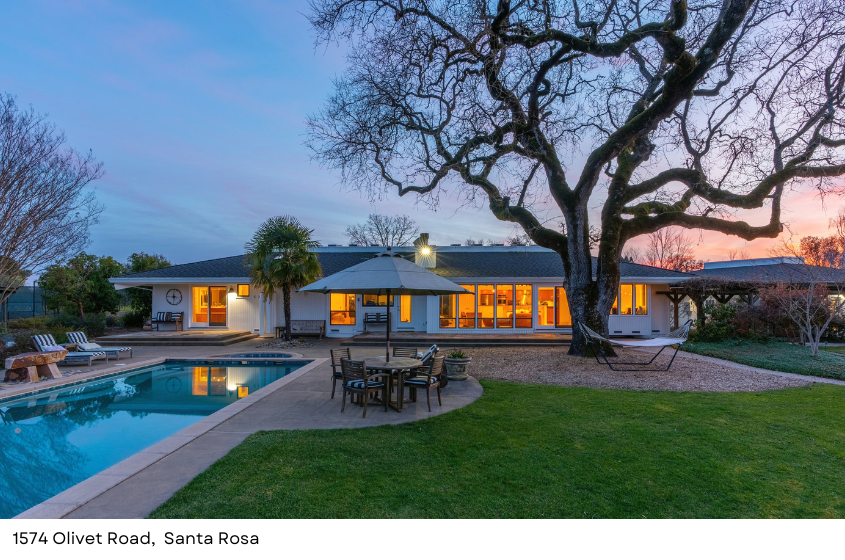 I have saved the best until last. This is by far the easiest place to find a wine country vacation rental. There are no exclusion zones in this area, no caps and a huge number of properties with DA, RR and AR zoning all of which allow vacation rentals
There are too many areas to mention but I feel the prettiest areas are in places around Graton road, Green Valley Road, Sullivan Road and Harrison Grade road extending much further north west to the little town of Graton. There are also some amazing places on the north side of Sebastopol towards Olivet Road and beyond. I just recently found a place off market on Olivet Road for a client that had a vineyard, pool, tennis court, a pool house and a 3-bed main house for $2.7m. This home definitely checked all the boxes as a second home that qualifies as a vacation rental.
The other good thing about areas around Sebastopol are the fact that these areas have not had any fires in recent history because they are just that bit further west towards the ocean and so a little cooler and you get more of the morning marine layer.
In Summary
Once the moratorium is lifted in May, it will be a little bit harder in some areas but with such a huge part of the county previously off limits because of the moratorium of issuing new permits in the fire perimeters, there will be a lot of new possibilities opening up. In addition, there are still lots of great options for buying either a dedicated wine country vacation rental or else a second home that will qualify for a permit near many of the iconic wine country towns.
Given the profitability of a vacation rental is entirely driven by supply and demand, the fact that it is going to be harder to find one will likely be a good thing in the long run because it means when you do buy one it will be more profitable. In addition, if you already own a home that will qualify for a permit, your home is likely now worth a little bit more compared to a similar home that does not qualify.