It's no secret that Healdsburg is one of the most popular places to visit in Sonoma County with house prices reflecting its rise in popularity. However it is also a huge market for second homes with over 2600 homes in Healdsburg being second properties.
When I first moved to the US over ten years ago, I knew immediately that I wanted to live in Marin rather than down on the Peninsula. Similarly, when it came to buying a property in wine country, I gravitated towards Healdsburg and Sonoma County rather than Napa Valley. I don't know what it is, but whenever I meet people looking to either move up to wine country permanently or buy a second home there, they are always very clear that they are a Sonoma county person and not a Napa county.
Even since I have been going to Healdsburg, since 2008, the place has changed considerably, most noticeably, in the number of boutique gallery's, shops, hotels, eateries and coffee shops surrounding the main Plaza. While these are the visible changes taking place there are changes taking place that are not quite so obvious, aside from how relatively quiet the town is during the week.
Data from the last census in 2016 indicates that 45 percent of the population are over 45 and nearly 20 per cent over 65. Even in the two years since, I suspect that these numbers have shifted upwards again as many younger people are priced out of the market.
However, there is a more dramatic change taking place: the number of people who own second homes in Healdsburg. My first thought was that these were very much second homes used as vacation homes but interestingly there are over 475 people who live in Healdsburg and who own a second property in town. There are a further 661 who have a second home there but live elsewhere in Sonoma County. While there are 1136 people in Sonoma County who own second homes in Healdsburg, there are many more who live all across the US and even as far away as the Pacific island of Guam.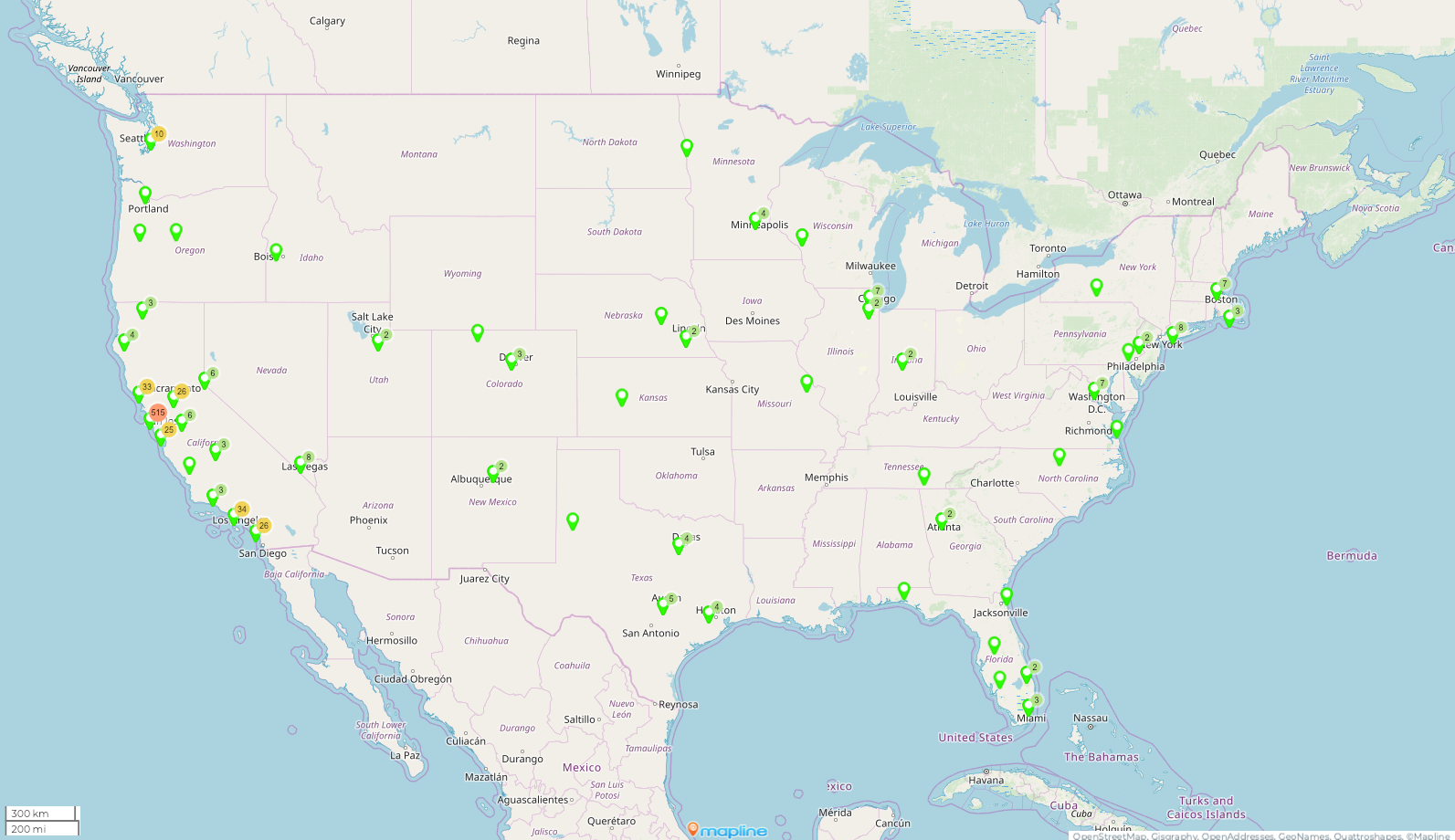 The top five states for second home owners outside of California (where there are 897 second home owners) are Texas (14), Nevada (12), Massachusetts (10) Florida (9), Washington and Arizona (8).
The Bay Area Influx
Given the proximity of the Bay Area and the wealth in the Bay Area it's no surprise to see over 500 Healdsburg second home owners in the East Bay, North Bay, South Bay and San Francisco itself.
The chart below shows the distribution of Healdsburg second home owners across the Bay Area.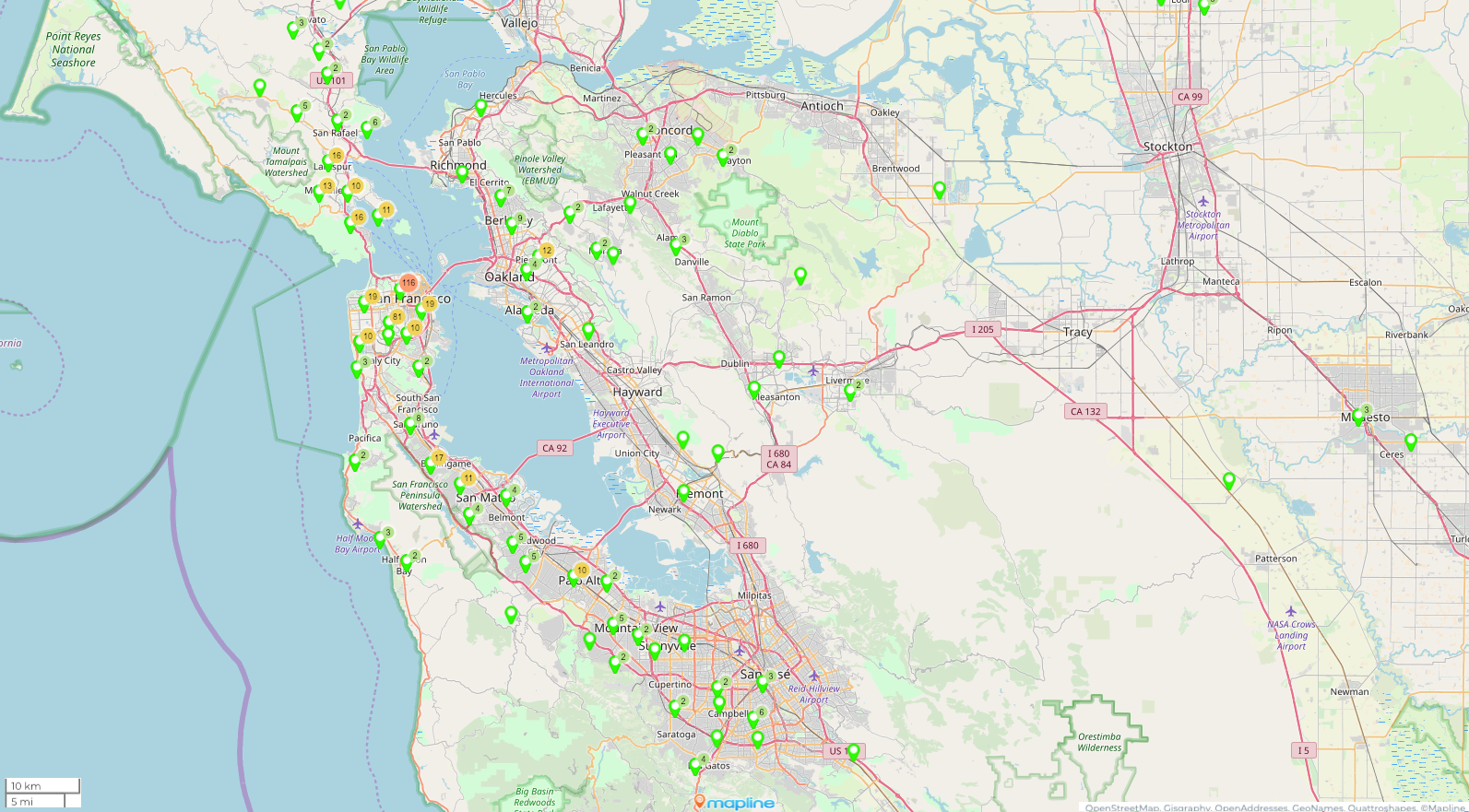 Analyzing this data further highlights the most popular places for Healdsburg second home owners to live in the Bay Area with 255 who live in San Francisco followed by just over 100 in Marin and half that number in the East Bay.
If we take a look at Marin, the distribution of second home owners is heavily weighted towards Mill Valley, with 25 second home owners living in the town, with Tiburon and Belvedere second with 14 second home owners.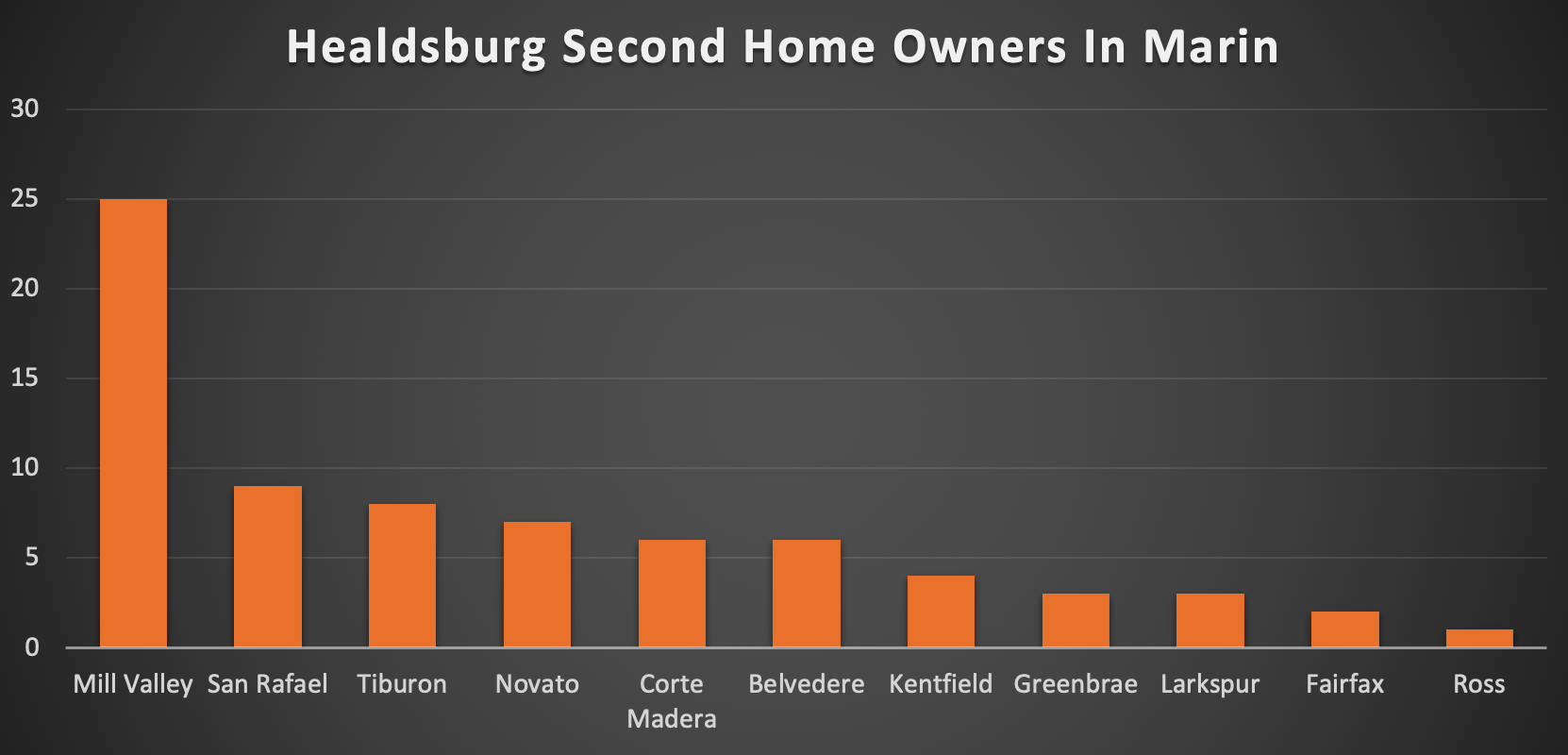 Where Are the Second Homes In Healdsburg?
As can be seen from the map below, the distribution of second home is very much inline with the population density across each of the different neighborhoods in Healdsburg.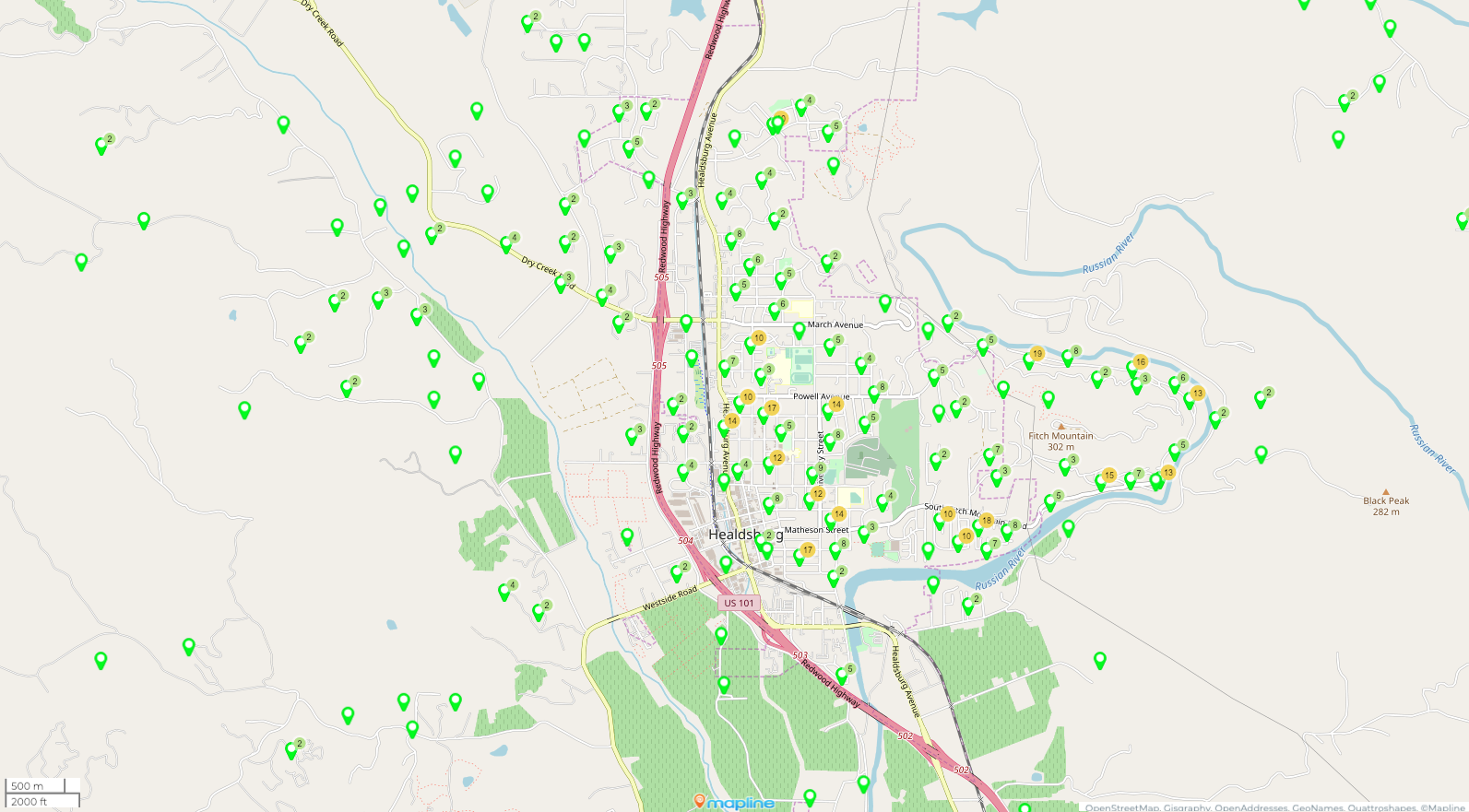 When I am working with buyers looking to buy second homes, they are normally very clear that they either want to be within walking distance to town or else they are looking for a property that feels much more rural. That being said, one person's definition of rural can be another persons suburban depending on where they currently live.
What About The Future For Healdsburg?
One of the biggest challenges for Healdsburg is how it manages its growth as there is definitely a right way and a wrong way to do it. There will always be some people that are from the "it isn't like it used to be" camp. However, it just isn't realistic, or possible, to stop growth, to shut the doors and put up a no entry sign. The community at large does have a real sense of purpose in preserving the character of Healdsburg and recognises that it needs to find ways to accommodate growth particularly as the Smart Train will ultimately connect Healdsburg with the city via the Larkspur ferry.
The Healdsburg Mill District project is a good example of this creating a development at the gateway into Healdsburg from the 101 that is providing affordable housing alongside a new hotel but which has lots of open spaces and is very much in character with the rest of the town.
It's hard to say what Healdsburg will be like in 2025, but one thing is certain, there will be more people visiting from the Bay Area and more people who own second homes. I am hopeful that Healdsburg can continue to evolve in a way that is sympathetic to both residents and visitors alike.
Notes: This data was sourced through title records from Fidelity National Title. A full interactive map is available.