In a sellers market, it is easy to think, a house just sells itself, which is partly true. However, it is one thing selling the house, the biggest skill is how to ensure that the client achieves their goal, which is often to net the most money, but not always. There is no one strategy or tactic that maximizes the sellers net proceeds but executing a a series of activities which will vary by property. Outlined below are ten drivers of a success sales strategy which I consistently consider and apply across all my listings depending on the type of property and the clients' goal.
1) The Goal
This may seem obvious but actually sitting down with the client to understand their goal is pretty obvious but it does make a big impact on the approach. For example selling for the highest price might not be compatible with a sellers goal of finding a home to purchase without having to rent. In some cases, a client might have a very specific goal to net a specific amount of money. For example, I recently had a client who wanted to net a million. When I first valued the property, I didn't feel we could list it for more than $950k so found a renter for it and we rented it out. 9 months later we sold it allowing my client to achieve their goal. It wasn't in my interests to delay the sale but that was the only way the client could achieve their goal.
2) Timing
As well as waiting for a market to move on an upward cycle, it will often make sense to not rush into a sale. It might be that a property will show much better in different seasons depending on flowers blooming, the light on the property or if it has an access road that doesn't present well in winter. Everyone automatically assumes that the spring is best, however for the right property, I feel that if the inventory is light, January isn't a bad time as the buyers that are looking are always very focussed. There are fewer buyers but also a lot less competition with sellers.
3) Improvements
This is always the part that requires the most discussion. If someone has the capital and cash flow to conduct improvements, it is always worth considering it. The improvements needn't cost a huge amount of money but certain things can make a real impact. For example on my listing at 797 White Gates Ave, Healdsburg we spent about $20,000 and some key things which made a huge impact: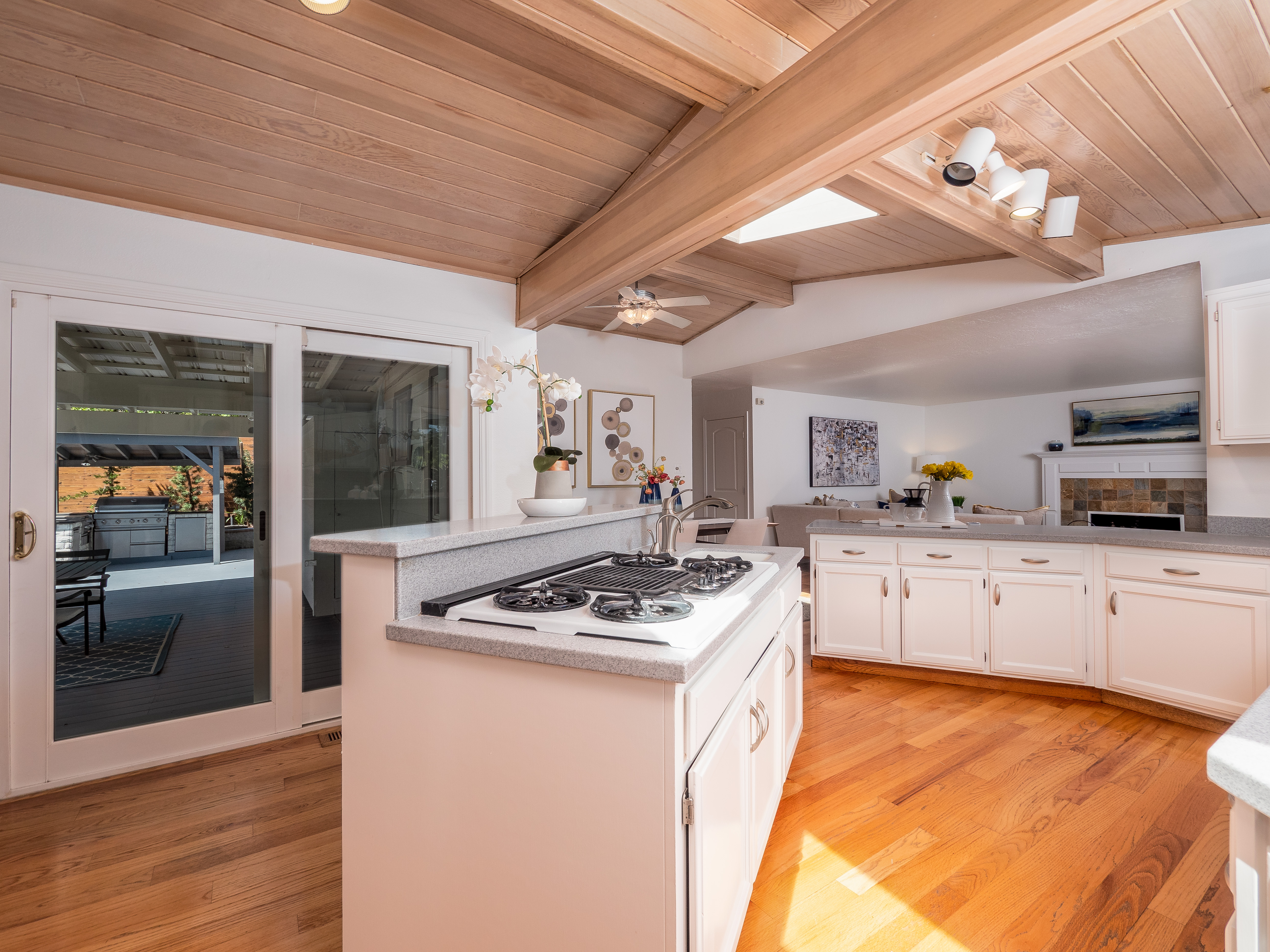 Doors: Replaced the cheap doors with two panel shaker doors
Door hardware: Replaced all door furniture for quality brushed nickel furniture

Front door: as well as replacing the internal doors we put a new front door on and eliminated the security screen

Landscaping: Refreshed all the pea gravel out the front to create the best possible first impression

Fencing: The property had an expensive fence but we breathed new life into it getting it re-stained

Kitchen Cabinets: Repainted all the kitchen cabinets a bright white which freshened up the kitchen
Part of my service to clients is arranging for all this work to be done, paying for it all upfront and then simply invoicing the client and sending them the pictures of the finished product.
4) Pre-inspections
Whenever representing a seller, I would always recommend getting inspections done up front. If it is a rural property that will include well, septic, home, pest and pool (if there is one). Other inspections that are worth considering are a sewer lateral (especially in cities such as Healdsburg) and a roof inspection.
The main reason for doing these inspections up front is because by doing so you are forcing the buyer to make an offer in full knowledge of all the information about the property. This does three things: it makes it more likely you will get an offer with no physical contingencies, it means that it will be a lot harder for the buyer to negotiate any credits or reductions based on property defects that are documented in the inspections completed and finally it reduces the risk of the sale falling out of escrow due to something that was identified by the buyer completing their own inspections.
5) Staging
As someone who comes from the UK, staging a house was an alien concept to me when I first moved to the US nearly 15 years ago. Like many things, staging is now a successful US export to the UK. It is hard to put a figure on the incremental value staging creates but in a survey by NAR (National Association Realtors), 22% of agents stated that staging increased the value of the home by 5% while as many at 17% of agents said it increased the value by 10% or more. In addition to increasing the value of the home, staging also plays an important role in helping the home appeal to the maximum number of buyers. A lot of buyers find it hard to envisage how a space can be maximized for a specific lifestyle.
How much does Staging Cost?
For a $1m 3 bed, 2 bath home this represents an increase of up to $100,000. Staging clearly makes more economic sense the higher value the home because the cost to stage a 2000 sq ft home is the same whether the home is worth $500,000 or $2m. To give you an idea, to stage my recent listing on White Gates Ave, Healdsburg, cost $4,650 for the first month and then $850 per month after that (which we never needed as we sold it in 1 week!).
6) Marketing
I feel this is one area where my background prior to real estate running a digital marketing agency working for brands like Virgin, Google and Facebook makes a huge difference. The easy part of real estate marketing is posting it on the MLS which then syndicates it automatically across all the consumer facing property portals. However here are just 5 things I do which makes my marketing stand out:
- Create content such as this that features my listings: "Five $1m homes not to miss"
- Market my listings to my database through my editorialized newsletter
- Run dedicated Facebook ads to audiences that are not just based on spending power but audiences that are built using the "Facebook Custom Audiences" feature to create an audience of "lookalike" people to existing owners and buyers.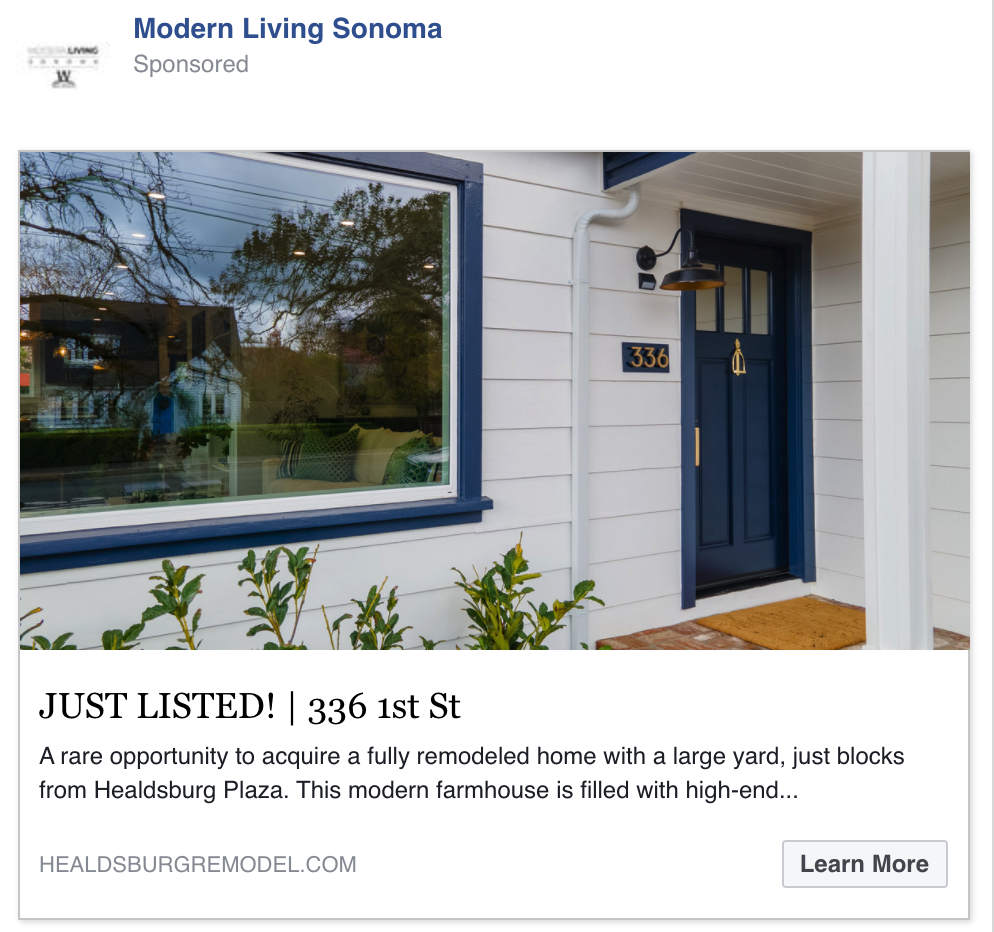 - Purchase agent lists to promote listings to discrete audiences in the East Bay, San Francisco, Silicon Valley etc
- Create a very detailed property package including all the standard information but also packaging up additional items such as a buyer insurance quote for example.
7) Photography
For people who know me, they will know I am a keen landscape photographer outside of my real estate work. For that reason, I am slightly obsessive about the quality of photography on my listings. I have may own 3D camera so I can produce 3D tours quickly and easily which in turn will generate a floor plan. For all my listing I will automatically do everything: drone, still photography, 3D tours, floor plans and the thing I will often do myself is external twilight photography. To me it is the closest I can get to landscape photography.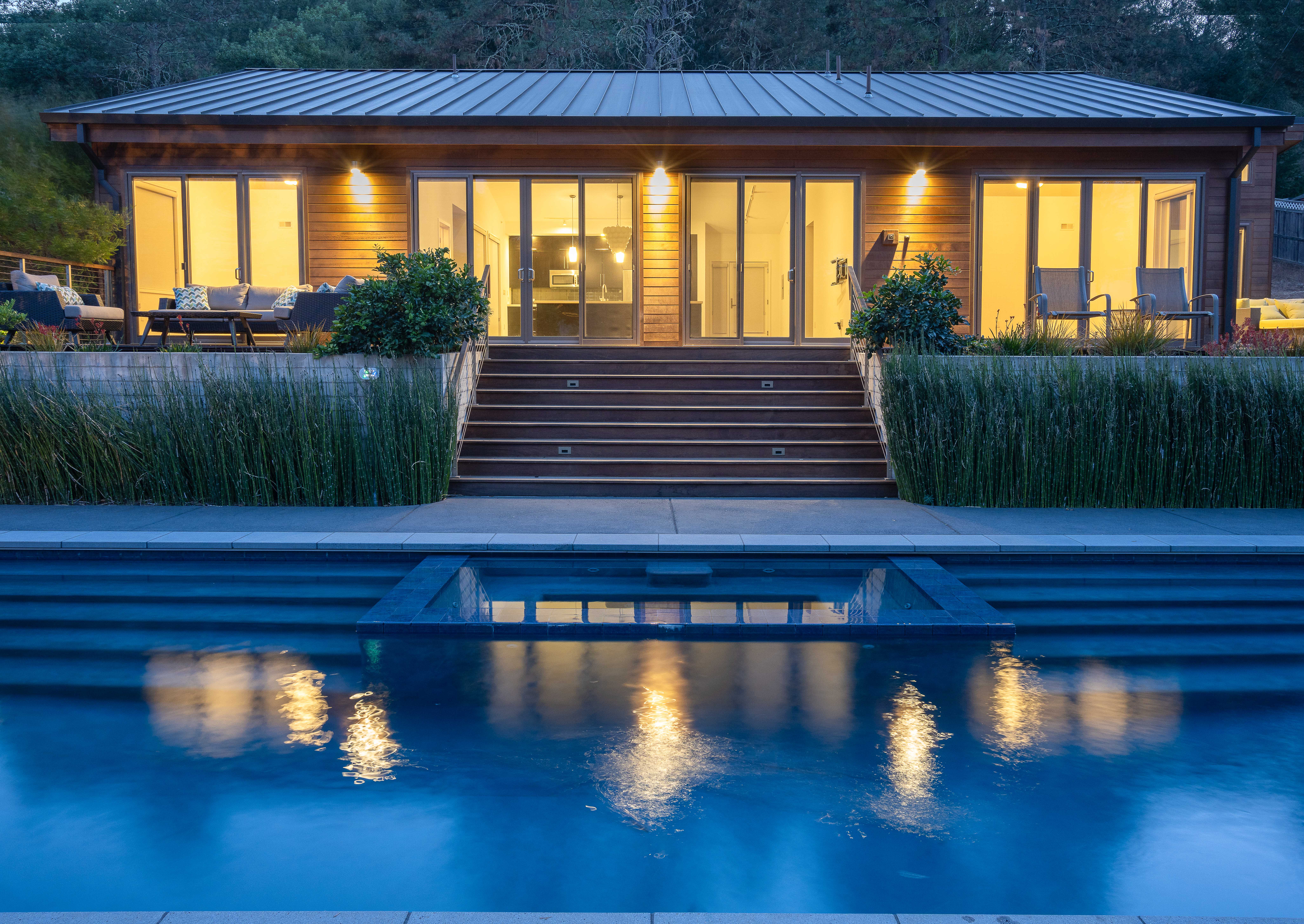 8) Preview with brokers
It always amazes me how many agents get a listing and then never turn up at a broker meeting to pitch it! I have been meaning to do an anecdotal survey but my guess is that agents will only pitch 40% of listings. This number really is embarrassingly low. If I am being paid 3% to sell someones property, the least I can do is turn up and pitch it to other agents and actively get agents to come and preview it. For example, for a recent listing I had 14 agents come and preview it for clients before it ever went on the market.
9) Offer deadline
In the current market, many properties, especially those in the lower price points, will set an offer deadline at the time of listing to try to ensure that the seller isn't put in the awkward position of being asked to consider/accept and offer they receive on day 1. I would advise most sellers to give the property 7 days on the market (ideally two weekends) to get it in front of the biggest pool of buyers. For a recent listing in Healdsburg, I decided not to put an offer deadline on initially because very few $1+ properties in Healdsburg have an offer deadline on them. However, after the first few showings it was clear we were going to be getting offers so at that point I put an offer deadline on it for the following weekend. This definitely helped us get more offers.
10) Multiple counter
This tactic is something that is less common. If a seller receives multiple offers there are three choices: choose the best offer, issue a counter offer to everyone asking them to come back with their "best and final" offer and finally issue an individual counter offer to some, or all, offers. Personally, I like the latter approach because I think it enables the seller to fine tune different terms with different offers. For example the highest offer may have a physical or appraisal contingency in it that it might be possible to get removed by specifically countering that term. Equally there may be a lower offer with much more favorable contingencies that you might be able to get the price increased on. A lot of agents won't do this because to be honest, it is a lot of work and quite a complex process! However, I do think it often drives the best possible outcome for clients and an escrow that has minimal risk. I recently did this and ended up with an offer that was a 7 day close with zero contingencies at a price that was considerably over asking!