Regardless of your views on the vacation rental market, it's hard to argue that Sonoma County isn't a great place to purchase a vacation rental. That being said, navigating the rules for vacation rentals is complex, so it's not easy to find the perfect investment. As part of finding the property, it's important to understand both your goals and also the financial commitment and risks. I have numerous blog posts here, sharing information about the the vacation rental permit rules in Sonoma County, blog posts about how best to manage a vacation rental and also interviews with clients who have purchased a vacation rental property.
1. 21617 Highland Terrace, Monte Rio : Sold for $320,000. 5% below Original Price.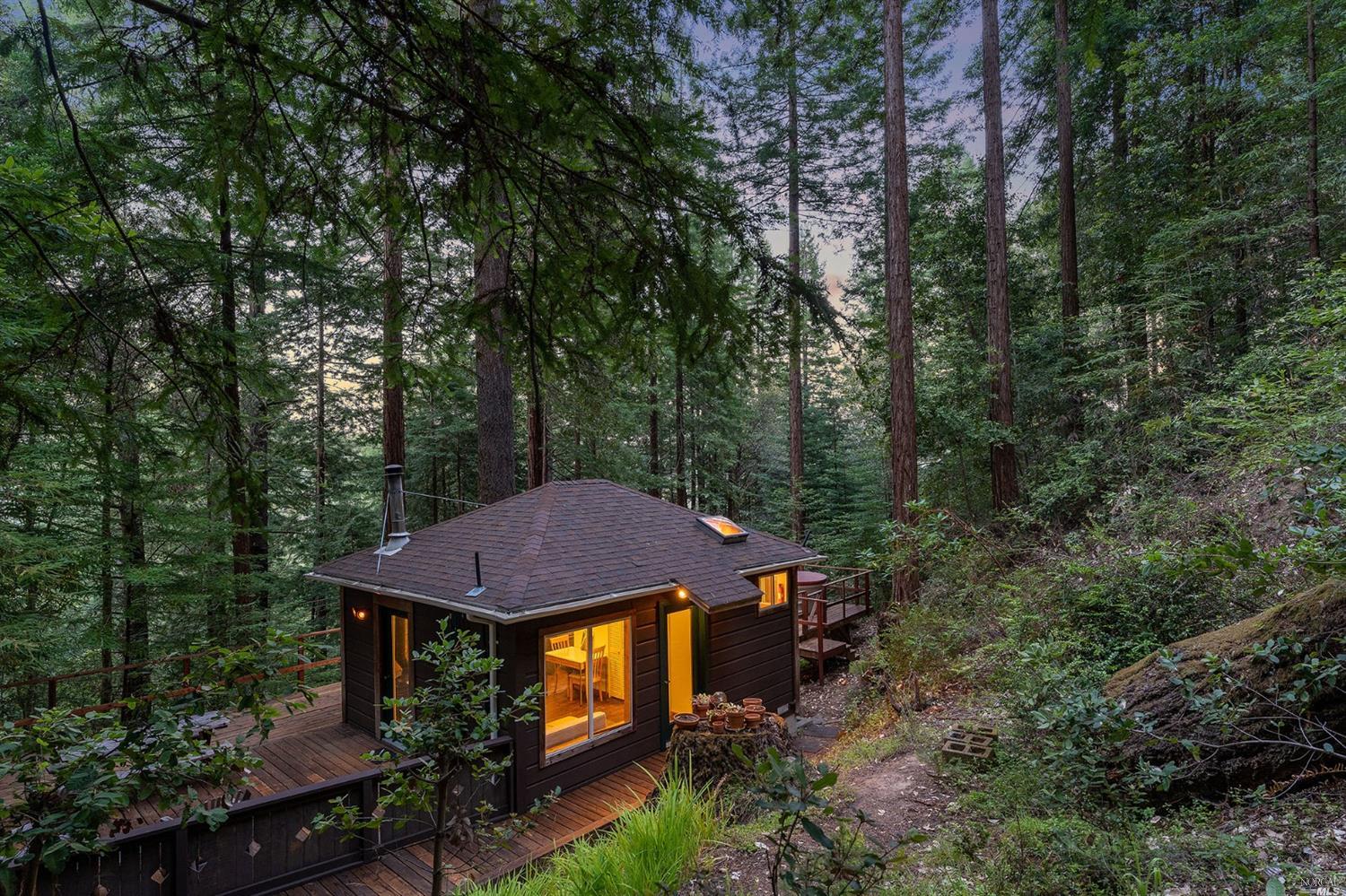 Monte Rio has been one of the most competitive markets this year, largely driven by people from the Bay Area purchasing vacation rentals. This is a case in point. This checks quite a few of the vacation rental boxes. While it is in the Russian River cap area (see separate post about the Russian River Cap) this is the perfect Russian River retreat. It is peacefully set in an enchanted Redwood Forest this mini cottage is the perfect expression of secluded, wooded, rustic and romantic. Commune with nature on the gigantic view deck that offers ample opportunity to dine, read or relax in the hot tub.
2. 21762 Moscow Rd., Monte Rio: Sold for $740,000. 9 offers. 25% over Original Price.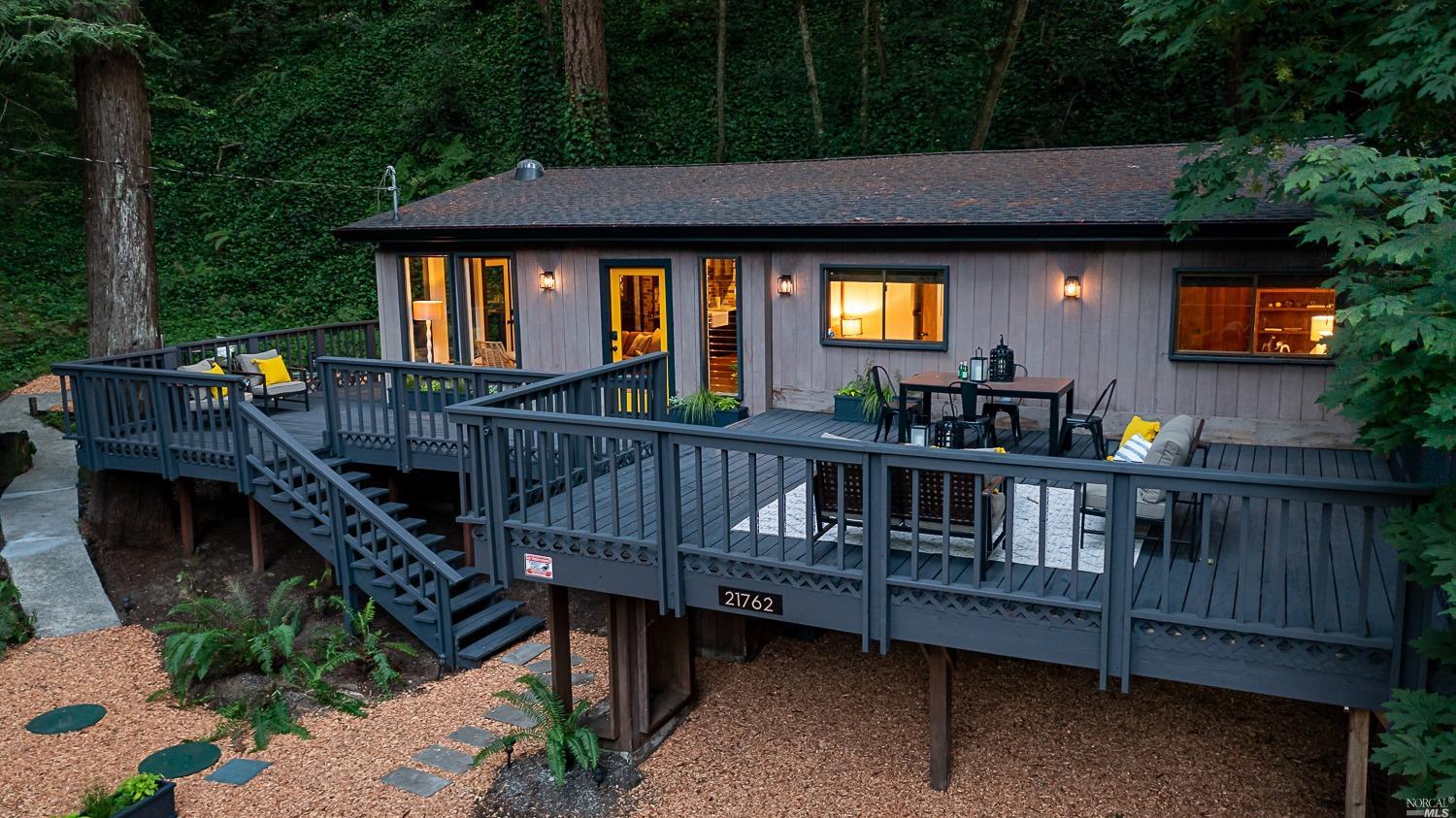 Just across the road from the Russian River, on one of my favorite roads on the south side of the river which is a short cycle to the cute town of Duncan Mills, this was a classic Russian River chic home set in the redwoods. The interior of this special home had been beautifully remodeled and is now a sexy mid-century retreat with modern-day country flair and bohemian touches. Walls of glass overlook the cathedral-like valley of trees. A seasonal stream meanders downhill. Recessed, filtered forest light flows through redwoods and California natives.
3. 21970 Moscow Rd. Monte Rio . Sold for $1,427,000. 6 offers. 30% over Original Price.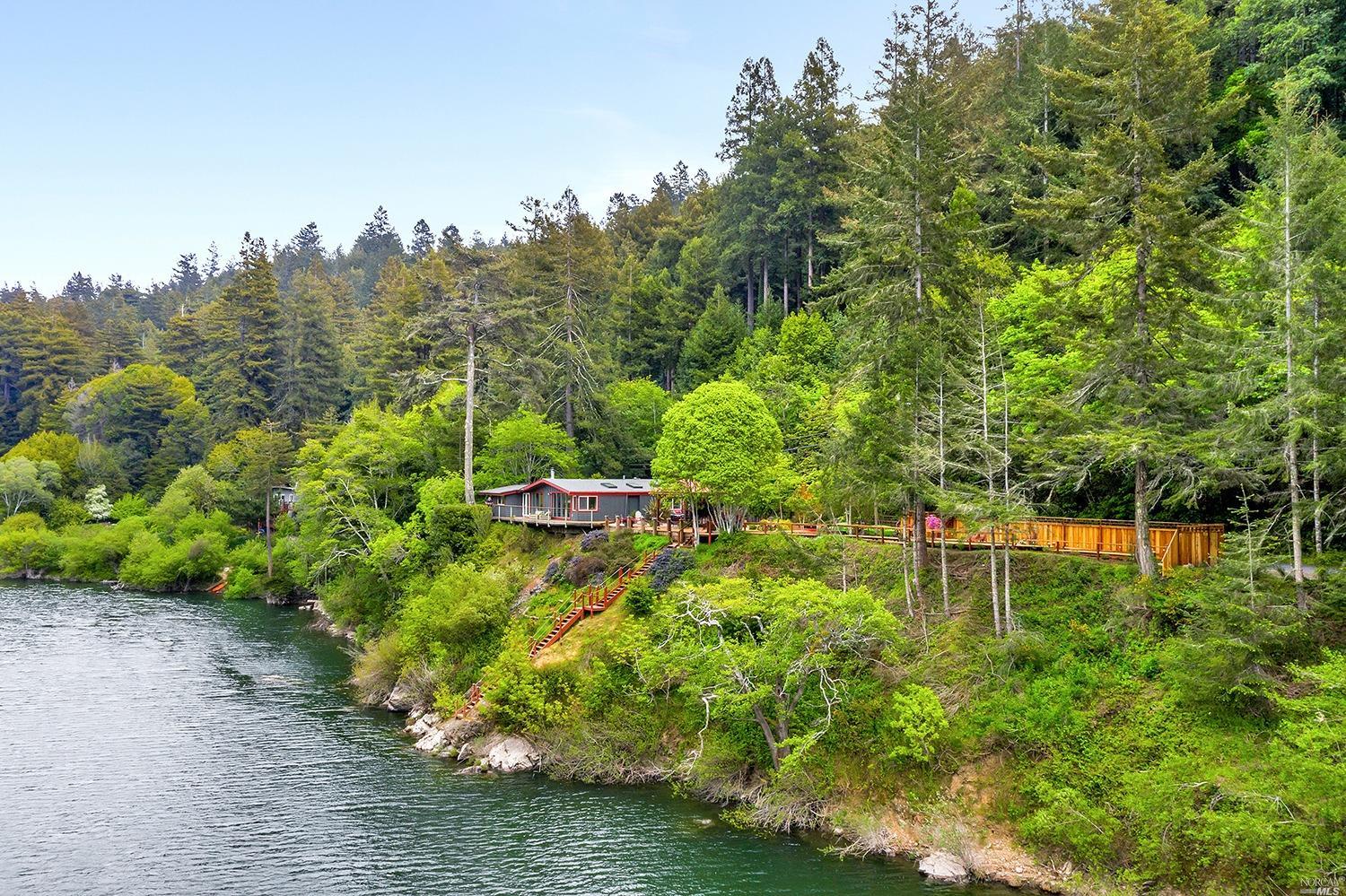 A property located on the river can increase vacation rental incomes by as much as 30%. While only a 2-bed place, this has outside space to create the wow factor. Perched on an epic setting along the Russian River, the Rock House punctuates its site with mind blowing exhilaration at first sighting of the 180 degree views of the river upon entry. The soulful dwelling is a mid-century aesthetic with a serene interior of two bedrooms and two baths, with most furniture/furnishings included for a turn-key set up.
4. 30-31 Magic Mountain Rd., Cazadero . Sold for $786,000. 24% over Original Price.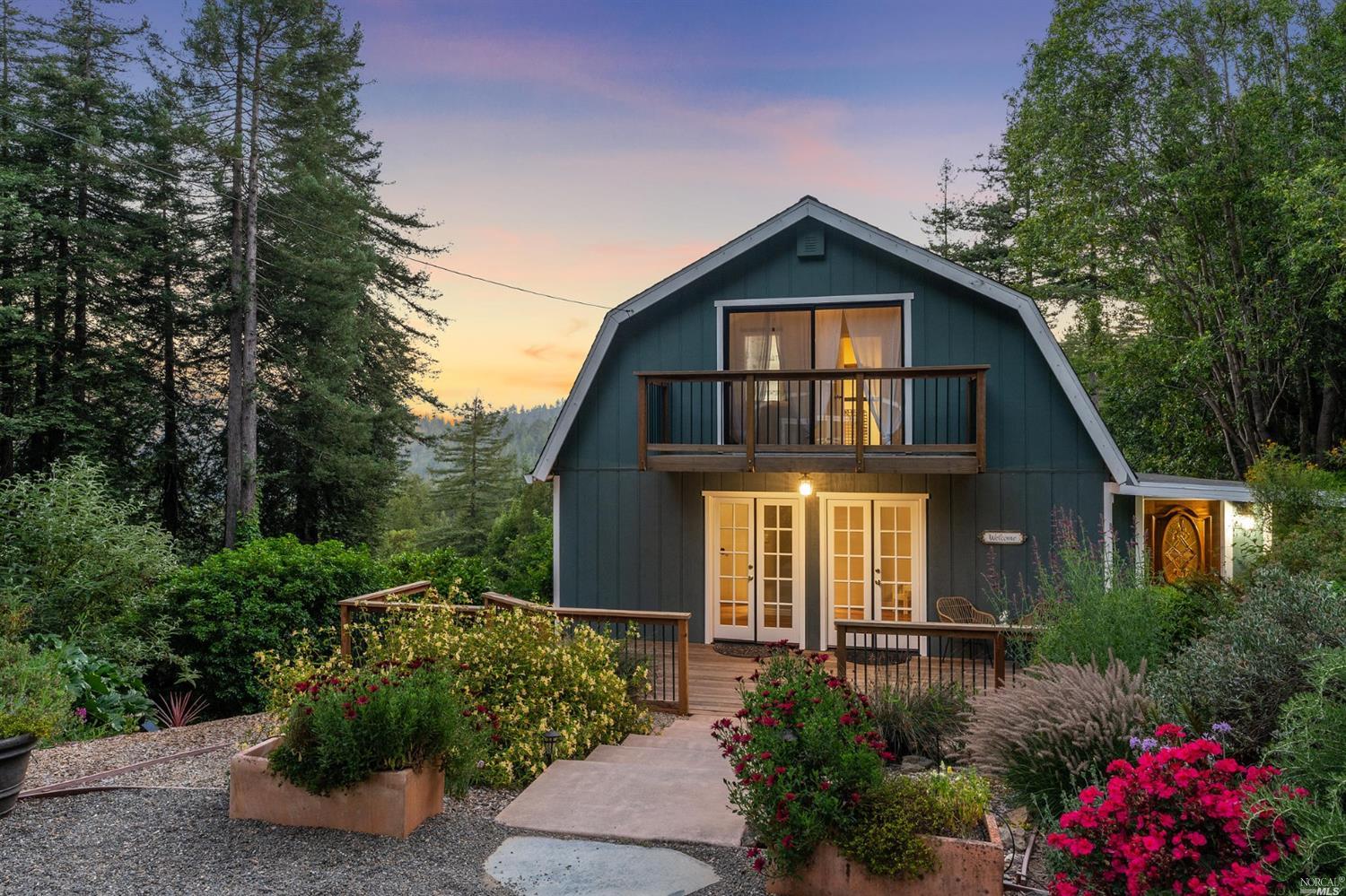 As with properties located on the river, a property with a spectacular view also makes a property stand out from the crowd on AirBnB. this property has spectacular Cazadero views set overlooking the Russian River Valley. This immaculately maintained two story home offers breathtaking redwood-framed views on over 2 sunny acres that span both sides of Magic Mountain. Richly appointed and newly updated interiors include private primary bedroom and bath suite with gleaming hardwood floors and enchanting balcony walk-out.
5. 1033 Westside Rd, Healdsburg, CA . Sold for $1,600,000. 4 offers. 14% over Original Price.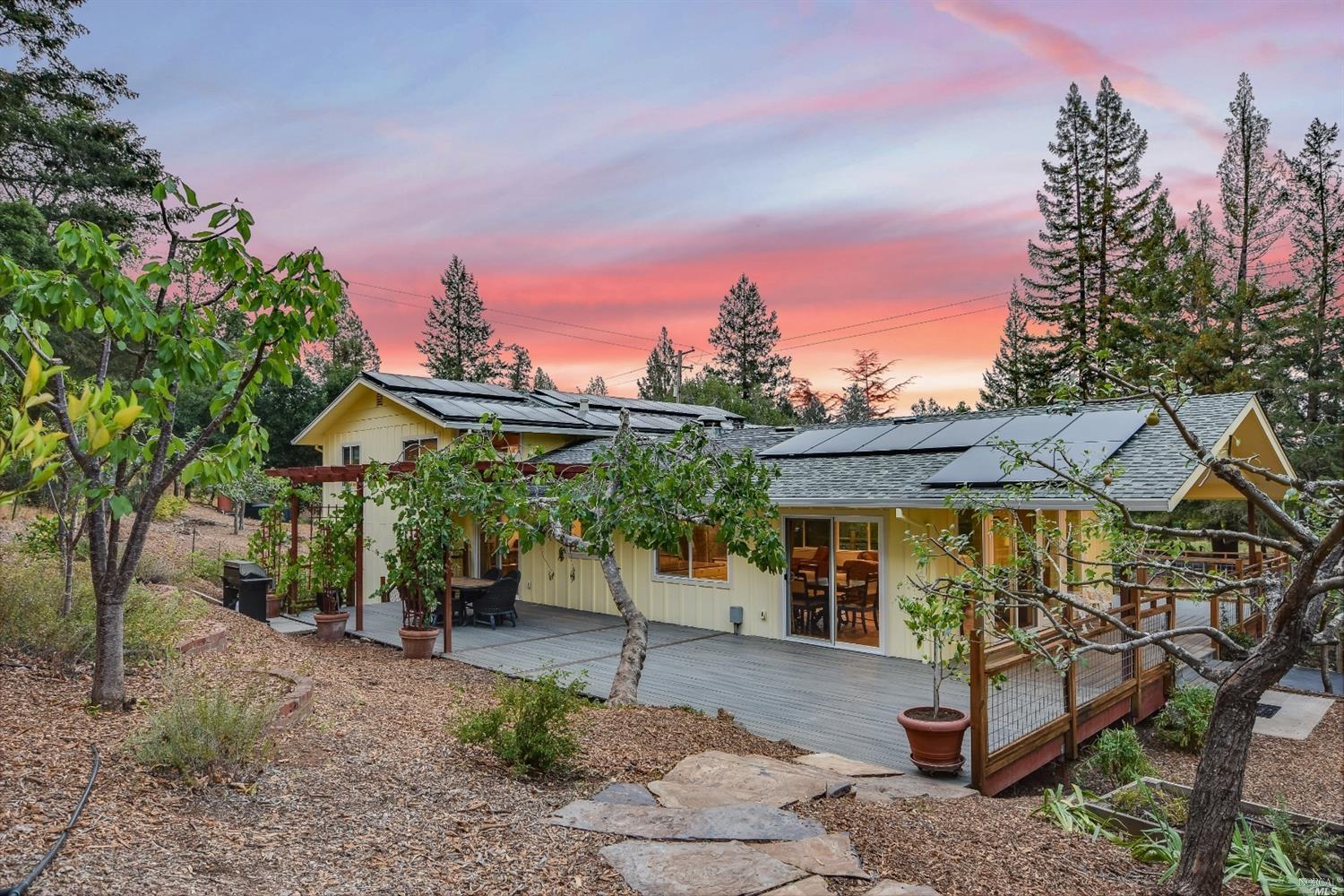 This property was a rare find in and around Healdsburg because it has the zoning to support a vacation rental permit. Its proximity to Healdsburg downtown, with views and a rural feel, make this a special property. Tucked behind the Madrone Manor on a quiet private drive, this property will make a great vacation rental for my clients. It even has room for a pool which would make this one of the most profitable vacation rentals around Healdsburg.
6. 336 W North St, Healdsburg, CA . Sold for $1,875,000. 5 Offers. 17% over Original Price.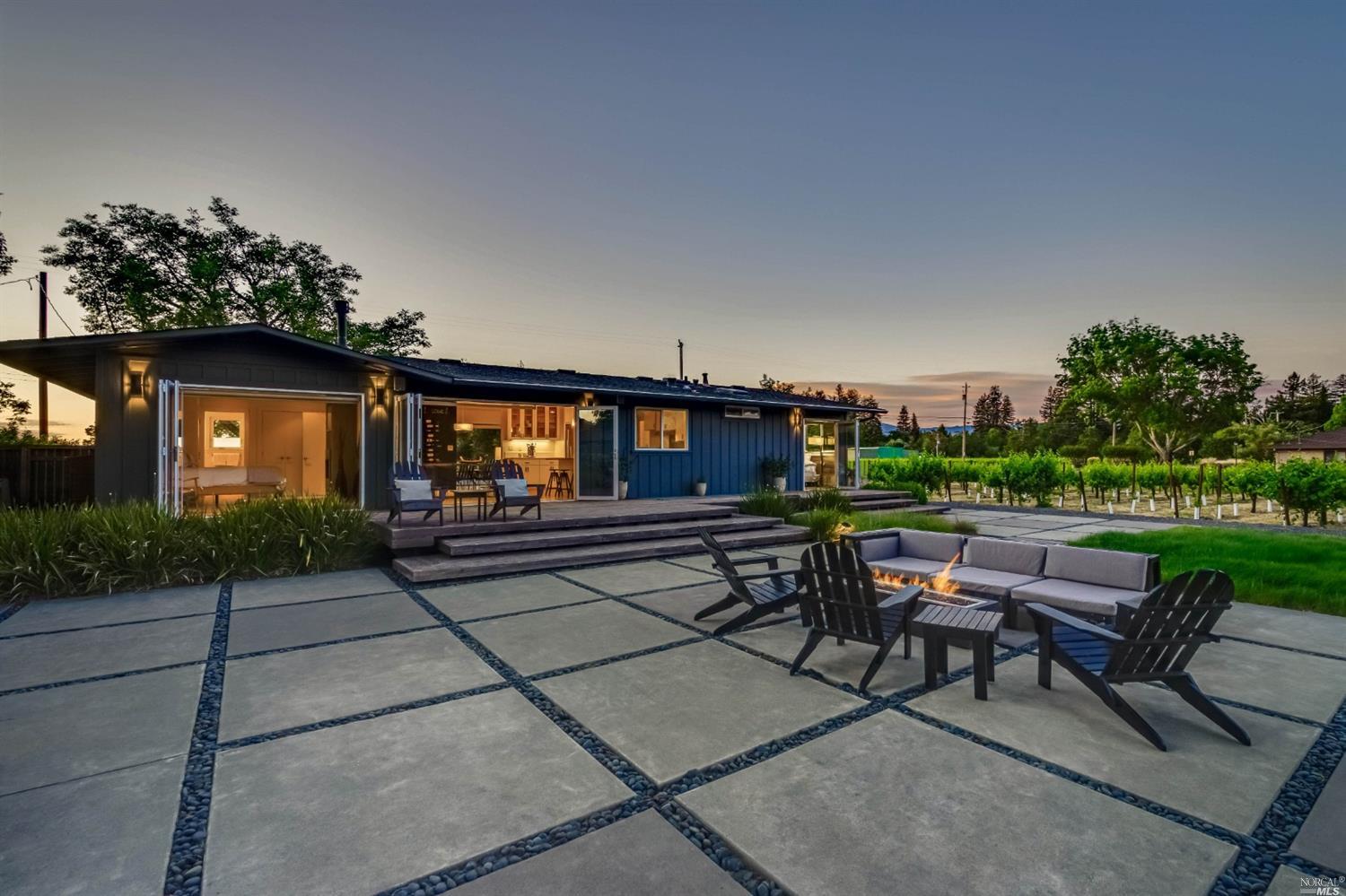 Another rare find around Healdsburg. While Healdsburg city does not allow vacation rentals (see separate post about the rules here) Situated on 1.39 acres yet walking distance to the iconic Healdsburg Plaza in California's Sonoma Wine Country, this home-in-the-vineyard, was sold as a fully furnished luxury, turnkey vacation rental. The area just west of the Highway 101, off Westside Road, is one area around Healdsburg that has a number of properties that have the zoning to support a vacation rental permit. It's one of the closest vacation rentals to downtown Healdsburg you can find.
7. 4724 Hidden Oaks Road, Santa Rosa: List price $1,150,000. Pending.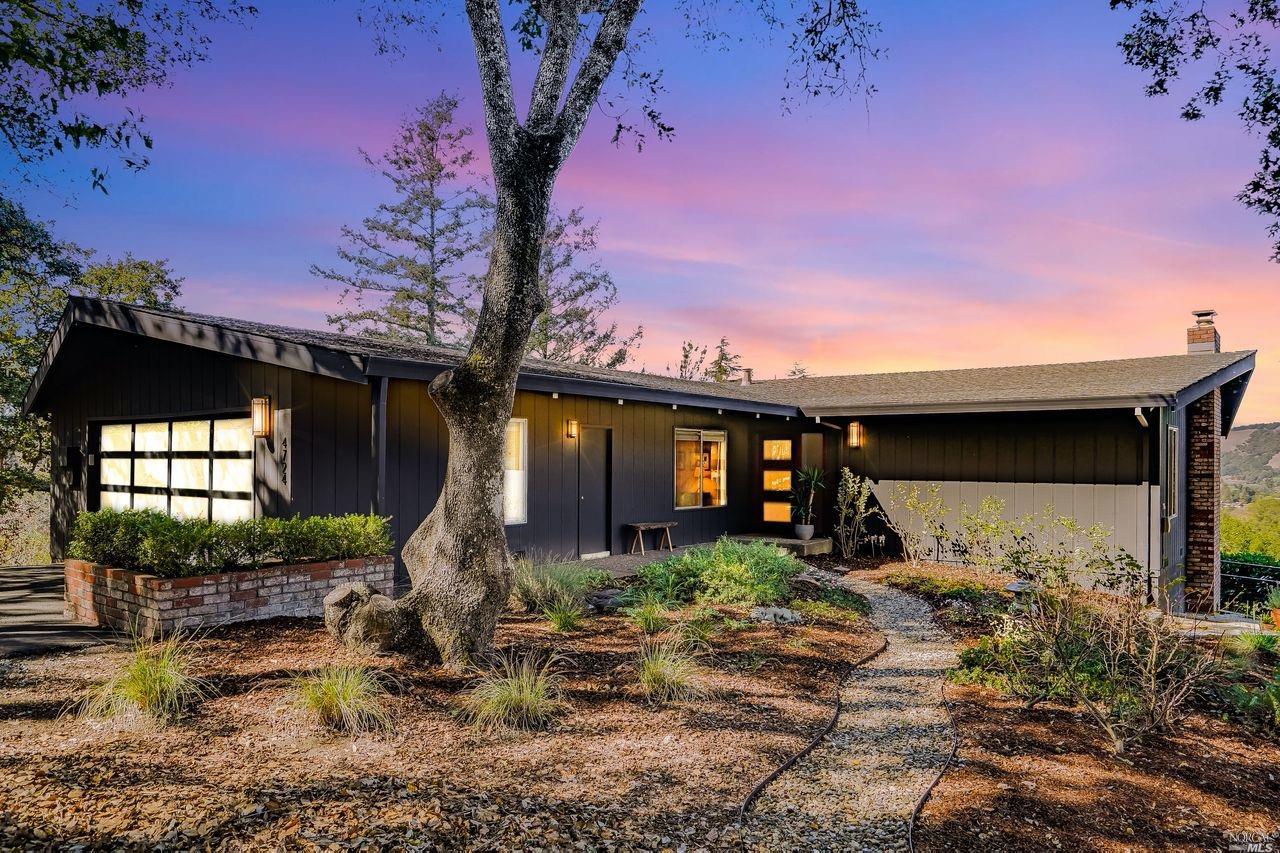 One of the challenges for finding a vacation rental in and around Sonoma, as well as Kenwood and Glenn Ellen, is the moratorium that has been placed on homes within the different fire perimeters. This how. which has spectacular views and mature oaks, is one block away from the Nuns fire perimeter so it is eligible to apply for a vacation rental permit. As well as being turnkey it is ideally located for privacy on 2 acres, yet close to shopping, restaurants and wineries. This mid-century rancher takes full advantage of the single level design.
8. 17505 Summit Ave. Guerneville CA . Sold for $430,000. 1% over Original Price.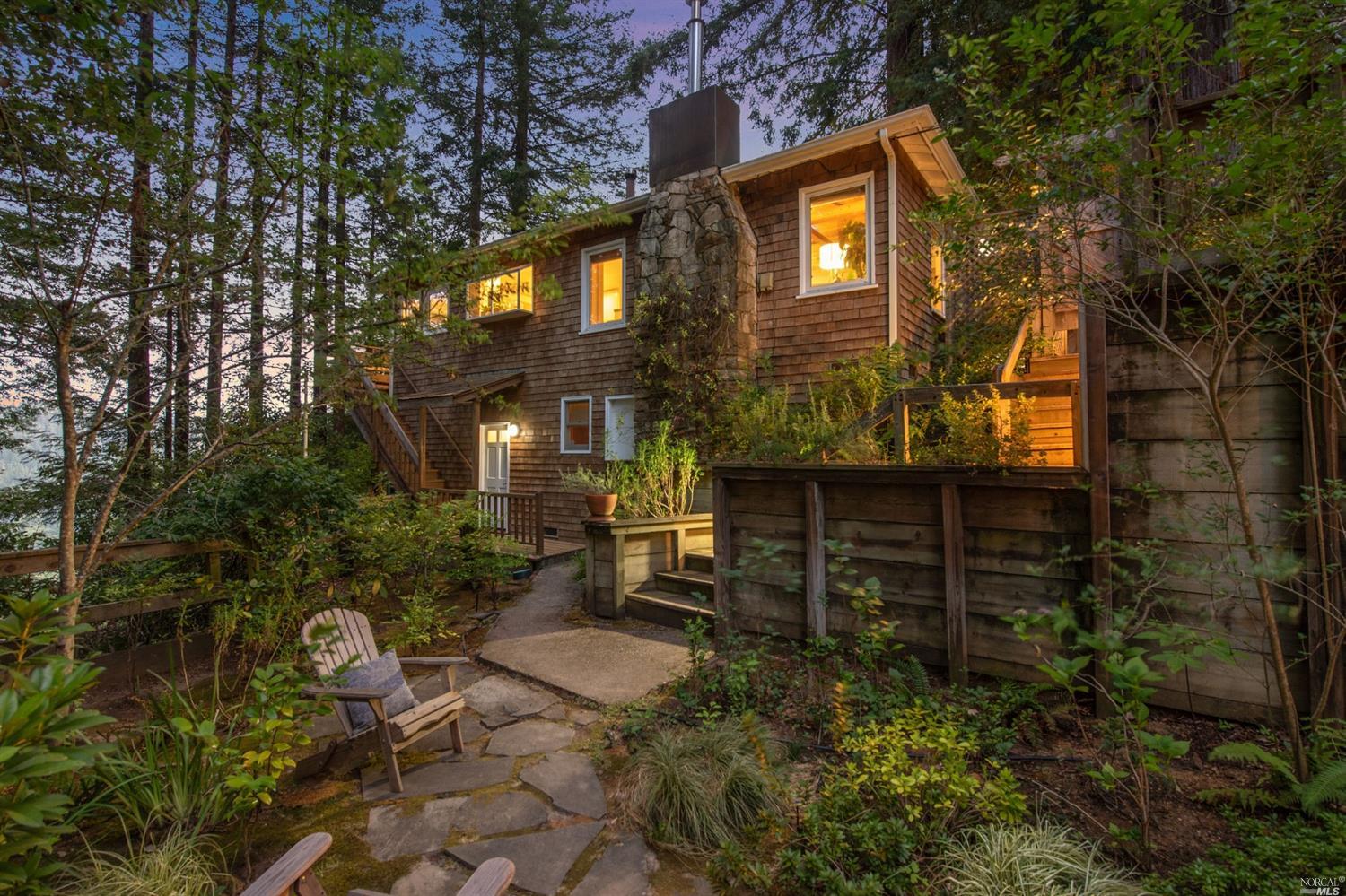 Another good vacation rental in the Russian River set high up with no concerns about flooding and with epic vistas out to the Russian River valley below, The soulful two story dwelling is a Cape Cod aesthetic with a happy and cheerful interior of two bedrooms and one bath, and downstairs with a nest-like en-suite bedroom with personal deck and private entry.
9. 19376 Orange Ave, Sonoma . Sold for $1,400,000. 5 Offers. 22% over Original Price.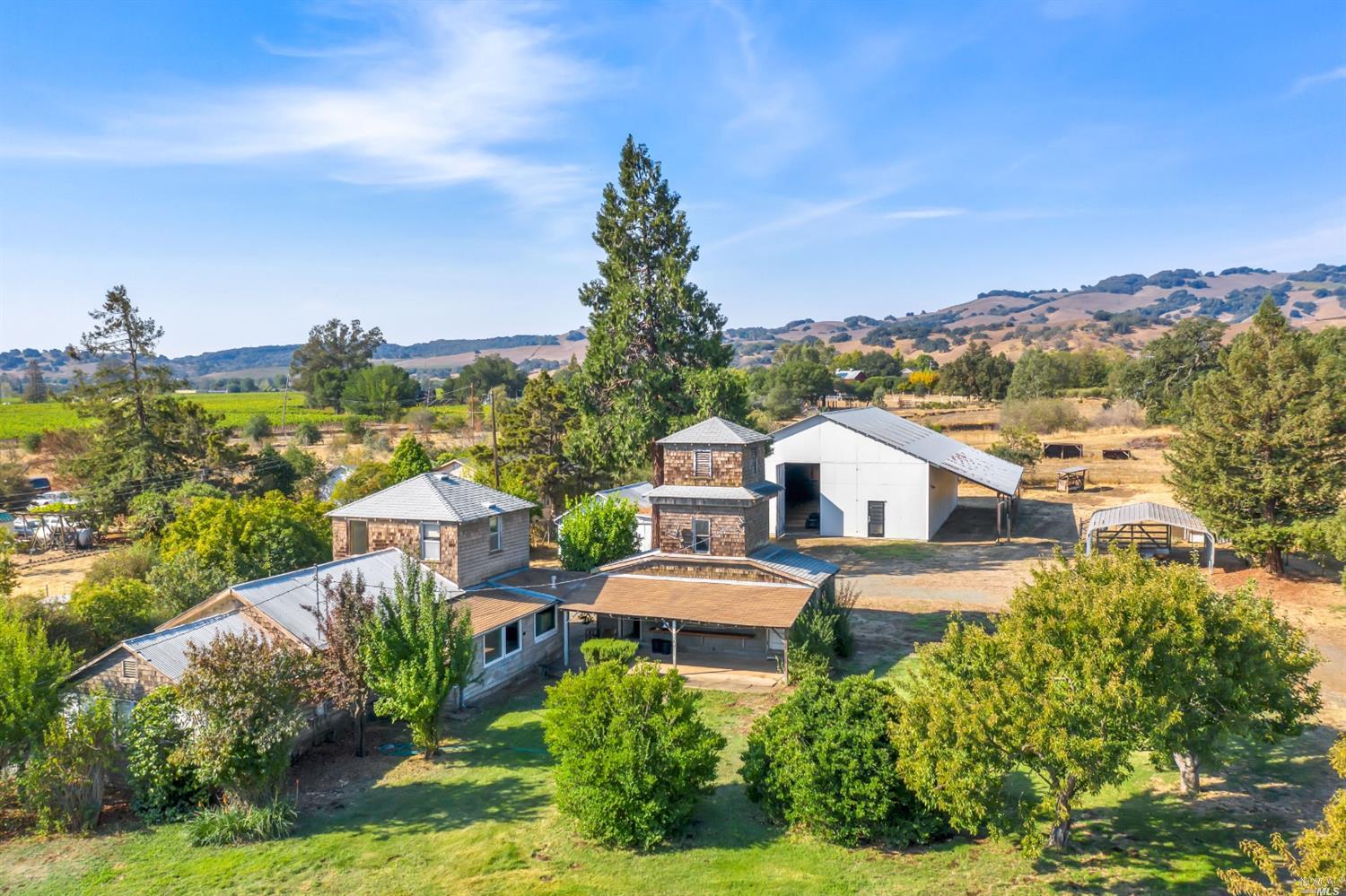 One of the things I always look for in a good vacation rental is something unique that will make the listing "pop" on the listing sites. This home with an iconic tower is a good example. While the price point is quite high for a fixer, it does have potential especially if it can be adapated to create a third bedroom, although because it is on a septic system, it is important to fully understand the process for expanding a septic system and the rules around vacation rental permits and septic systems. Classic Sonoma farmhouse of yesteryear. Located in a charming neighborhood in Western Sonoma Valley. The property borders Carriger Creek and has mountain and vineyard views. An ideal location to create your dream home with several estate properties nearby. Just 2+/- miles from the Sonoma Plaza.
10. 15695 Sonoma Hwy. Sonoma . Sold for $2,300,000. 3 offers. 10% over Original Price.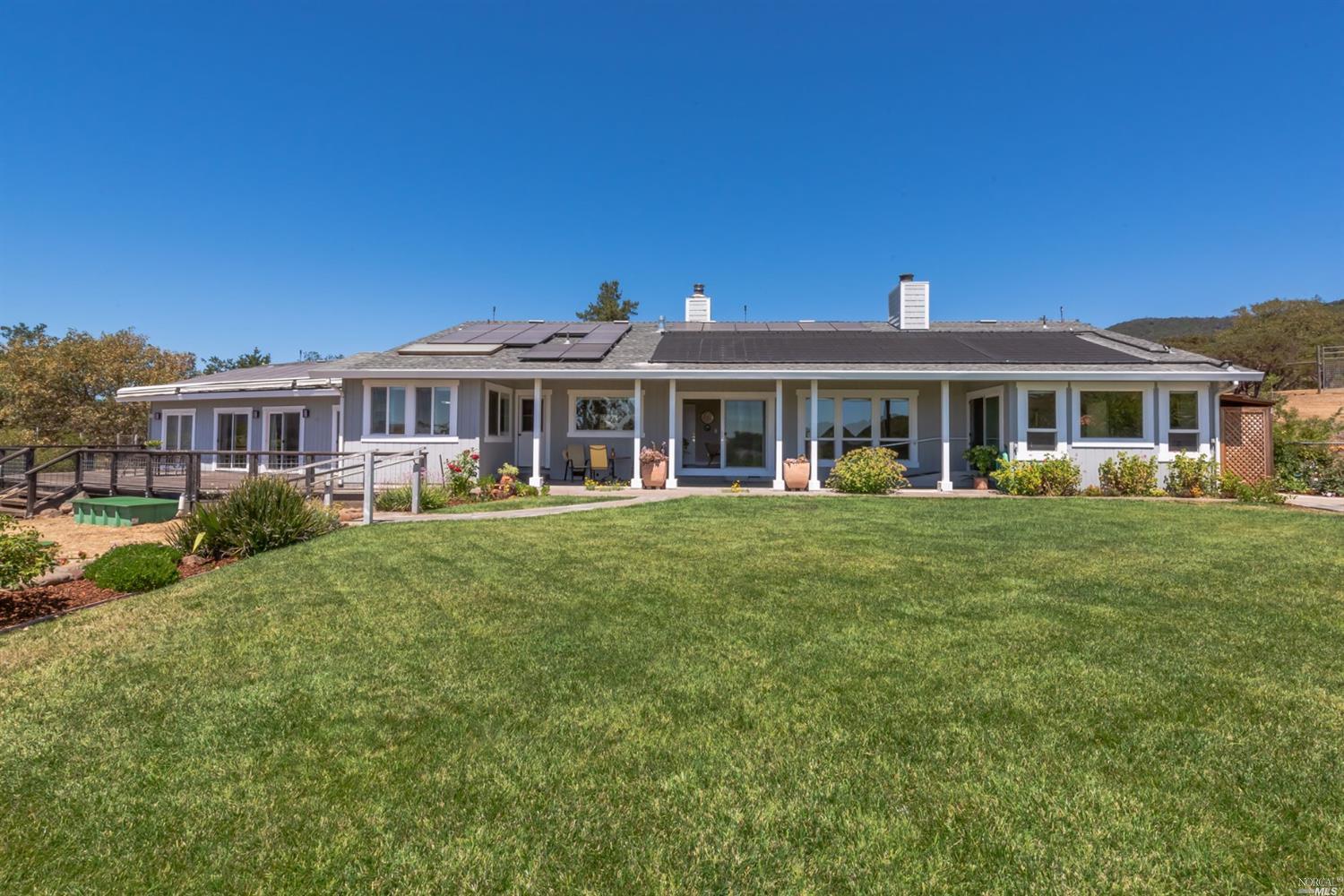 It's no surprise that this got multiple offers taking it above asking price. It is hard finding properties in this area that qualify for a vacation rental permit so when they come along they tend to get snapped up. While it is more than a fixer, its location and setting makes it a great candidate for investing to create a true wine country vacation rental retreat with pool. It is on 2.9 acres with gorgeous sweeping vineyard and hill views making it an excellent location set back from Sonoma Highway just minutes to shops, restaurants and wineries. So close and the feel of being away from it all. I have no doubt that this will make a great vacation rental.