Over a year ago I wrote this blog post about the 55+ community in Healdsburg and how it represents some of the best value real estate in Healdsburg. With prices over the past year increasing over 15% over the past year this is as true as ever. In the second half of this year there were very few that became available but more recently a few have been sold.


The 55+ community in Healdsburg is just over a mile away from Healdsburg Plaza so it is an easy walk.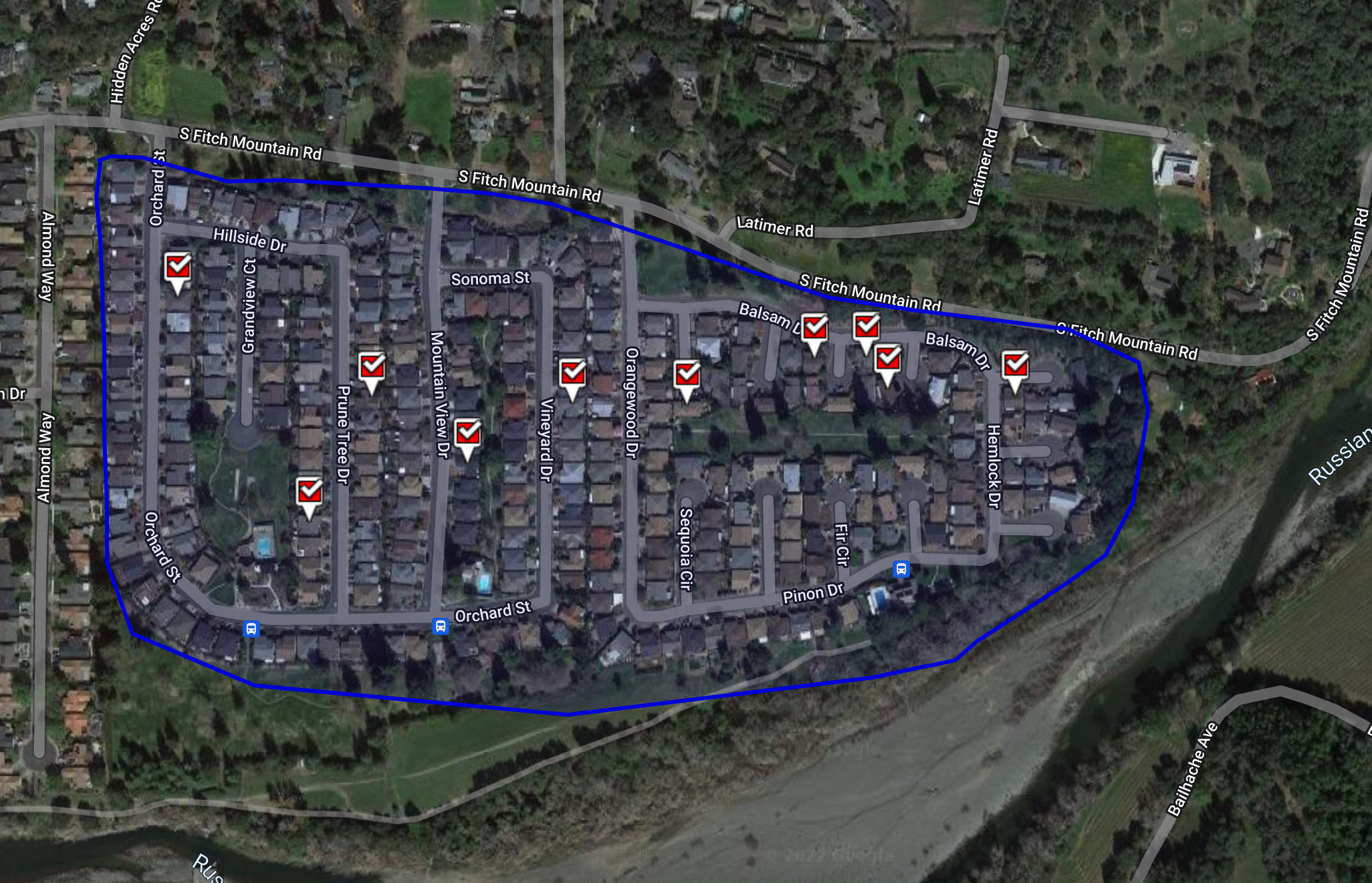 Over the last year since the beginning of 2022 just 10 have sold for prices ranging from $515k to $850k. The average sales price to list price is 99% with the highest price over asking being for 305 Cypress Circle that sold for $835k after being put on the market for $750k. The media price for homes in the community is $672,000 for homes that on average have just over 1200 sq ft of living space. Below you can see all the transactions that took place in 2022.

There are three distinct areas to the community each with their own HOA, clubhouse and pool as well as open spaces that are managed by the homeowners association. One of the great things about this area is that homeowners all have access to the common space through a gate that connects down to the river.
Riverview is the community furthest away from Healdsburg Plaza starting at Orangewood Drive. There are 101 single story homes, a quarter of which actually back up to common areas. The homes in this area tend to be on slightly smaller lots and a higher proportion of the homes are the smaller 2 bed configurations. Because of the location of these homes, a lot of them also have views of Fitch Mountain which is definitely a bonus.
River Bend is the oldest of the three developments and is the nearest one to the city center starting on Orchard Street and extending over to Prune Tree Drive. It has 118 homes which range in size from 1000 to 1300 sq ft and tend to have more updated homes than the other areas and also more of the larger homes with larger yards. In this section of the 55+ community, there is a good mixture of two bedroom and three bedroom homes.
Riverside is the community sandwiched in between River's Bend and Riverview and takes in Mountain View Drive and Vineyard Drive. As with the other communities it has its own green space as well as having access to a clubhouse and the river.
The downside of an HOA is that there are monthly costs although compared to many HOAs these are very reasonable at about $150 per month . The River's Bend HOA fees are the most expensive at $450 per quarter while Riverside fees are $350 and Riverview HOA fees are $360 per quarter.
HOA Rules
As with any HOA, there are rules and regulations that homeowners need to follow. Many of these are common sense and require that homeowners act with consideration to their neighbors and keep their properties looking presentable. For example, you aren't allowed to store RVs or boats on the property and you can only have 2 garage sales per year although I am not sure who has more than that? A lot of the other rules are around how the property can only be used for residential purposes, that you need to keep the landscape trimmed and adhere to a speed limit of 25 mph around the community. All fairly basic stuff
There is one important rule which concerns renting out the homes. While it is possible to rent out the homes, only to someone who is 55 or over, a homeowner cannot rent the home out within the first three years of occupancy. Even after three years, an owner may only rent the property for 60 days or more and the whole property must be rented. Because of the three year rule, they are not really an option for investors unless there is a way it works out for a family member to live in the property initially.
The Different Floor Plans
The Galley Kitchen
The smaller units which are just over 1000 sq ft will often have a galley kitchen at the front of the house that is then divided from the living room. For many people the galley kitchen doesn't work but for the units that have been remodelled these make very good use of the relatively small footprint.
224 Mountain View Drive which sold earlier this year is a good example of one of these floor plans that had been nicely remodelled. This is one of a number of properties, all owned by the same person, that sold over past 12 months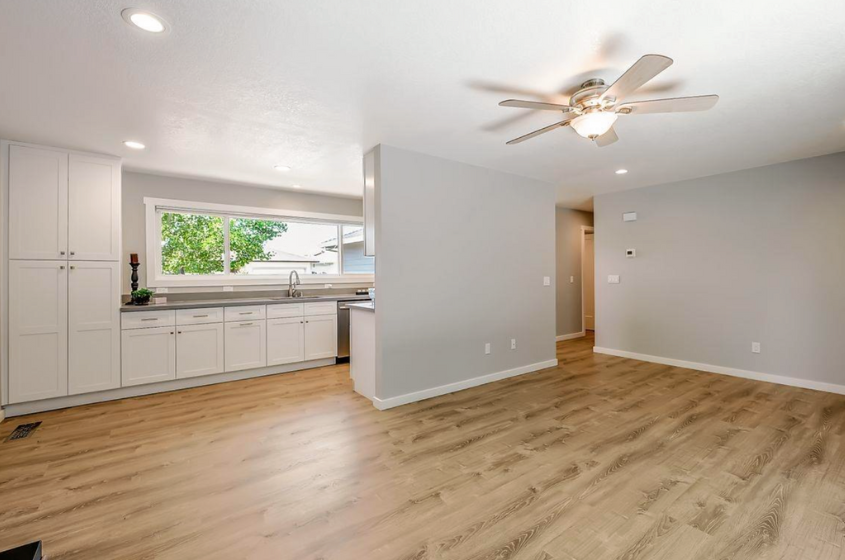 The Dedicated Front Kitchen
A number of the homes have a kitchen on the left as you go in through the front door that is very much divided from the living space and a dining space. If you are looking for something with distinct kitchen, dining and lounge, one of these could be a good option for you.
Jack and Jill Bathroom Models
There are a number of homes in the Riverview community that have jack and jill bathrooms that are designed to provide an ensuite bathroom to the second bedroom but which is also accessible to the living space as the bathroom for visitors.
308 Olive Circle is an example of one of these. It is a two bedroom, two bath home that is 1200 sq ft and has the kitchen at the rear of the house with a well laid out living area but it is on a fairly small lot at 3267 sq ft. The rear fence is fairly close to the back of the house but it does open up at the side which also then leads out into the open space via a gate.
The Open L-Shape
The open L-shape is definitely my favorite floor plan. 310 Prune Tree Drive is an example of this that was sold last year. A client of mine purchased this and it was probably my favorite home that sold in Rivers Bend certainly for the last 12 months. It had a nice open floor plan with the living area at the front of the house which leads into the dining area and then with the kitchen off to the right hand side.
It also had the added advantage that it opened up to the open space behind. This, combined with the fact that it was on a good size lot of over 4000 sq ft, made the yard feel nice and spacious.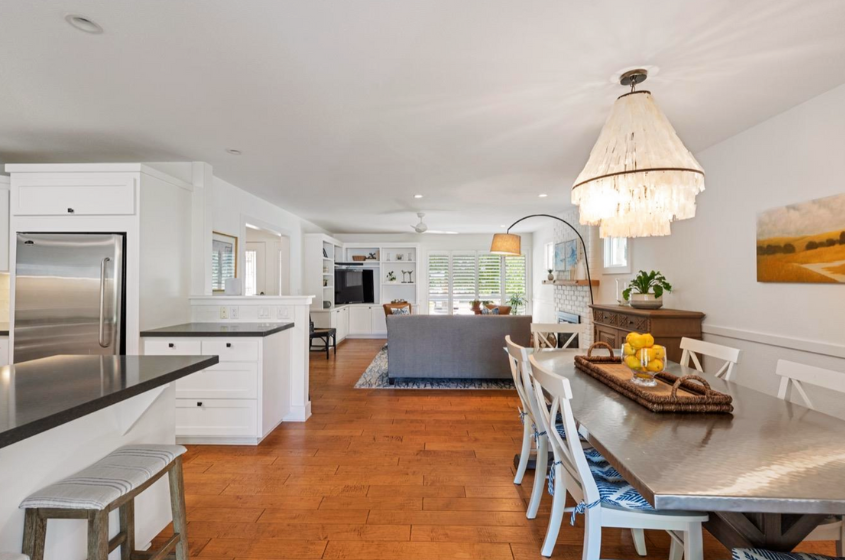 The Vaulted Ceiling
As you drive down Orchard Road you will see some mid-century modern homes that have high vaulted ceilings.
However, don't get too excited as these don't come on the market very often. The last example of one of these was 371 Orchard lane, which was only just over 1000 sq ft and it sold for $697k back in 2019. It had been totally remodelled with a contemporary feel and even 3 years ago it sold for $650 per sq ft which is the highest price for sq ft of anything sold in Rivers Bend in 2022.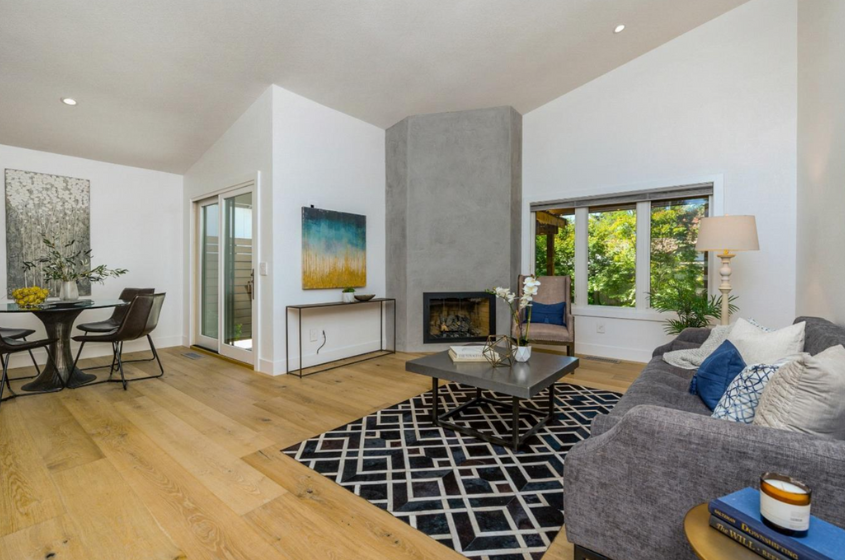 What are the 4 things that Make A Different To Price?
1) Open Space
The most sought after properties are the ones that back onto the open space along Orchard St or Pinon Drive which borders the river path and leads all the way to Badger park. The homes that back onto the larger internal open space along Prune Tree drive, for example, are also highly sought after.
There are other homes for example along Mountain View Road and a lot of the homes in the RiverView community in the cul-de-sacs that are all named after trees, all back onto open spaces although those green spaces are long and narrow so don't have quite the same feel.
2) Size of the yard
The larger lots are over 4000sq ft with even the biggest lots being less than 5000 sq ft. They are definitely not large lots but there is a big difference in how the yard feels based on whether or not it backs up to open space or if it is right up against a neighboring property. Some of the smaller lots are just over 2000 sq ft such as 1420 Ash Circle that sold this year which really are quite small.
3) Open Plan
There are only really 3 or 4 different floor plans and then everything else is a variation on that with various walls removed. The most sought after units, and so often the most expensive, are probably the ones that have an L-Shaped living/dining/kitchen and are open plan. This is the layout of 215 Prune Tree Drive that I mentioned earlier.
4) Remodelled
The other big factor in the price is the overall condition of the property and the extent to which it has been remodelled. Given these homes were built in the 1970s many of them are on their second roofs which are coming to their end of life and many have the old aluminum window frames.
Many of the homes also still have original kitchens and bathrooms which definitely look pretty dated now. There is definitely a good number of homes that have been remodelled by their owners but finding one that has been remodelled within the last 5 years that is for sale will definitely require some patience.
If you are open to doing a remodel then finding one with everything original, backing onto open space on a lot near 5000 sq ft are definitely the ones to look out for. You could really make one of these pretty special.
How Much Can You Expect To Pay?
For the smallest homes that are less than 1100 sq ft you can expect to pay around $600k if they have had some updates done. If it is true fixer, in all original condition, then these smaller units can sell for as little as $500k although these are getting harder to find.
For the larger 1200-1400 sq ft homes if it has been totally remodelled and backs onto open space you can expect to pay $800k to 850k or in the region of $650 per sq ft. For similar homes that have had minimal updates you can expect to pay nearer $700k or nearer to $530 per sq ft.
Is the 55+ community right for you?
Some people struggle with accepting the fact the 55+ community is almost certainly the best option for them. Once you get away from any pre-conceptions and look at the facts, it really is a great option.
How else can you buy a home here for less than $900k, have access to a pool and green spaces right by your home and in a neighborhood with wide streets that is next to the walking trails along the river? If all of that isn't enough, you can walk to town for your morning coffee in just 30 minutes. While the prices have increased over the past year, the 55+ community still represents great value for people looking to retire in Healdsburg and are looking to spend less than $1m on their home.