A couple of weeks ago, 8191 West Dry Creek Road sold for $6.7m within days of being on the market. You only have to look at the stunning property to appreciate why it went so quickly, but even for a house this stunning and at just 2800 square feet, it sold very quickly. (Bear in mind that the average time for a $3m+ property to sell in Healdsburg is well over 100 days).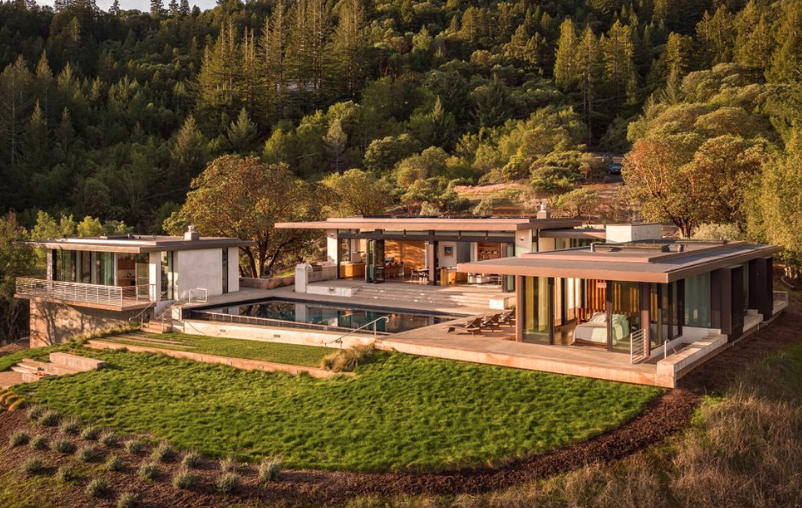 The kicker for this property is that over the past year it has bought in $721,430 as a vacation rental (data from AirDNA) and is the top grossing property in Healdsburg far outstripping the second most lucrative property, also on West Dry Creek Road, bringing in $429,226 over the past year.

In Healdsburg alone the vacation rental market was worth over $24m dollars in 2018 so it is no coincidence that in vacation rental hotspots like Healdsburg, Sonoma, Glen Ellen and Kenwood, the rules around vacation rentals are pretty strict. Before you can start thinking about the revenue potential, it is important to understand the permitting process to identify suitable properties. Here is a post I wrote outlining the zoning requirements to comply with vacation rental permitting.
However, once you think you have found a property that can be permitted to operate as either a vacation rental (renting the entire house) or a hosted rental (where one room is rented out) you need to dig into data around likely occupancy rates and revenue per night before deciding if it is a good investment.

I have partnered with a company called AirDNA that takes data from Airbnb and HomeAway platforms and crunches the numbers. Using its platform, it is possible to get the data for all the key areas within Sonoma County. While the West Dry Creek property in Healdsburg highlighted above is clearly the exception rather than the norm, for the right property, there are significant financial returns available for the canny buyer.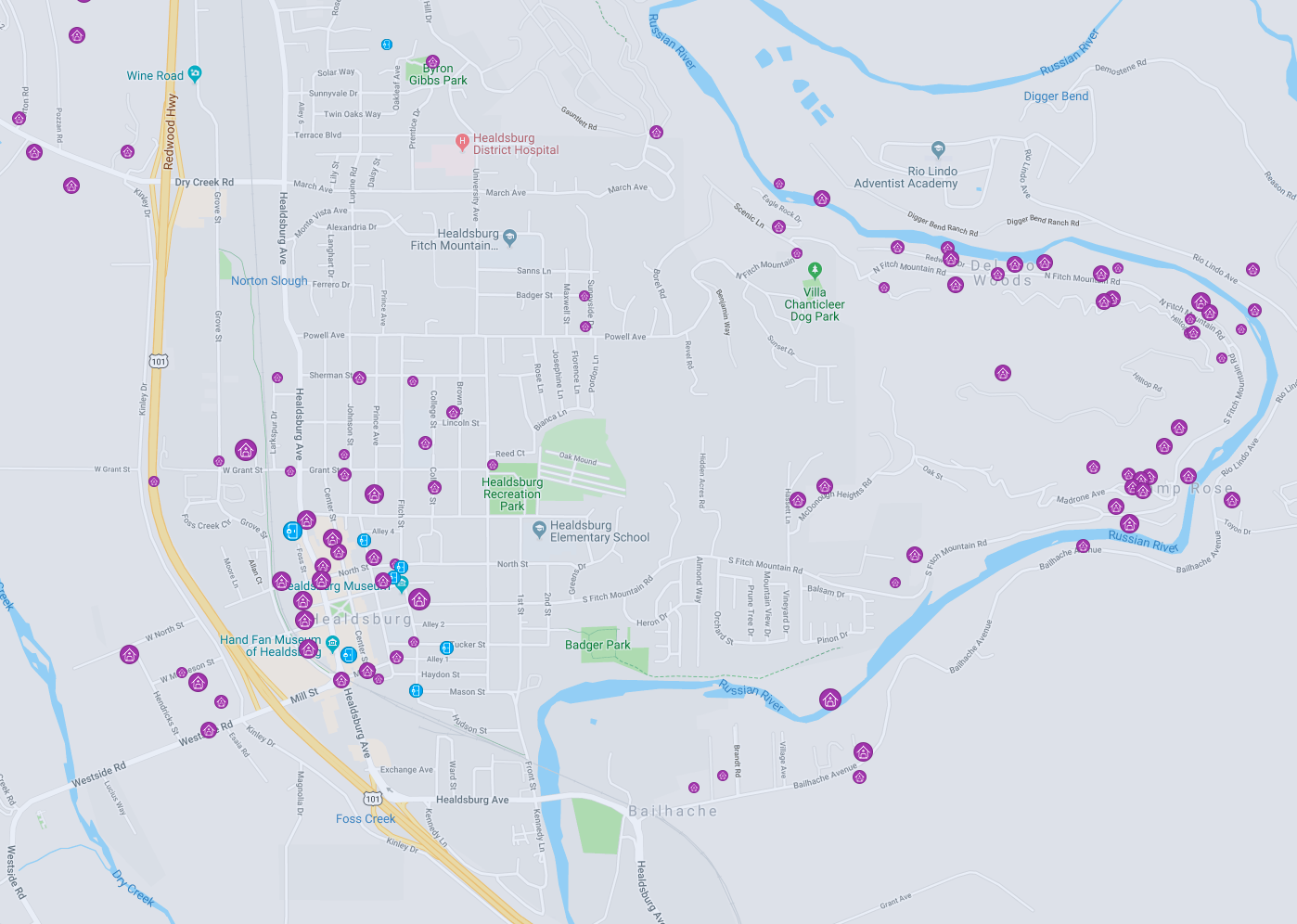 Vacation rentals in Healdsburg (AirDNA, March 2019)

In Healdsburg alone, according to AirDNA, there are currently 258 active properties available for rent on Airbnb and/or Homeway, with 90% being for the rental of the entire home. The properties being rented are fairly equally split between one, two, three and four bedroom properties with just 13 properties more than 5 bedrooms. The average revenue per night from these properties was $520 including cleaning fees.
The key to a successful vacation rental is to make sure the occupancy rates are in the top quartile for the city by ensuring that your property is rated higher than comparable properties. For example, in Healdsburg the overall rating for properties is 4.8 out of 5 making this level or rating the bare minimum you should hope for.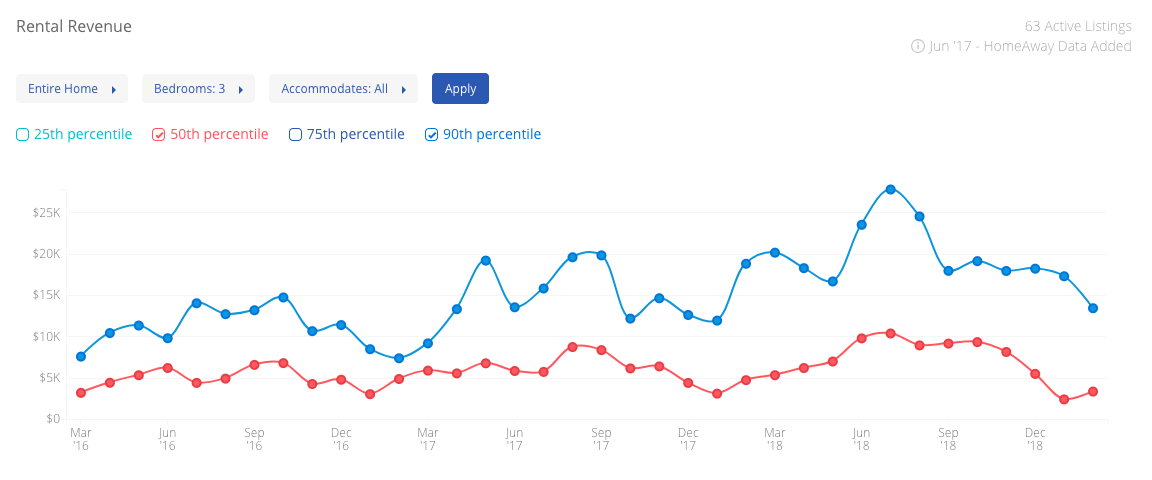 Monthly expected revenue over time (Source: AirDNA)
For a three bedroom property that is performing in the 75th quartile you could expect to generate $143,985 per year. That being said if you are in the bottom quartile you can expect that to fall by 63% to $52,467. The best performing three bedroom properties grossed $235,418 over the last year.
As you can see there is a 4.5x difference between the highest and the lowest revenue depending on the amenities that property has such as pool, outdoor living/dining space, the location and the general atmosphere of the property.

It's clear from the data that one and two bedroom properties have relatively similar revenue potential compared to a three bedroom property that is likely to gross nearly twice as much as a two bedroom property so if you are on the fence about whether to purchase a highly specified one bedroom place versus a lower specified two bedroom place, if your decision is being driven entirely by vacation rental revenue opportunity in Healdsburg, I would recommend the one bed place.
While 8191 West Dry Creek Road is clearly a long way out in front when it comes to grossing the largest rental income there are a number of properties in Healdsburg that are generating a very good return for their owners.
Finding a property that will be a good vacation rental investment property or a second home that you can rent out to cover your property tax for example is not easy but it is possible if you work with someone who understands the ever changing permitting rules and the revenue potential. You might not get $725K per year, but you could certainly make a dent in the running costs and start to pay down the mortgage.

Join me, AirDNA and Evolve Vacation Rental for a FREE Webinar on May 15th 2pm PST to learn how to find, purchase and optimize a vacation rental in Sonoma County. All registered attendees will receive an e-book "Guide To Finding, Buying and Managing a Sonoma County Vacation Rental. Register here