Sonoma County is increasingly popular with Bay Area buyers looking for their dream wine country property. With the recent IPO of Lyft, and with Uber, Pinterest and Postmates, all expected to IPO this year, it is likely to see an even great influx of people buying either second homes or investment properties.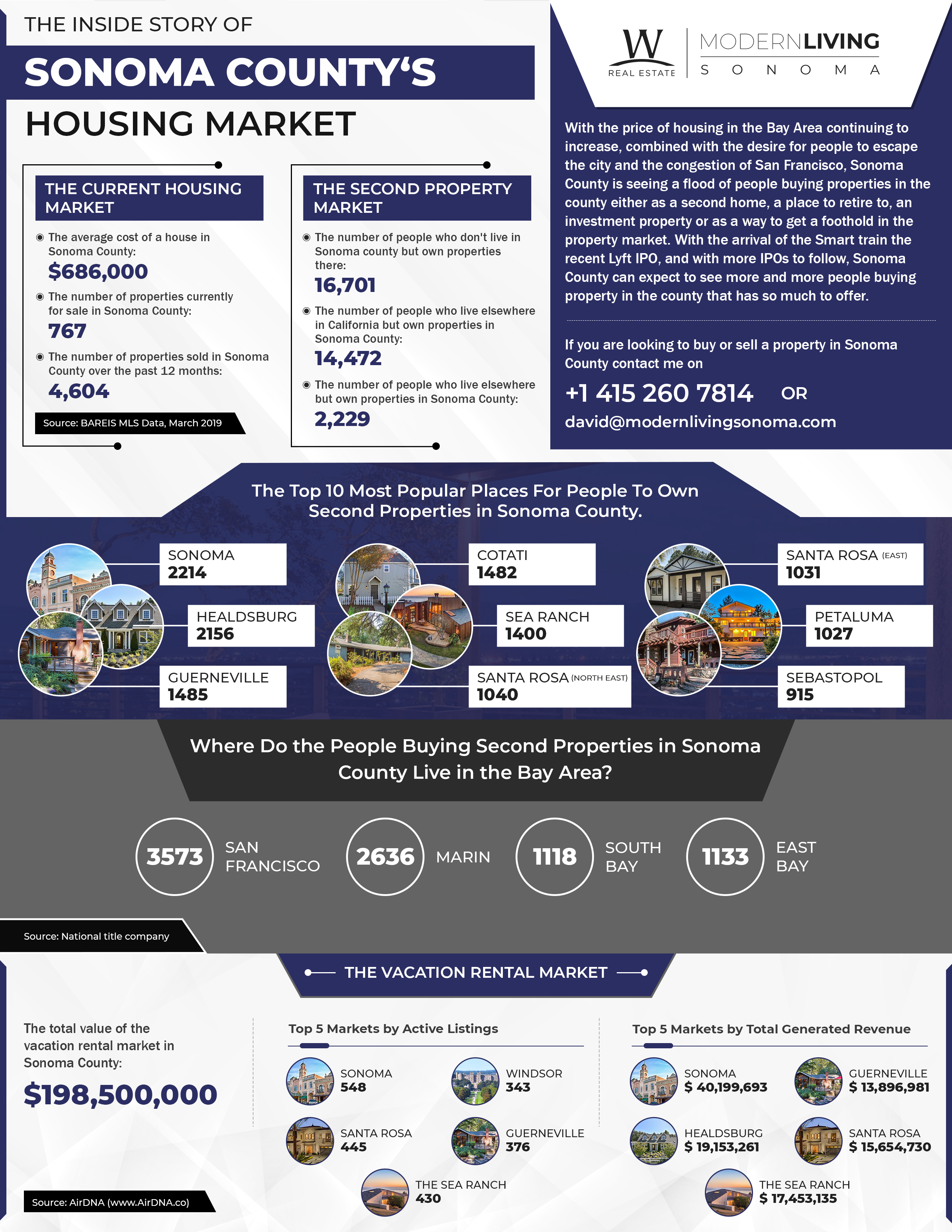 According to data from First American Title, there are already 16,701 people who own secondary properties in Sonoma County with 2,229 being from out of State.
The Top 5 Places People Buy Secondary Properties
1. Sonoma (2214)
2. Healdsburg (2156)
3. Guernville (1485)
4. Cotati (1482)
5. Sea Ranch (1400)
It's probably no surprise that Sonoma and Healdsburg top the list given their cache. It's also no surprise that these are two of the cities in Sonoma County that have among the strictest vacation rental rules. In contrast, Guernville, which is one of the more affordable places is also one of the more popular places, along with Sea Ranch, for vacation rentals.
Where Do All the Second Property Owners Live?
1. San Francisco (3573)
2. Marin (2636)
3. South Bay (1118)
4. East Bay (1133)
While it will be a while before the cash from these IPOs will impact the housing, there is no doubt that the migration of people from the Bay Area has already started as even tech workers are getting ground down by the high housing prices of the city and the deteritation in the quality of life in the Bay Area with all the congestion. While many parts of Sonoma County will benefit with the economic migration, one of the biggest challenges is how to preserve the unique feel of Sonoma County while making sure that the growth is managed responsibly.
If you are interested in learning more about buying property in Sonoma County join me, AirDNA and Evolve Vacation Rental for a FREE Webinar on May 15th 2pm PST to learn how to find, purchase and optimize a vacation rental in Sonoma County. All registered attendees will receive an e-book "Guide To Finding, Buying and Managing a Sonoma County Vacation Rental. Register here