I am embarrassed to say, the week before the fires, I cleared four dumpsters of brush from my yard, not before time. Little did I know at the time, but that probably saved my house from burning in the recent fires in Healdsburg.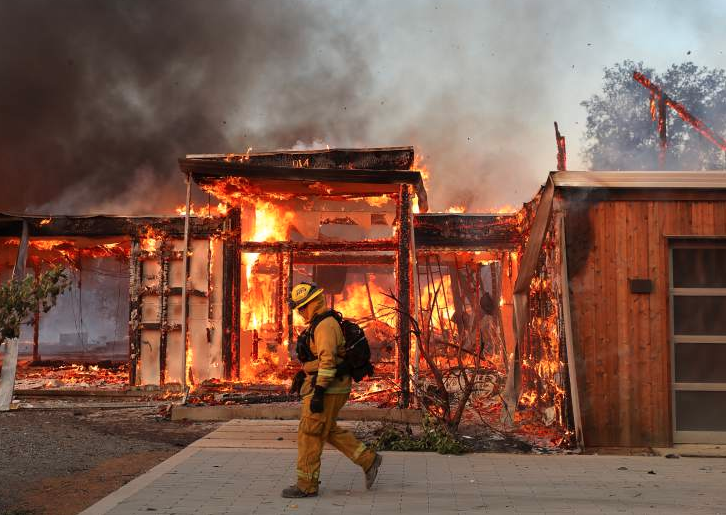 These latest fires are a reminder to all of us to be as vigilant as ever when it comes to protecting ourselves and our homes from the ever present danger of wild fires. Not only could it save our home, but with insurance rates increasing and getting harder to secure, it will make it easier to get insurance and it will also likely reduce the cost.

As we think about how to minimize the fire risk of a home, we need to understand the things that make a house more or resilient to fire. As a homeowner, there are lots of things we can do (some big, some small) to reduce the risk associated with wildfires.
If we are buying a house it is important to understand how we can improve the resilience of a house. This includes hardening not just the house itself but improving the landscaping to reduce the chance of fire spreading.
The Cal Fire: Preparing for Wildfire App is a great resource that has lots of information and action-oriented resources including:
- Checklists to help prepare and minimize threats, creating an evacuation plan, assembling an emergency supply kit and evacuating early
- Set up alerts to get notifications when a wildfire is in your chosen zip code or within 30 miles of you
- Up to date information on the size and containment of wildfires
- Detailed fire maps of all current fires
- Informational videos about wildfire and preparedness

Hardening Houses
The biggest single cause of a home setting alight is from airborne embers landing on the house and starting a fire. Here are some of the things that we should be aware of in assessing a house for fire risk:
Roof:
What is the roof material made of? Unfortunately, alongside wood, shingle roofs are among the worst roof materials. If you do have a shingle roof with a deck on it make sure you clear any spaces between roof decking and the roof covering to prevent embers from catching. Homes with composite, metal or tile roofs are better protected against fire.
Vents: If there are vents, are they covered?
Cover all vent opening with 1/8 to ¼ inch metal mesh. Similarly protect vents in eaves and cornices with baffles to protect against flying embers (mesh is not enough)
Windows: Are the windows single pane or double pane?
It sounds hard to believe but wildfire can cause windows to break even before the home ignites. Single -panned and large windows are particularly vulnerable. To reduce the chance of a wildfire starting from within the house install dual -paned windows with one pane of tempered glass. Think about minimizing vegetation adjacent to large windows.
Walls: What material is the siding made of?
As with roofs, the most common materials for siding are also the most flammable such as boards, panels or shingles. If plan to remodel a home, ensure you use materials such as stucco, fiber cement, treated wood or other improved materials.
Decks: What are the surfaces within 10 feet of the building made of?
Ideally anything within 10 feet of the house should be made from non-flammable material
Rain Gutters: Are the rain gutters clear?
Make sure they are free of plant debris but ideally make sure they are screened or enclosed
Chimney: Could an ember enter through the chimney or stovepipe outlet?
Make sure openings of 3/8 inch or less than ½ inch are covered with metal screen material
Garage: Could embers enter the garage?
Make sure the garage door is protected by weather stripping and store combustible and flammable liquids aware from any ignition sources. It is worth making sure you have a shovel, rake, fire extinguisher and bucket to hand.
Fences: Are the fences made of combustible materials?
Consider using ignition resistant materials if you need to re-do the fence.
Driveways and Access Roads: Is it easy for fire trucks and emergency vehicles to reach your home?
Make sure you trim hedges and low hanging trees to make access as easy as possible. There are specific codes for newer built properties that mandate that a driveway must enable a fire truck to turn around. However, it is
Address: Will emergency vehicles be able to find you?
Make sure the address can be clearly seen from the road.
Water: Can you access water in the event of an emergency?
Consider having hoses available so that you can reach all areas of the property. If there is a swimming pool, consider installing a pump.
Landscaping and Defensible Space
We have all heard the term defensible space but what is it? Defensible space comprises two zones: zone 1, which extends 30 feet out from buildings and structures; zone 2 which extends 100 feet from buildings and structures.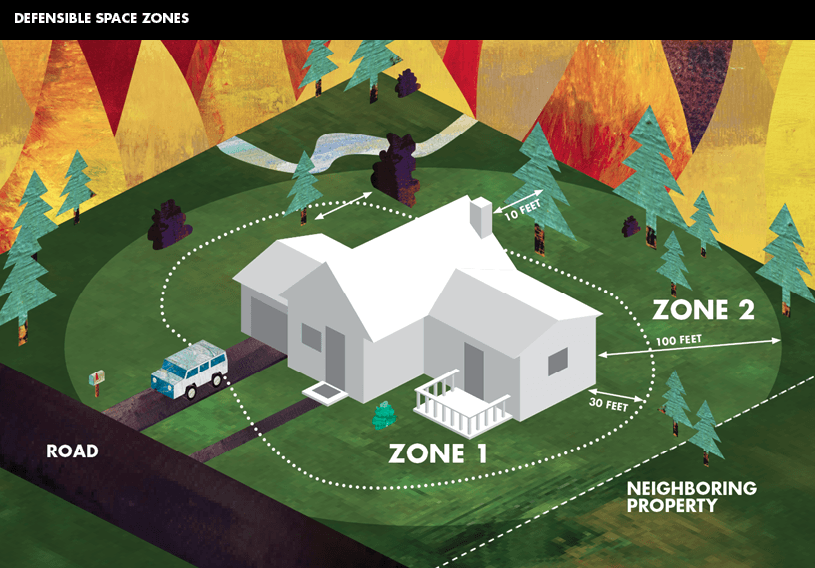 Zone 1:
- Remove all dead plants
- Remove dead or dry leaves and pine needles from your yard, roof and rain gutters
- Trim trees to keep branches a minimum of 10 fee from other trees
- Remove branches that hang over the roof and keep dead branches 10 feet away from your chimney
- Relocate wood piles into zone 2
- Remove or prune flammable plants and shrubs near windows
- Remove vegetation and items that could catch fire around decks
Zone 2:
- Cut or mow annual grass down to a maximum of 4 inches
- Create horizontal spacing between shrubs and trees
- Create 10 feet of vertical space between shrubs and trees.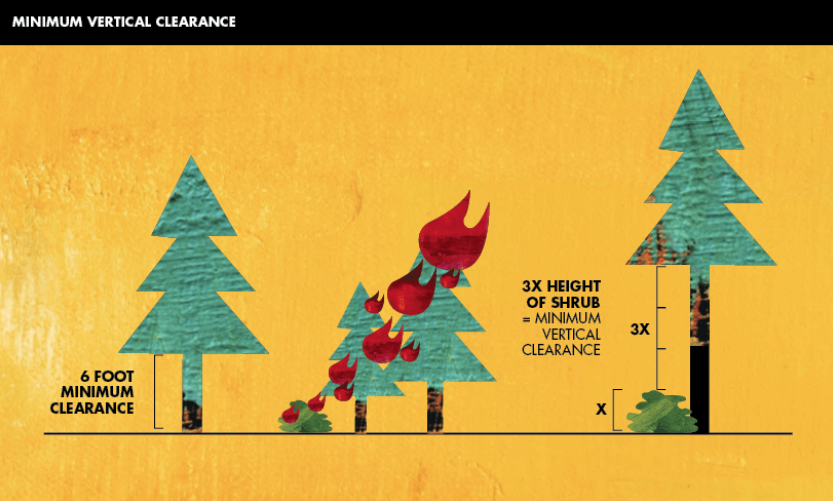 Other Useful Resources
Calfire – Ready for Wildfire App:iPhone or Android
Fire in California by University of California: This contains a wide range of resources to help people understand wildfires as well as how to protect your home.