If you follow my blog you will see that back in April I wrote a blog post predicting that the Sonoma County property market was about to see an upsurge off the back of people leaving the Bay Area. Over the past few months this has been borne out both anecdotally (it's been a busy four months) and also in the data. We are now seeing some clear real estate market trends for Sonoma County.
Up until now, the one market that has stood out as the hottest market has been Sebastopol. I have numerous cases of properties where I have been either representing a seller or a buyer that have had multiple offers on.
Having looked at the key markets of Russian River, Healdsburg, Sonoma (city), Sebastopol, Sea Ranch, Santa Rosa (North East), confirms that Sonoma and Sea Ranch are also beating all records.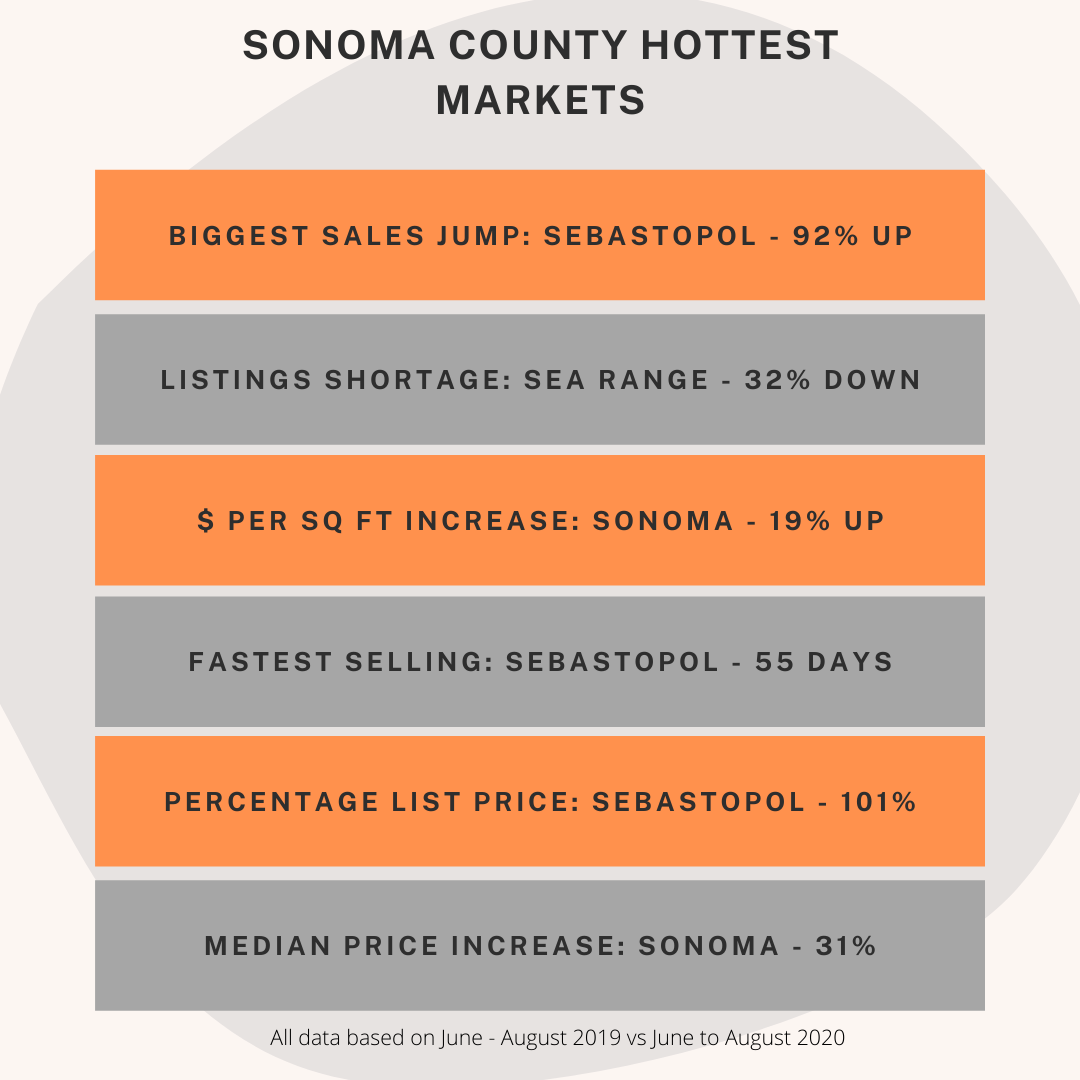 For example, Sonoma has seen median price rises of 31% and average cost per sq ft increasing 19% year on year. Sea Ranch on the other hand has seen the largest sales volume increase with a 92% increase from 2019. The popularity of Sea Ranch as a place to escape to is also reflected in the shortage of properties being put on the market with new listings down nearly a third, year on year.
The overall trend can be summarized as follows:
- Sales volumes are up across the board when compared to the equivalent quarter in 2019
- The number of properties for sale is down across all markets and by as much as 72% in Russian River
- Listing volumes are down across the board (with the exception of Healdsburg that has seen a 8% increase in listing volumes)
- Average price per sq ft is up across the board with the exception of the Russian River area which takes in Guerneville, Forestville, Graton etc.
- The sales price to list price ratio is generally higher. In other words, properties are generally selling closer to list price than this time last year
Because I focus on Sonoma County, I never pay attention to markets in Napa County but I was curious if Napa was seeing similar activity so I also looked at the data for Calistoga (I often see Calistoga as twinned with Healdsburg, because quite a few people looking in Healdsburg also look in Calistoga).
Where Are The Record Markets?
The image below shows which of each of the markets has the record sales, listings shortage, increase in cost per sq ft, fastest selling properties, highest sales price to list price and highest median price increase.
Overall Sales Increases
Sales have increased across the board in the period June - August 2020 when compared to the same period last year. While I have only taken one market in Napa county, it's clear it is experiencing a similar demand with Calistoga, off the charts!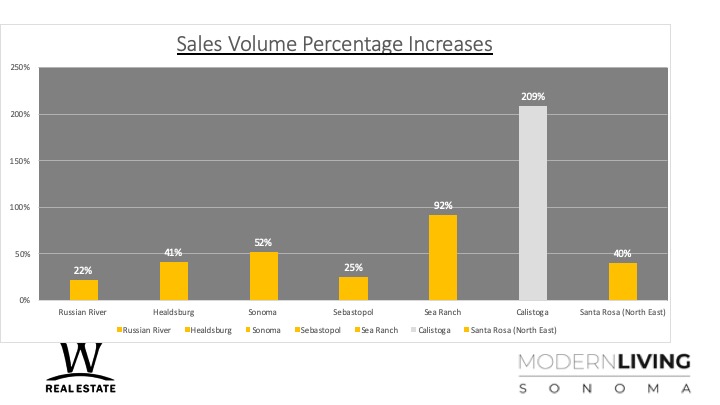 Median Price Rises
The city of Sonoma has shown really strong gains with median prices increasing the most of all the Sonoma County markets followed by Sebastopol and Russian River at 13%.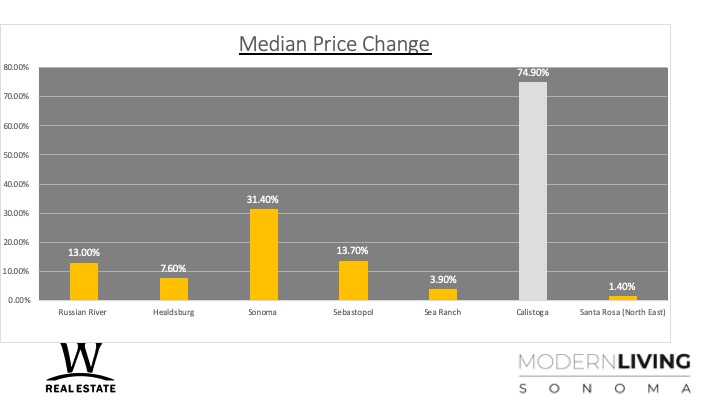 Average Cost Per Sq Ft Increases
With the cost per sq ft increasing by 19% in Sonoma, it has now overtaken Healdsburg as the market with the highest average cost per sq ft at $711 per sq ft compared to Healdsburg at $697 per sq ft.