In the last few weeks I have had numerous people asking me about the mid term rental market in Sonoma County. I didn't think anything of it when I was first asked but then I started looking into it in more detail after the fourth or fifth conversation. It turns out it is definitely a growing market for a whole number of reasons so I thought it would be helpful to share what I found out and also answer some of the common questions I keep getting asked. This blog post outlines some of the following: what is the mid term rental market? Is there a market for mid term rentals in Sonoma County? What is driving the market for mid term rentals? Where do you advertise to find a tenant for a 30+ day rental? how much can you earn from a 30+ day rental compared to a vacation rental or long term lease?
What is the Mid Term Rental Market?
The mid term rental market can be defined as anything more than 29 days and anything less than 12 months. All of the short term rental rules apply to stays of 29 days or less where the rights of a tenant are significantly less compared to that of a regular lease. As soon as a stay goes over 29 days, the tenant and landlord are entering into a regular residential lease agreement. Although a stay of 9 months is technically a mid term lease, the more common length of time for a mid term lease is between 30 days and 6 months.
Why is Demand For Mid Term Rentals Growing?
I was curious to see if the mid term rental market is actually growing or if it was just a coincidence that I kept getting asked about it. I turned to Google trends to do a search on mid term rental terms and it is definitely a growth area as can be seen from the graph below. There are a number of different factors that have combined to drive the overall growth of the market from both the supply and demand side.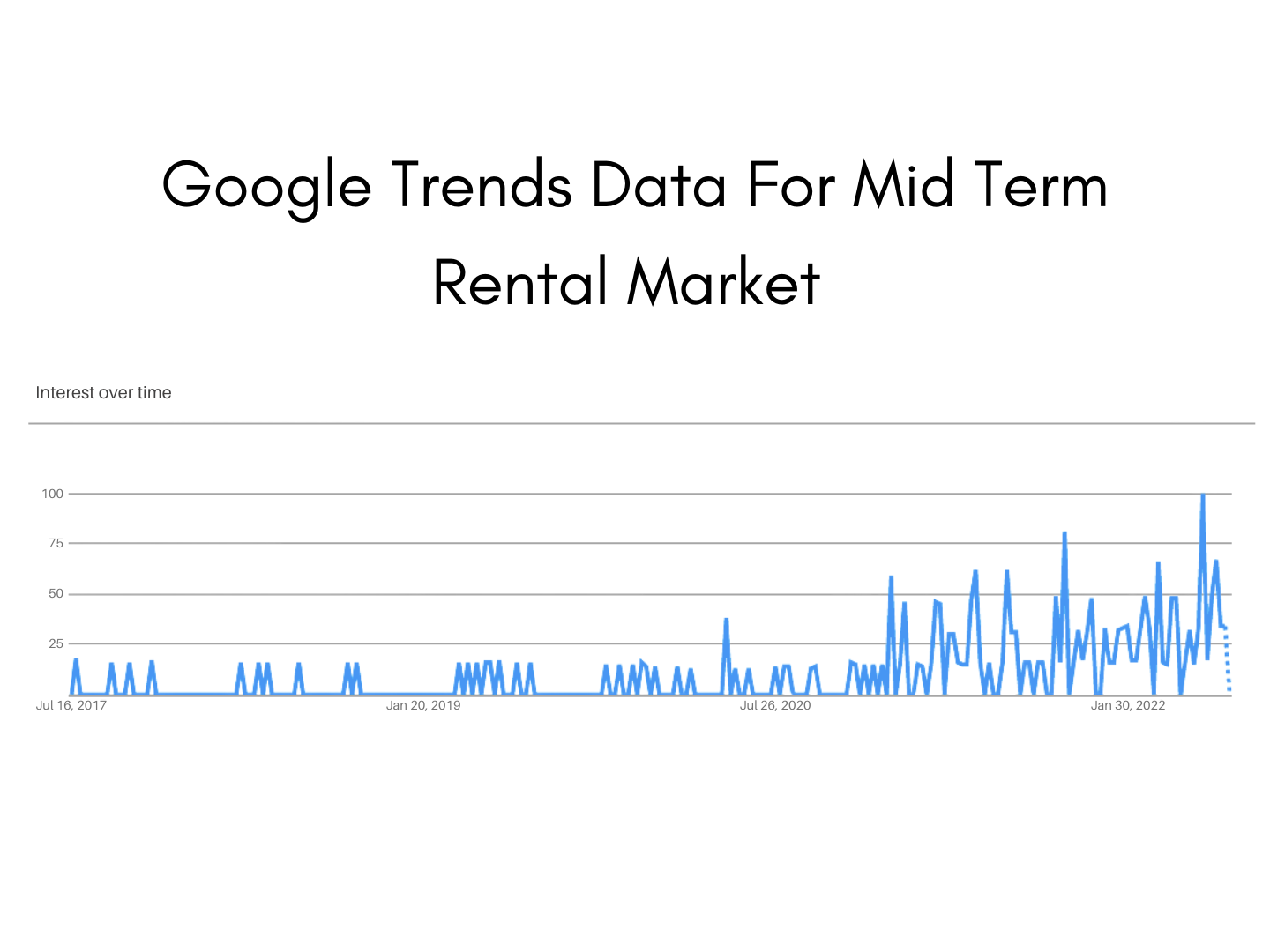 If we deal with the demand side first. One key driver, is the rise of the digital nomad. A survey by Upwork found that 22% of all americans will be working remotely by the year 2025. This is an 87% increase from pre-pandemic levels. While there are some companies such as Tesla who are trying to force employees to come back to the work place there are many more companies that recognize to keep and attract the best talent they need to provide flexible work options. For example, Facebook CEO has stated that it expects 50% of its work force to be working remotely by 2030.
With renewed flexibility there are numerous people who are taking the opportunity to re-locate entirely but there are also a large number of people who don't want to move permanently but like the idea of living somewhere different for a month or two but continuing to work. There are obviously other considerations to take into account such as requiring good wifi, working in a timezone that is complementary to co-workers and finding a good environment to work in either at a rental or in a co-working space. But there are also other factors at play which is increasing the demand for mid term rentals in Sonoma County.
However, in addition to the Digital Nomad, there has always been a small market for mid term rentals. In fact, I did a two month rental when I arrived in the US from the UK 14 years ago. The relocation market is an important market and one which has traditionally been dominated by corporate housing companies but is increasingly being fulfilled by individual 30+ day landlords.
The other market for mid term rentals in Sonoma County is for traveling doctors and nurses because of the large presence of Sutter and Kaiser hospitals. I have had a number of clients who have had success in renting secondary units or whole houses to traveling nurses. Finally, given the nature of the real estate market in the last few years there is also a large demand, in some of the county's destination locations such as Sonoma and Healdsburg, for mid term housing for people who are looking to move into the area having sold a house elsewhere or who need a temporary place to stay while they undertake a major remodel.
Is There Enough Supply of Mid Term Housing in Sonoma County?
For people who have wanted to purchase a second home in one of the destination cities such as Healdsburg or Sonoma, the only option to date has been to purchase a property and rent it out for 30+ days because of the tight restrictions placed on vacation rentals in the city of Healdsburg. There are a number of homes that have operated as furnished rentals for quite some time. For example there is a home on Johnson St that has operated as a mid term rental for a number of years and has been rented out almost permanently by a range of people including people who are looking to purchase a home in Healdsburg to someone looking to escape San Francisco during Covid.
One of the reasons I am getting more questions from homeowners and buyers about the mid term market is because of changes in the vacation rental rules and then more recently the moratorium on issuing vacation rental permits. As the county tightens the rules around rentals of less than 30 days, people are looking for alternative ways to make their investment in Sonoma County work for them. We recently had a listing just on the edge of the downtown area of Healdsburg on Harold Lane and this was purchased by Kelci from San Francisco. In talking to her, she did originally look at the vacation rental options but then had a change of direction. "We did look at vacation rentals first. However, given that zoning for short term rentals is limited to a small area around the plaza we didn't find many options that qualified for short term rentals. We think the mid term market could be a good fit for us. In addition to being a bit easier to manage with less frequency in turnover we're also happy to give people a place to stay whether it be working professionals, remote workers, families or those who just want to enjoy an extended stay in wine country!" If you want to get a taste of working from Healdsburg for a month, Kelci's mid term rental is now available. You can book it here.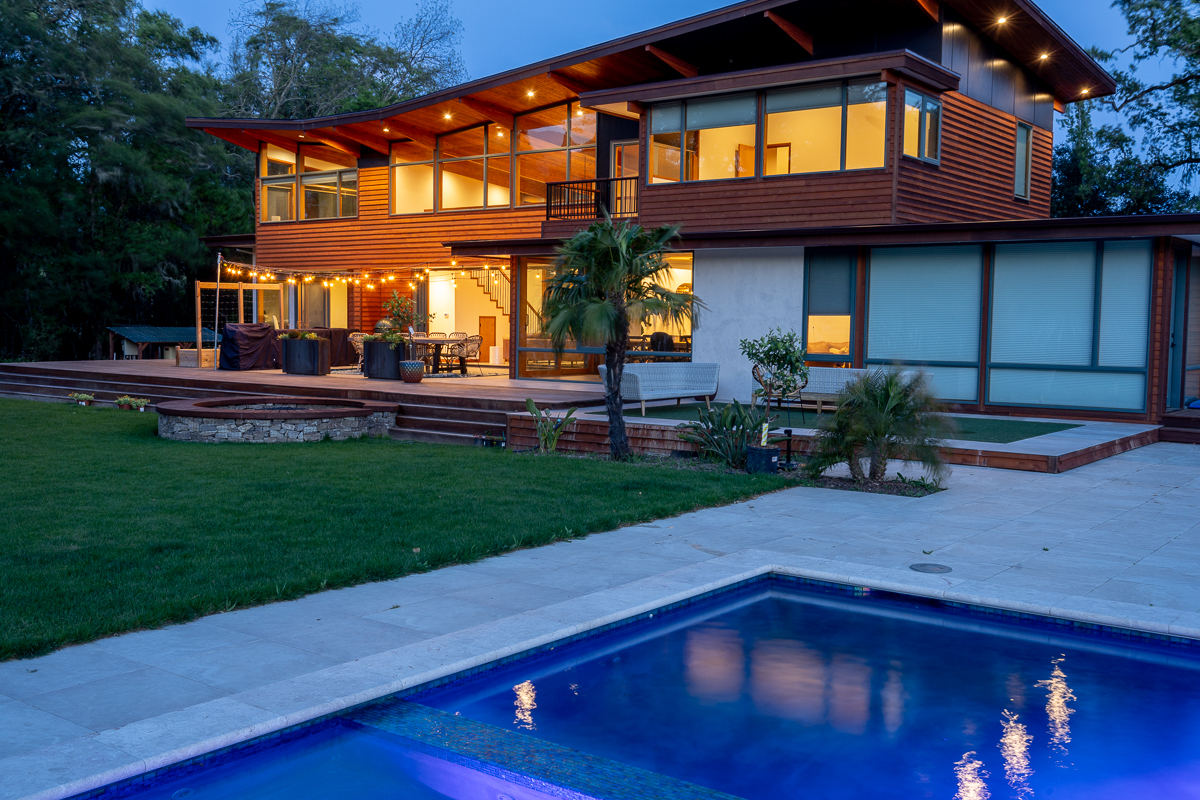 The other properties that are often rented out for one or two months at a time are more rural properties which are in Sonoma County but with zoning restrictions or are in a fire perimeter area. For example, there are a number of homes in the Dry Creek Valley and Alexander Valley Areas that were purchased when the zoning supported applying for a a vacation rental permit but which were later prohibited from operating as a vacation rental. For example I helped the owners of this property (pictured above), which is now for sale for just under $4m, find a number of mid term renters during the last couple of years as people from the Bay Area looked for alternatives to being couped up in a San Francisco home for the duration of Covid. This home rented out for as much as $35,000 per month.
It's hard to get any specific data on the mid term rental market but I did manage to get some data from one of the more popular websites that started out serving the medical community for furnished rentals. It is called Furnished Finder. While the data from this website cannot be considered representative of the whole market it does show the relative demand for mid-term furnished housing in different areas. If we look at the data we can look at the number of requests or map views per available property. Based on this data we can see that Healdsburg has 49,788 requests over the year for just 35 properties at a ratio of 1423 requests per available property.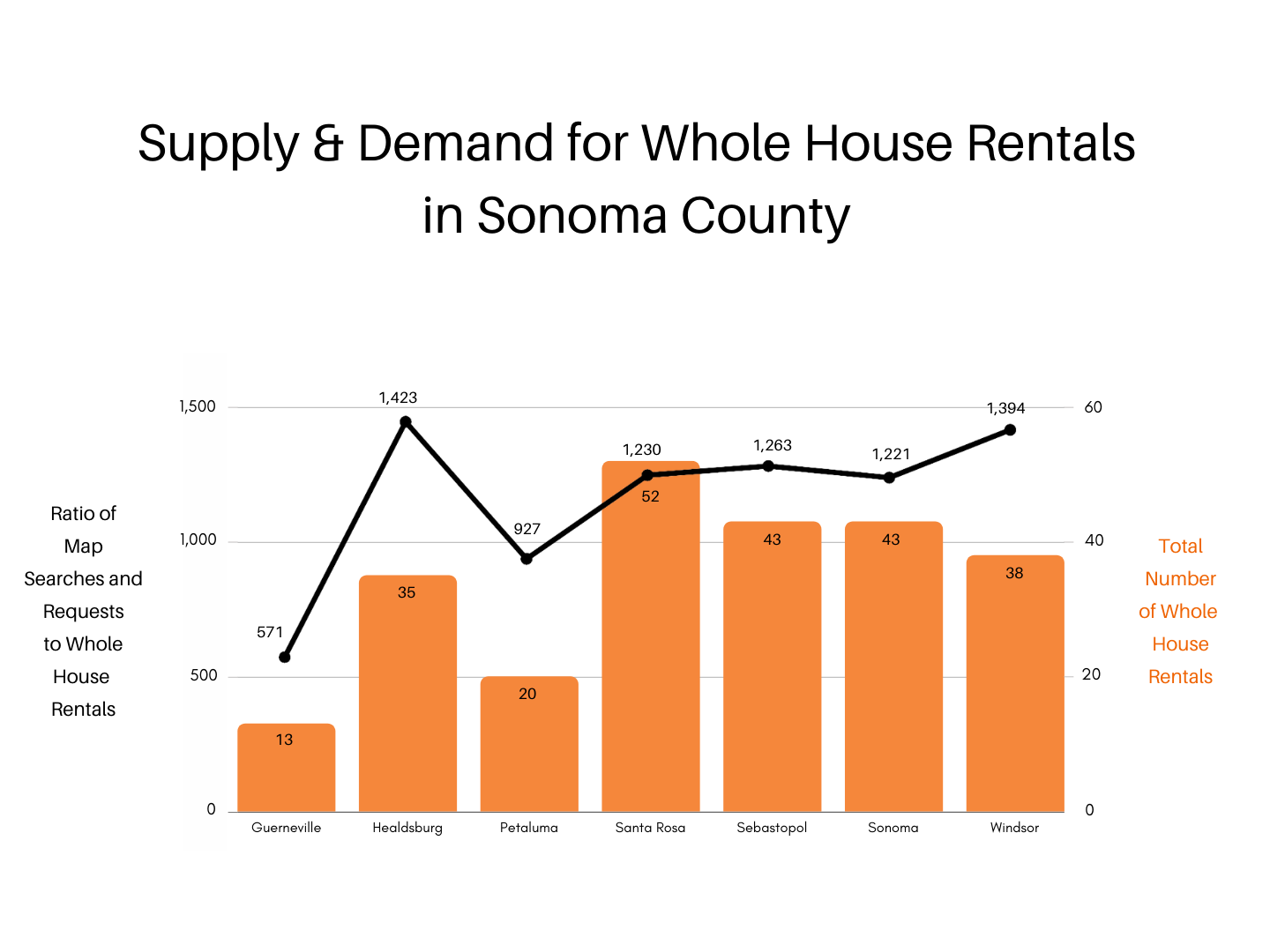 It is interesting to note from this data that Healdsburg and Windsor are the markets with the most number of potential mid term rental clients for each available mid term rental available, while Guerneville, one of the best performing vacation rental markets, is the least good for the mid term rental market. (see this post for an analysis of the best markets for short term rentals).
What Makes a Good Mid Term Rental?
If we think about the target audience for mid term rentals, they have very specific needs. The vast majority of renters in this market are looking for a fully furnished place because by their very nature they are transient. They are either renting because they are on a work secondment, they are looking to relocate to the area or they. in the middle of a major house project of their own so don't want to purchase furniture. One of the reasons why Santa Rosa has so many mid term rental units is likely because it is home to the largest healthcare facilities in the county. I know from working with clients who have rented a secondary unit in Santa Rosa that there is an endless supply of nurses and doctors doing locums that require furnished accommodation for anything up to one year.
As with any rental business, making sure the home is perfectly set up for someone to arrive and start enjoying their stay is key. It has to be totally turnkey. For example if someone is coming to Sonoma County on a work secondment, the last thing they want to do is to start trying to figure out a good internet service. For this reason, a lot of mid term rentals, even if it is for a period of 6 months, will include all the utilities (sometimes with a cap if there is a pool heater for example) as part of the rent.
Where Are The Best Places To Advertise?
In talking with clients, there is no silver bullet when it comes to the best place to advertise your mid term rental. There are certainly lots of different options so as with anything, it probably pays to publish the availability of your property on as many sites as possible to give you the maximum distribution. Here are some of the sites that I have heard people use with success:
AirBnb
Airbnb now has a section of its website dedicated to monthly rentals which is https://www.airbnb.com/stays/monthly. It is identical to the regular Airbnb site it just curates homes that are available on a monthly basis. Just looking at the inventory in and around the Healdsburg area for example, there are a lot of secondary units that are available for monthly rentals. This will be because Sonoma County does not allow ADUs or guesthouses to be vacation rented in their own right.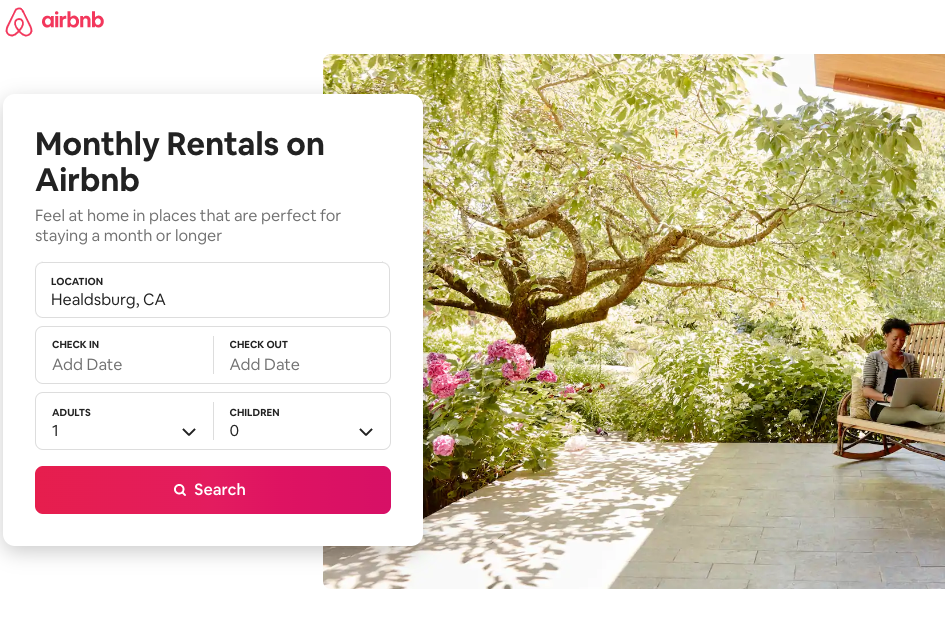 Furnished Finder
This site is probably the best site for dedicated mid term rentals with many of the rentals in the sub $5k per month category. It's audience started out being exclusively medical but has expanded well beyond that initial target. One of my clients who purchased a property in the River House development used Furnished Funder to find a tenant for her ADU. She posted the ADU on the site and within a few hours she had found the perfect tenant.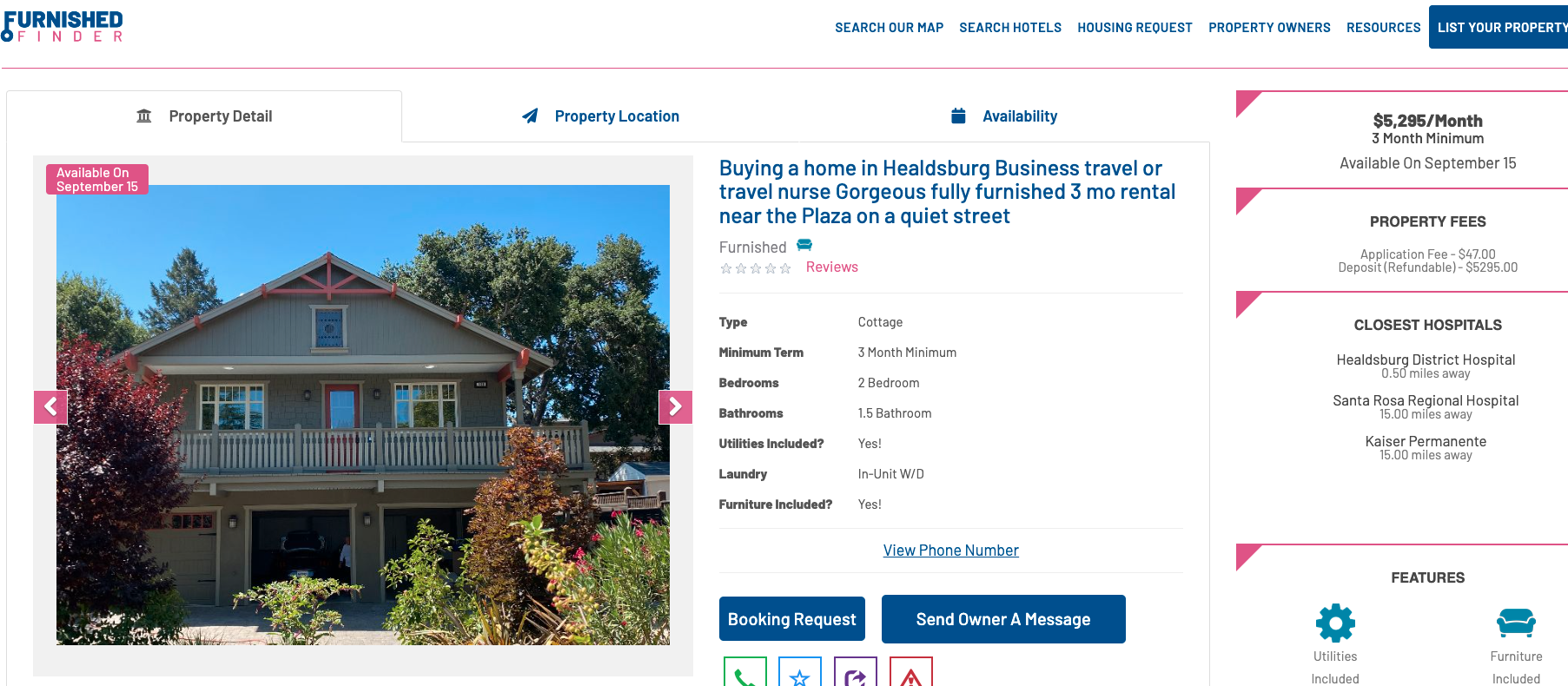 Zillow
Zillow now has. a section you can go to as a home owner and post your home for rent. Typically Zillow's inventory are traditonal 12 month leases, however I have spoken to a number of clients who have had success finding renters for two or three months through Zillow.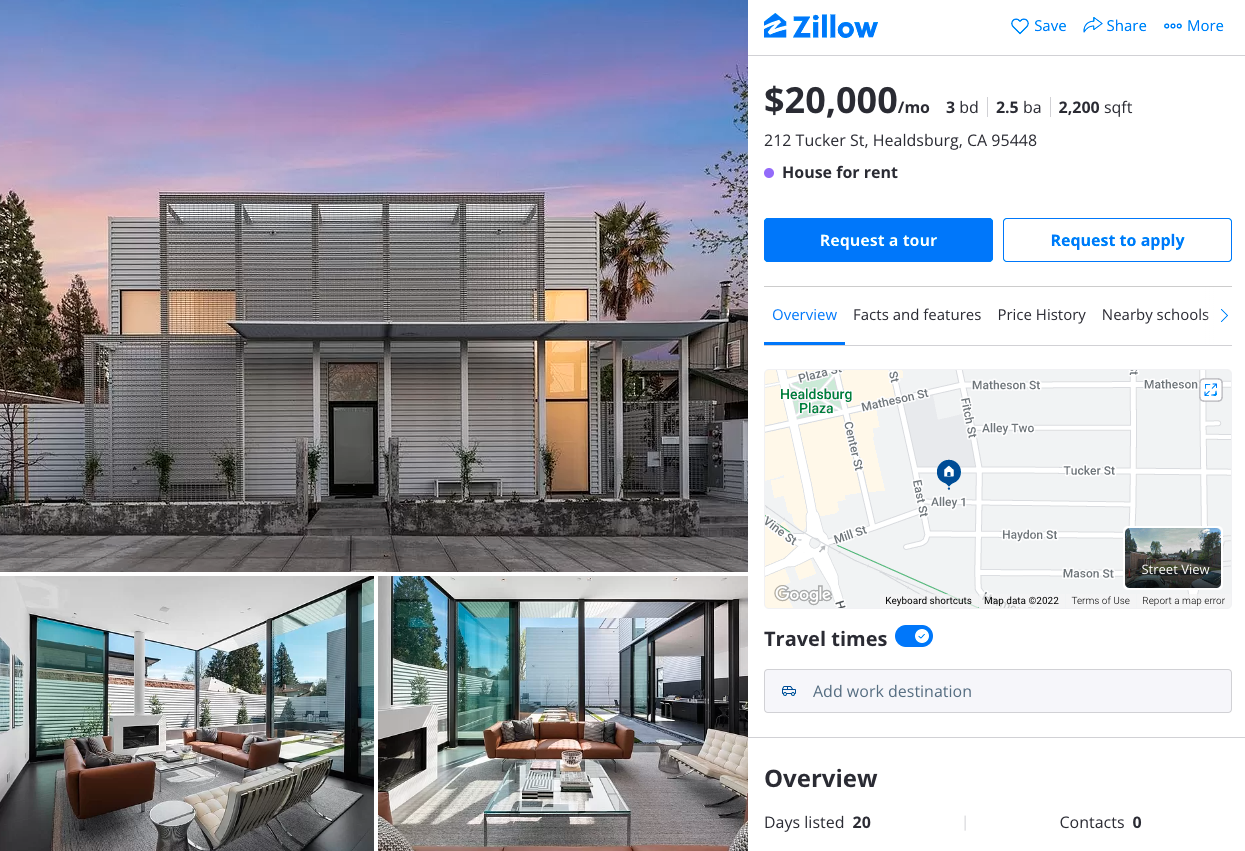 Summary
With a continued steady stream of people looking to purchase a second home in Sonoma County that also has the ability to earn some income, many are turning to the mid term rental market as an option, in part driven by the recent moratorium on vacation rentals. With the county making it harder to vacation rent a property at the same time as demand for mid term rentals has increased as people look to escape the city for a month while continuing to work, the mid term rental market has had a boost. It remains to be seen if this market is seeing a temporary rise because of factors on both the supply and demand side, but it is definitely a market that is going to be interesting to watch as I see more and more people choosing this option over a vacation rental.
Try out Kelci's Mid Term Rental in Healdsburg, here