Ever since the Shelter-in-Place ended in May 2020, the Sonoma County market has been incredibly active with buyers out numbering sellers. As such, it is a hard time for buyers looking to purchase in some of the hottest markets, particularly those markets which are attracting Bay Area buyers such as the Russian River, Sebastopol, Sonoma and Healdsburg. As a result, buyers are having to make offers with no contingencies, well over asking price and will often be competing with other buyers for the same property. But just how much over asking are properties selling for? How many offers are sellers getting? Is it showing any signs of letting up? In this blog post we take a look at the data from the third quarter ending 30th September, 2021 and some of the properties that have sold for the most over asking price.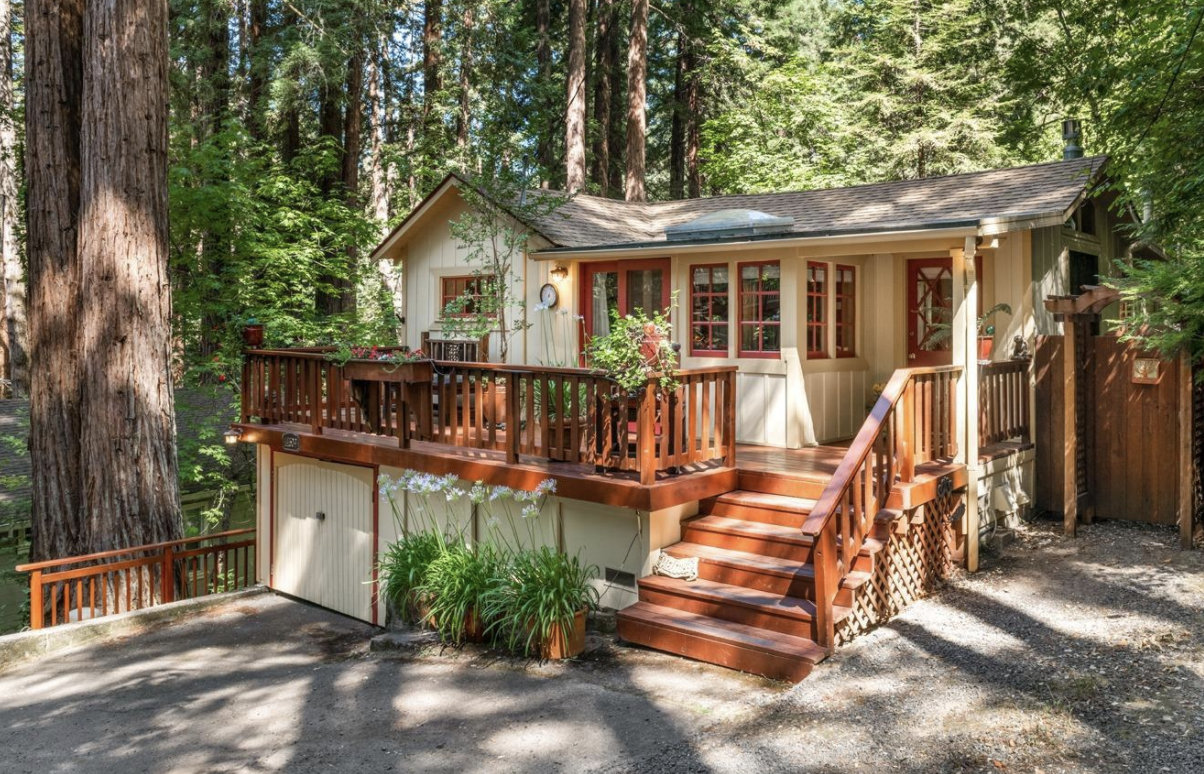 One of the areas where properties consistently get multiple offers is the Russian River. Eight out of the top ten homes that sold for the highest percentage over asking price are in the Russian River with one home selling for $485,000, 62% over its asking price of $299k. Because the homes in the Russian River are that much cheaper it is perhaps not surprising that so many are selling for that much over asking. That being said, this particular home was a total fixer and was also part of a probate auction sale. 14509 Memory Park Road, Guerneville, was another property that broke the records for the quarter, attracting 21 offers and selling for 50% over asking price, purchased by a Healdsburg resident. Apart from houses costing less than the average house in Sonoma County, the Russian River also has some of the most relaxed rules when it comes to vacation rentals. (see separate post on the rules for vacation rentals in Sonoma County).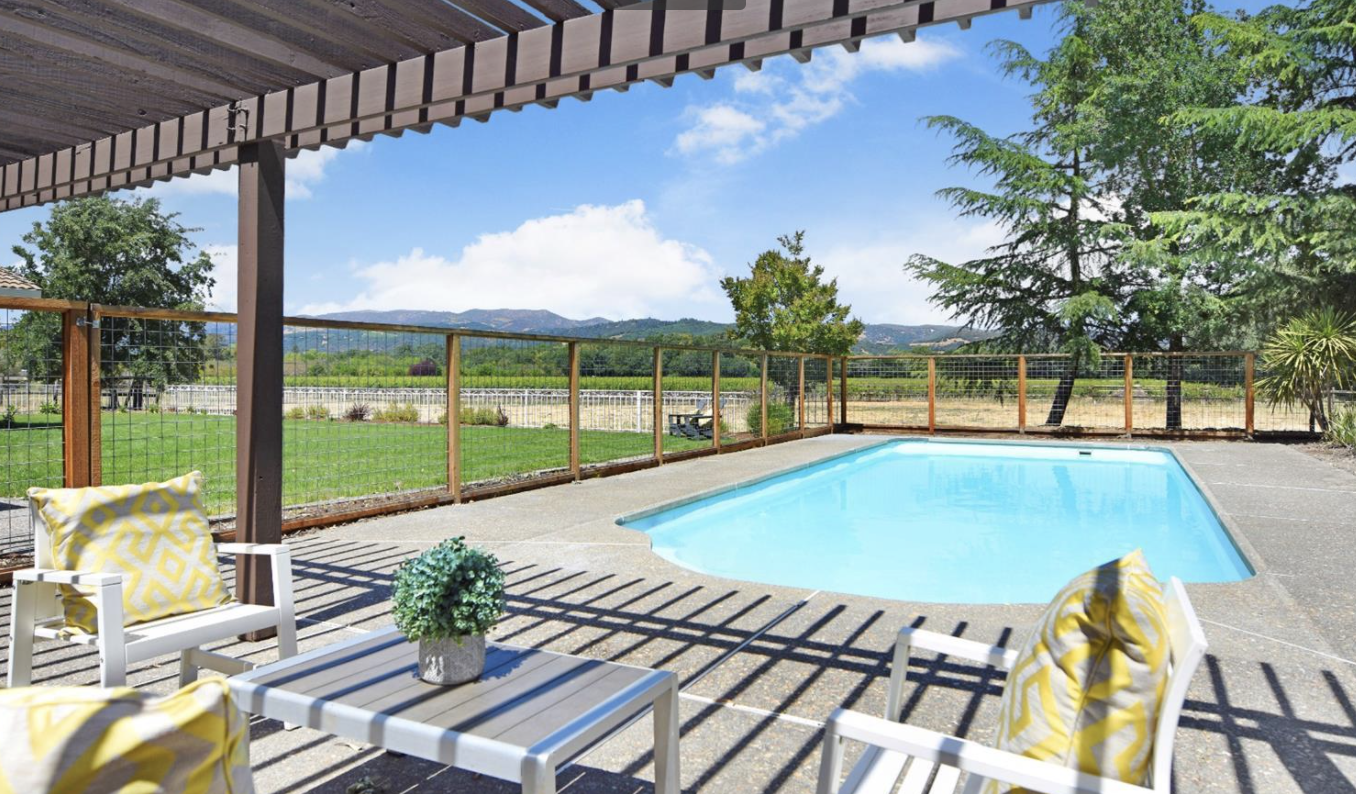 Multiple offers at prices considerably more than asking are not confined to sub $1m properties. 19567 Cypress Road, Sonoma was on the market for $2.29m and sold for $2.9m, 26% over the asking price. This home, a 4 bed, 4 bath home on nearly 5 acres with swimming pool, is located just a couple of blocks outside of the Sonoma vacation rental exclusion zone making it a prime candidate for being a lucrative vacation rental. Another home in the top ten properties over a million dollars that sold for the most over asking price is 336 W North St, Healdsburg. This property, which fetched the highest price over asking of all Healdsburg properties sold in Q3, was on the market for $1.6m but sold for $1.875m, 17% over asking price. While I don't have all the data to prove it, I am convinced that vacation rental eligible properties in prime locations such as Sebastopol, Healdsburg, Sonoma and Kenwood fetch higher prices, it would make total sense and it certainly seems to be true.
Are All Markets In Sonoma County Hot?
When we look at the data for both the overall market and the over $1m market, the key metrics are all in an upwards direction. Sales volumes overall are up in Q3 2021 compared to the same period last year, albeit by just 1.6%. Sale prices are still averaging at more than asking price (101%) and the number of days on market is just 46 days (including a typical 30 day escrow period) down 33% from the same period last year. In the over $1m market, sales volumes are up sharply by 17% compared to the same quarter last year and the average sale price to list price is still running at 101%. On average, you can still expect to pay a little more than the asking price across the County as a whole (see graph below showing Sonoma County overall days on market and sale price to list price).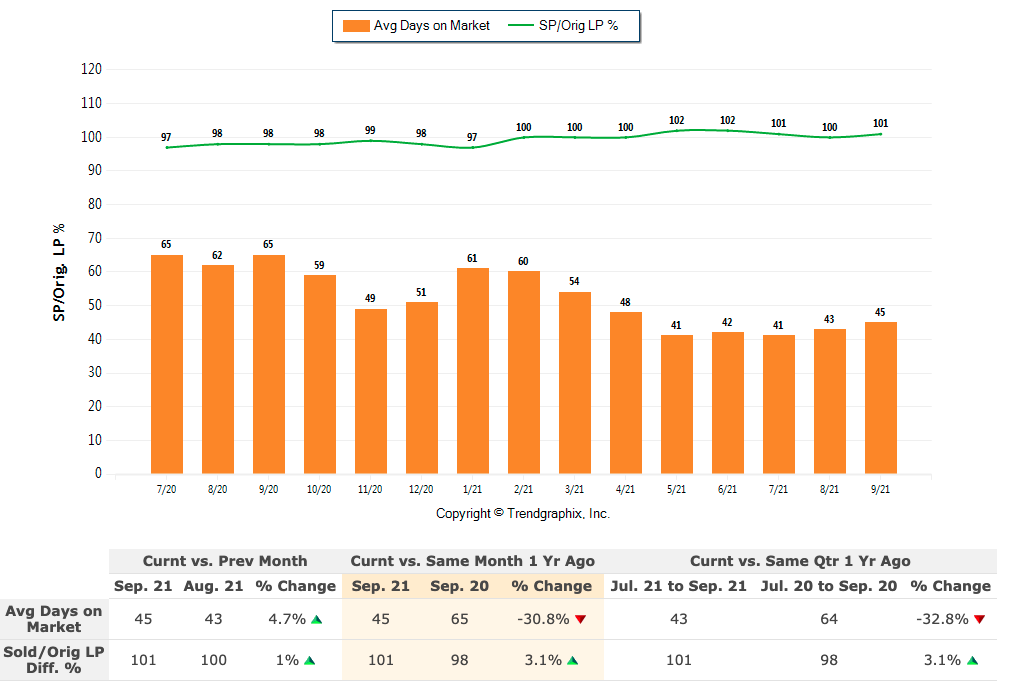 What Are The Hottest Markets In Sonoma County?
Sebastopol: In the quarter ending September 30th 2021, 54 per cent of all properties sold in Sebastopol got multiple offers with one property, 8220 Parkside Ct, selling for 29% over its asking price of $849,000. The property that got the most offers, 14 in total, was 4581 Daywalt Road.
When we take a look at the key metrics, inventory levels are continuing to fall, currently at 1.4 months (this means that if no new properties came on the market, everything will be sold in 1.4 months), days on market are still at just 46 days and the average price paid is 2% over asking price.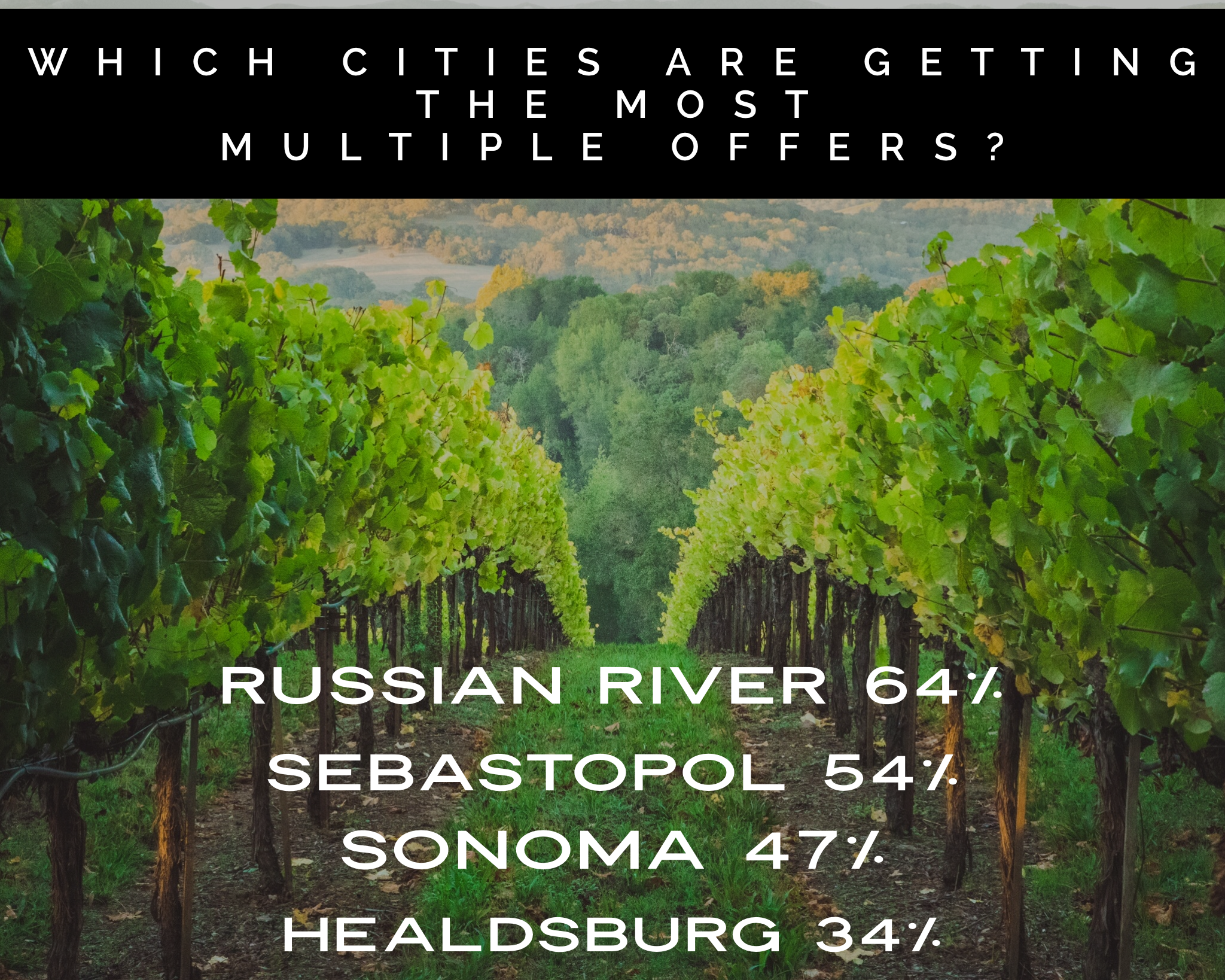 Healdsburg: Of the 77 properties sold over the quarter, 50 were sold for over asking with only 36% getting multiple offers. From a personal perspective, it was very satisfying to see that one of the properties where I represented the buyers, sold for the biggest discount on the list price, selling for $2.85m, 88% of the list price of $3.25m.
One area where Healdsburg stands out from the other markets covered in this post is the fact that inventory levels are increasing month on month and have been for the last four months to a level of 4.4 months. It is worth noting that less than 3 months of inventory is typically indicative of a sellers market while inventory levels of 6 months or more is indicative of a buyers market. It will be interesting to watch how this plays out over the next few months.
Russian River: As highlighted above, 8 out of 10 homes selling for the highest percentage and the home with the most number of offers were all in the Russian River areas of Guerneville, Monte Rio or Forestville. The Russian River homes are also attracting more multiple offers than the other areas highlighted in this post, with 64% of all homes getting multiple offers. Because of the large number of vacation rentals and the affordability of homes as a second home option for people in the Bay Area, sales continue to be strong, up 16% compared to the same time last year. The average days on market is running at 43 days with an average sale price to list price of 104%.
Sonoma: As with Healdsburg, sales are down compared to the same quarter last year. While the average days on market is still very low at 42 days, inventory levels are creeping up month by month but are still firmly in the realm of a sellers market at 2.1 months. Despite the fact that 47% of homes are still getting multiple offers, Sonoma is the only market where the sales price to list price average, is running below asking, albeit at only 99% of asking.
For homes over $1m, Sonoma has 5 homes out of the top ten that got offers accepted the highest price over asking.
Are Buyers Beginning to Get Buyer Fatigue?
There is no doubt that the market is still very much a sellers market with nearly 1 in 2 homes attracting multiple offers. For buyers, if they see the right property they need to move quickly because on average homes are only on the market for one and maybe two weekends. The good news is that, on average properties are only selling for a single percentage point over asking. However, there are still a lot of homes, in areas that are desirable to Bay Area buyers that are move-in ready that are attracting offers 5%, 10% and 20% over asking. However, we also need to pay attention to the rising inventory levels in the Sonoma and Healdsburg markets (two of the more expensive markets) which, in the case of Healdsburg, is no longer technically a sellers market. This may just be a temporary rise in inventory levels but it may also signal the fact that buyers have got buyers fatigue and are stepping aside to wait for the market to cool off a bit.