Over the past eighteen months, house price increases in Sonoma county have, in large part, been driven by people from the Bay Area searching
for a more rural lifestyle. Somewhere with views, more space and away from the hussle and bustle of the big city. While people have embraced many aspects of a more rural existence, the one part that is non-negotiable is fast internet access.
Even when I visit the most incredible homes that provide a true escape from city life, it never takes very long for the subject of internet access to come up when one of the buyers (usually a guy!) will take out their phone to look to see how many
bars they have. Once they see barely one bar, the next question is: can you get Comcast here or some sort of internet? The good news is, the answer is virtually always, yes. However the price and quality of the available service varies enormously. So what are the options?
Four Options For Internet Access:
1) A mobile phone hotspot which uses the regular mobile phone network to connect a device to the internet by tethering to a phone or via a dedicated hotspot.
2) Access to a regular cable service such as Comcast, AT&T or Sonoma County's local provider, Sonic.
3) Point to point internet service providers which rely on a series of line of sight radio transmitters to deliver internet
service to more remote locations
4) The final option for more remote places is existing Satellite internet services which will soon be challenged by Elon Musk's new company, Starlink.
Mobile Phone Internet Providers
The best way to see which is the best mobile phone provider for any given area is to use an app called Open Signal, while you are at the property. This will show you exactly which network is strongest, what type of network it is 3G, 4G or 5G and what the average download and upload speed is for people in that location on the available mobile phone networks. You can also put in a location and see what operator has the best coverage for that area. You can download the app for either Android or Apple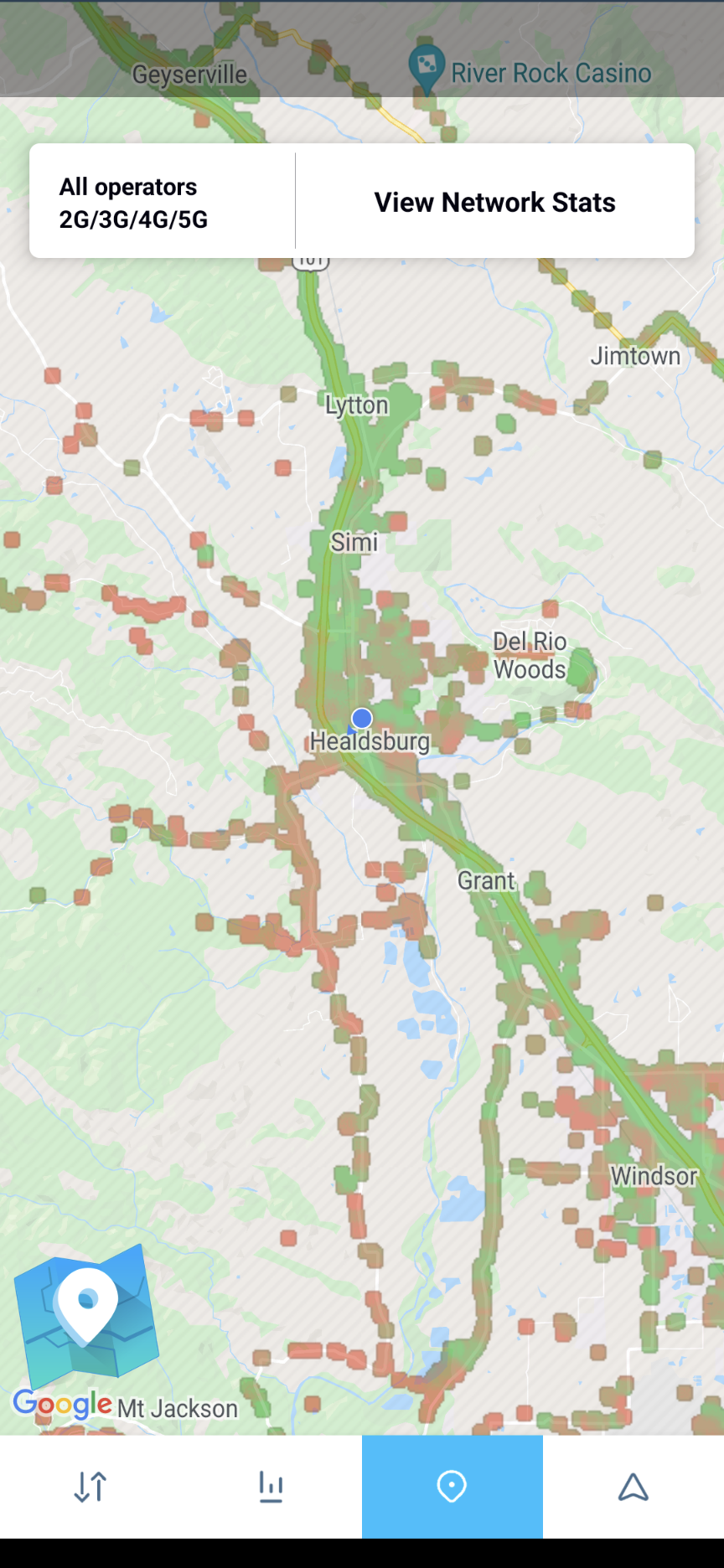 Regular Cable Services
For a property in any of the main cities in Sonoma County such as Sebastopol, Healdsburg and Sonoma, all the main cable internet services are available. When it comes to a more rural property, for example, the availability of a cable internet service capable of 1000 Mbps is a lot more mixed. Just because a property is outside city limits, doesn't mean it doesn't have access to cable internet. One good service to use to determine
if a particular property or area has access to a cable services is the FCCwebsite for broadband deployment, here.
For example in the map below, the areas highlighted in green do have access to cable internet or fiber whereas the areas highlighted in yellow do not. If we look around Healdsburg for example, the most southerly part of Dry Creek Road does have access to Comcast but it quickly runs out at Lytton Springs Road. Similarly, the first part of West Dry Creek Road around Madrone Manor does have cable access but only for the first mile.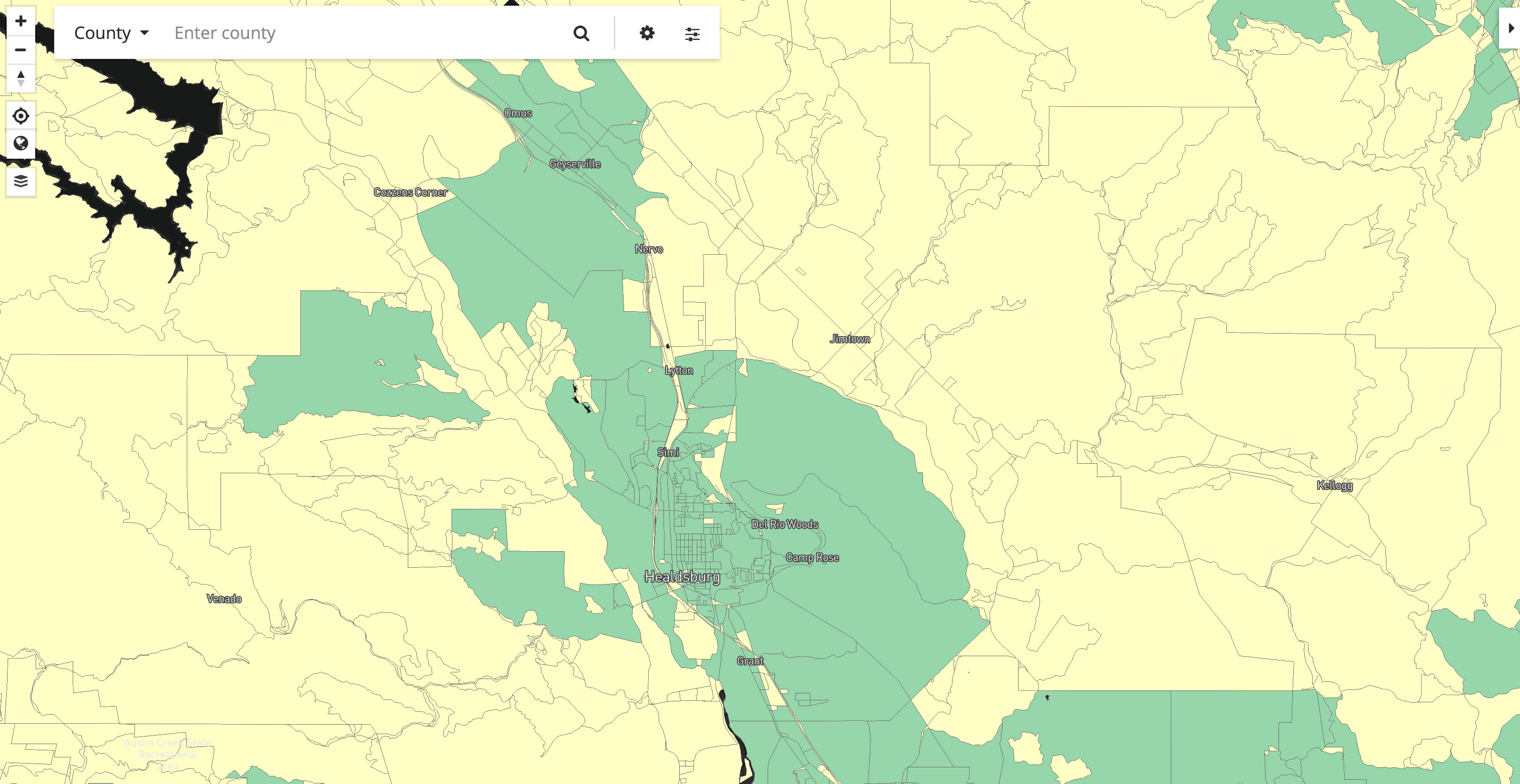 Coverage of the Russian River area by cable services is pretty good although as can be seen from the map below there are definitely pockets that do not have coverage. As soon as you go west of Duncan Mills there is no cable service out to the coast and along the coast all the way until you get to Sea Ranch which has fiber.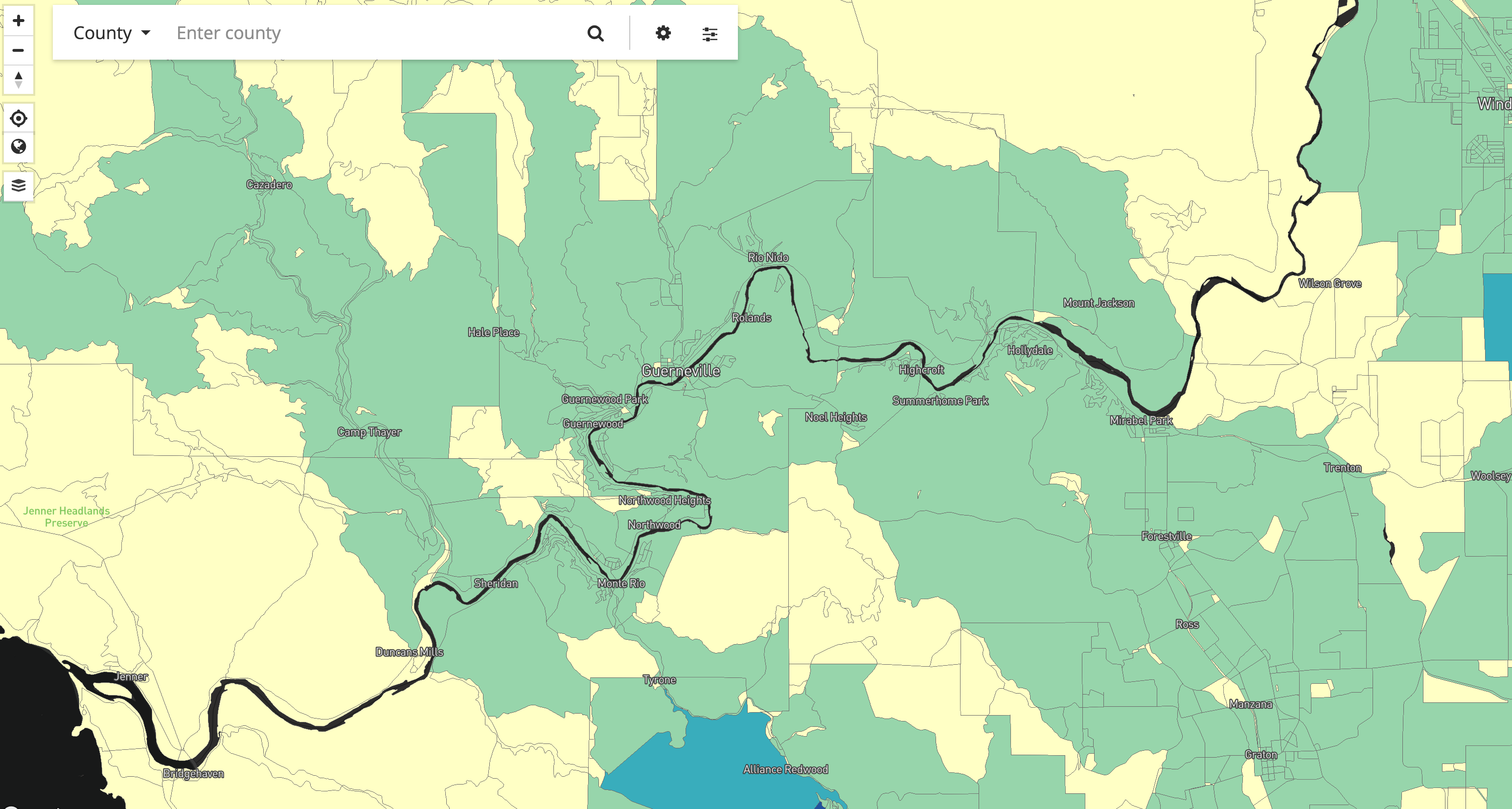 The cost of a basic internet service from Comcast is approximately $20 per month with speeds up to 50Mbps which is faster than anything
available by Satellite or Point to Point providers. Even the 1000 Mbps service is less than $200 per month.
Point to Point ISPs
If there is no cable service then there are two options, Satellite and Radio Point to Point providers such as Alexander Valley ISP (AVISP). For example, AVISP has installed 20 towers around the Healdsburg, Geyserville, Cloverdale, Dry Creek Valley, Alexander Valley and Chalk Hill road areas. The service is dependent on having a line of sight from a radio antenna on the customer's property to one of the towers installed around the se vice area. This service does not need clear access to the northern skies which a lot of satellite providers require. Unfortunately, the speed of both Radio and Satellite services are nowhere near the Gigabit (1000 Mbps) service available from Comcast. Typically the maximum speed is approximately 25 Mbps at a cost of $239 per month in addition to the $250 installation fee.
Satellite Services For Rural Internet Access
The final option is to use one of the satellite services from companies such as Viasat, Earthlink and Hughesnet. The speed of these services is generally a maximum of 50 Mbps and costs approximately $50 per month. I have clients who have used all the different services and while the provider you choose will depend on where the property is, I have heard good reports of Viasat if you are not able to get the point to point service from local company AVISP.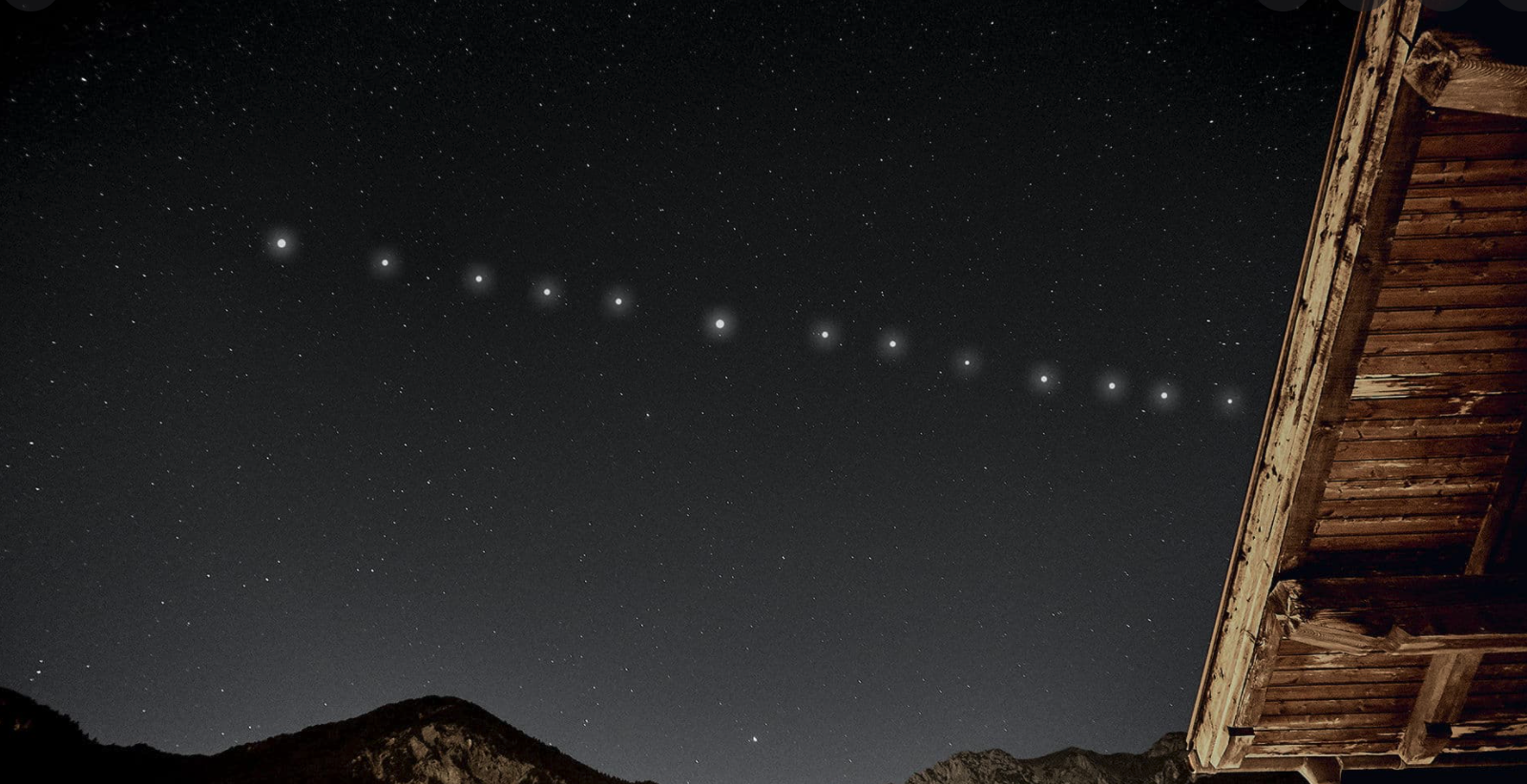 One exciting new development is the arrival of Starlink, the new satellite service being rolled out by Elon Musk. If you have ever been hanging out under the stars you may have seen it. It appears as a string of satellites which move in harmony across the night sky. Unlike satellite providers like Viasat and Hughesnet which rely on a few large satellites to create an internet service, Starlink is building a network of 42,000 smaller satellites that will surround the earth to provide a global service.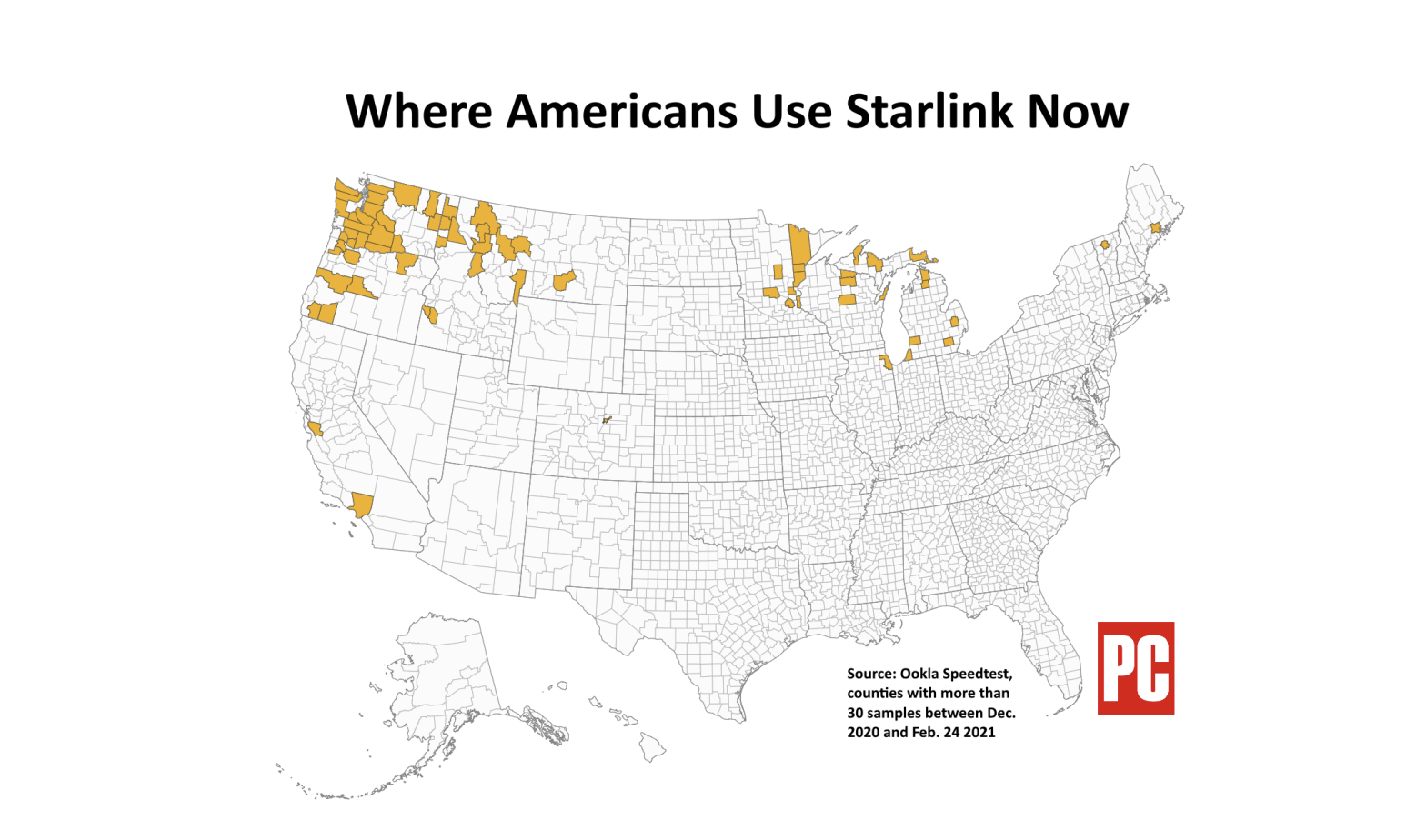 The service is already being rolled out with 100,000 of the dishes already being shipped with over 500,000 customers who have pre-ordered. AS can be seen from the map above, the initial roll out of the service is around Seattle and the east coast at similar latitude. While the speed of the service being offered as part of the beta program is either 50Mbps or 150 Mbps, the service is expected to double its speed to 300 Mbps when the roll out picks up pace in 2022. The cost of the service is a flat $99 per month regardless of where you are in world with the dish and set up cost being a flat $499.
The Future Is Bright
There is no doubt that internet access to rural communities has had a light shone on it since the beginning of Covid with so many tech workers able to work from home. For people who have lived in rural communities for years, poor internet is the price that people have had to pay to live in nature. While there are some options that are perfectly satisfactory for all but the most bandwidth intensive applications, they do come at a price. With the introduction of Starlink, fast rural internet is about to become a reality and affordable. Thank goodness for Elon Musk. Is there any industry he can't transform?