We've all seen it being built over the past couple of years. Well, now it is finished. I am talking about the architectural wonder at the west end of Tucker, 212 Tucker Street, Healdsburg. I am sure I am not alone in wondering, over the past couple of years, what was being built. I have heard people talk about everything from an art gallery to apartments to a single family residence. The answer is that it is a pair of twin town houses designed by the acclaimed architect, Stanley Saitowitz for owners and attorneys, John McInerney and Jim Reuben.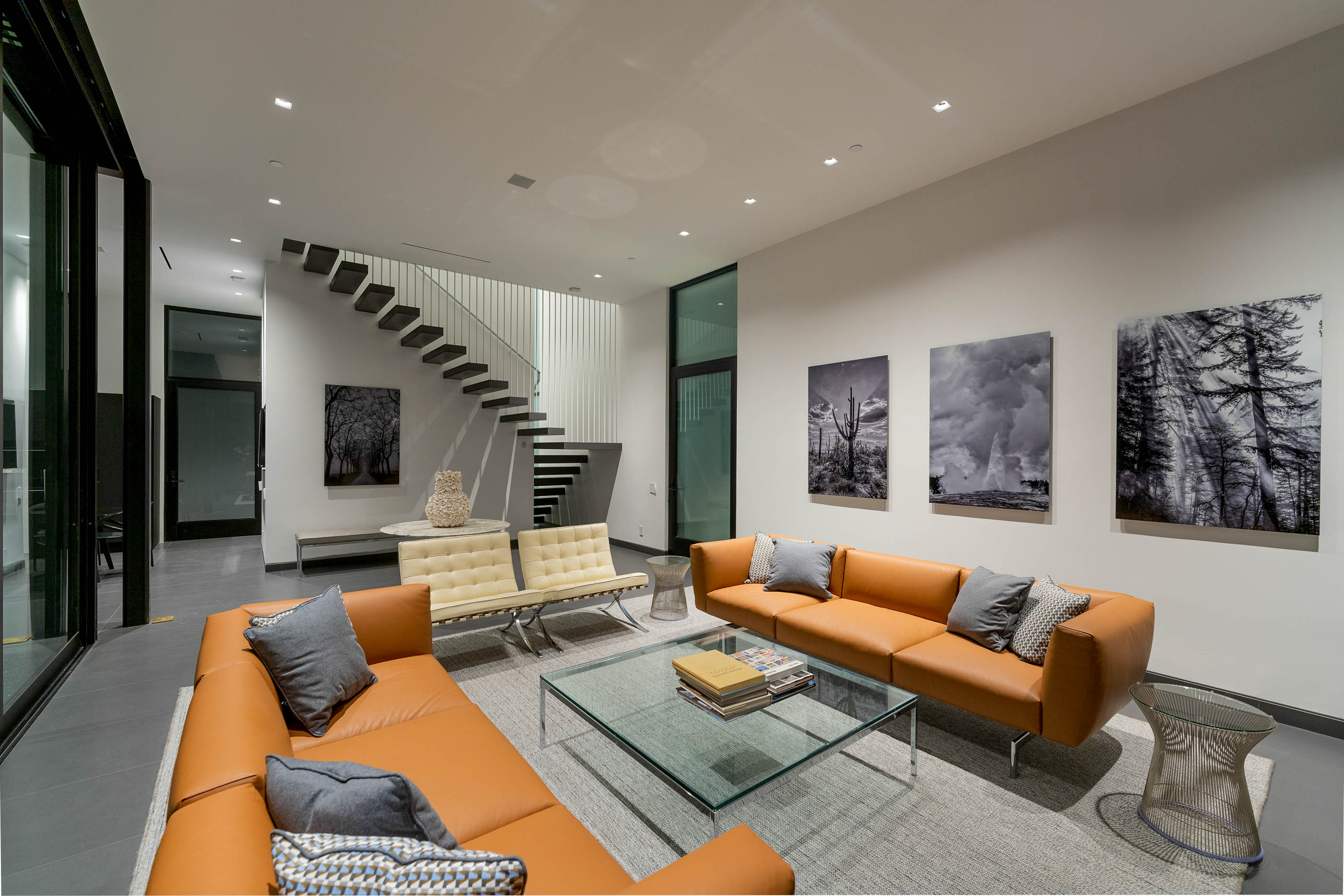 One of the owners' original goals was to locate and renovate a Victorian cottage in downtown Healdsburg. Unable to find one, he turned his attention to 212 Tucker St. The attractions were that it was a large 9600 sq ft lot, it was close to the Plaza (the heart of the town), it had a functionally obsolete structure ripe for demolition, and the site was zoned downtown residential.
The property was purchased in September 2018 for $1.325m. While the lot could not be split, the zoning permitted construction of two town homes as condominiums, plus an ADU over the garage. Prior to the new owners acquisition, it was a boarding house, and before that it was a novitiate, a building dedicated to the needs of trainee nuns, or novices. It was perfectly located next to the adjacent building which was the former Convent.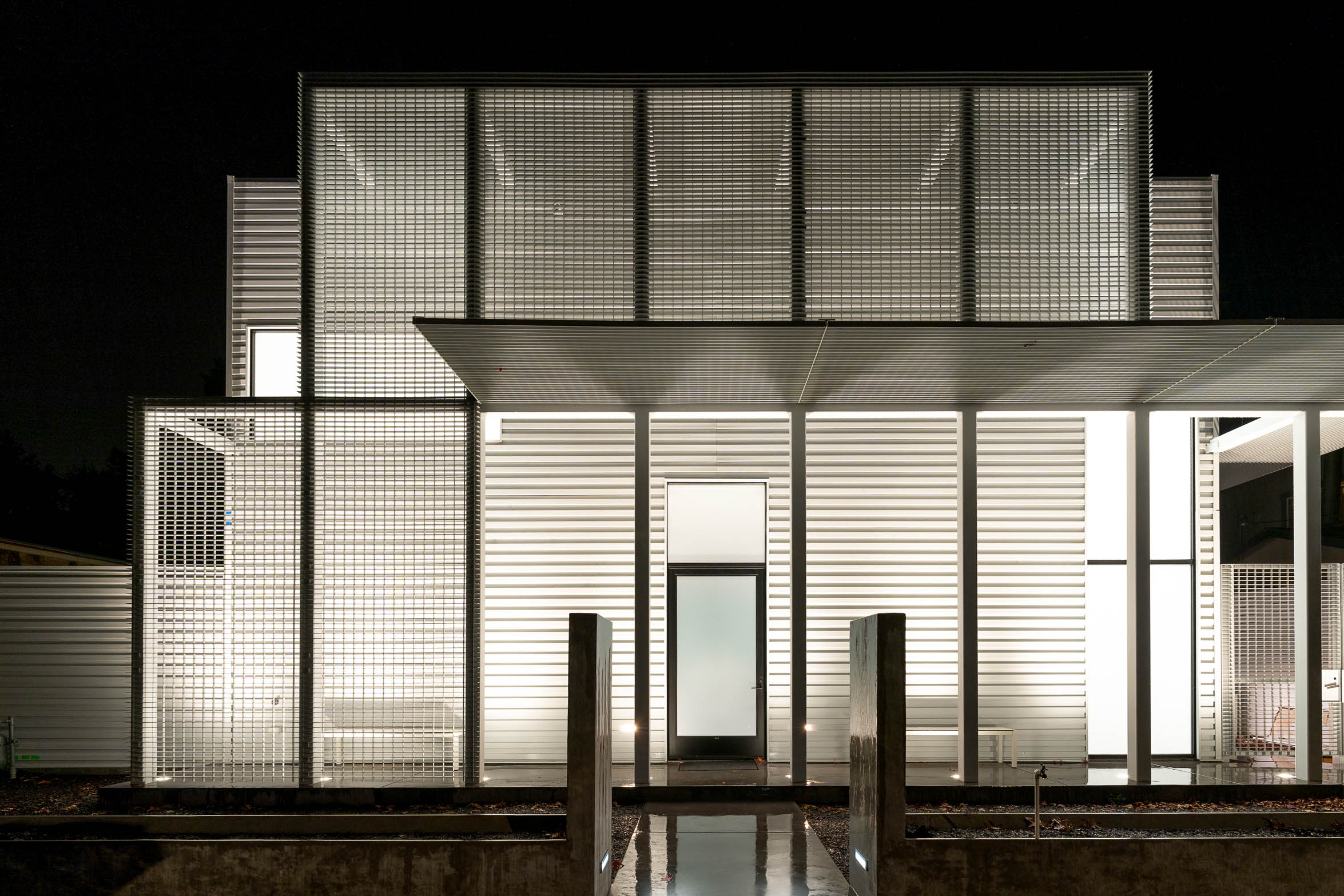 It's hard to miss the sleek lines and substance of 212 Tucker St, as you turn into Tucker, especially at night when it is fully lit, just across the street from St. John's School to the north. Regardless of whether you like modern architecture, it is irrefutably an inspired design featuring elegant lines and simplicity. When I first entered, I was struck by the calmness that ensued. Stepping off the sidewalk, you are transported into a totally different world where every line, corner, shape is perfectly aligned. You are instantly removed from the hustle and bustle of downtown Healdsburg (it's all relative!).
The architect was Stanley Saitowitz, known for his minimalist, "monochromatic" and "machine-like" architecture. For example, his design for the Beth Sholom Synagogue in San Francisco won international praise. However, as with many cutting-edge design projects, it also received its share of criticism from local residents at the time, although I suspect those views softened over time as it settled into the urban landscape.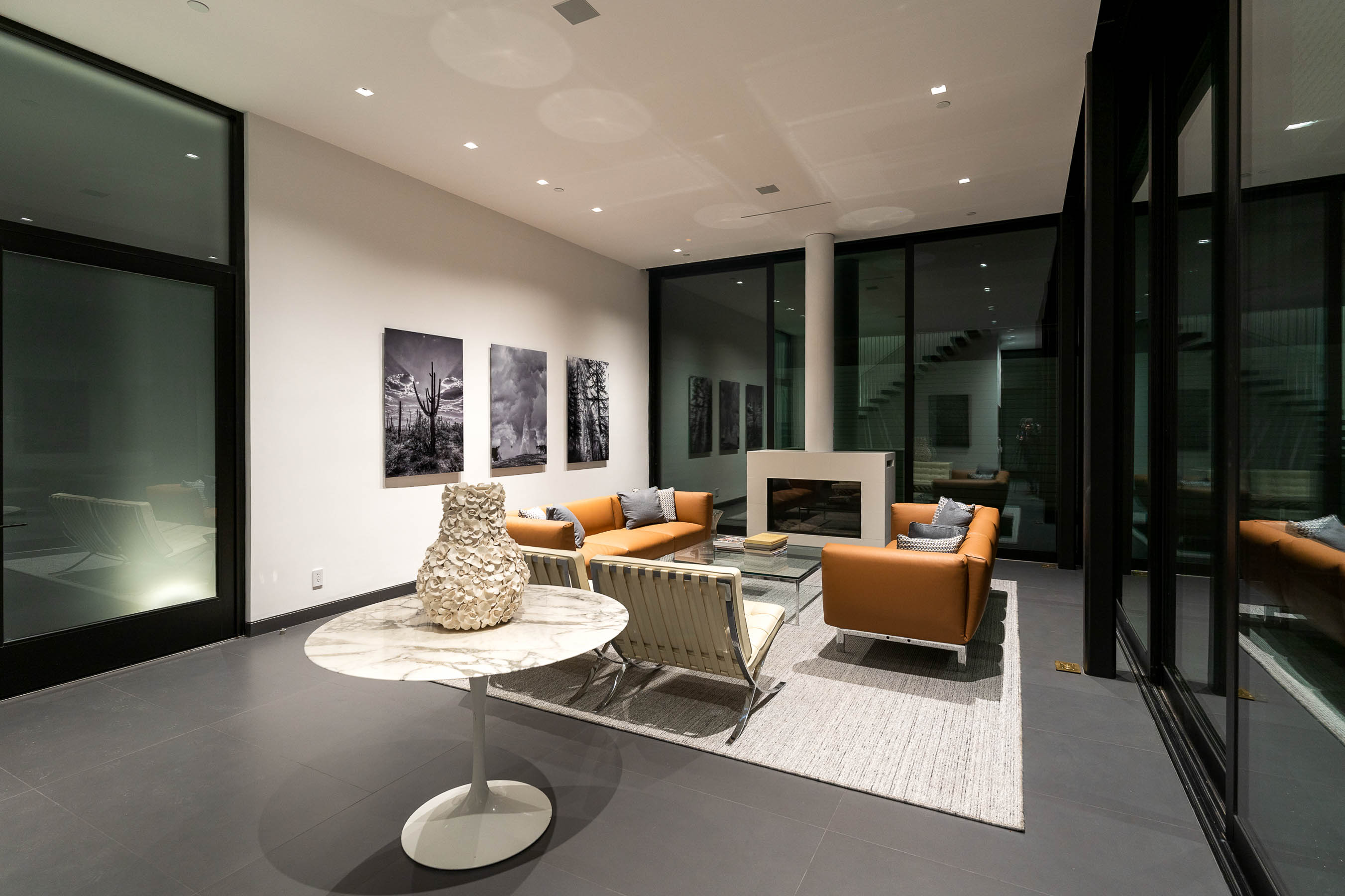 John, having developed 350 unit residential units in San Francisco, Jim, one of San Francisco's most prominent land use attorneys, have worked with numerous architects over the years. Both understand that to make the most of an architect's talents, it is important to give them a simple brief and then let them work their magic. "As soon as we explained that we were looking to develop two townhouses, a garage and an ADU, Stanley very quickly arrived at two L-shaped glass structures which gave complete privacy while marrying the outdoors with the interior. It was one of those moments when I thought, why didn't I think of that?"
The effect is stunning. Wherever you look there are details to marvel at. The upper floor cantilevers over the ground floor. The staircase looks more like a sculpture than a staircase. The floor tile turns 90 degrees to form the baseboard with a small reveal above it. There are no headers above the over fifty foot wall of thirteen foot tall windows that make up two sides of the L-shaped great room housing the kitchen, dining and lounge areas.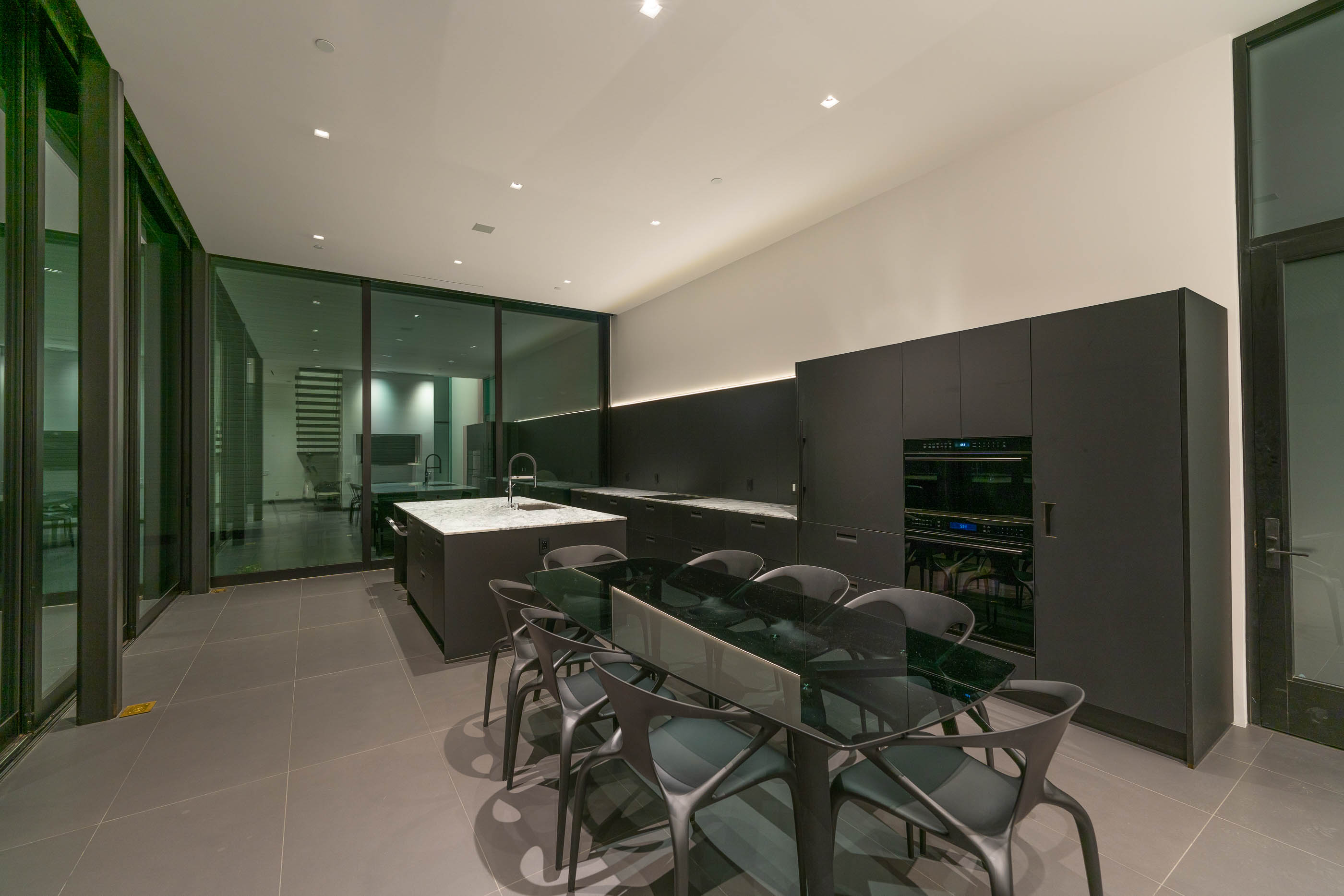 As we talked, John got up and demonstrated how easily the walls slide back opening the entire room to the courtyard and swimming pool. As the walls are peeled back, it looks like the house is defying gravity with nothing left to support the upstairs. One of my favorite details is revealed as you look along the kitchen counter to the outdoor kitchen beyond. Separated only by glass, it feels like the kitchen units continue outside giving the illusion of a single run of countertop. The exterior materials are clearly different, but visually they look identical, giving a stunning effect.
As with many of Stanley Saitowitz projects, there is a strong monochromatic feel to the building. Picking up on that theme, the house is adorned with large black and white Andy Katz photographs which are a perfect complement to the overall design.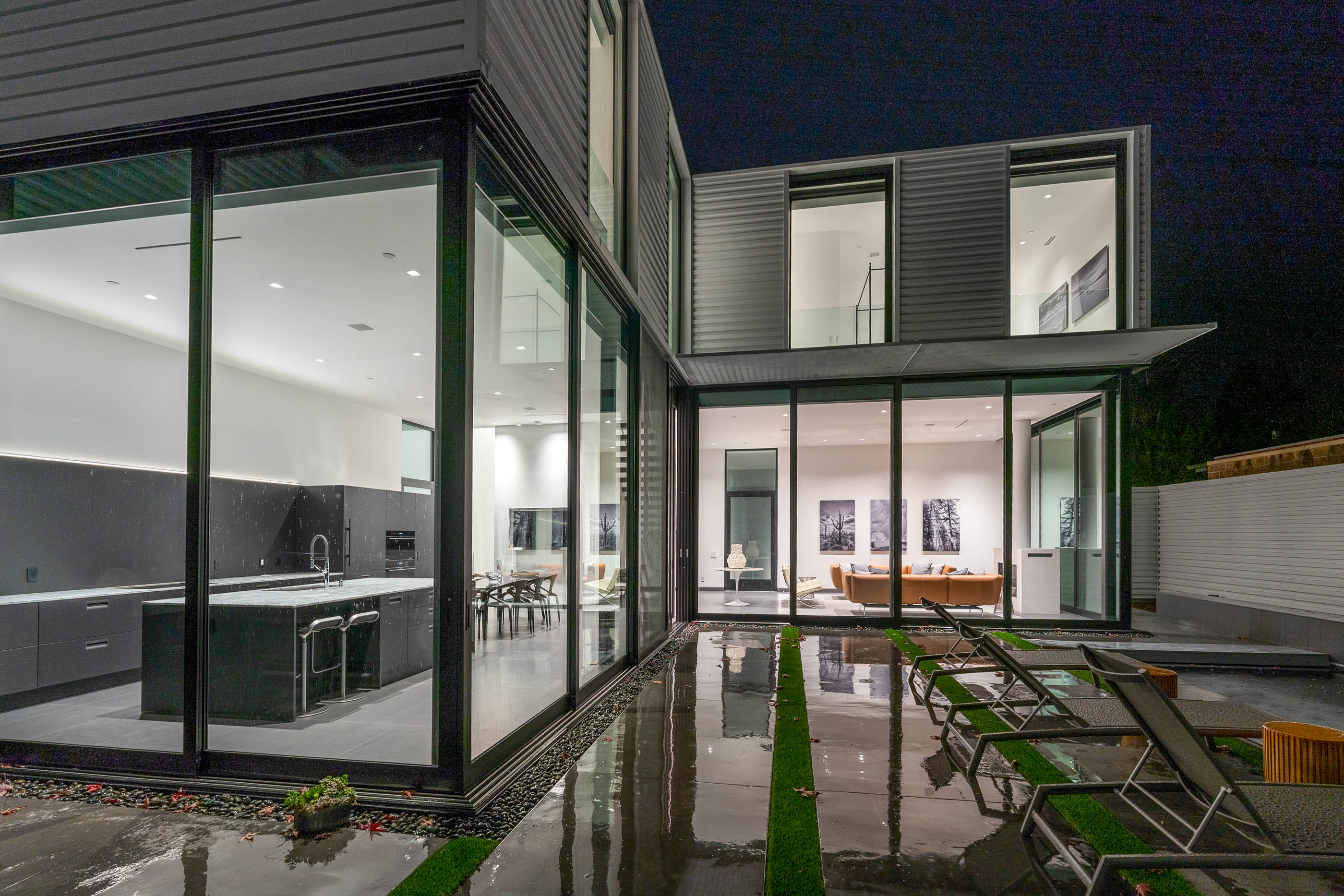 It's hard to imagine the hoops that the team went through to get all the necessary approvals. "The biggest challenge was the façade. We always set out to ensure the scale was appropriate given the surrounding buildings, but there were some frustrating moments. There were definitely some phases of the exterior approval process that required more iterations than I care to remember. However, credit to the city's excellent Planning staff, we reached agreeable compromises in the end. The team at the city was always available, incredibly professional, and responsive, something one does not experience in a larger city environment. It's refreshing to be able to just go into the city offices, talk to someone, and get an answer or direction," John explains.
You would be surprised, given my business' name, Modern Living Sonoma, if I wasn't a fan of progressive modern architecture. While it definitely isn't going to be to everyone's taste, it is hard not to appreciate what has been achieved through this project. Its minimal nature means that it is not the sort of home that automatically feels snug and homely, albeit the furnishings are also of the highest quality and specified by Brayton Hughes Design in San Francisco, a renowned interiors firm. However, it is the sort of home that feels more like a mini retreat just steps from everything that Healdsburg has to offer. Whether you live in San Francisco, Los Angeles or New York and want a calming wine country retreat in Healdsburg, this is just the place.
212 and 214 Tucker are each fully furnished and available to rent for $35,000 per month for a minimum of 30 days (or less on an annual basis). The ADU is also available for rent for $3,000 per month unfurnished. Please call David Hargreaves, Modern Living Sonoma