Many people have the dream of owning a vacation rental that brings in income but that they get to use and enjoy. It sounds like the perfect combination. As those of you who follow my blog, you will realize it is harder than it looks to find a qualifying property. (see separate blog on the Six Steps To finding a Vacation Rental). The rules are forever changing and even the rules that do exist are so complex they are hard to navigate. For those that do navigate the complexities the rewards are clearly there. We recently took at look at some of the highest grossing vacation rental markets in Sonoma County to identify the homes that are bringing in the most money for their owners.
The highest grossing vacation rental in these four areas is a 7 bed, 8 bath home on Arnold Drive that has an annual gross income of $779,000 with an average daily rate of over $5000 per night (see above). Even though many of these homes are large wine country estates that are out of reach for most buyers there are numerous examples of more modest homes such as this 1 bed 1.5 bath home in Sebastopol that earns its owners $162k per year or this home in Sonoma that earns $192k per year. Over the coming months, I will be featuring the key income statistics on homes in four of the biggest Vacation Rental Markets in Sonoma County: Russian River, Sonoma, Sebastopol and Healdsburg.
Some of the highest performing vacation rentals are in areas around the city of Sonoma. One of the biggest challenges with that specific area is the presence of the large permanent vacation rental exclusion zone (dark orange area in map below) around Sonoma city. In addition, because of the recent fires there is also a large number of properties within fire perimeters (light orange area) that are not eligible for a permit until the moratorium is lifted.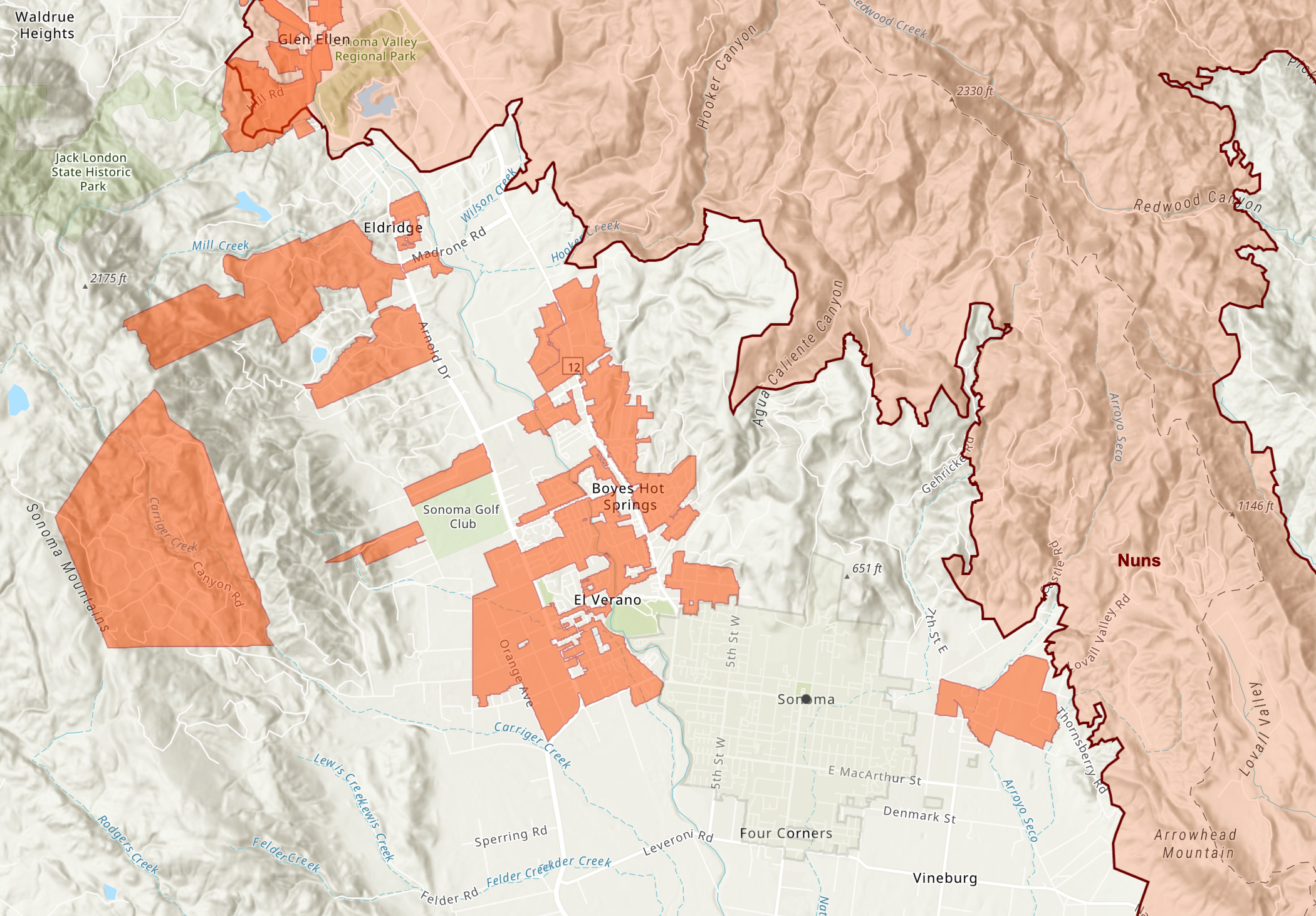 Top 3 Highest Grossing Properties in Around Sonoma
The top grossing property, Estate Sonoma, is located just off Arnold Drive outside of the Sonoma. The secret sauce for this property, in addition to the vastness of the 7000 sq ft home, is it has its own hot spring. While drilling a new well the owners recently discovered buried under a volcanic aggregate a 100gpm Geothermal Heated Mineral Water. Not a bad find on a property you own. They now have onsite access to the Hot Springs Motherload, that for centuries, Native Americans sought out for spiritual and medicinal value.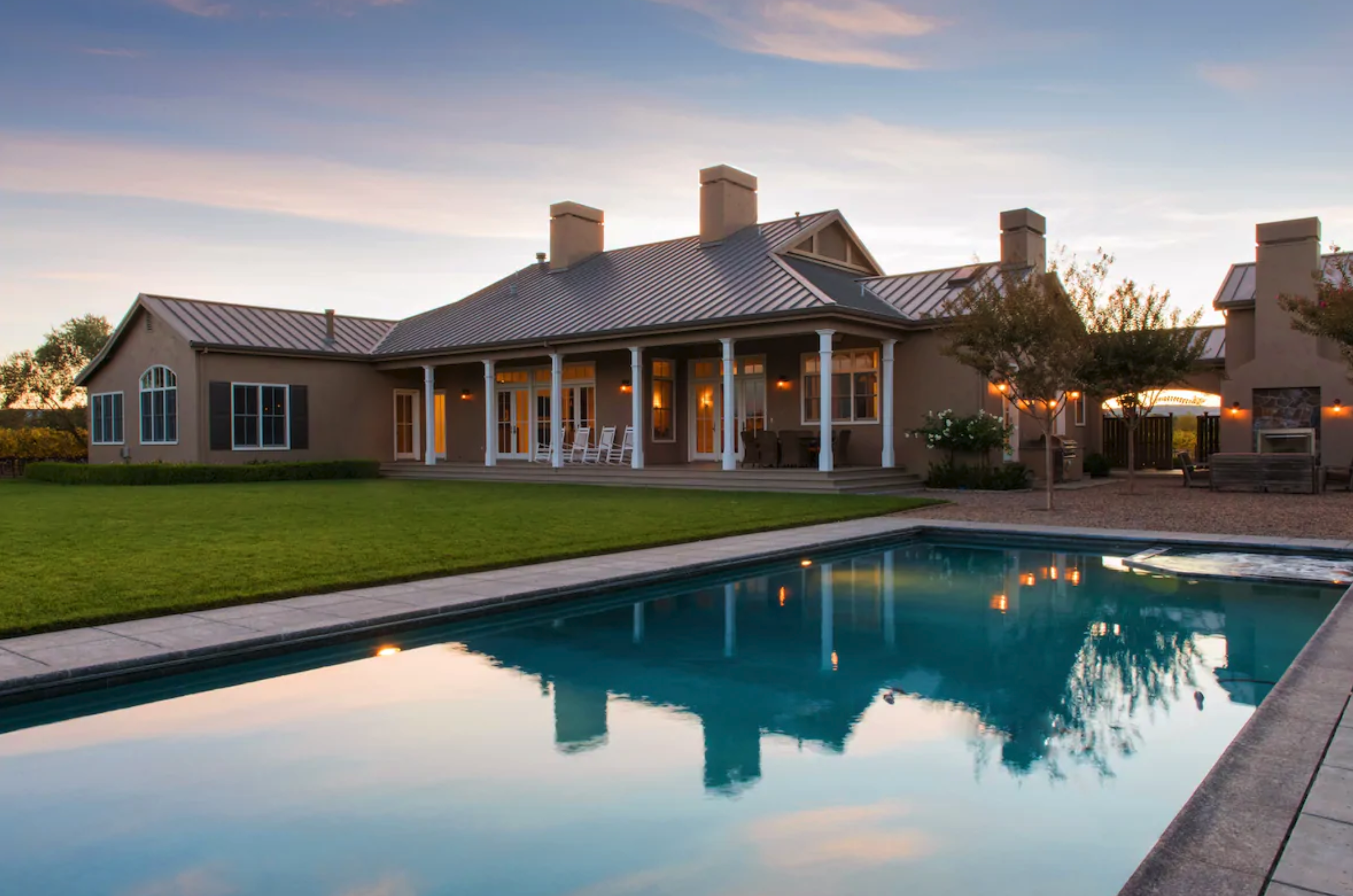 Villa Carneros, also in Sonoma, is third on the list of the top ten performing properties, grossing $557k per year. This property is located just outside the city limits on 8th St. As with many of the highest producing vacation rentals, this is owned by a winery, Attune Wines. With 5 bedrooms and bathrooms, this checks all the wine country retreat boxes with a pool, ensuite bathrooms for all guests and vineyard views.
Fifth on the list is Castello Di GoLightly grossing $494k with just 3 bedrooms and 5 bathrooms this sleeps eight people. This is located on the prestigous Eastside of Sonoma, again, just outside of the city limits. This is within a fire perimeter area so if someone purchased this today, they would not be issued with a vacation rental permit.
The Best Performing Properties Around Healdsburg
Perhaps surprisingly given the cache of Healdsburg, the highest grossing property in Healdsburg is fourth on the top ten list earning its owners 519k per year despite this modern property being in the less desirable part of Healdsburg in the Mill Creek area, on Palmer Creek Road. As well as having the popular modern aesthetic, it is set in 50 acres giving it great privacy and stellar views. One of the challenges of finding places around Healdsburg is the fact that a huge number of properties are zoned LIA which does not permit vacation rentals.
The second highest grossing rental is a 5 bed, 7 bathroom home tucked up high above Madrone Manor, set to be the next upscale hotel in Healdsburg once it has undergone its current makeover. As with most of the highest grossing rentals this has a pool as well as bocce court and the full outdoor living experience. This area of Healdsburg is one of the very few areas that around town that is close to town but where many of the properties have the correct zoning to allow vacation rentals. A client of mine recently purchased 1033 Westside Road which I'm excited to see develop into what I am sure will be a very successful vacation rental business.
Located on Dry Creek Road and part of a winery and farm, this property is on a piece of land that is zoned LIA so is not eligible for a vacation rental permit. However, this property, which earns $391k per year, circumvents the vacation rental rules by getting a permit for a 'Farmstay.' This is definitely a grey area but in order to comply there needs to be an on-site 'farmer in residence' and the owner needs to demonstrate that the lodging directly supports the farming operation on site. The permit also requires that all meals are provided in the price of the lodging. In the description on VRBO it highlights the complimentary wine tasting and a farm to table meal from a hand selected circuit of local chefs!
Highest Grossing Vacation Rentals in Guerneville on the Russian River
One of the reasons that Guerneville is such a popular vacation rental destination is not just because of its access to the river as well as wineries but because it is one of the areas in Sonoma County where there is the highest density of vacation rental eligible properties because of the overall zoning of properties. In addition, it is also an area where property prices are more affordable. However that doesn't necessarily mean there are not high end vacation rentals. For example, 16790 Armstrong Woods Road, which recently sold for $3m, is the highest grossing vacation rental in the Russian River earning its owners $450k per year. This home, which sleeps 15, also promotes itself as an event center welcoming non-lodging guests, with special permission. It also has one of the best zonings for more rural vacation rentals, RRD.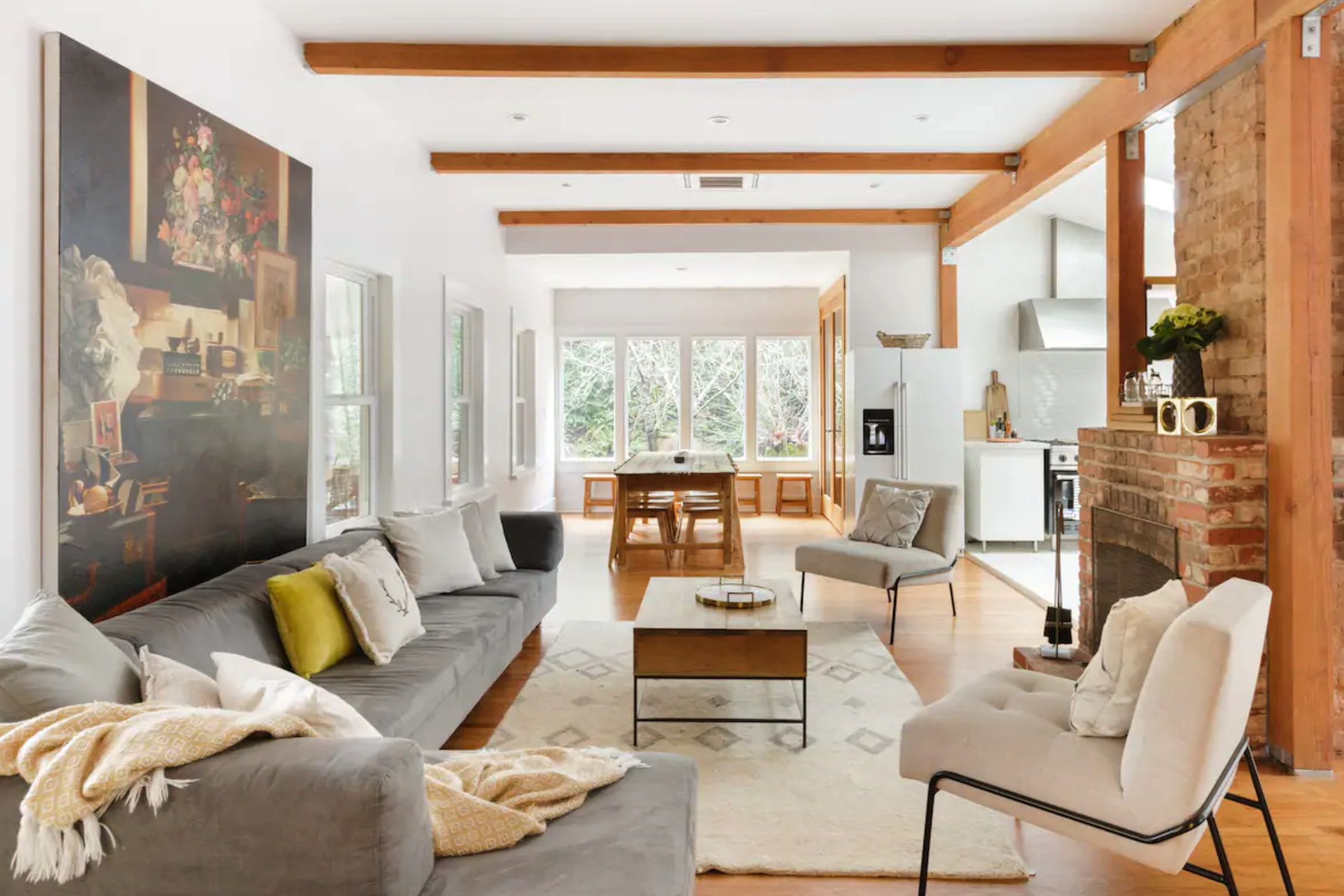 Adjacent to 16790 Armstrong Woods road is the third highest grossing vacation rental in Russian River, Casa Sabor Mexicano. This vacation rental has 6 bedrooms and 6.5 baths and an average nightly rate of $1,384. Unlike many of the top performing vacation rentals it does not have a pool showing it is possible to have high rents with no pool! The second highest grossing vacation rental is on Valley Lane, in a similar area off Armstrong Woods Road. With 5 bedrooms and 3 bathrooms as well as a pool, this checks a lot of the boxes you would expect for a family retreat in the Russian River.
What are the Options For Vacation Rentals in Sebastopol?
Compared to many other areas, the area around Sebastopol has relatively few vacation rentals. I am not sure if that is because they historically have not delivered the returns or it is because it is only now emerging as a really popular place for visitors from the Bay Area. For example last year 27% of all purchases were for non-primary residences, a number that was sharply up from the previous year. As with Healdsburg and Sonoma, Sebastopol does not allow vacation rentals in the city, or rather only for 30 days a year. That being said, Thorn Road in south west Sebastopol, is home to the second highest grossing vacation rental out of all the areas I have looked at bringing in $611k per year. The key to the success of this property is the range of accommodation because it includes two houses and a cottage making it a great option for small gatherings where eight bedrooms are spread across three properties.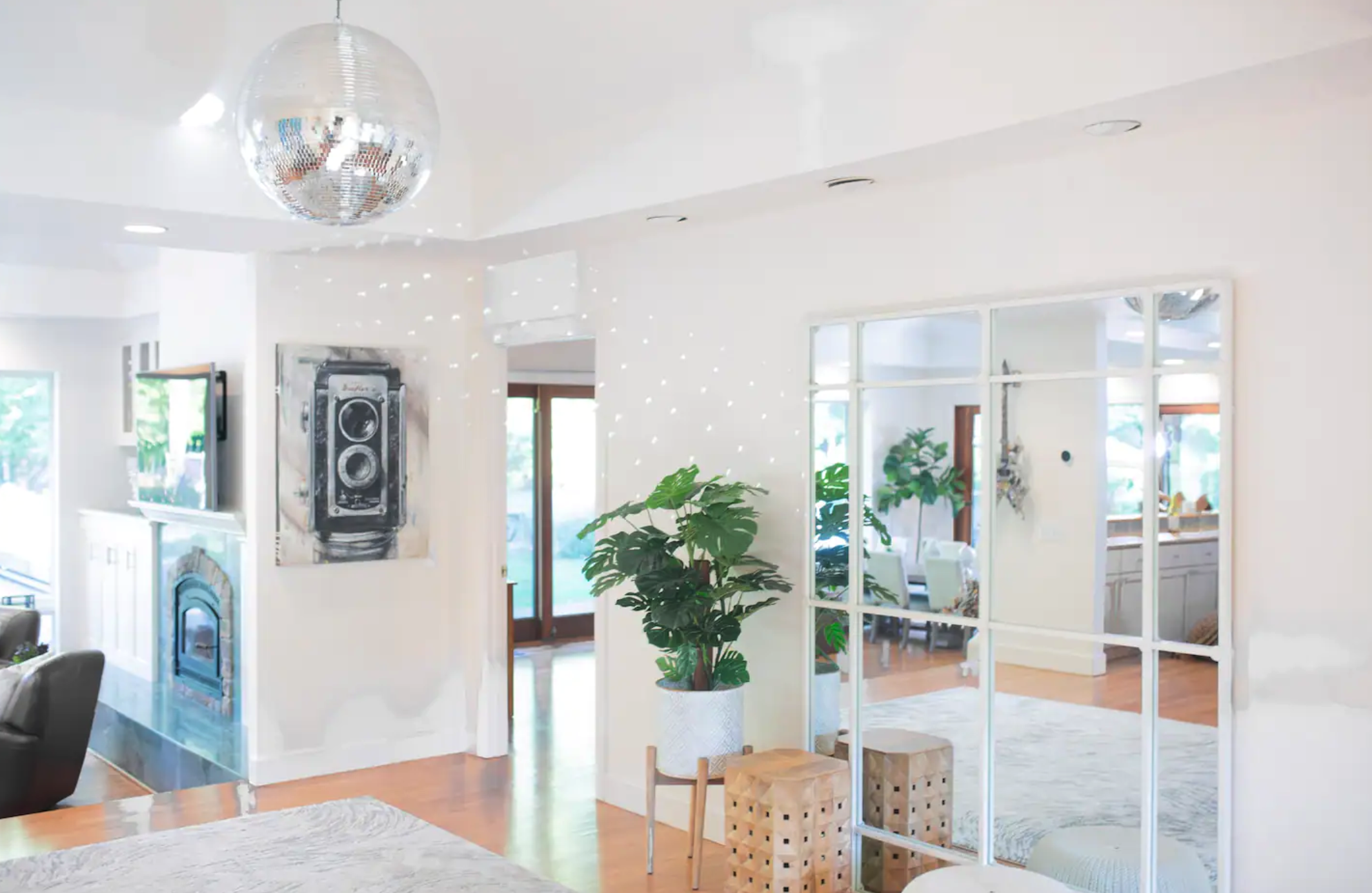 The second highest grossing vacation rental in Sebastopol is a long way behind in terms of gross income but it still achieves $321k in annual income. Located on Graton Road, this place, despite being described as a 'Hawaiian Paradise Retreat' definitely has a very strong wine country feel to it set among the vines with a pool and beautiful light and airy accommodation complete with glitter ball! (see above).
You can't get much more vineyard feel than this working vineyard property on Sanders Road (see above). The Kanzler vineyard can host up to eight guests on the vineyard property. It is zoned DA which is permit vacation rentals so this while being a working farm, it isn't required to get the farmstay property,
Where Are the Highest Grossing Vacation Rentals in Sonoma County?
As you can see, there is no hard and fast rule on where you will find the highest performing vacation rentals. Even the Russian River, where property values are definitely lower, it is possible to develop a property that can bring in nearly $500k per year in gross income. It does without saying that many of the most successful properties have a wine country feel to them as well as a pool. That being said, it is possible to have a top performing vacation rental without a pool. The one thing they all have in common is the highest possible bedroom to bathroom count as well as an outdoor space that is designed for entertaining and relaxing. While the highest grossing vacation rentals are all sizeable properties for obvious reasons, it doesn't necessarily mean they are the best performing due to the large financing costs and property taxes. If you are looking for the best investment, it may be worth looking at other properties such this property in Guerneville which is a 3 bed, 3 bath property which grosses over $200k per year.