Healdsburg, as a city of under 12,000 people, punches above its weight on the world dining stage with Single Thread being nominated number 37 on the world's best restaurant list. The only other US restaurants represented were in New York and San Francisco. While Single Thread is now nearly five years old, it feels like it was the start of something new in Healdsburg. There are so many new and innovative projects happening in the food, wine and real estate worlds, it is an exciting time for both residents and visitors. In this blog post, I wanted to round up some of the new developments happening in Healdsburg.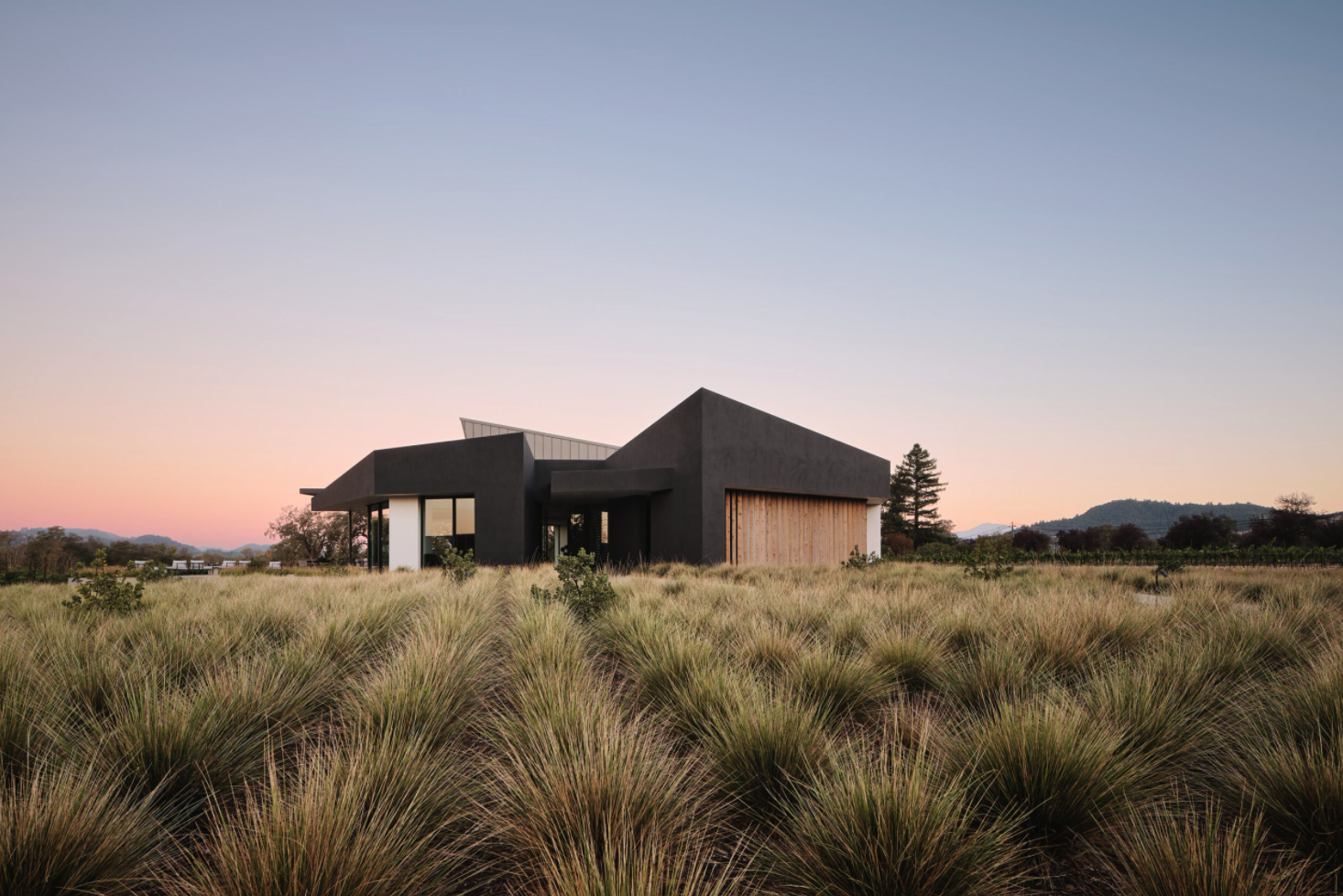 As well as new restaurants, such as The Matheson and Little Saint, there is the Montage and Mill District bring new hotels and residences to the city, as well as Madrona Manor hotel which will open next year after a multi-million dollar facelift. In addition there is a new tasting room from
Aperture
(pictured above), with acclaimed wine maker, Jesse Katz, as well as a new tasting room on Healdsburg Plaza, Marine Layer, from the former owner of Banshee.
The Madrona Manor Remodel
The Madrona Manor, which was recently purchased by an investment group headed by San Francisco designer, Jay Jeffers, is in the process of getting a bold new facelift. According to Jay Jefffers, "We want to make it stylish and sexy. Different from your usual wine country property." The newly named, The Madrona, with its 22 guest rooms is set to open in 2022. One of the changes that will be made is that the dining will shift from the formal white table cloth special occasion dining to more casual dining with more shareable dishes.
Montage Residence New Hotel and Residences
Montage has been open for nearly six months now and in the main has been well received. As well as the hotel and dining there are also over 40 private residences that are currently for sale. Fifteen estate homesites have already been sold with and additional forty homes being sold with 11 of them already reserved (see separate blog post here)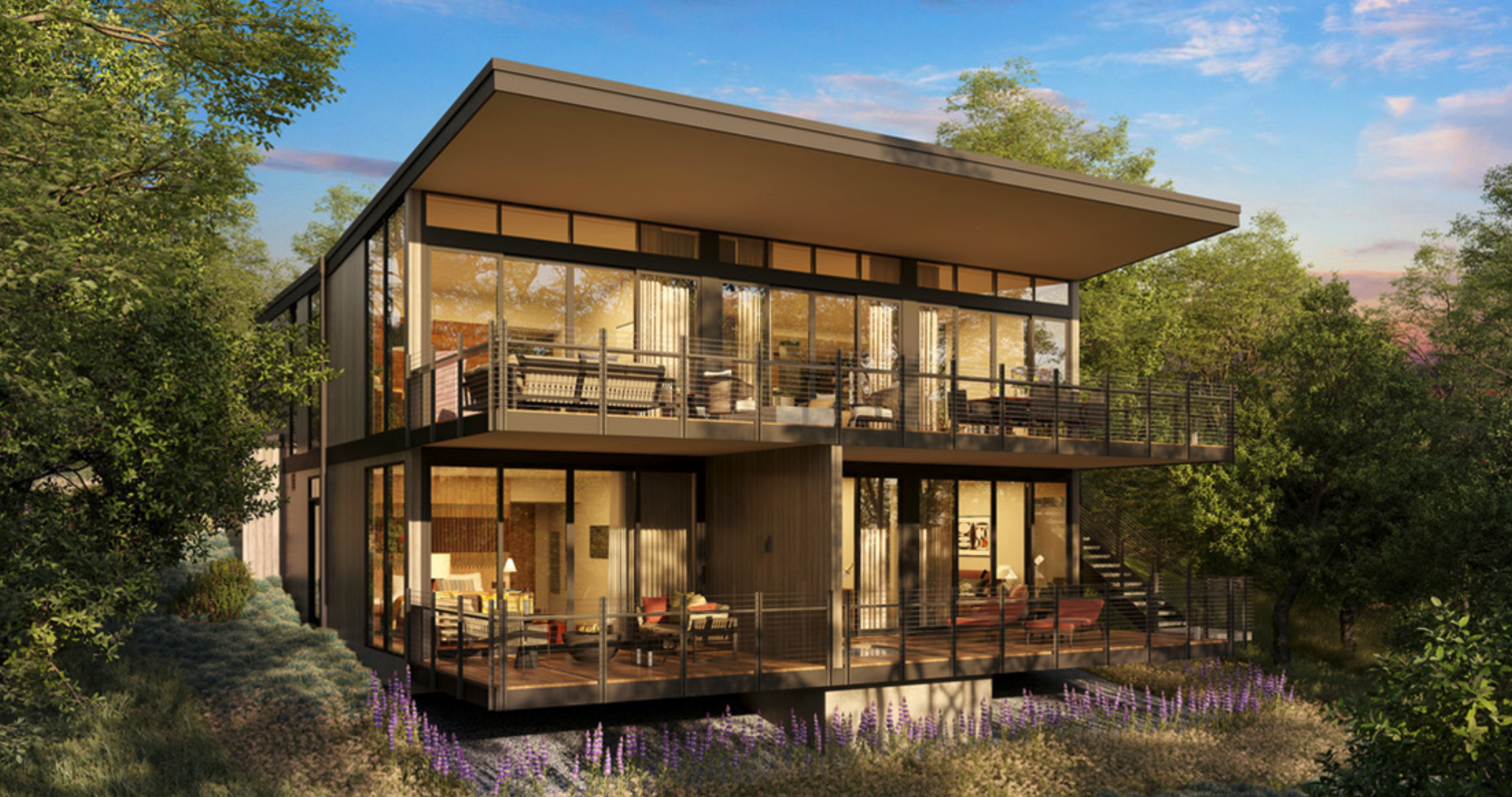 For example, the
Harvest Homes
are 4 bed, 4.5 bath homes on lots that are about 7000 sq ft and are selling for over $2000 per sq ft at a price of nearly $6.5m. Even with these jaw dropping prices, they are attracting buyers with over half of all the available sites or homes already being reserved or purchased. While Montage is technically in the City of Healdsburg, it doesn't really feel like Healdsburg. It could be a wine country resort hotel anywhere. It's isn't for everyone, but it's hard not to appreciate the rural feel of the place with the hotel and residences settled among oak trees and vine covered hills. If you are looking for somewhere for a cocktail as the sun goes down, its a great spot to hang out.
Ever since I was first briefed on this new construction in Healdsburg, I have been a huge supporter for a number of reasons. Given this site is the last ever significant new construction in Healdsburg at this scale, it is incredibly important that the development reflects Healdsburg's values and lifestyle as well as bringing something new to the city as part of its natural evolution. I am confident that the development of these new homes in Healdsburg will not disappoint. (
see separate blog post here discussing the project
)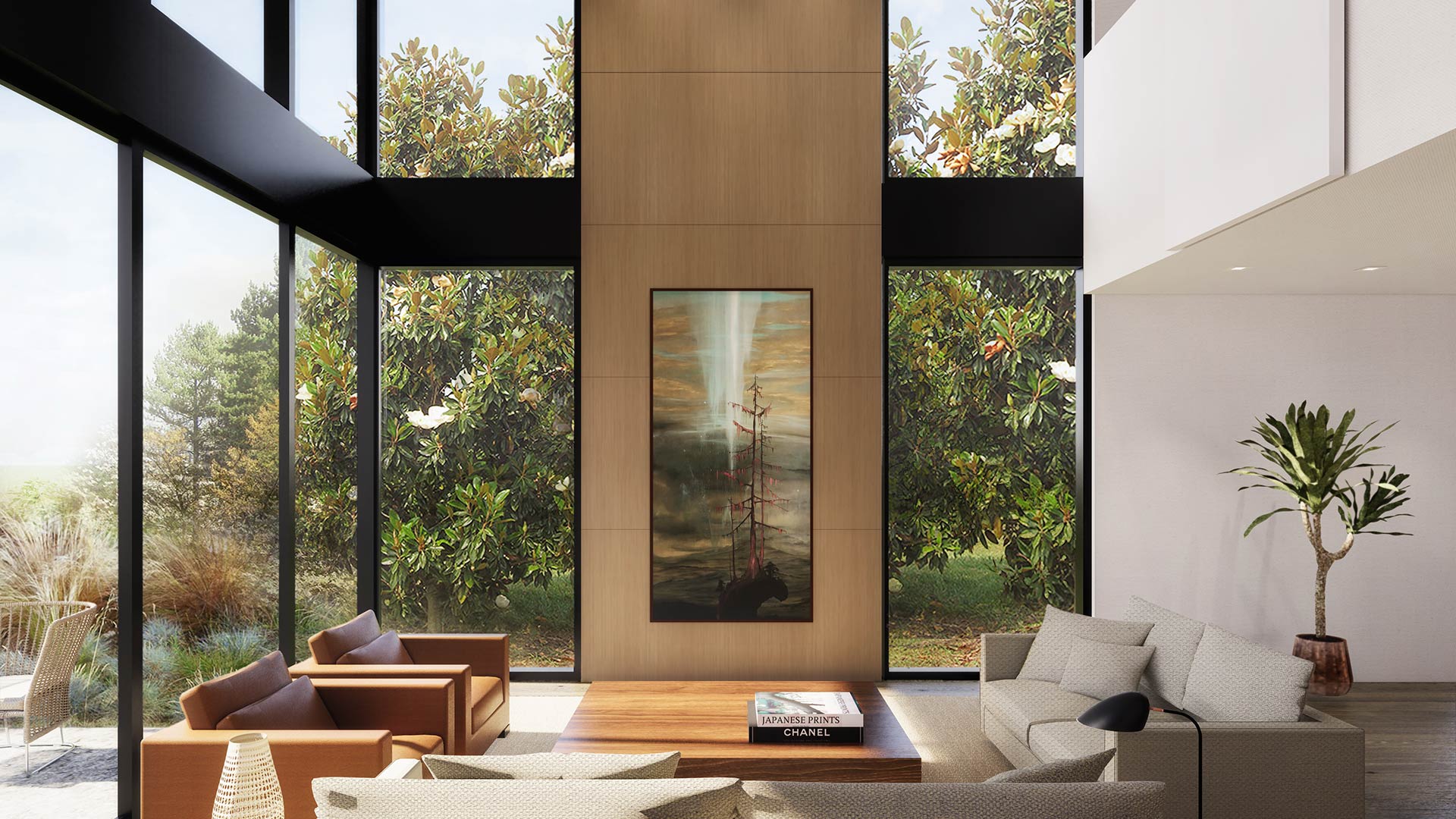 The development comprises a luxury hotel and three phases of residential development which will include a combination of studios, 1-, 2-, 3-bedroom flats as well as
Garden homes which have a private yard
with plunge pool and the top floor penthouses costing nearly $7m. One of the features of Mill District is its focus on embracing cycling as a core pillar of the lifestyle it is selling. As well as embracing the cycling lifestyle, Mill District has embraced the local food scene with people who purchase one of the
39 residences being able to work with Single Thread Chef Connaughton and his sommelier to guide the design of the home's kitchen and wine cellar.
The developer, Replay Destinations, has developed numerous very high end ski resorts in places like Aspen and Cabo. It is bringing the same sense of lifestyle and quality to what will be an entirely new neighborhood in Healdsburg.
New York Style Dining in Healdsburg: The Matheson
Investing in any hospitality business during a global pandemic isn't for the feint-hearted but The Matheson, the long-awaited dream project of local chef, Dustin Valette, and investor Craig Ramsey, has opened with a huge fanfare and the early signs are that it is going to be a roaring success. As with any new restaurant, it has definitely had a few teething problems not least in managing the crowds wanting to go and test it out. (I still find the process for checking in very confusing with 2 or 3 check-in desks at the entrance!) Having being lucky enough to eat and drink in the different areas, my favorite place is the roof terrace, Rooftop 106, where they have managed to create a fairly intimate space in what is a very large roof deck by clever use of planting and screens.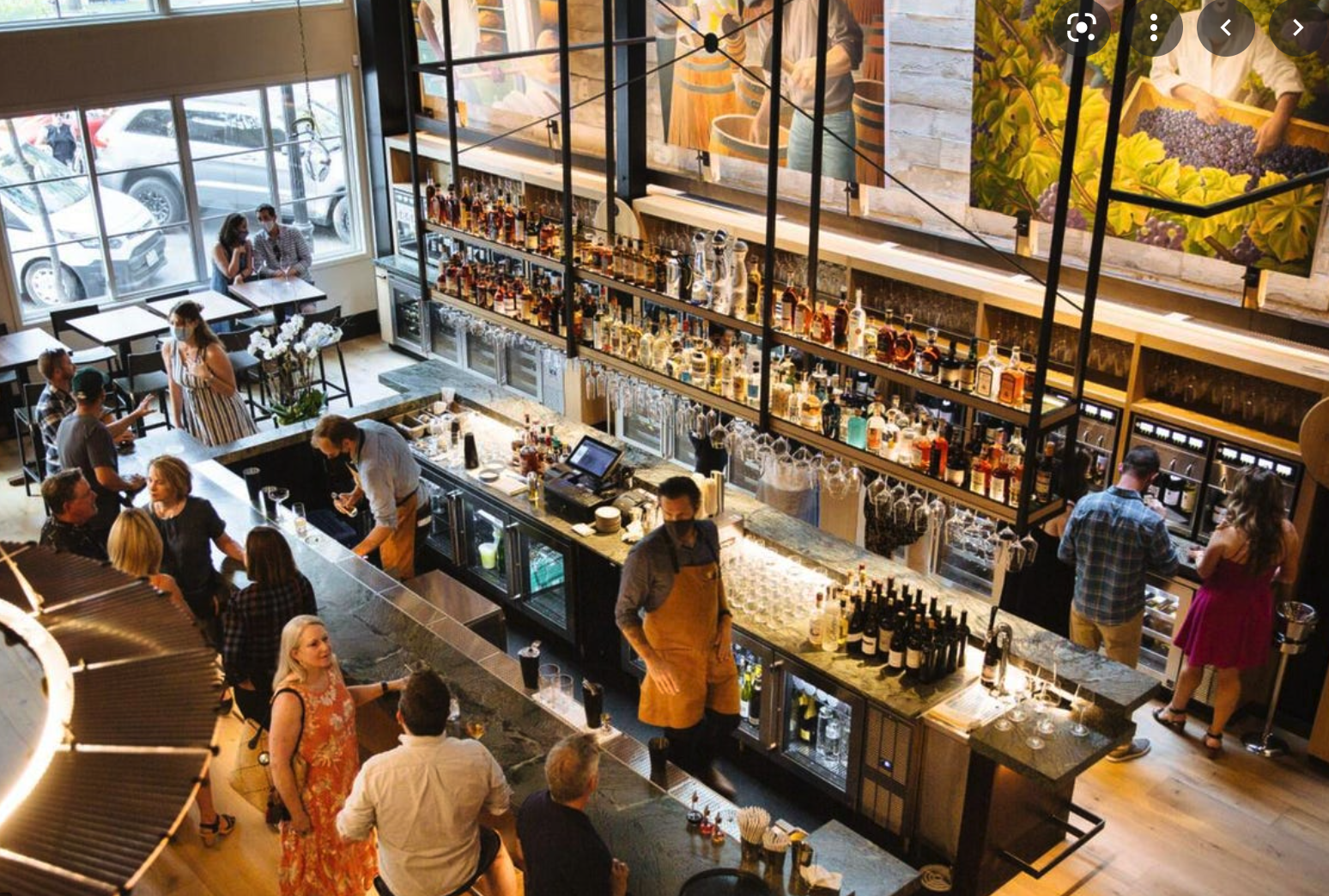 One feature that probably works less well is the notorious wine wall that includes 88 wines available by the splash or glass. It's fun to get to taste wines you could never ordinarily afford, however, it is a slightly awkward space to enjoy your drink and even more cumbersome payment mechanism. There is no question that Matheson is a welcome addition to Healdsburg. The gorgeous theatre-like kitchen that opens to the modern restaurant serving a tasting menu of Sonoma-meets-Japan cuisine feels more New York than small Sonoma County agricultural town. In a city that struggles to have enough restaurant covers to accommodate locals and tourists, it's great to have somewhere that can house a couple of hundred people for dinner.
Healdsburg SHED's Replacement: Little Saint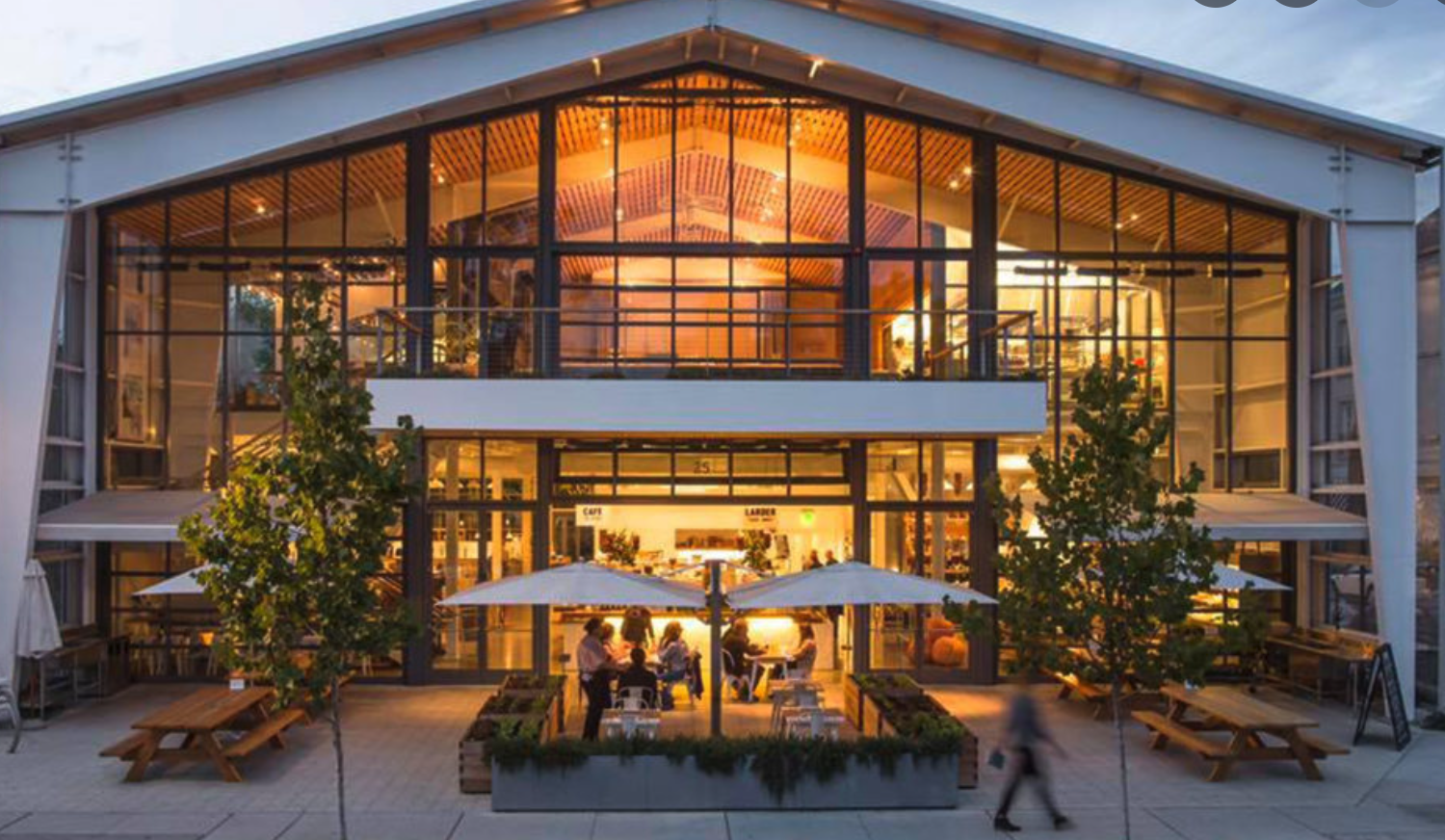 A lot of people were sad to see Healdsburg SHED, the 10,000 square foot coffee shop/cafe/kitchen shop/gift shop close, but it's exciting that the team behind Three-Michelin Star SingleThread Restaurant have acquired the beloved Healdsburg SHED location. When it it opens in February 2022, it will feature a more fast-casual option with a plant based menu in addition to a retail space, bottle shop and opportunities for art gatherings inspired by Ken Fulk's nonprofit Saint Joseph's Arts Foundation. While it will be operated by Kyle and Katina Connaughton, Little Saint will aim to build upon the vision of the original owners of the SHED as a community gathering space. The restaurant will source a lot of its produce from the Single Thread Farm, a 24 acre site on Dry Creek Valley (formerly Noci) which the owners of Single Thread purchased last year.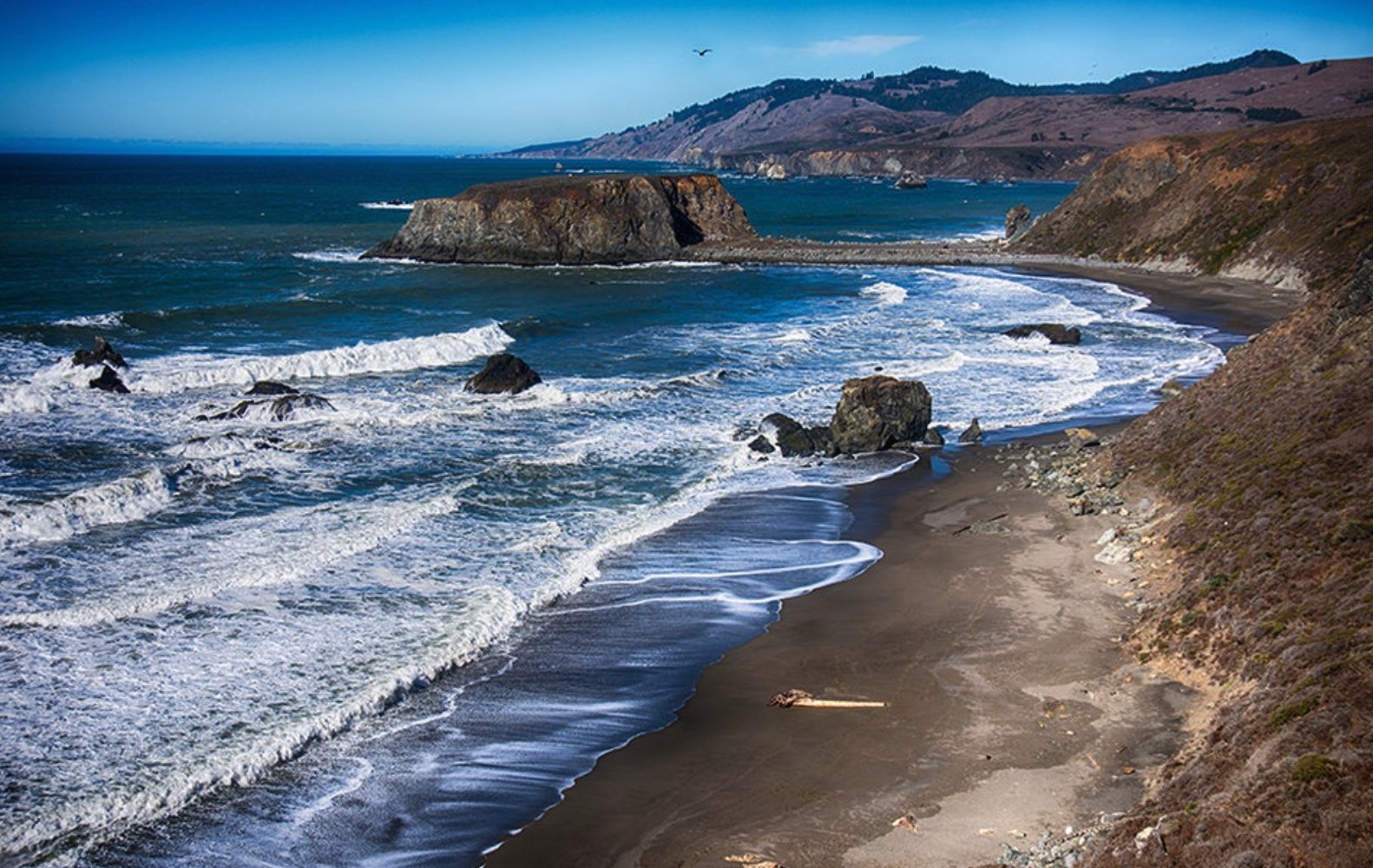 Marine Layer is Healdsburg's newest tasting room located on the Plaza adjacent to the downtown Bakery (which incidentally has just been purchased by its employees). It will focus exclusively on Chardonnay and Pinot Noir from the Sonoma Coast region. It is the brainchild of Baron Ziegler who broke the mold of Healdsburg tasting rooms when it opened Banshee in 2012 because it stood out from the sometimes staid tasting rooms with a more funky and youthful vide. Personally, I like Banshee because it does feel as much like a wine bar as it does a tasting room. Unlike Banshee, which was set up to create a bottle of more affordable
Pinot Noir selling
in the $20 per bottle range, Marine Layer, according to Ziegler, is focusing on meeting the demand for pricer $40-$50 bottles of wine but in an environment that has a younger more stylish feel. It will only sell direct to consumers rather than through restaurants or wine shops.
What's Else Is New In Healdsburg?
While I have done a round up of many of the new developments in Healdsburg, this is by no means an exhaustive list. There are plenty of other exciting new developments including a new sandwich shop from the owners of Quail and Condor (formerly of Single Thread), a new steak restaurant from Foley Johnson, another new restaurant from the owners of Dukes Spirit Bar and a new hotel and condos on Center St. It's hard to keep up with all the exciting new hotels, restaurants, tasting rooms and real estate. When people ask me what I think is going to happen to the real estate market long term, it's hard to imagine prices going down with so many people wanting to come to both visit and live here. There are lots of places to purchase real estate in Sonoma County, but only one place that has what Healdsburg has to offer.