If you are thinking of buying a vacation rental home, or even if you have bought a vacation rental investment property, you probably try to follow the short term rental rules to understand the current restrictions and also try to predict future changes. On March 17th 2022, the staff at the Sonoma County Planning Commission revealed their proposals for changing the rules following a directive made last July by the Board of Supervisors to improve the vacation rental program. After 20 different stakeholder meetings, taking over nine months, the recommendations were put forward only to be told to go back and reach out to 10 more stakeholder groups before a decision could be made. (see here for full recommendations). In short, no decisions have been made and the can has been firmly kicked down the road until at the earliest August of this year. So where does that leave thing? Are the vacation rules going to change? When are they likely to do so? What are the changes mostly likely to be?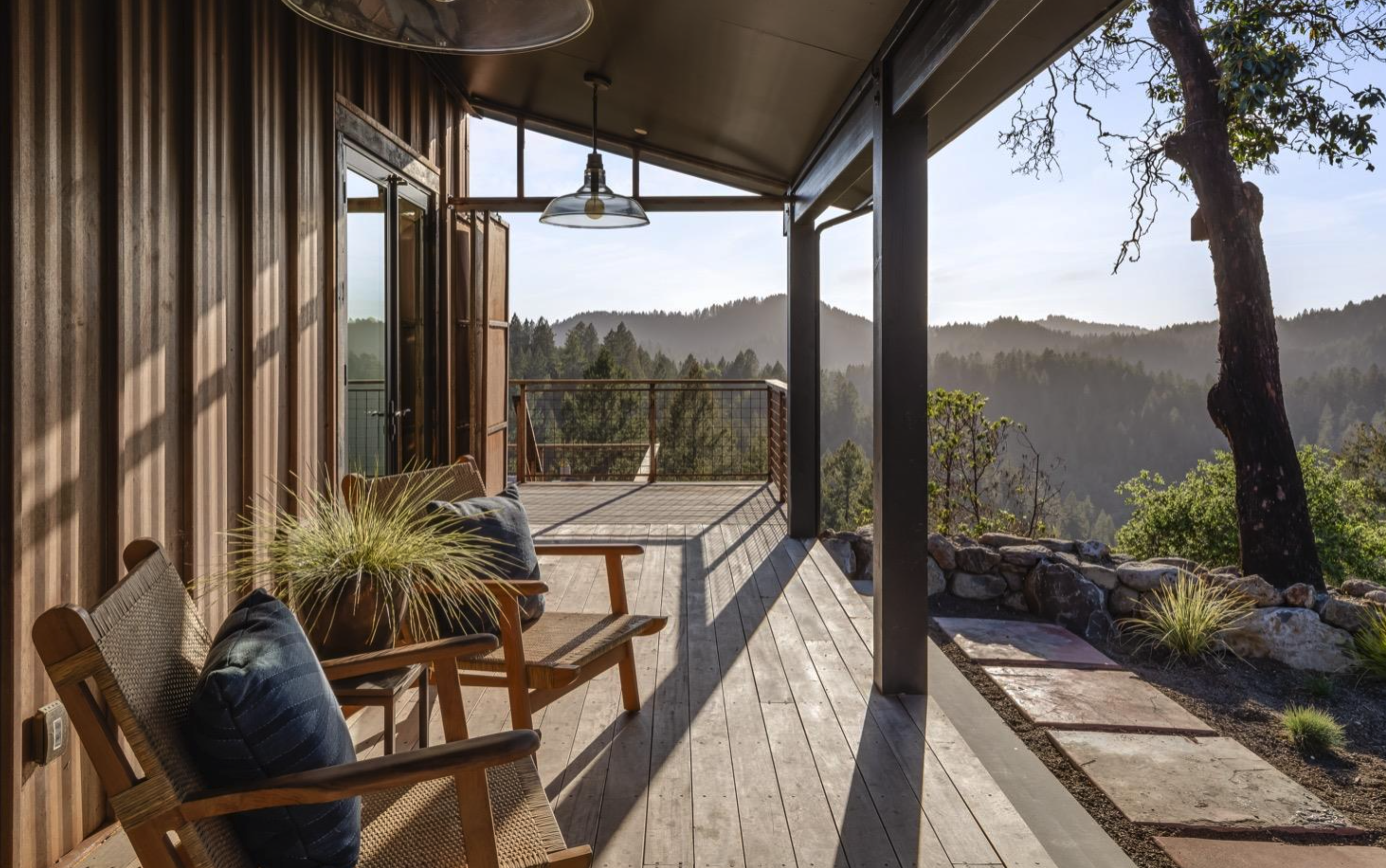 How Many Vacation Rentals Are There In Sonoma County?
Before we dive into the recommendations, full details of which can be found here, it is worth looking at the data to understand just how many vacation rentals there are in the county to understand the scale of the, so-called, problem. As part of making recommendations the County published a summary of the vacation rental market highlighting the number of vacation rentals in existence (2,459) and their whereabouts in Sonoma County. Out of a total of 2,459 short term rentals, there are 497 (20%) in the unregulated coastal region, 469 in the greater Sonoma area, 163 in the greater Healdsburg area, 147 and 146 in the Sebastopol and Santa Rosa areas and the vast majority of the remainder spread across the unincorporated, none-coastal area. If we look at the number of vacation rental as a percentage of the entire housing stock it is just 1.8%. Over the past 10 years that percentage has steadily increased from 0.2%. Over the past 3 years it has increased by 0.01% each year, hardly a huge percentage increase.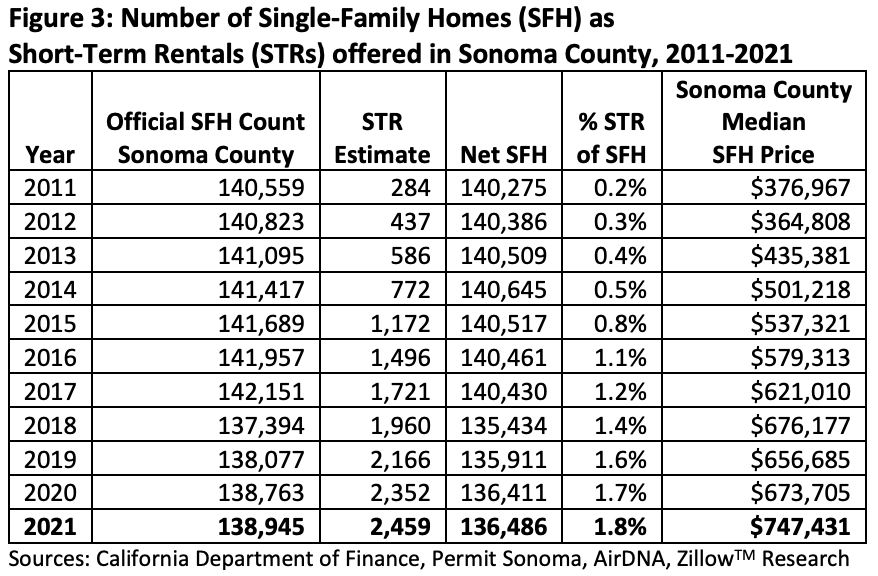 As part of the research used to inform the recommendations, the researchers were asked to try to find a correlation between house price increases and the relative population of short term rentals. The report found no such link, although from my own anecdotal experience, I do feel over the past year a property that is vacation rentable will command a premium (doing this study has been on my list of things to do for a long time!)
What Are The Current Regulations?
Ever since the short term rental regulations were first introduced in March 2016, there have been a number of new rules that have been introduced to try to further restrict the ability to operate short term rentals. I have a more detailed summary of all the current rules which can be found in this simple flow chart here as well as a more detailed description here but in summary:
1) The original rules introduced in March 2016, created a number of exclusion zone which covers certain areas of the county. No new permits were issued in these area ever since. (This was my first ever post on the subject)
2) Individual cities have their own rules (This article highlights the city rules)
3) The coastal area current has no specific limitations
4) In October 2019, an emergency ordinance was put in place preventing any permits being issued in the fire perimeters for the 2017 and 2018 fires. Additional ordinances were put in place to prevent permits being issued in the fire perimeters for the 2019 and 2020. All of these ordinances are due to expire at the end of 2022.
5) In December 2021, an additional urgency ordinance was adopted to put a temporary cap on vacation rentals in specific locations within unincorporated areas which included parts of the Russian River and Sonoma Valley. This cap is due to expire on August 6th, 2022.
6) In addition to some of the geographic restrictions vacation rentals are not permitted in ADUs, multi-family units, in RVs, Tents, farm worker housing and on properties that have specific zonings. (see this blog post for more details).
7) In addition to the above, most HOAs also prohibit the operation of vacation rentals within a community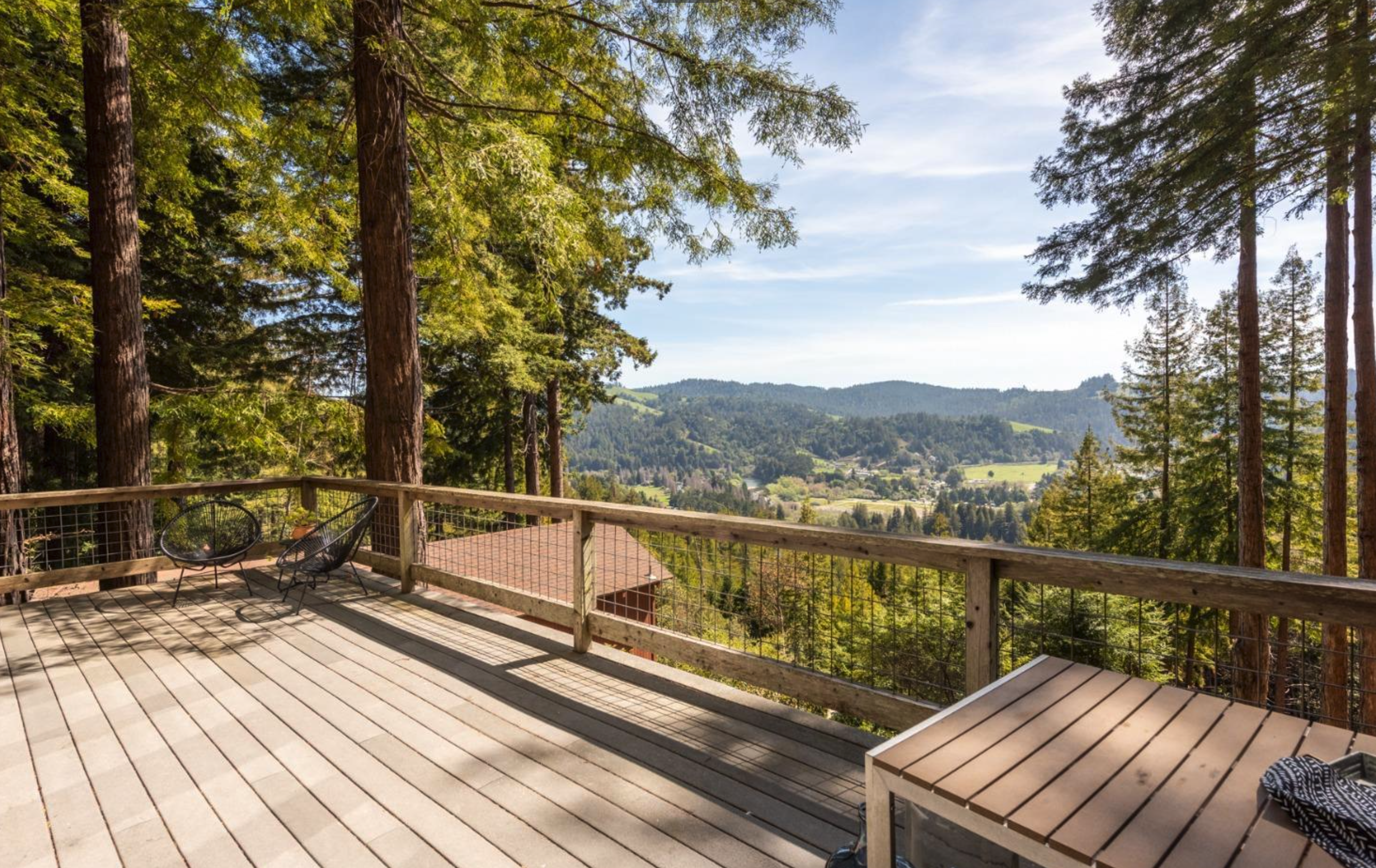 What Are The Recommendations For New Vacation Rental Rules Under Consideration?
There are a number of different proposal under discussion, none of which will be presented to the board of supervisors until the additional working groups have been conducted. However the recommendations included the following:
1) The introduction of a licensing program, in addition to the current permit required
2) The introduction of a 24/7 customer service hotline for the primary purpose of ensuing host compliance. In short, making it easier for members of the public to register complaints and for the county to better manage them and enforce non-compliance.
3) Increased requirements and standards for property managers. The current rules require there is a property manager within a 30 mile radius of the home. However, the property manager has limited accountability. One of the recommendation is for the county to have the ability to revoke a property managers license for failure to comply.
4) The main recommendation was to regulate the volume of vacation rentals using one of, or a combination of mechanisms including by location (as with the current exclusion zones), proximity (as with the 1000 ft rule in Santa Rosa City), concentration (as with the density cap in the Russian River) or by days (as is the case with the 30 days per annum limit in Sebastopol city).
5) Off street parking is another area in the spotlight. The recommendation is that for a home with up to two guest bedroom, there must be at least one on-site parking space and for up to four bedrooms there must be at least two on-site parking spaces.
What is the New Vacation Rental License Being Proposed?
The recommendations will require any property owner operating a vacation rental to obtain a license through Sonoma County PRMD. A license will need to be renewed every year BUT a renewal will not be issued if there is an open code violation associated with the vacation rental. One the main reasons that a license is being proposed is because it is a lot easier to withdraw the ability to operate a vacation rental through the revoking of a license compared to a permit. The standards for issuing a license will cover everything from compliance to parking rules, noise, pets, trash and recycling, outdoor fire, payment of TOT, evacuation procedures, license signage and more. (see full licensing recommendations here)
Will There Be More Vacation Rental Exclusion Zones, Caps and Proximity Limits?
It is hard to say until until the additional special interest groups are consulted and further recommendations are put forward in August. Even then, the board of supervisors will be required to vote before any new ordinances can be put in place. In all likelihood, it probably means nothing with change until September of this year. It is worth noting that as the current regulations stand, the only tool to limit the high concentration of vacation rentals in an area is the Vacation Rental Exclusion zone that was first introduced in 2016. All the other geographic restrictions such banning the issuing of permits in all the fire perimeters (this covers a large part of the county, sadly) and the temporary cap in the Russian River will expire in December 2022 and August 2022 respectively. Because these temporary ordinances are expiring, they will most likely introduce measures that will help manage the share of vacation rentals across all of the popular areas in the county for vacation rentals.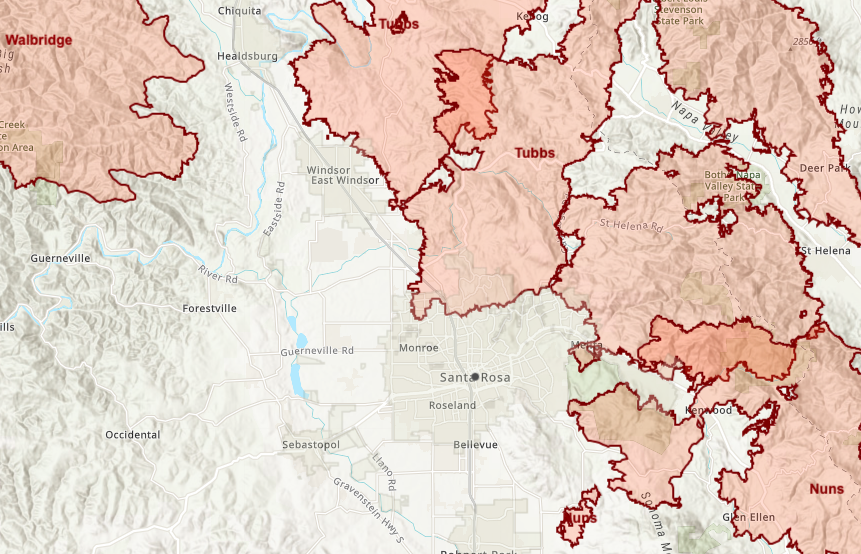 The overall recommendation from the staff was to limit the use of an outright ban, because of the pressure that then puts on surrounding areas, but rather to put in place either proximity or density limits so that in any given area, the overall density does not go above 10%. In other words, no more than one in ten homes is a vacation rental.
If we look at the areas that currently have a high density of vacation rentals to single family homes, these are the areas most likely to attract the attention of any new restrictions. With the exception of the coastal areas, if the recommendations for new restrictions are focussed on those areas where the density is more than 10% then then they will most likely be applied to areas where there are existing measures in place such as Kenwood and Glen Ellen (fire perimeter and exclusion zones) and Guerneville and Monte Rio (temporary cap area).
| | | |
| --- | --- | --- |
| Location | 2021 Short terms Rental % of Single Family | Total Number of STRs |
| Jenner/Timber Cover | 24.6% | 104 |
| Glen Ellen | 14% | 168 |
| Kenwood | 13% | 89 |
| Monte Rio | 13% | 115 |
| Bodega Bay | 12% | 165 |
| Guerneville | 11% | 310 |
| Cazadero | 7% | 66 |
| Geyserville | 5.2% | 23 |
| Sonoma | 4.9% | 469 |
| Forestville | 3.9% | 103 |
| Healdsburg | 3.7% | 179 |
| Graton | 2.4% | 4 |
| Occidental | 2.2% | 29 |
| Sebastopol | 1.7% | 147 |
| Santa Rosa | 0.3% | 146 |
It is interesting to see that the broader unincorporated Sonoma is only at 4.9% and places like Sebastopol, Occidental, Graton and Forestville are all tracking well below the 10% cap being proposed. It is interesting to note that the density of vacation rentals in the unincorporated areas around Santa Rosa is at just 0.3%. This is largely because many of these areas are in the fire perimeter so have had no vacation rental permits issued since October 2019.
Where Are The Opportunities For Purchasing a Vacation Rental?
Unfortunately, I don't have a crystal ball to be able to predict where will likely be the best place to purchase a vacation rental once the new rules come in. However, I think if we look at the recommendations to limit the density to 10% it is unlikely to get any easier in any geographies which are already at the 10% level even once fire perimeters are lifted in places like Glen Ellen. Similarly with Russian River, any new rules will likely continue to restrict new vacation rental permits in places like Guerneville and Monte Rio and will likely be expanded to take in Cazadero.
Once the fire perimeter ban is lifted there will likely be large parts of Sonoma Mountain and Santa Rosa around Mark West Spring Road that will suddenly be open to new vacation rental permits because of the relatively low density of vacation rentals in these areas. Other areas in west county around Occidental, Sebastopol, Graton and Forestville are all well below the density limits.
Regardless of what the rule changes are, there will still be places to buy a vacation rental that suits the needs of those looking purely for an investment property and those looking for a second home in wine country or the Russian River that generates an income so it is cost neutral. If you are having trouble deciding where the best place to look then, here is a blog post that might help you decide. alternatively, give me a call and we can chat through your options.