Over the past couple of years, the market has been relentless for buyers, with multiple offers becoming the norm and sellers licking their lips at some of the over asking price offers that have in some cases gone over 50% of asking price. But with more price reductions taking place can sellers still expect to get multiple offers driving the purchase price above list price or can buyers now expect to be the only offer on the table? The picture is mixed. If we look at the data the number of price reductions has definitely increased, however over the past quarter and even over the past month, in some markets the number of multiple offers is still running at over 60% of all transactions.
One of the challenges is that the number of listings is still incredibly low compared to this time last year. For example in Healdsburg, listings are down 60% compared to the same quarter last year resulting in a similar reduction in the number of properties for sale and the number of sales over the past quarter. This limited inventory is keeping the seller market pretty buoyant for properties that check all the boxes. However as buyers believe they are starting to get the upper hand, properties that are anything but perfect are taking that bit longer to sell.
If we look at the data more closely and drill down into specific markets there are some important differences. For the purposes of this analysis I have focussed on four markets, all of which are popular as second home, vacation rental or relocation markets: Healdsburg, Russian River, Sebastopol and Sonoma.
For Sale, Sold and New Listings Are Down
Regardless of the market, compared to this time last year, there has been a sharp drop off in the number of properties for sale and sold with Healdsburg seeing the biggest fall with sales down 46% over the quarter compared to last year and the number of properties for sale falling by 53%. One of the biggest challenges has been the number of new listings with listings down a staggering 60% year on year. With new listings so sharply down, regardless of the environment for buyers, for the right property there is very little competition with other sellers.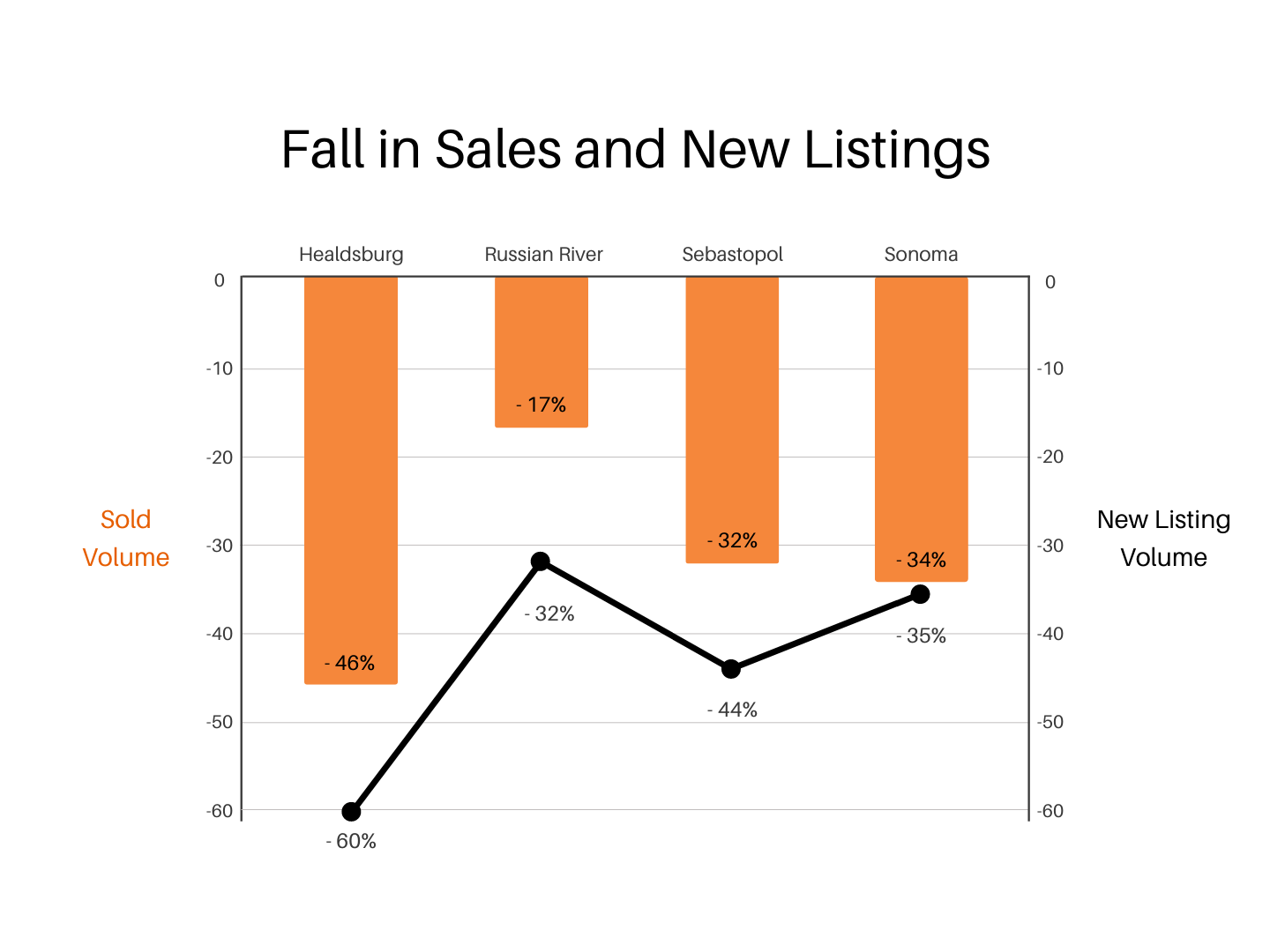 While the story in Sebastopol is similar with for sale volumes, sold volumes and new listings all down between 32% and 44%, Sonoma and Russian River are fairing a little better. In the Russian River, an area that has been most affected by the vacation rental moratorium, the number of new sales is perhaps surprisingly only down 23% compared to this time last year, while new listings are also down, albeit by 32%. One of the reasons the county sites for putting new restrictions in place is because of the impact that vacation rental investors have on purchase prices despite the fact that the county's own data showed no correlation. The lack of impact of the moratorium on the Russian River market compared to other markets, seems to bear that out.
Are Multiple Offers A Thing Of The Past?
Sadly not! The number of homes getting multiple offers has remained consistent with the previous quarter. The hottest markets when it comes to multiple offers are Sebastopol and Russian River with 64% and 69% of homes closing in the last 30 days getting multiple offers. The more expensive markets of Healdsburg and Sonoma continued to get a much lower percentage of homes selling with multiple offers. Over the prior three months, just 32% of Healdsburg and 32% of Sonoma transactions had multiple offers whereas in the last month that fell to just 22% in Healdsburg.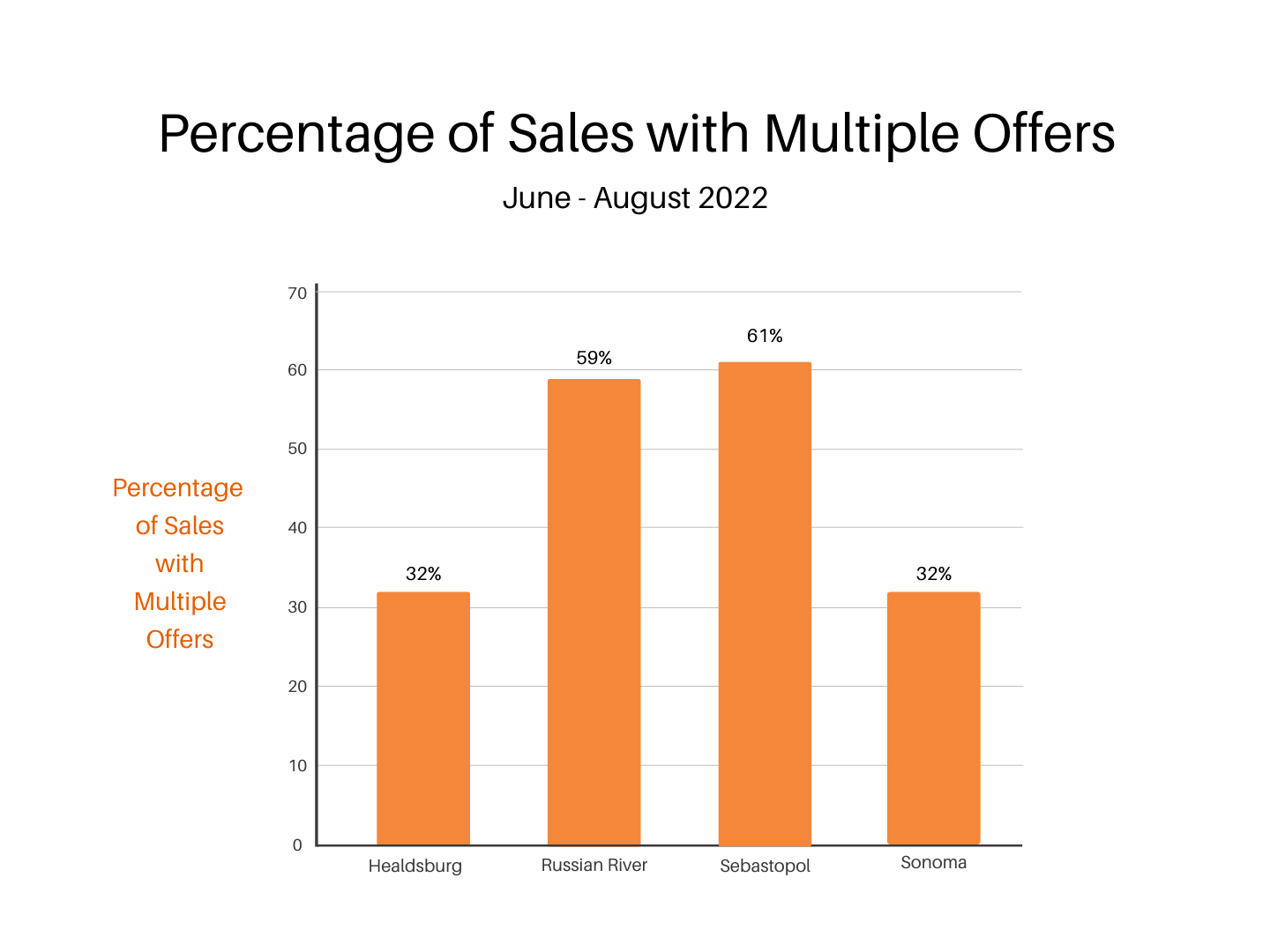 The good news for buyers is that while the number of transactions getting multiple offers is not dramatically changing, the max number of offers is dropping off. For example in the Russian River in the last quarter one home got 11 offers, however in the last month the most offers a home got was 7. To coincide with the number of offers falling, the sale price as a percentage of the purchase price also fell. For example in the Russian River the most over asking over the previous quarter was 48% whereas last month it was 24%. In Healdsburg, the most over asking price was 22% and last month it was 12%volume of offers so there is no question that buyers have pegged back their bold offers.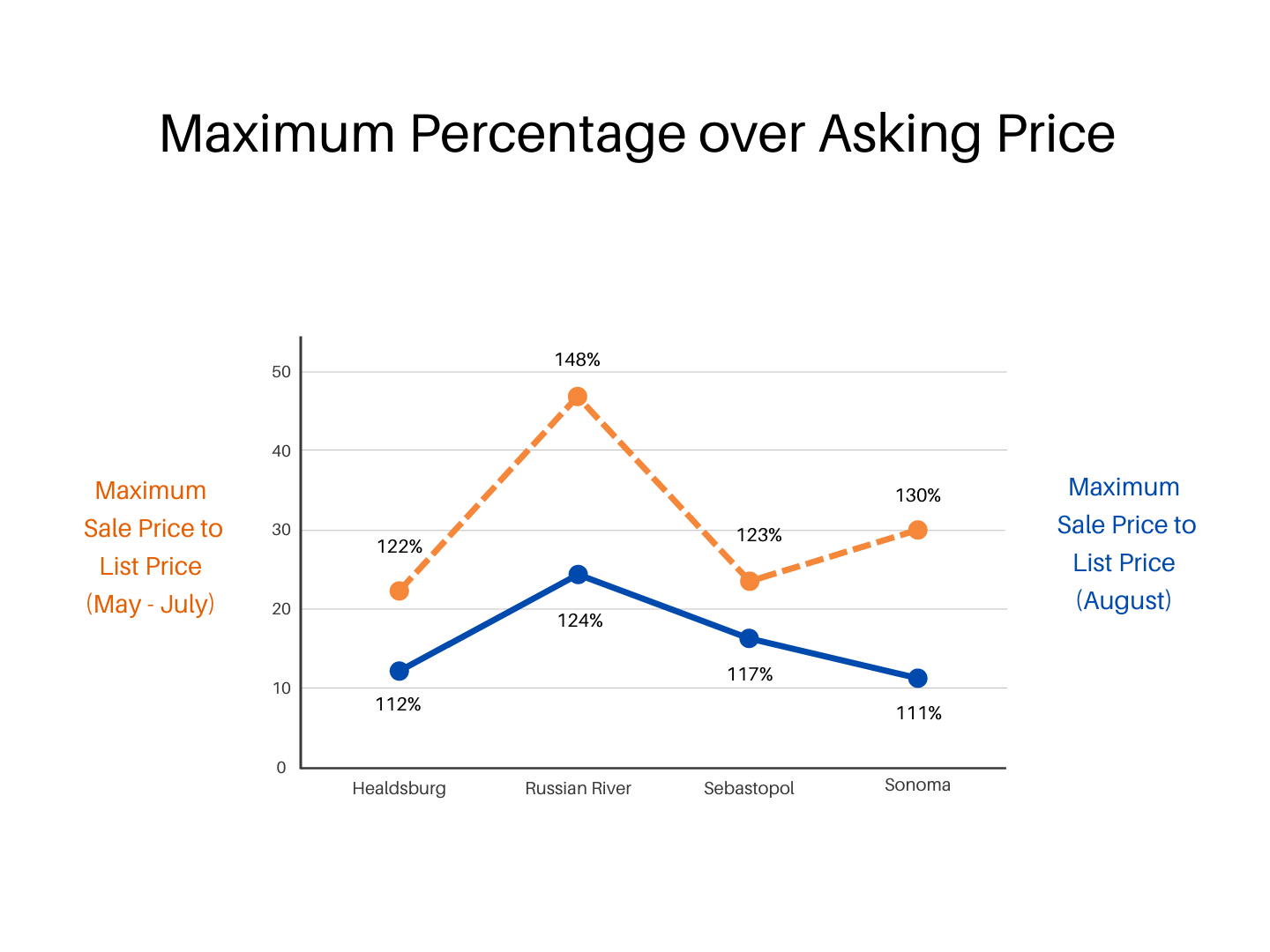 What Houses Sold For Most Over Asking ?
330 2nd St, Healdsburg: 21% Over Asking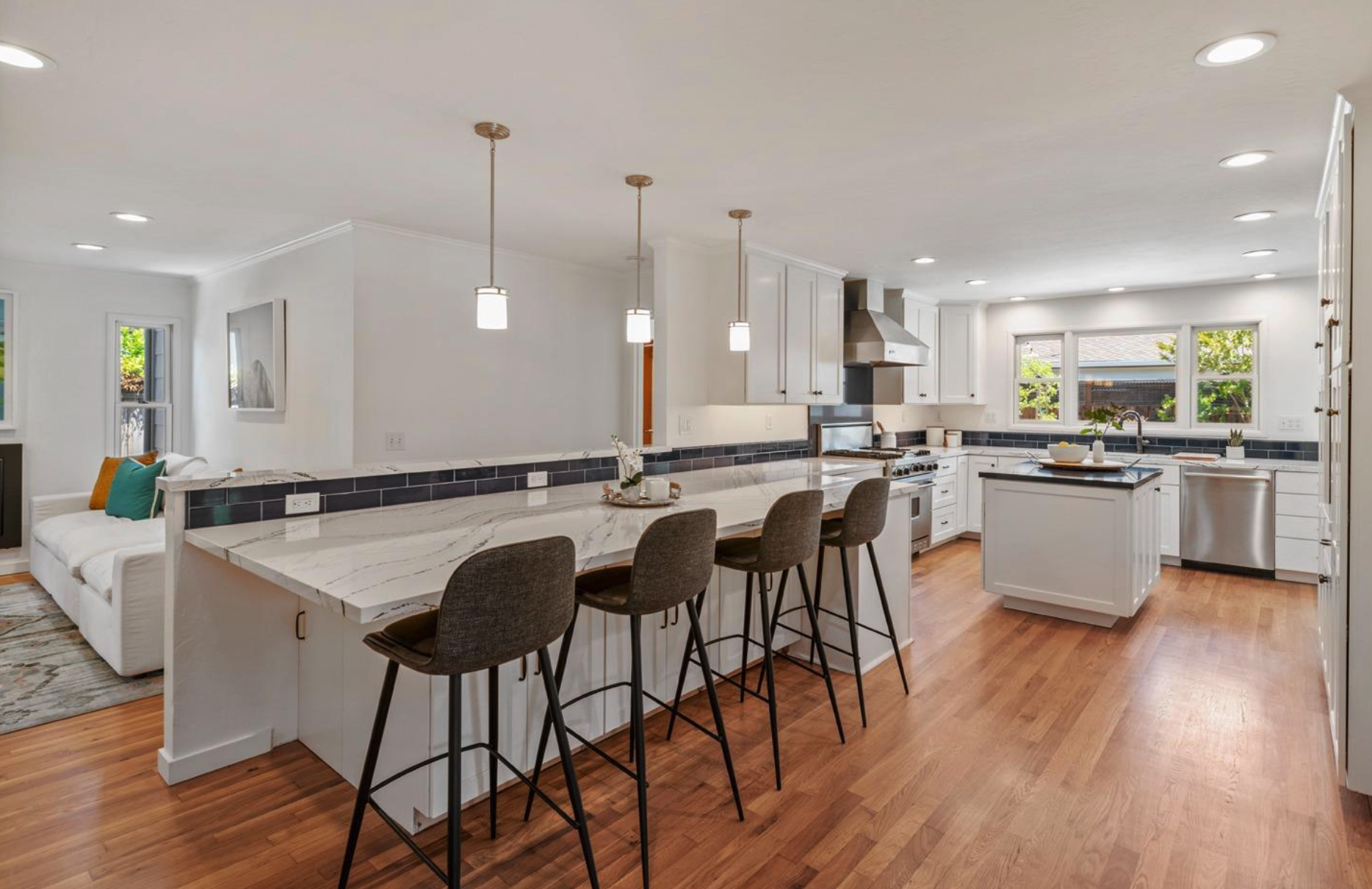 In Healdsburg it was 330 2nd St which sold for 21% over asking price at $2.25m. This was sold off market so the buyer definitely paid a premium for the privilege of not being in a competitive offer situation. The house was priced at $1.85m. It was nicely remodelled which also attracts a real premium right now because so many people just don't want to do the work.
3795 Deer Meadow Lane, Occidental: 48% Over Asking Price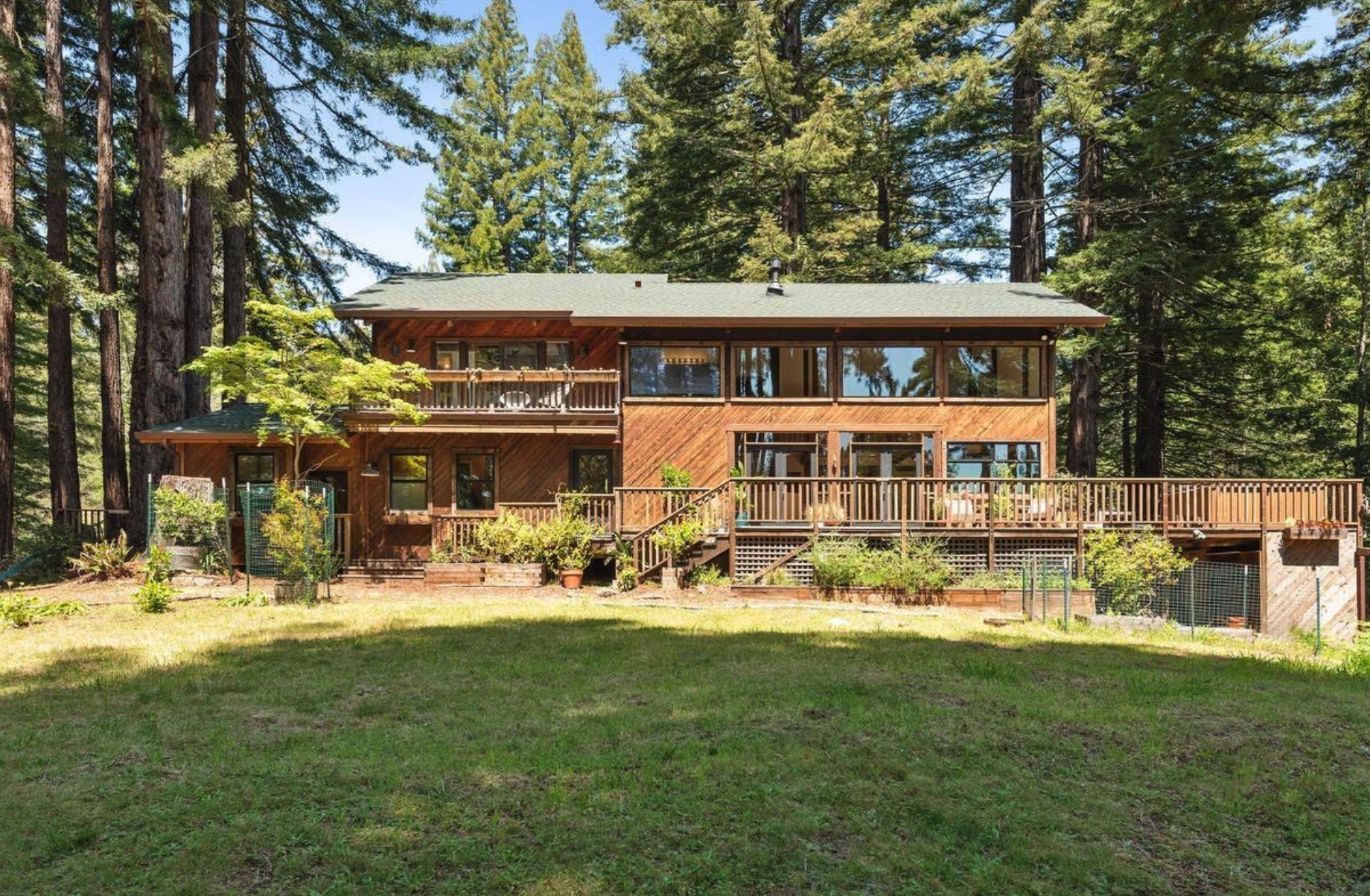 This is definitely an outlier in many ways. A property selling for over $2m in Occidental and a property going so far over asking price. It is a beautiful place and quite unusual in that it definitely has a forest vibe but at the same time has a good sun-drenched yard. Just looking at the tax records it looks like it is a primary home.
11020 Peaks Pike Road, Sebastopol: 51% Over Asking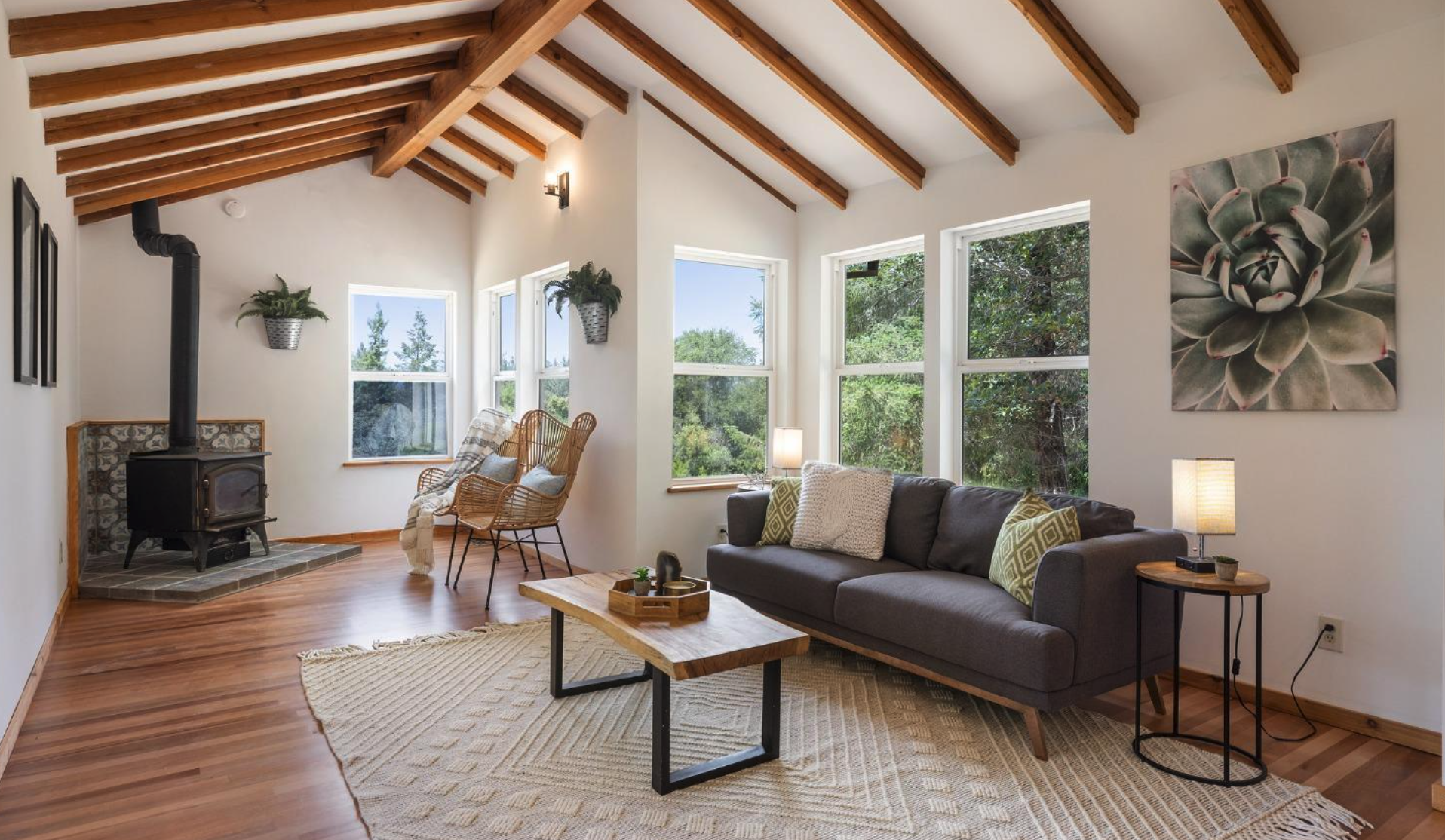 We had three clients represented by our team who all loved this place but all felt there was going to be too much competition for it. We were probably correct given it sold for a hefty 51% over asking. Personally, I love this part of west county. It still feels like wine country but close to the Redwoods and just a stones throw from all of the amenities that Sebastopol has to offer. The owner of this was a realtor so they knew how to spark the imagination of the likely buyer with the rural chic feel. It also had an ADU (albeit un-permitted) which also gave it extra appeal, potentially allowing an owner to rent out the main house as a vacation rental but still have access to somewhere for them to stay.
What Does This Mean If You are A Seller?
It's a brave agent that sets a deadline for offers right now although there are definitely properties where that makes sense. I am currently in the process of selling a home I own in Mill Valley and while we aren't setting an offer deadline, we are conveniently going to be off the grid for 5 days in Alaska during the time someone might want to put an offer in. That being said, the Mill Valley market is still that much more competitive than the high end Sonoma markets.
With the volume of listings down by as much as 60% when compared to the prior year, while there are definitely buyers who have taken a back seat, it is still a good time for a seller to unlock some of their gains by selling. It is more important than ever that the property is priced right because if you push it a bit high, you are likely to end up missing out because of an increased price sensitivity among buyers.
What Does This Market Mean For a Buyer?
Don't automatically assume you will be in a multiple offer situation. As soon as a listing goes passed 14 days, you should be able to have some negotiating power. If you are interested in a property don't be pushed into thinking it is a competitive offer when it isn't. There was one example in Healdsburg recently when someone paid over 20% over asking price for a property that only had one offer. Until an agent has an offer in hand, it doesn't count. It is worth waiting to be the second person to offer if you are not convinced there is another offer on the way.
If you do end up in a competitive situation, the good news is that you will likely not have to go as far over asking as you would have had to a few months ago. As you can see from the data above, the maximum sale price compared to the list price has fallen across all the markets I looked at. I am relieved to say that there are an ever decreasing number of homes that are selling for more than 20% over asking price. If you are up against one or two other offers it is more likely to now sell for 10-15% over asking versus over 20% which has been pretty common over the past year or two.