Over the past few weeks, the Sonoma County housing market feels like it is experiencing a shift but its hard to understand as there are some contradictory signs but if you are looking to buy or sell its important to try to understand where we are in the cycle and what is likely to happen next. In this in-depth analysis, we will explore key data points and trends that help give us some indication of where this market is heading and what this means for buyers and sellers.
A Remarkable Surge in Price Reductions
Since January of this year, the Sonoma County housing market has witnessed an astonishing increase in the number of price reductions— a staggering 12,000 percent rise. To put this into perspective, from a mere 2 price reductions per month, the figure surged to 238 in September alone. This data point is indicative of a market that is adapting to changing dynamics.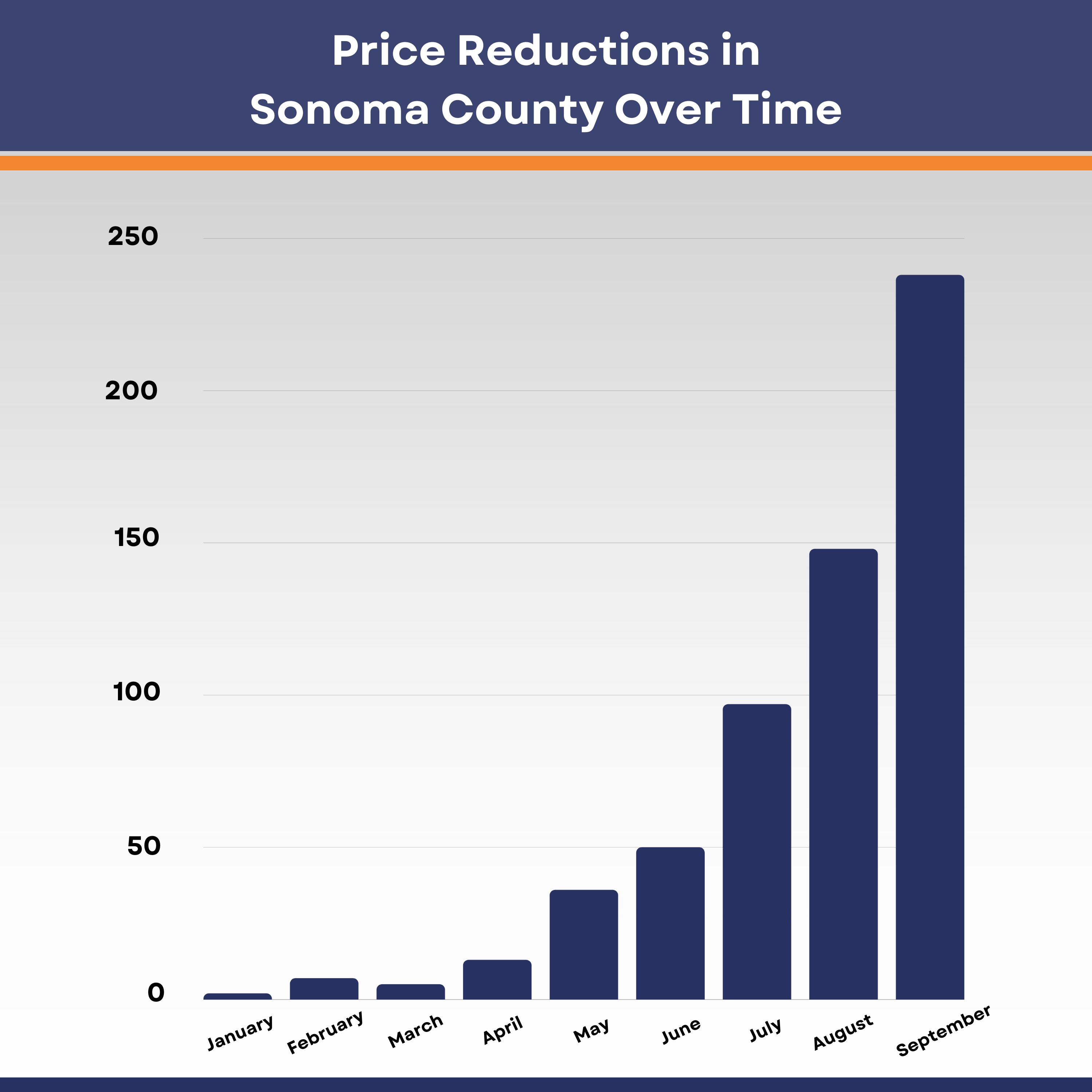 The number of reductions is in all markets although as a proportion of the number of homes for sale the Sebastopol market is probably fairing the best. If we take a look at the number of price reductions at the various different price points, it is no surprise that at the higher price points the number of price reductions were few and far between. It is at the sub $1 segment where a price reduction of $25k can make a different to price sensitive buyers.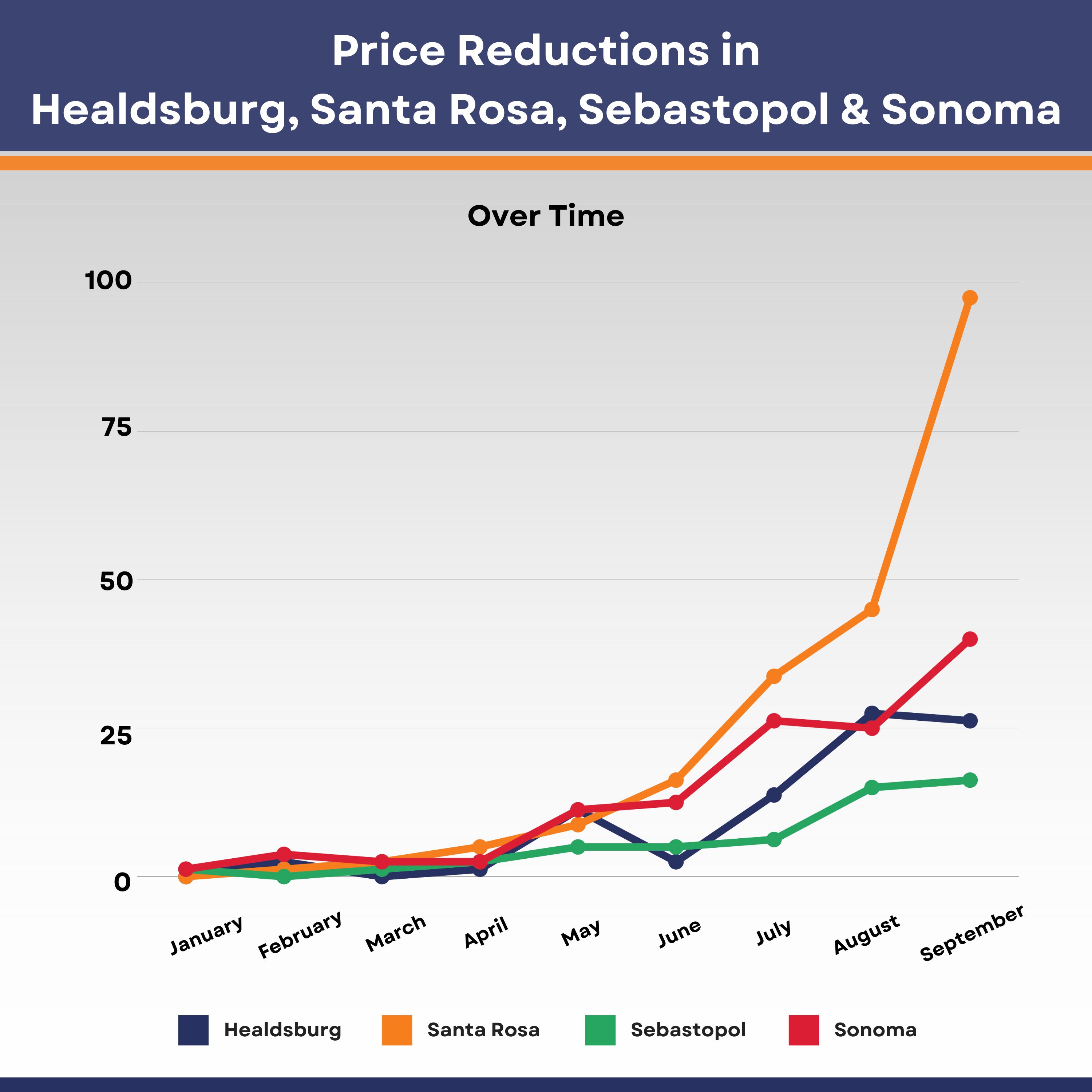 During the first quarter, the Sonoma County housing market saw significant price reductions, averaging 24%. However, it's important to note that the volume of reductions was relatively small. These reductions likely represented a few homes that were initially overpriced but have since adjusted to more realistic level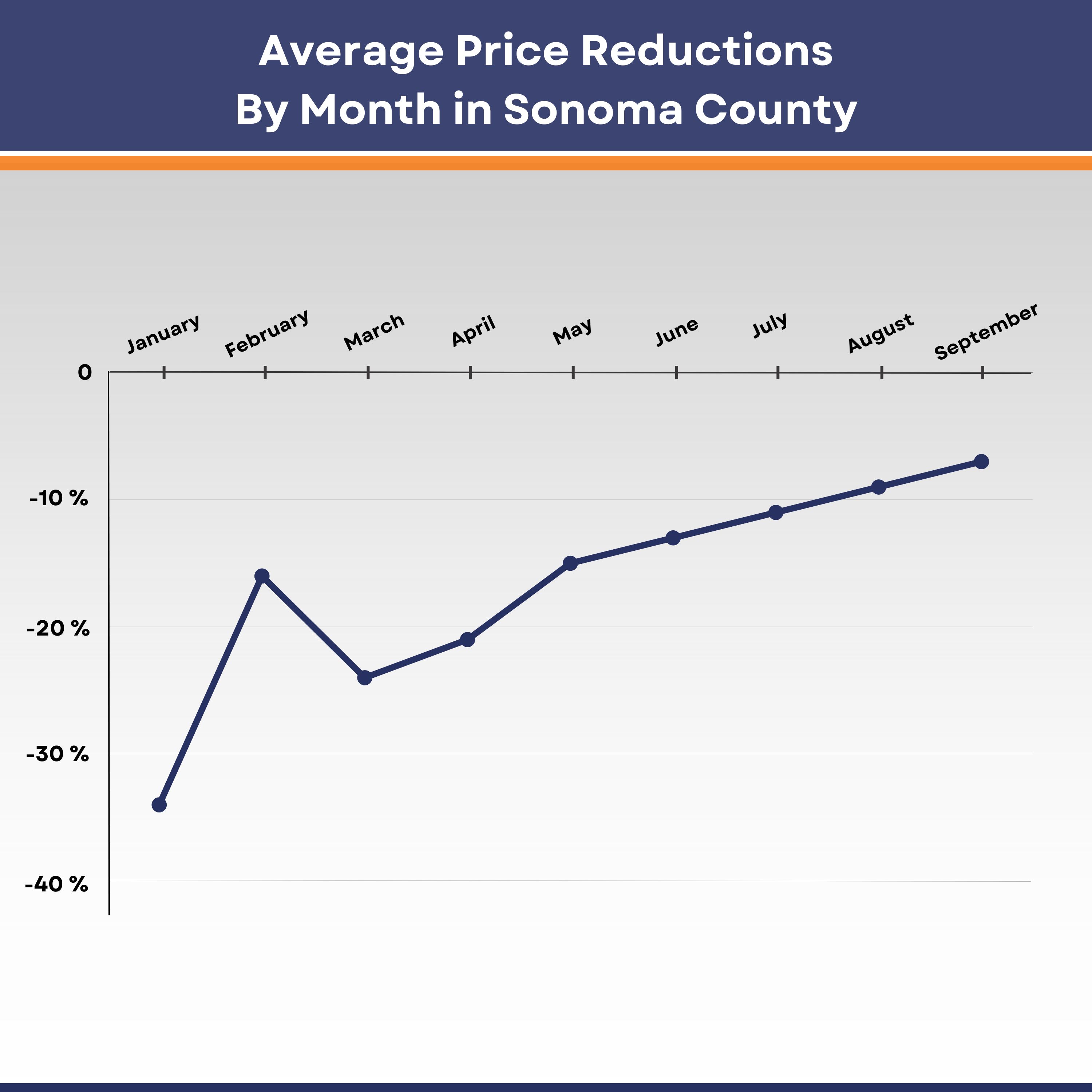 However, in the last couple of months, the average price reduction in Sonoma County has settled at just under 10% of the original list price so I think we can expect to sell sale price to list price dropping off a little bit.
While the increase in the number of price reductions is definitely not a good sign, it is very much an indicator of what is likely to come rather than the state of the market right now. If we look at some of the fundamentals the KPIs such as days on market or sale price to list price they are still pretty strong.
Homes Are Still Selling Quickly
While the number of homes sold across the county in September dropped by 20% compared to August, the Sonoma County housing market remains vibrant. While it doesn't necessarily feel like it, homes are selling faster than they were in August and September of last year taking just under 40 days on average, which suggests a healthy level of demand in relation to the number of homes for sale.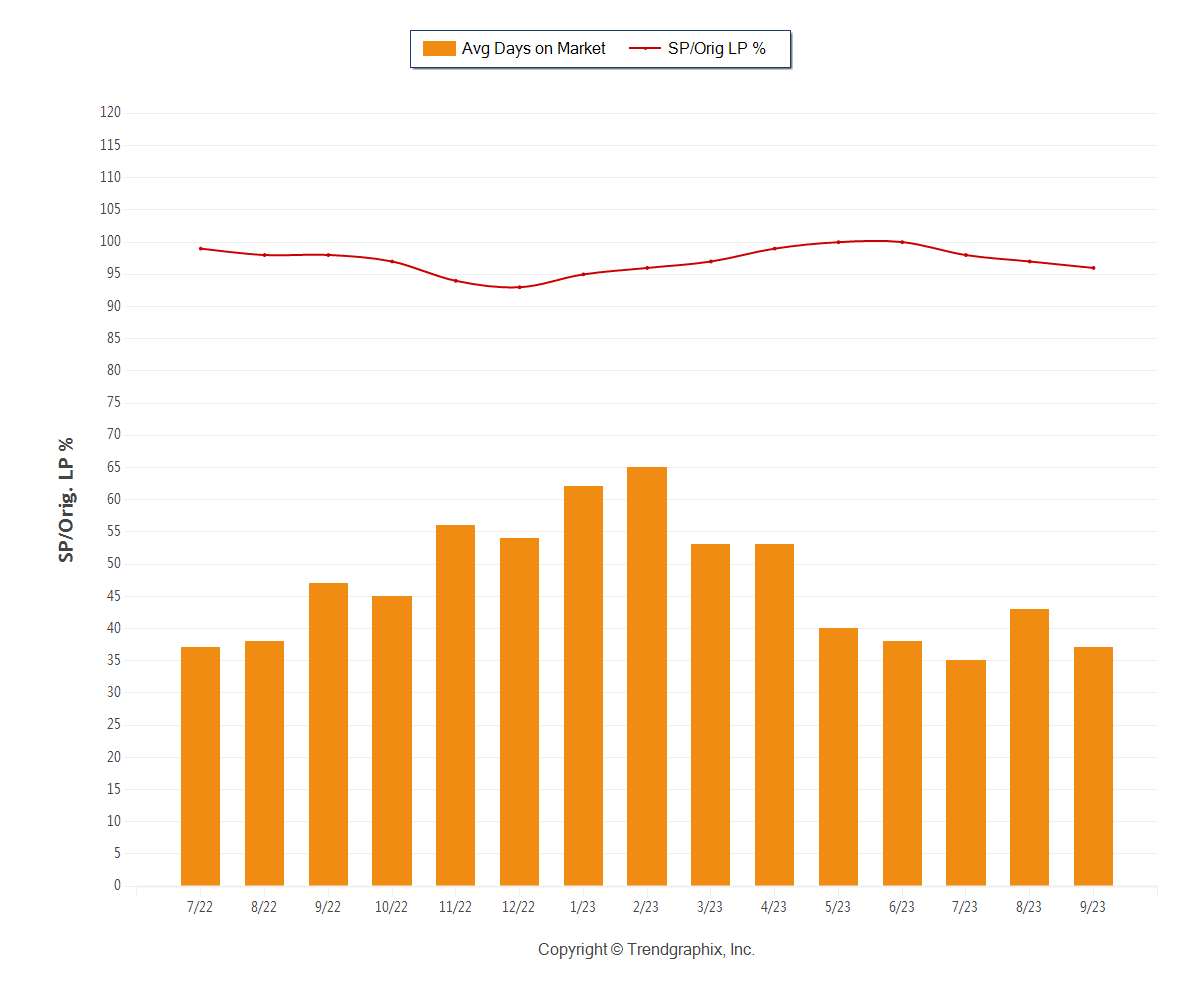 I feel a lot of this market strength is driven by the impact of Bay Area buyers still and is driven by the popularity of Sonoma County as a place to live. That being said while the county average is still under 40 days, in places like Healdsburg and Sonoma, which have the highest median prices, the number of days on market is definitey higher, on average nearer 70 days which is a significant difference. This is not entirely surprising as it is the higher price point
Strong Sale Price to List Price Ratio
One reassuring aspect for sellers is that the average sale price to list price ratio has held steady for many homes. At present, homes are selling at an average of 97% of their list price. This stability is a sign of confidence among buyers and an encouraging sign for sellers.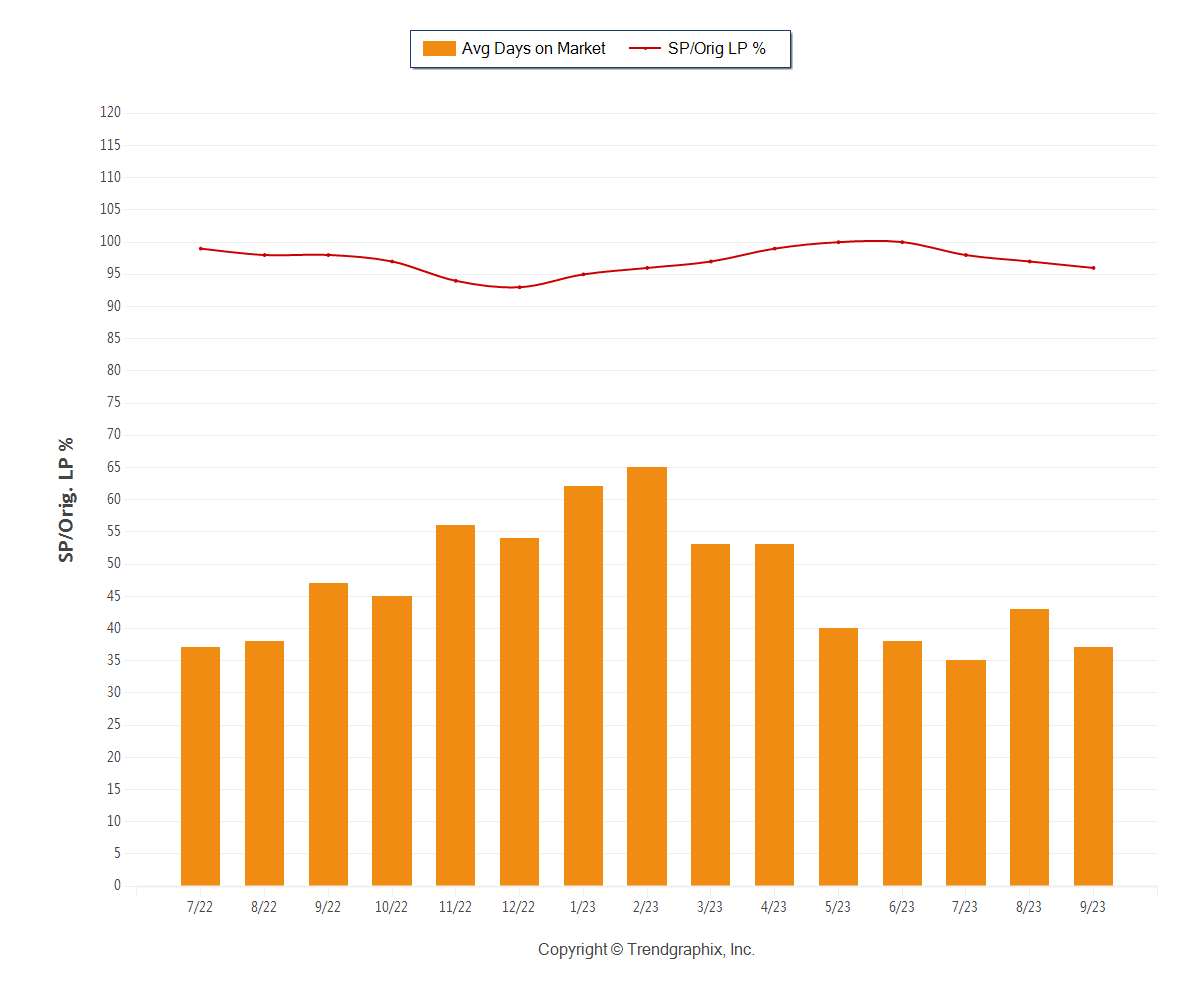 Median Home Prices Dip Slightly
Over the past year, the median price of homes in Sonoma County has experienced either zero growth or small decline in the median price very different from the double digit annual increases we have seen. While this dip may concern some, it is important to view it in the context of the broader market dynamics. A settling down of the market is no bad thing after the 2 or 3 year double digit growth that we have seen across the county. Over that time, the affordability of homes has taken a turn for the worse for many people with the exception of people from the Bay Area who are buying houses in Sonoma County while they are being paid San Francisco salaries.
Another key measure that still indicates it is still very much a sellers market are the months of inventory. In other words the amount of time it would take to sell out of all inventory if no new houses came on the market. Across Sonoma County inventory levels are still at 2.1 months which is still incredibly low. (As a rule of thumb, an inventory level of less than three indicates a strong seller market while an inventory level greater than six indicates a buyer's market). For the first time in over three years, average inventory levels in Sonoma County has crossed the threshold of 3 months. This indicates an increase in housing supply, offering more choices for prospective buyers.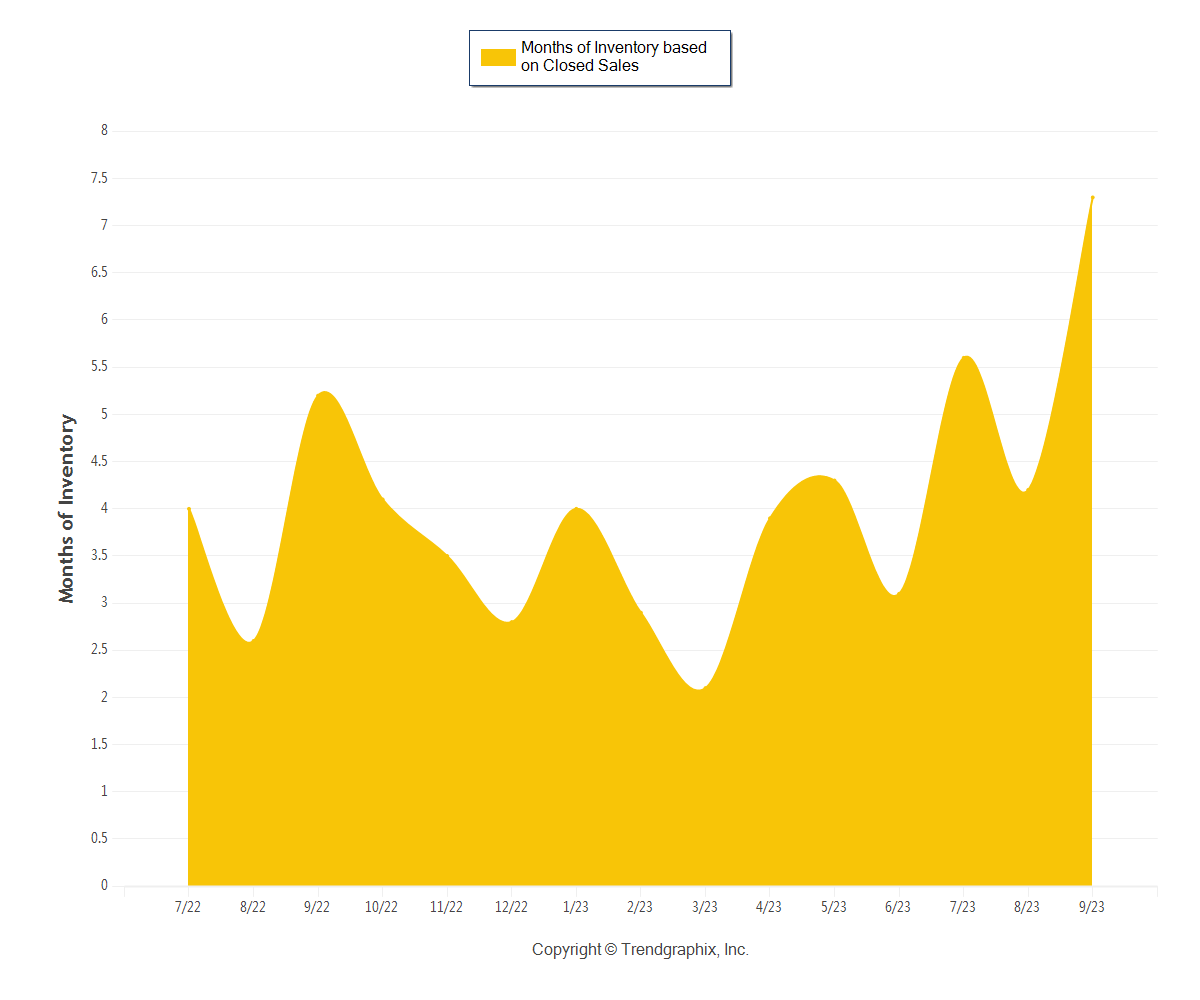 If we look at the data for Healdsburg for example it is a very confusing picture. One month it looks like it is trending towards a buyers market then it turns around and starts heading in the opposite direction. At the moment the inventory levels are at 5.5 months which is right on the edge of a buyers market although as you can see from the graph it is a mixed picture but the overall trending lines seems to be pointing toward inventory levels increasing over 6 months which is indicative of a buyers market.
What Does This Mean for Buyers?
If you're in the market to buy a home in Sonoma County, the current conditions present an opportunity. The surge in price reductions suggests that sellers may be more open to negotiation. If you find a property you love, don't hesitate to make an offer—it could lead to a favorable deal. In the coming months, there is a likelihood of even more opportunities for buyers to find value in this market.
What Does This Mean for Sellers?
Sellers need not be discouraged by the market dynamics. Sonoma County remains competitive, and properties are selling at respectable prices. However, it's essential for sellers to align their expectations with market realities. As the saying goes, "your first offer is likely your best offer." In a market like this one, this adage holds true. Be open to working with buyers who show genuine interest in your home, and consider being flexible in your negotiations.
In conclusion, the Sonoma County housing market is experiencing fluctuations, but it continues to offer opportunities for both buyers and sellers. The surge in price reductions benefits buyers, while sellers can still expect competitive prices for their properties. As with any real estate market, staying informed and making informed decisions is key to success.