There are good reasons why Healdsburg has featured on nationwide lists of best small town place to live in. Given the relatively small number of houses for sale in Healdsburg, it can be hard finding the perfect fit at the right price point, especially if you are a couple and are looking for something a bit different. One new development, RiverHouse Healdsburg, definitely breaks the mold.
At the time of writing there are 36 houses for sale in Healdsburg, excluding new developments. The homes are typically downtown historic Healdsburg family homes, mid century ranch homes in neighborhoods just outside of the downtown area, condos in a couple of late 80's and 90's developments, family homes in newer developments on the edge of town such as Parkland Farms or a smaller number of more distinctive family homes in the north east of the city. And then there are luxury homes for sale in Healdsburg in new developments such as Mill District and Montage which are high end, large scale 'resort-style' developments.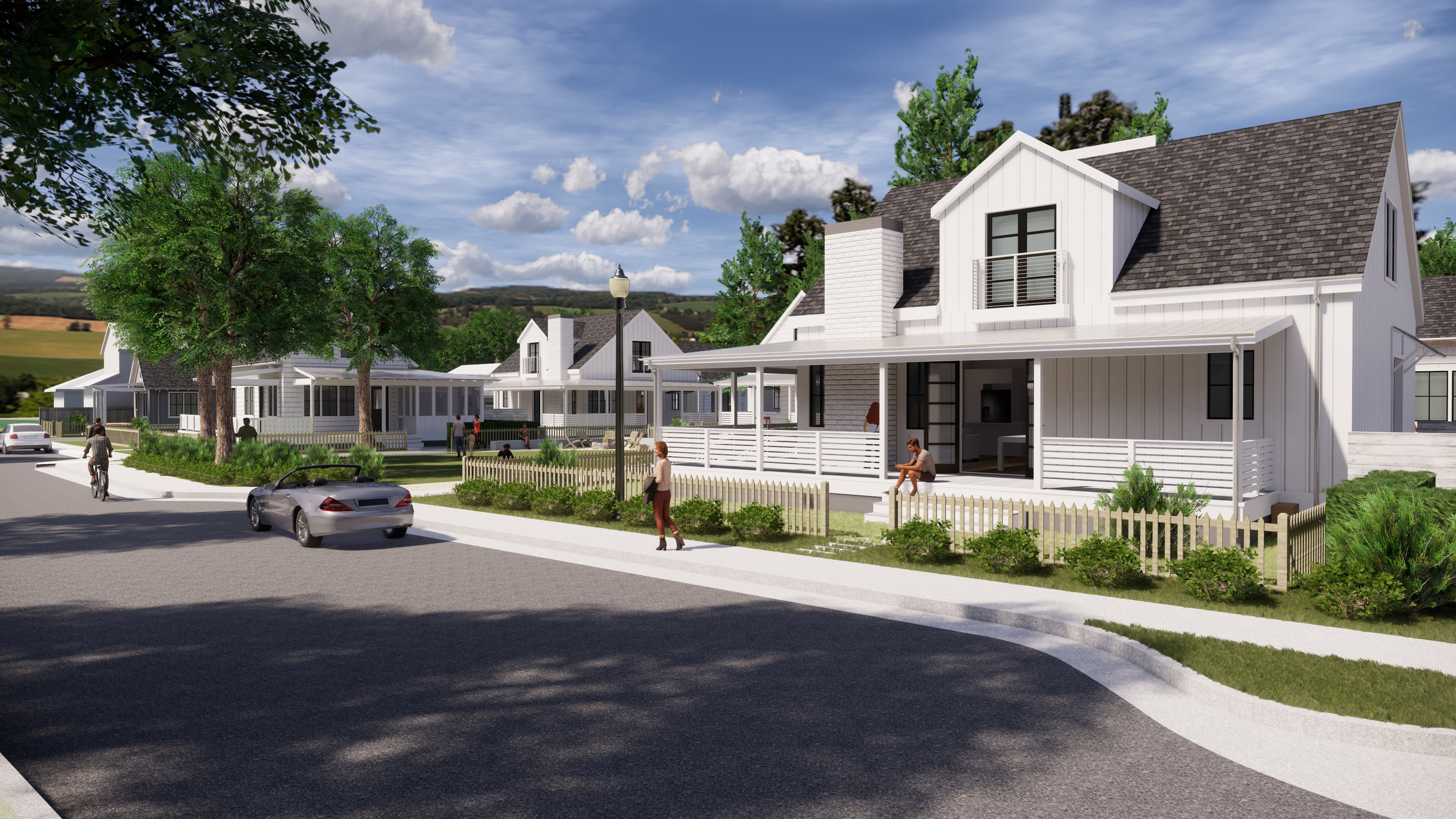 So, if you are a couple looking for one or two bedroom single family home, there is very little to choose from.
There is, however, one development offering a fresh alternative: River House. This new Healdsburg development has drawn its inspiration from the Cottage Court concept in Seattle pioneered by folks like Ross Chapin and The Cottage Company. Cottage Courts, or pocket neighborhoods create another choice for households of one or two people. Even though this segment represents more than 60 per cent of households in America, the homebuilding industry focuses on family-sized houses almost exclusively, and where bigger is naturally assumed to be better.
RiverHouse is being developed by Healdsburg based Craft Development, headed by Jim Heid. For many years, Jim has led small scale developer forums across the US for industry leaders focused on re-imagining how to develop small. CRAFT's projects to date have focused on distinctive, small one and two bedroom homes in downtown Healdsburg which follow the mantra "you don't need a big house, it just needs to be well thought out."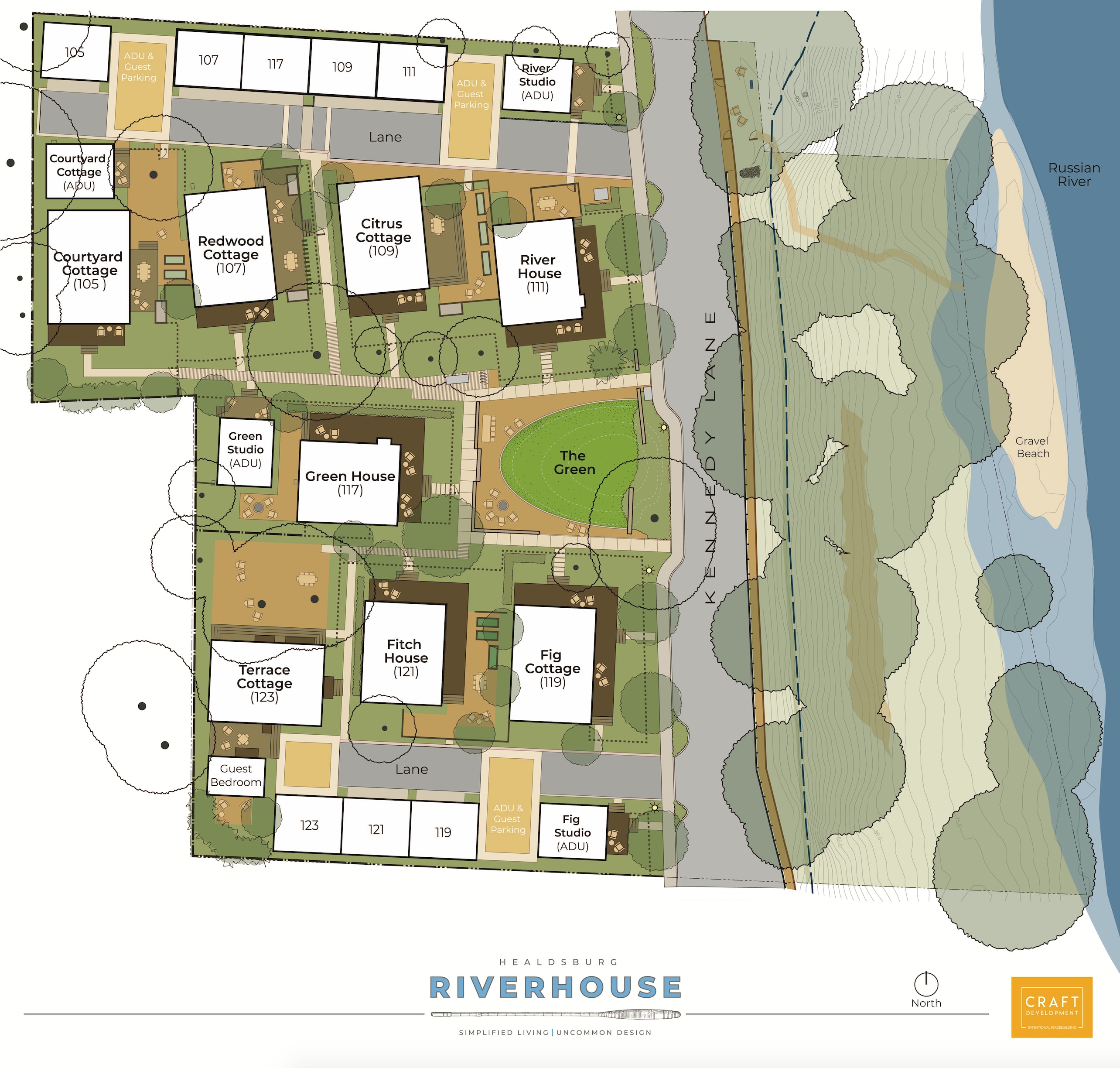 According to Heid, "The basic philosophy of River House draws on the Cottage Court organizational model with a more contemporary twist. Throughout the design and build process we have been very intentional about the community we are creating. We have avoided the conventional wisdom of tract housing development, asking why can't new homes be like this? It's a different way of developing which we believe will be very obvious from the finished product – both the homes, and the resulting neighborhood."
Throughout the design process we have been guided by a number of underlying principles:
Connection and context: Every home is part of a larger context. The relationship between each home to the overall space, and its the broader surroundings such as the River, play a huge part in the overall composition and feel of the community.
The Disappearing Car: Cars dominate our lives to a great degree, so RiverHouse intentionally places the garages and parking out of view, but still conveniently accessible to each home.
Individuality: Though floor plans are similar to each other, each cottage is unique with slightly different finishes, how it engages with existing trees and views. In fact, each home's name is inspired by its surroundings. For example, Fig Cottage and Citrus Cottage take their name from the mature trees that frame the entry of the one story home, and Fitch and Green House are a nod to the great views enjoyed by each of these two story plans.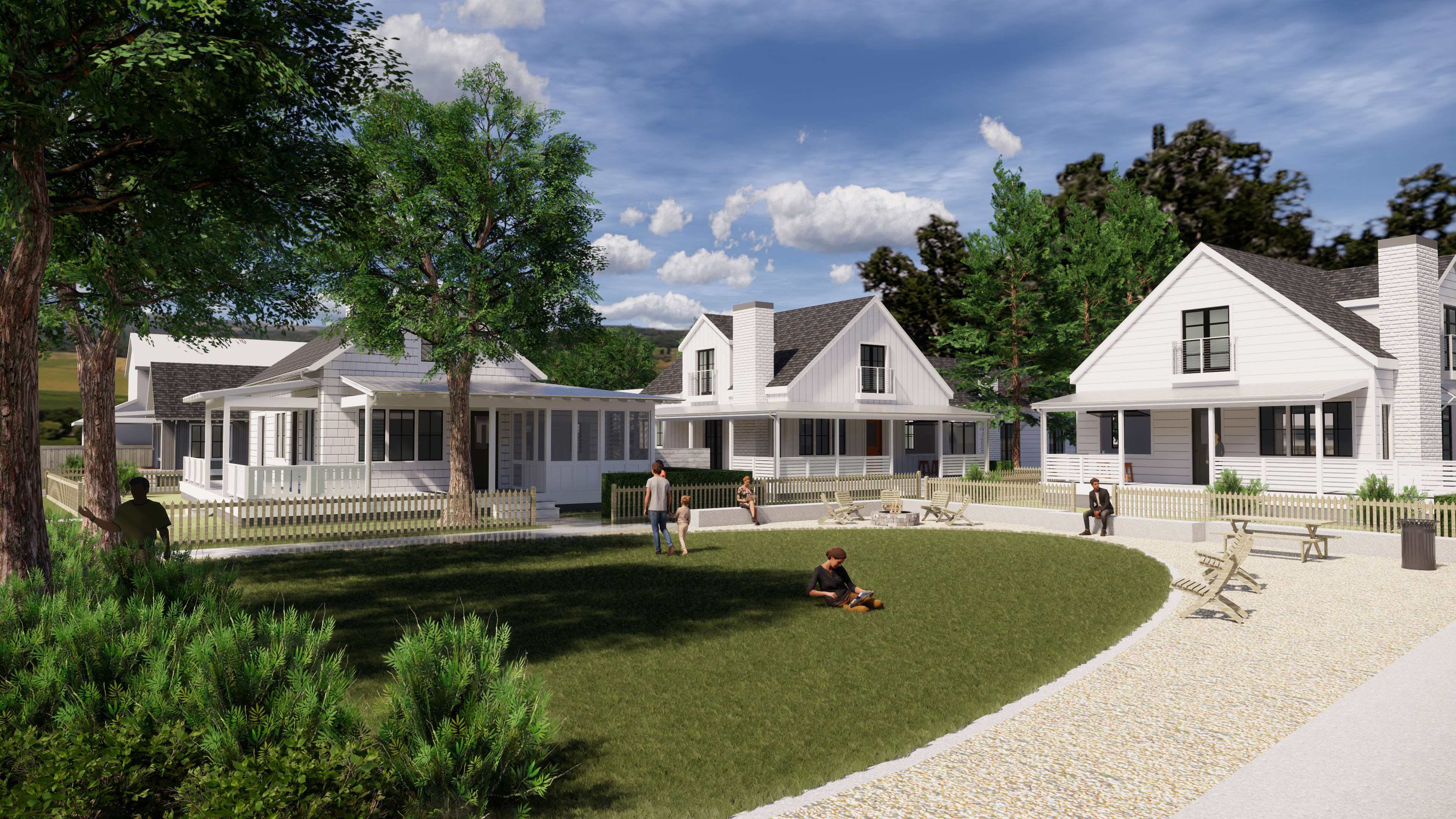 Green At The Heart: All of the cottages are connected with a mixture of cottage walks and paths which connect to the central community green, that has been designed as a shared central gathering space with seating, fire pit and open lawn.
Porch Rooms: So many homes have porches that are just add-ons with no real function. Each porch at RiverHouse is large enough – over 9' deep - to be a functional outdoor room, placed just off the main living area of the house. This makes it a seamless an extension of your lifestyle, while connecting the homes to the larger community.
Living Large In A Small House: A small house can feel and function much larger where there is a large volume, ample light and adequate storage space such as double height ceilings, walk-in closets, attic storage and extra large garages.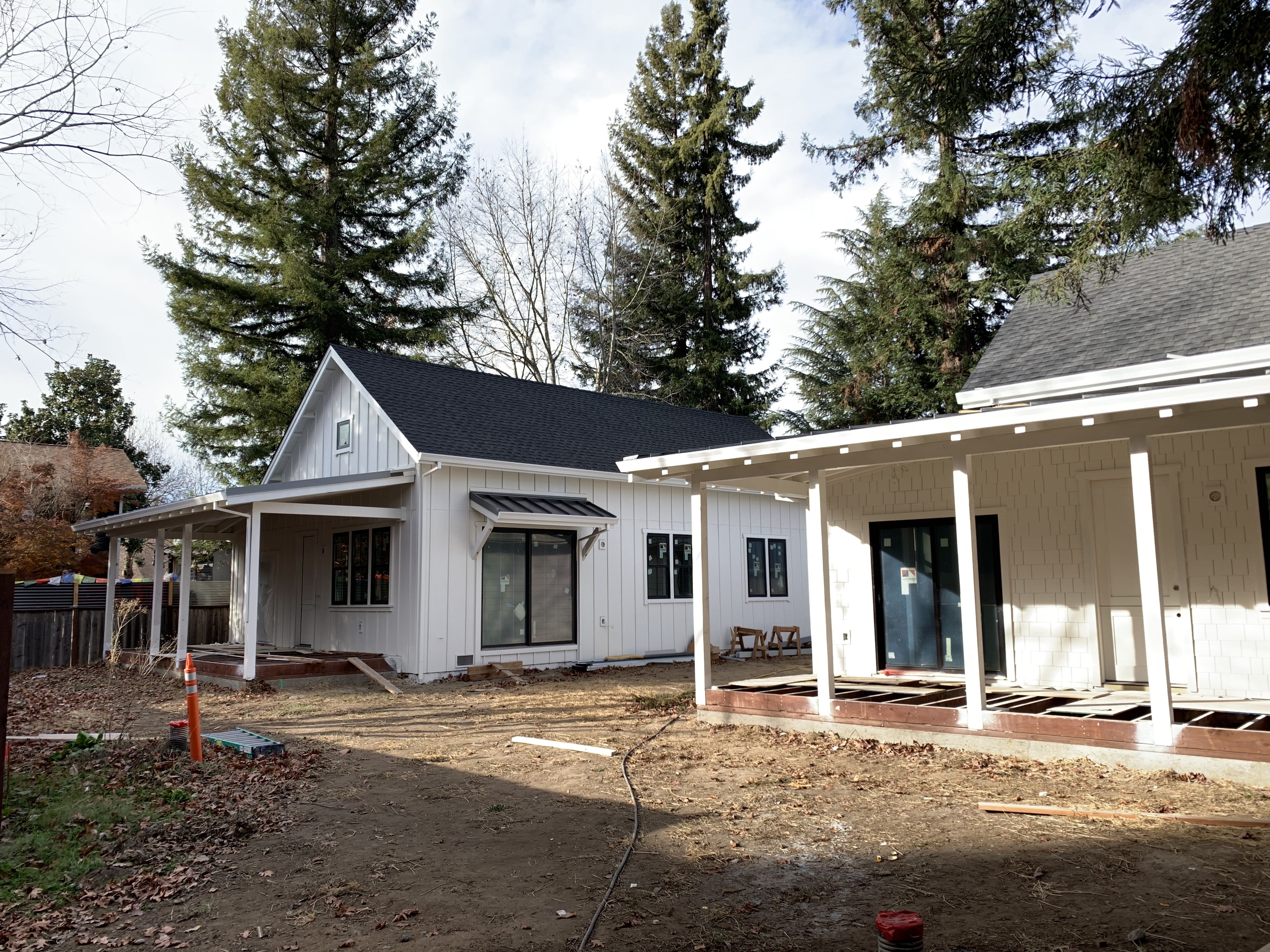 There has been a lot of early interest with at least two of the eight units already being spoken for. So who is the likely buyer? There are two distinct groups: people looking to buy a property as part of downshifting either now or in the future or couples with dual incomes and no kids (Dinkies). One of the big attractions to RiverHouse homes for many people are their simplicity, making them effortless to live in as well as easy to lock up and leave. This is best summed up in their tagline – Simple Living | Uncommon Design.
Given the location of RiverHouse, next to the river, a short walk or ride along the bike path to downtown, and around the corner from the new high end Healdsburg development, Mill District, there has been a lot of early interest from investors. Over the next few years, the river is expected to be transformed by the city's riverfront master planning effort, and Sonoma County Park's plans to transform Memorial Beach into a vibrant river park seen in places like Bend, OR. Both of these factors point to prices in the area only increasing over time as the area undergoes transformation.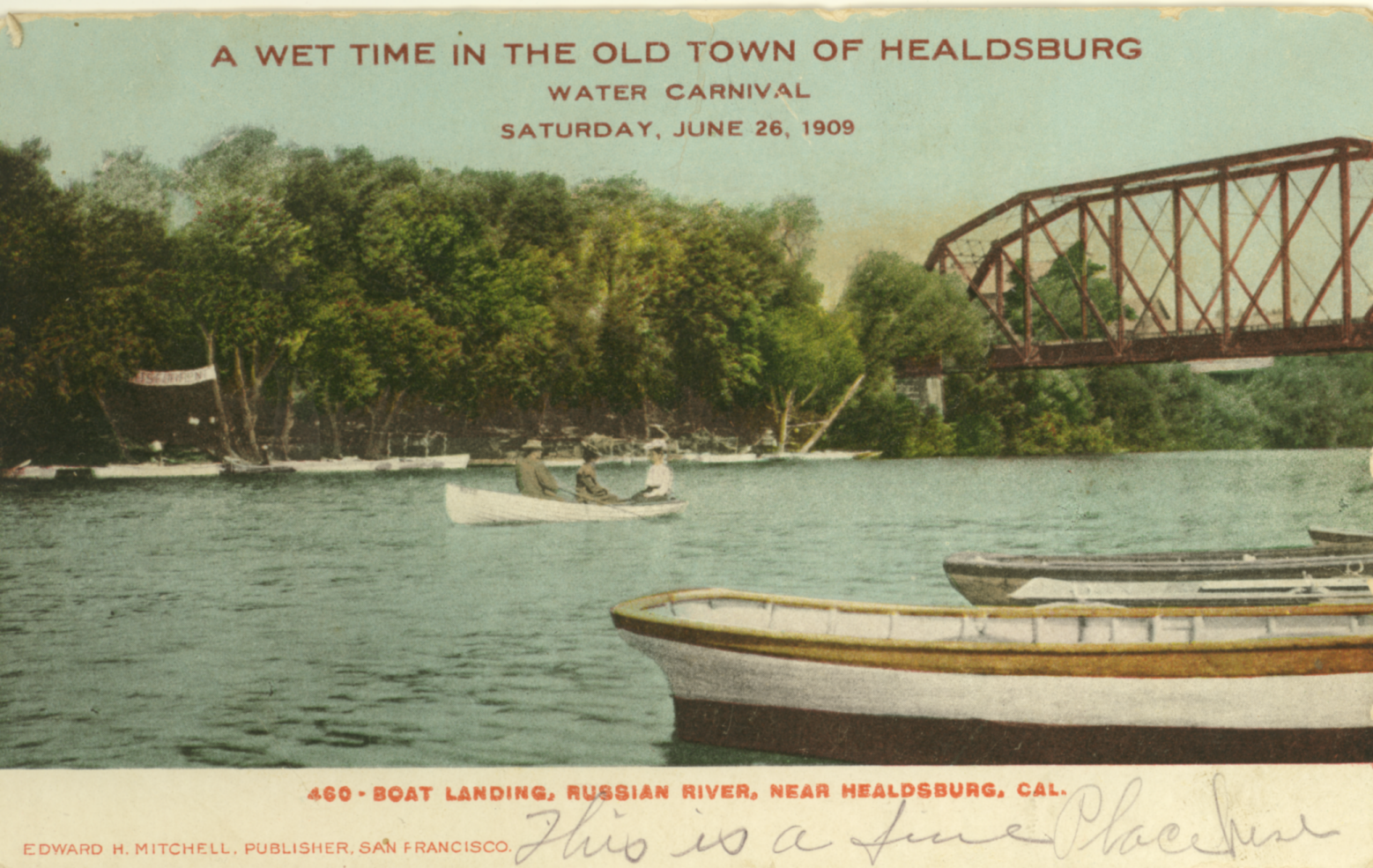 It's always hard to imagine what the finished project will really feel like until everyone settles into their new homes. Ultimately, the community will take on the character of its people. However, in designing RiverHouse, I feel like every detail has been well thought out in advance. For example, there is a good aesthetic reason the car has been relegated to the sidelines, but the more important result is that it will enable chance encounters between the community as people go from car to cottage. Similarly, with the porches. They are designed to be places to live in as an extension of the home but they will facilitate chance encounters between neighbors.
River House won't be for everyone, but for the lucky few who embrace it, they will likely look back and wonder how they ever lived before.