The much awaited August 2nd vote on new a vacation rental ordinance in Sonoma County took place yesterday. While there was a unanimous vote on a number of new recommendations, there is still some more work to do before the final ordinance is cast in stone and will come into effect. A lot of the changes to the Sonoma County Vacation Rental Rules have highlighted over the coming months so there were not too many surprises. The main changes were to further restrict the zoning for properties eligible to apply for a permit, limit the number of homes that can be operated in some key areas to prevent neighborhoods being further taken over by vacation rentals, introduce a new vacation rental business license and tighten some of the rules around parking and bedroom count, In due course they will be also voting on the punishment for hosts that fail to meet the operating rules within the terms of the license. All of these new rules apply specifically to unincorporated areas of Sonoma County and will come into effect when the moratorium is lifted in May 2023 with the exception of the coastal area (although the coastal area will now require a license once the new ordinance comes into effect. (See this blog post for a guide to the current Sonoma County vacation rental rules)
Banning New Vacation Rental Permits In R1 Properties
At present, properties with zonings LIA, R2, R3, PC, are not eligible to apply for a vacation rental permit. Yesterday's vote added properties with R1 zoning to that list meaning that only properties zoned: RR, AR, LEA, RRD and DA are eligible to apply for a vacation rental in unincorporated Sonoma County. The area most impacted by prohibiting permit applications from homes zoned R1 is in the Russian River and in particular Guerneville area where there is a high density of homes with the R1 zoning. Any current vacation rental in an R1 zoned home can continue to operate. The other area where there are a lot of R1 zoned homes in a popular area of the county for vacation rentals is Sonoma Valley. (see this flowchart showing the current rules)
Introducing New Cap Areas
The good news from the meeting for anyone looking to purchase a vacation rental in Sonoma County is that the board did not vote to introduce a county wide cap. Instead, they agreed to introduce a cap of either 5% or 10% in certain areas where there was a higher density of vacation rentals. (A "cap" is defined as a limit on the percentage of homes within a specified area that can be operated as a vacation rental. For example a 10% cap would allow one Vacation rental for every 10 homes). According to the county, these caps will likely work best when applied to areas of contagious parcels containing 150-500 homes.
Some of the areas the county highlighted from 2020 data are shown below showing high densities in areas along the Russian River and in Sonoma Valley. A lot of the homes in these areas are zoned R1 so there will not need to be a cap to limit vacation rentals in those areas, the cap will be applied to carefully target homes that are not R1 but have a higher density of current vacation rentals. At the moment, there is currently an exclusion zone in areas such such as Sonoma Valley, Kenwood and Glen Ellen, which prevents further growth of vacation rentals in those areas.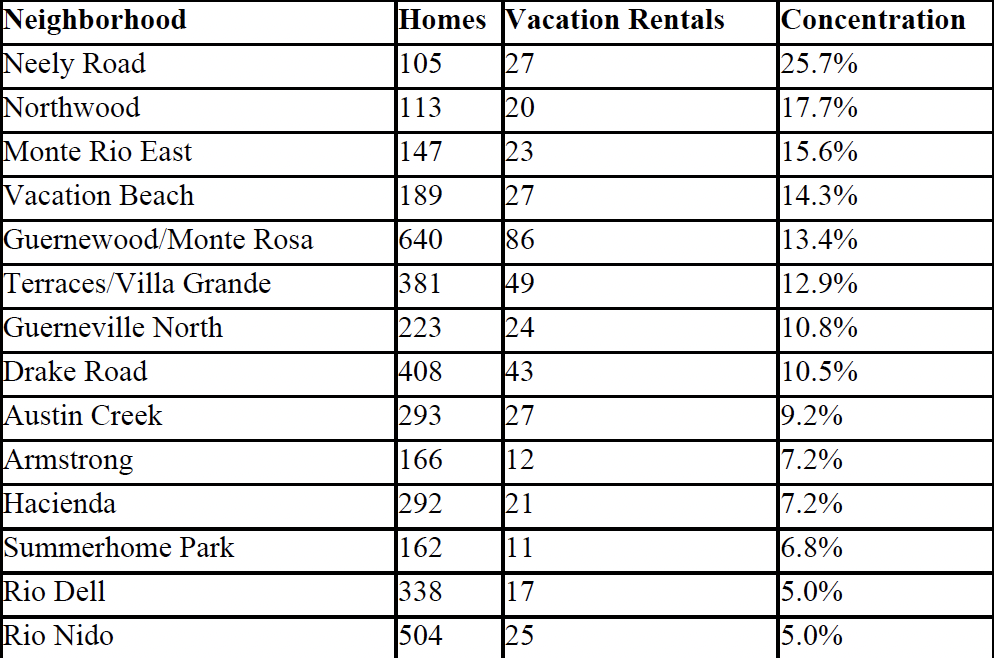 Commenting on the introduction of a cap, the language from Linda Hopkins, fell short of a black and white approach but rather an approach which takes into account the contribution that vacation rentals make to the economy in somewhere like Guerneville. She supported an approach that allowed vacation rentals in neighborhoods that were traditionally vacation rental neighborhoods but trying to limit them in residential neighborhoods. Nothing concrete was agreed, but she indicated that she would support an "inclusionary area" where she would want to encourage vacation rentals, if it meant minimizing the impact of vacation rentals in neighborhood areas.
Unfortunately the exact locations of these caps is yet to be determined. That being said, the goal is to implement caps in such a way that maintains the vacation rental density below a certain level but does have the unintended consequence of pushing a high density of vacation rentals into an adjacent neighborhood. The good news is that because these caps are being tightly targeted at areas of high density it does mean that there are plenty of opportunities for buyers to find vacation rentals in areas where the density is closer to the county-wide average of 1.8%. While the data below is from 2021 it does give a good indication of the areas of the county where there is a high density of vacation rentals: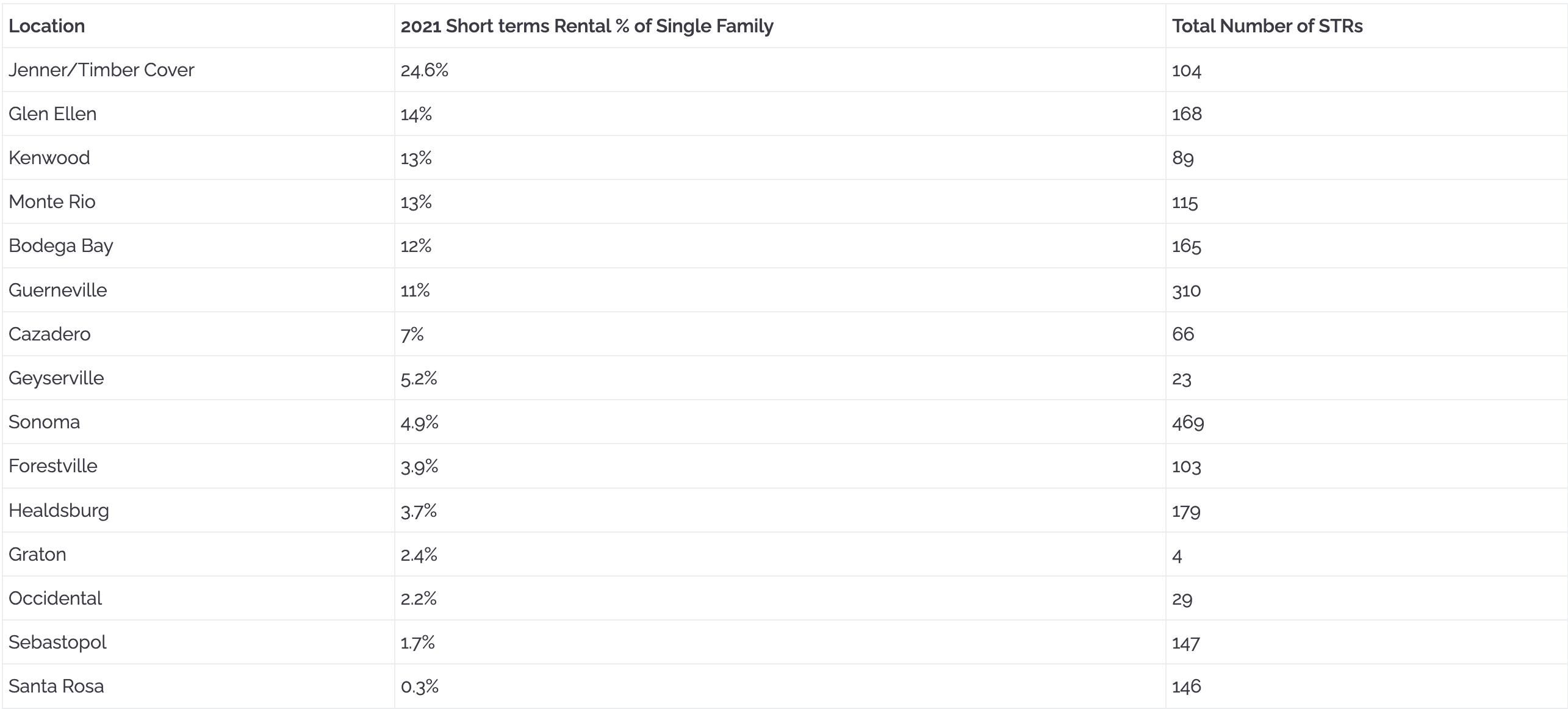 Introduction of a Business License
The new ordinance introduces a requirement for a Vacation rental permit holder to also hold a Business License in order to operate a vacation rental. This license will also apply to the coastal region where homes don't currently need a vacation rental permit. The license will need to be renewed each year, but more importantly, the license makes it easier for the county punish bad actors. if there is a code violation or unpaid fine, the county will withdraw or not renew the license.
As part of introducing the license, they are changing the start time of quiet hours, moving it one hour earlier to 9pm from 10pm, when there will be pre-determined levels of noise permitted. It is important to note that the license will apply to ALL vacation rentals both existing and future.
Ban Corporate Ownership
Under the license program, a licensee must be a property owner and a natural person or else the beneficiary of a trust that owns the property. In other words, a corporation, can no longer own a vacation rental. In addition, an individual my only have an ownership interest in one licensed vacation rental at any one time. The thinking behind this is that a natural person with ownership of a single property is more likely to stay at the property themselves, to know the neighborhood, but also more likely to be held accountable for the operation of the vacation rental.
Tighten Parking and Sleeping Restrictions
The new ordinance also tightens the parking requirements for a vacation rental. Moving forward, a property with up to two guest rooms will have to have one on-site parking space, if there are four guest rooms the property will need to have two on-site parking spaces and three spaces for up to five guest rooms.
The other change they are making concerns the number of people that can sleep in a property and as a result the number of bedrooms a property is eligible to have a permit granted for. At the moment it is possible to have a 2 bed room home that is, permitted as 3 bedroom home by allocating a "sleeping area" in the home as a place where two people can sleep. This was often used as a mechanism to leverage a secondary structure, or an un-permitted part of a structure, being advertised and used as a bedroom. This will no longer be possible. This renders an ADU or guesthouse as not useable when it comes to vacation renting because these are prohibited as being used as vacation rentals.
Allow for Processing of All Applications Submitted Prior To May 10th
One the outcomes from the previous meeting was putting a retrospective freeze on processing applications that had been submitted from mid March through to the date of the meeting, May 10th. Unfortunately it took the threat of legal action, and a very vocal group of homeowners who had purchased a property under one set of rules and were now being told they would be processed under a different set of rules, for the board to acknowledge that this was grossly unfair. In many ways this sums up the incompetence of the way in which the county as gone about amending the vacation rental ordinance.
I am particularly pleased they saw the error of their ways on this point because I have two clients for whom this has caused a lot of stress and anguish so I am super happy that they will now be able to continue down the journey of establishing their vacation rentals.
What's Next?
There are a couple of areas that county has now reconvened to figure out which I hope they would do quickly, or at the very least by May 2023 when the current moratorium ends.
Identify and implement the areas to which the new 5% and 10% cap zones are going to be applied and then develop a tool so they can then manage the enforcement of the caps. This re-zoning my also require some changes to the boundaries of the current exclusion zones.
Determine the penalties that will be applied to hosts that break the rules. This will be much bigger fines and now that there is the business license in place, the ability of the county to revoke that license. The question is for, how long?
Decide how to treat the areas that are currently within a fire perimeter from the fires of 2017, 2018, 2019 and 2020 when the moratorium for these areas is due to be lifted at the end of 2022.
What Should You Do If You Want To Still Buy A Vacation Rental?
This is a good question. Whether you have the ability to purchase a vacation rental now and wait until May to apply for a permit, or if you want to try to find something so that the moment the moratorium is lifted your property is ready to go, the options are the same. (See this blog post for the best places to purchase a vacation rental)
If you are looking for a property costing less than $600k it will be really difficult to find something because cheaper homes tend to be in Russian River and those that are there are often r1 zoning
If you like the Russian River area, I would look more towards Occidental and Forestville, to the east.
If are open to a more urban setting, the towns of Windsor still permits vacation rentals as well as Santa Rosa, although Santa Rosa is also tightening the rules. Homes here start at approximately $650k
If you have between $600k and $1m or more there are a number different options in unincorporated county including areas where there is a relatively low density of vacation rentals AND plenty of homes that have the correct zoning such as Forestville, Graton and Sebastopol.
If you are in the $1.5m+ market, you will potentially have lots of options in the Healdsburg, Santa Rosa, Sonoma and Sebastopol (all outside of city limits)
In Summary
After the meeting, I spoke to Lindsay Darrimon, who I work with in supporting clients through the whole permitting process. Overall we agreed that the tone of the meeting and indeed the outcome was actually better than perhaps we had thought. "We all expected them to remove R1 from the vacation rental pool which they did. However, I think we also thought they would follow the recommendation to introduce a flat 5% cap across the key vacation areas, but at least they are taking a more considered approach."
It would be nice if everything was buttoned down but at least now we have a strong indication of what the landscape will look like for buyers as the moratorium comes to an end. "It was also encouraging to note that the county staff let that they could do the work to map all the different cap areas prior to the end of the year which would mean that there would be no reason for the moratorium beyond that," added Lindsay.
Let's just hope that they get all the work done, they vote on the new final new ordinance and put it all in place for Jan 1. Maybe this is wishful thinking. I am hoping the worst case scenario is that we have to sit tight until May 2023 although for those that can carry the cost and take advantage of a lot fewer vacation rental buyers in the market, it could just be a good time to take the plunge.
Look out for an invitation to a webinar on August 12th at 1pm with me and Lindsay Darrimon to outline the new ordinance and answer your questions