On January 1st 2017, California relaxed the rules around permitting for Accessory Dwelling Units (ADUs) requiring local governments to approve ADUs based on some pre-defined parameters. While the rule changes were fairly extensive they reduced the number of parking spaces required down to one per bedroom and it precludes a local government from banning them entirely.
In Sonoma county, as a general rule most residential zoning districts allow one ADU per existing family residence. The size of the unit is limited to 50% of the square footage of the current house up to a maximum of 1200 square feet. The rules around renting them out are also fairly complex which I covered in a separate post, here
These changes have meant that over the past couple of years, the market for ADUs, and the number of manufacturers making them has exploded. We can broadly categorize them into two distinct camps: companies that specialize in pre-fabricated ADUs that arrive on site on the back of a truck fully built and then companies that have created a building system that can be used to assemble an ADU, or larger building, on site. Both are considerably cheaper and the build time quicker than traditional building techniques.
The rising demand for these units is coming from three types of buyers: People looking to house aging parents; Create a separate home work space; earn additional income through renting it out; adding value to a home prior to selling it.
The ADUs
In this post, Icover ADUs from five companies: LivingHomes, Kasita, Shed, Plus Hus and Sonderpods. In future posts I will be reviewing some of these units in a lot more detail.
All five of these companies are permitted for California and can deliver and install units in Sonoma County.
All these ADUs typically come with standard appliances included in the cost, although there is frequently an option to upgrade to higher specification finishes.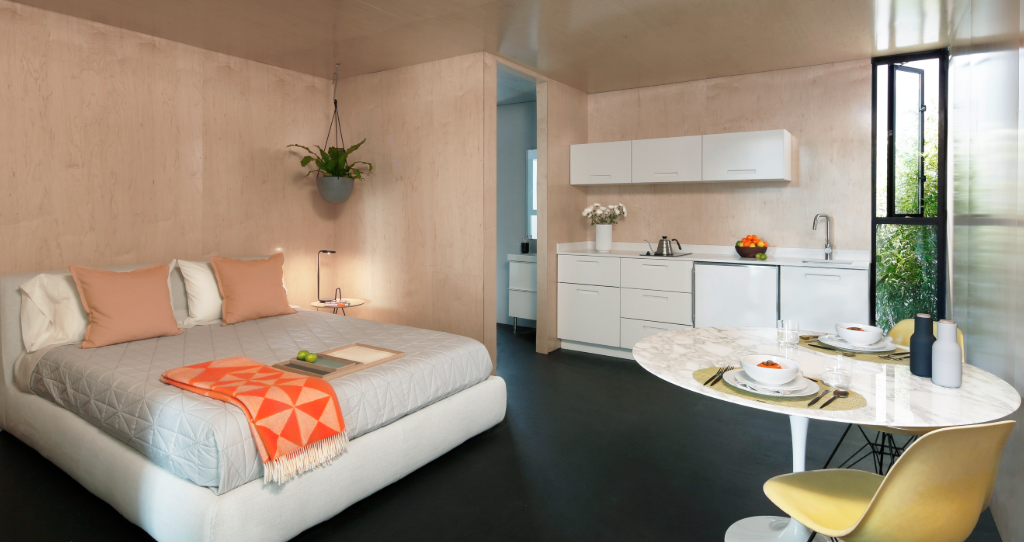 While all five companies quote a price for their units, this typically only includes the unit itself and and sometimes delivery but will exclude site preparation such as laying a concrete slab, getting the appropriate permits and securing utility hook ups. Before you commit, make sure you ask exactly what is and what isn't included in the price for any quote you get. In addition, you need to find out whose responsibility it is to get the permit and also do the preparatory work such as laying the foundation
LivingHomes are manufactured by Plant Prefab which has created a modular system for building not just ADUs but pre-fabricated custom homes. The LivingHome AD1 is the ADU product which costs $160,000 delivered.
The feature of the LivingHome AD1 is that while there are nine standard configurations to choose from the unit is also highly customizable by working with one of Plant Prefab's approved design partners.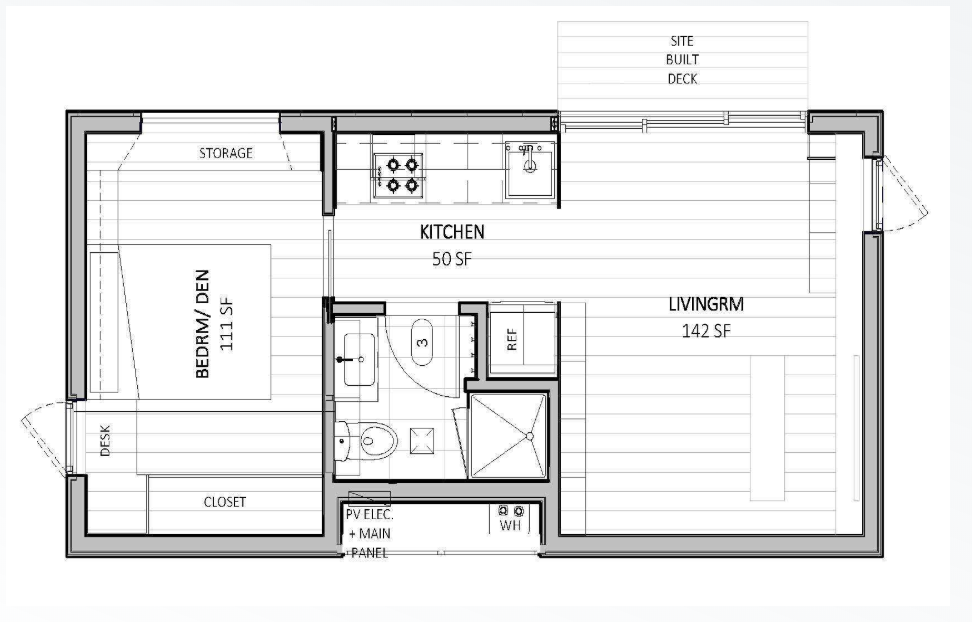 The AD1 is a 400 square foot unit which can either be a fully open plan studio or a more traditional one bedroom floor plan. The standard specification has some high quality finishes such as Andersen Windows, Kohler plumbing fixtures and GE appliances and is packed with the latest tech such as Nest thermostats and Energy monitoring systems from CurrentCost.
Manufactured in Austin, the starting price of a Kasita is $150,000 for a 372 square foot unit but the final price will depend on both the location (shipping costs) and the level of amenities and upgrades chosen.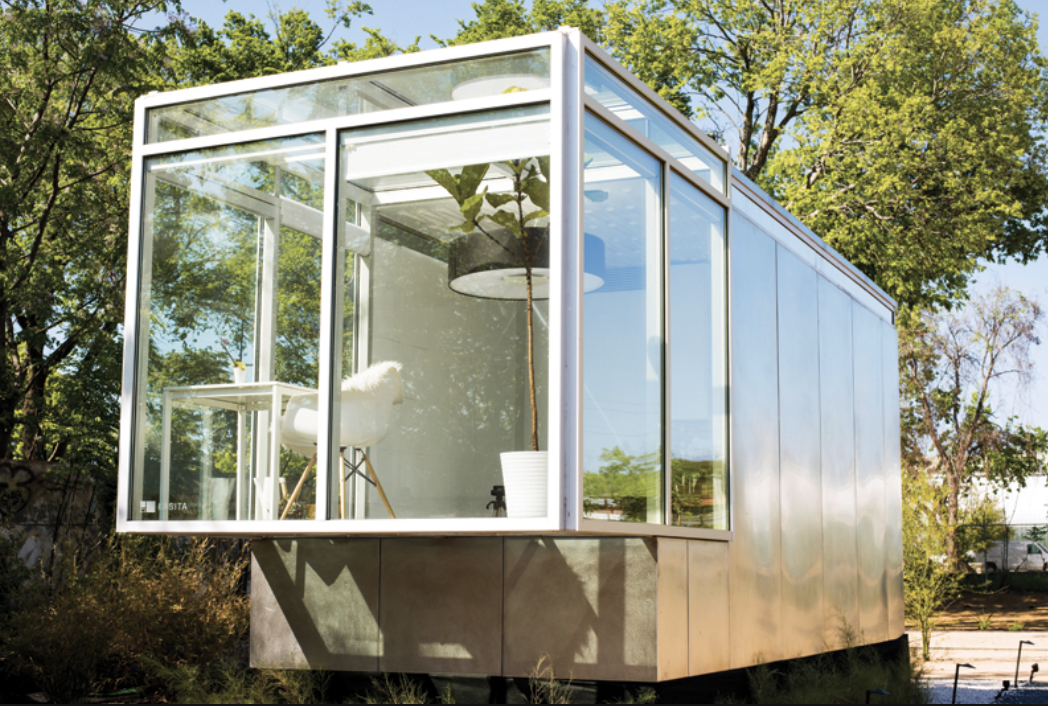 Unlike the LivingHome and Sonderpods which can be clad in siding to match your home, the Kasita is finished in Aluminium composite or Metal Flush Panel. This gives it a very different look and feel.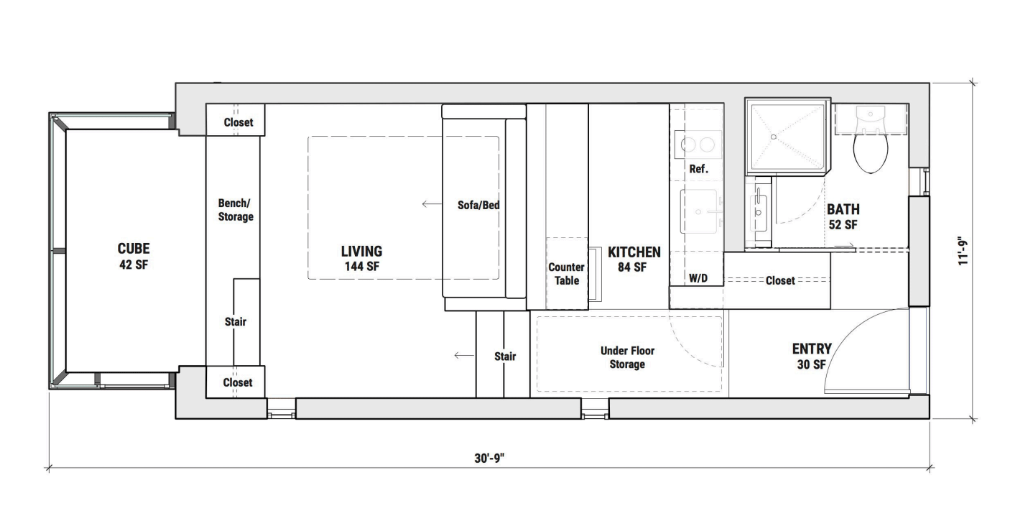 The units also come solar-ready and can be fitted with solar using 14 Jinko solar panels and a Tabuchi battery system for an estimated $12,000.
At first glance the Plus Hus seems cheaper than the others with an advertised starting price of $37,000 for the Plus Hus Open (no bathroom or kitchen), $42,000 for the Plus Hus Open+ (just a bathroom) and $49,000 for the Plus Hus Full (both a bathroom and kitchen). All of the units is just 320 square feet.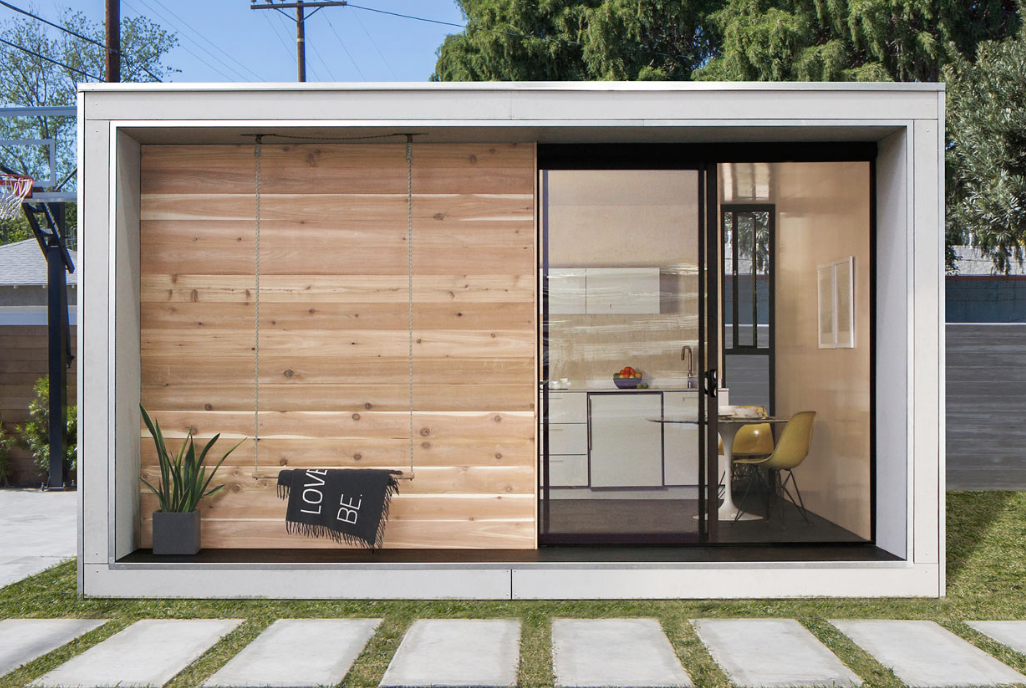 However, this is the cost of the unit only and Plus Hus estimates an additional $60,000 to $90,000 for additional services such as planning, permitting, utility hook up and transport.
Plus Hus is one of the units that comes flat packed and like Living Homes, uses a building system from a third party company. The system they use is a wood panel system developed by another Santa Monica company, Minarc.
Shed has a number of products available which range from the simplest of garden sheds to dwellings, It's ADUs are the Studio Summit Series which come in numerous shapes and sizes ranging from 252 square feet up to 544 square feet.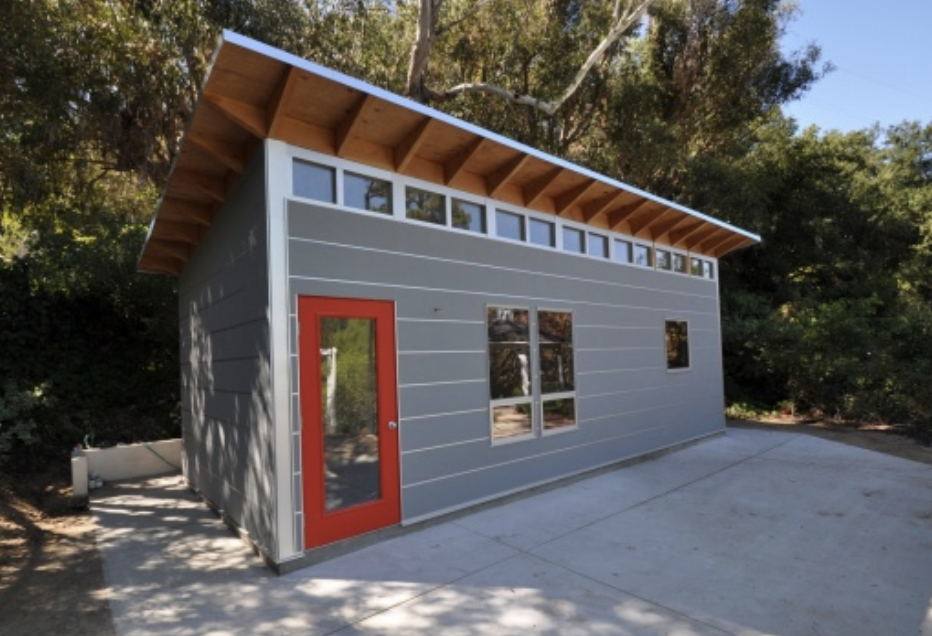 Once you have chosen your size, there are a nine different configurations ranging from an empty shell to a studio layout to a one bedroom layout with different sizes of kitchen and bathroom.
Using the extensive online configurator, there are 24 different window and door placements to choose from as well as five different exterior finishes. These include different types of fiber cement boards and Cedar plank and shingle and even bright colored siding, doors and eaves.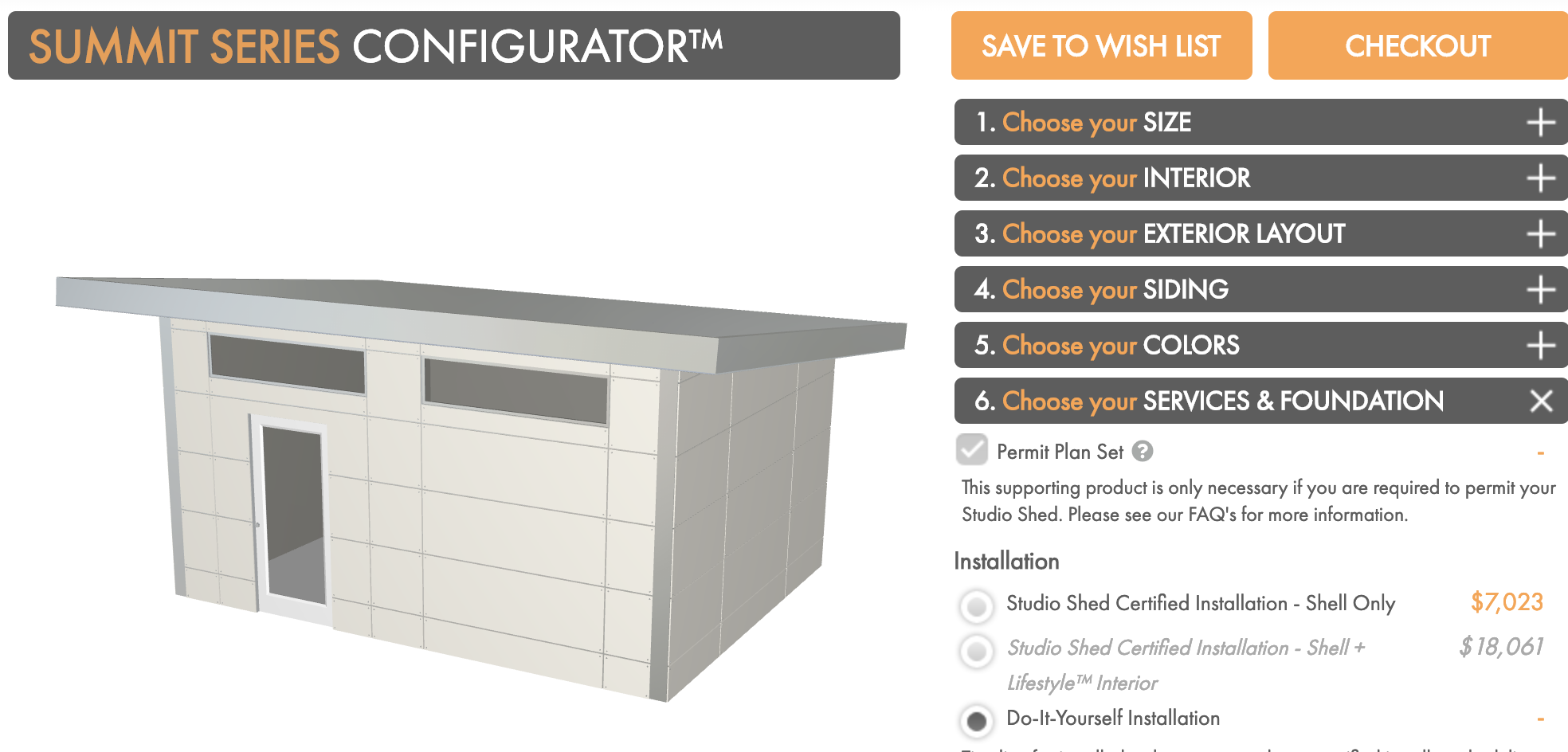 Shed also gives you a choice of getting one of their installers to installthe shell for $13,644 or install the Shed and all the fixtures and fittings for $78,568. Also included is a DIY option where you get a set of instructions and that's it!
By selecting the most expensive option across the board the configurators gives a price of $170,206 delivered.
Sonderpods is based in Sonoma County manufacturing its units in Rohnert Park. Its units are currently built using traditional building methods but the company is going to be moving to steel frame construction.
As part of the initial consultation, Sonderpods will assess your lot to see if it is suitable using its in-house database of lots and if you are pre-approved it will initiate the process for applying for a permit for a cost of $999.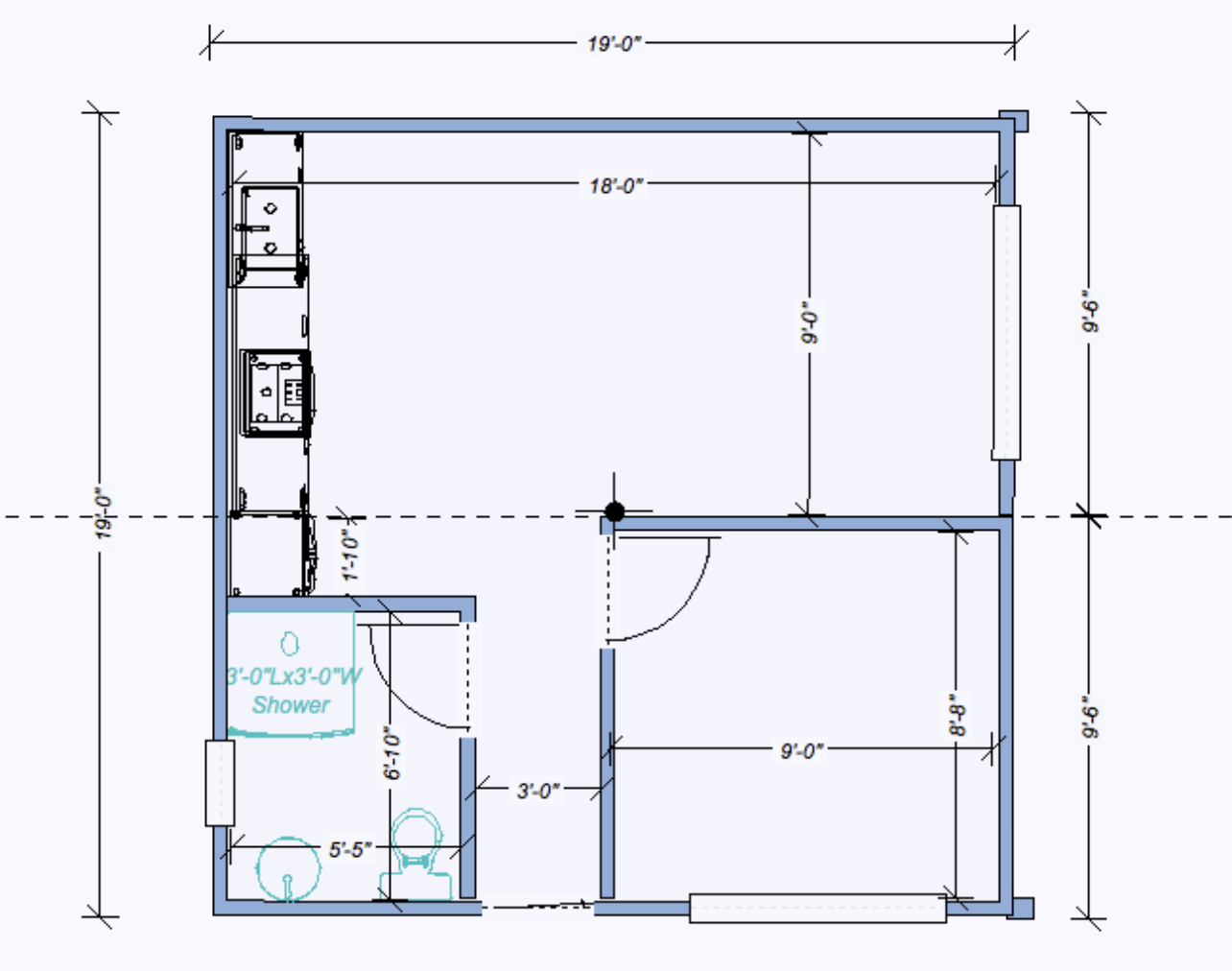 The units come in various sizes including 360 square feet, 540 square feet and 760 square feet.
As with all the units, the appliances are included along with all of the fixtures and fittings but the customer can opt to upgrade any of the finishes. For example, if you want a higher specification kitchen with granite worktops for example you can pay the upgrade fee.
For an extra cost, Sonderpods will handle the permitting process, prepare the site, co-ordinate hookup with the utility companies and install a concrete slab for the customer.
In Summary
While the concept of the ADU is all about efficiency and cost effectiveness there are a number of other considerations to take into account in choosing one, not least the aesthetics and how it will look alongside your home. It is also important to really drill down into all the incremental costs over and above the unit cost.
That being said, if you have room on your lot, want some extra space or incremental income and have the capital, they are a great solution. Even if you don't need the space, at a cost of $270 square foot to install and with the average price per square foot in Sonoma County of $412 per square foot, you can make $70,000 by putting one in before you sell it.
All photography and information taken from manufacturer web sites