Update August 2022: As of May. 10 2022, no vacation rental permit applications are being accepted until May 2023 while a new ordinance is developed. For an overview of the latest news on the vacation rental ordinance under development, please read this post
I work with numerous clients either looking to buy or sell a vacation rental. One of the biggest risks for a buyer is purchasing a property thinking it can be permitted only to find out it is in a Sonoma County vacation rental ban area. Not only are the rules constantly changing but there are so many different checks that need to be carried to ensure a property is not in a Sonoma County vacation rental exclusion zone. I have written a number of specific posts on the short term rental zoning rules (original post on vacation rental rules) and the new vacation rental cap introduced in 2020 (read post), In this post, I am to provide a step by step guide to identifying if a property can be operated as a short term rental.
Step 1: Do you want to purchase a vacation rental in the coastal area?
The good news is that there are currently no limitations on vacation renting in coastal properties because Sonoma County does not regulate vacation rentals in the Coastal Zone. The policy for this area is governed and established by the Local Coast Plan.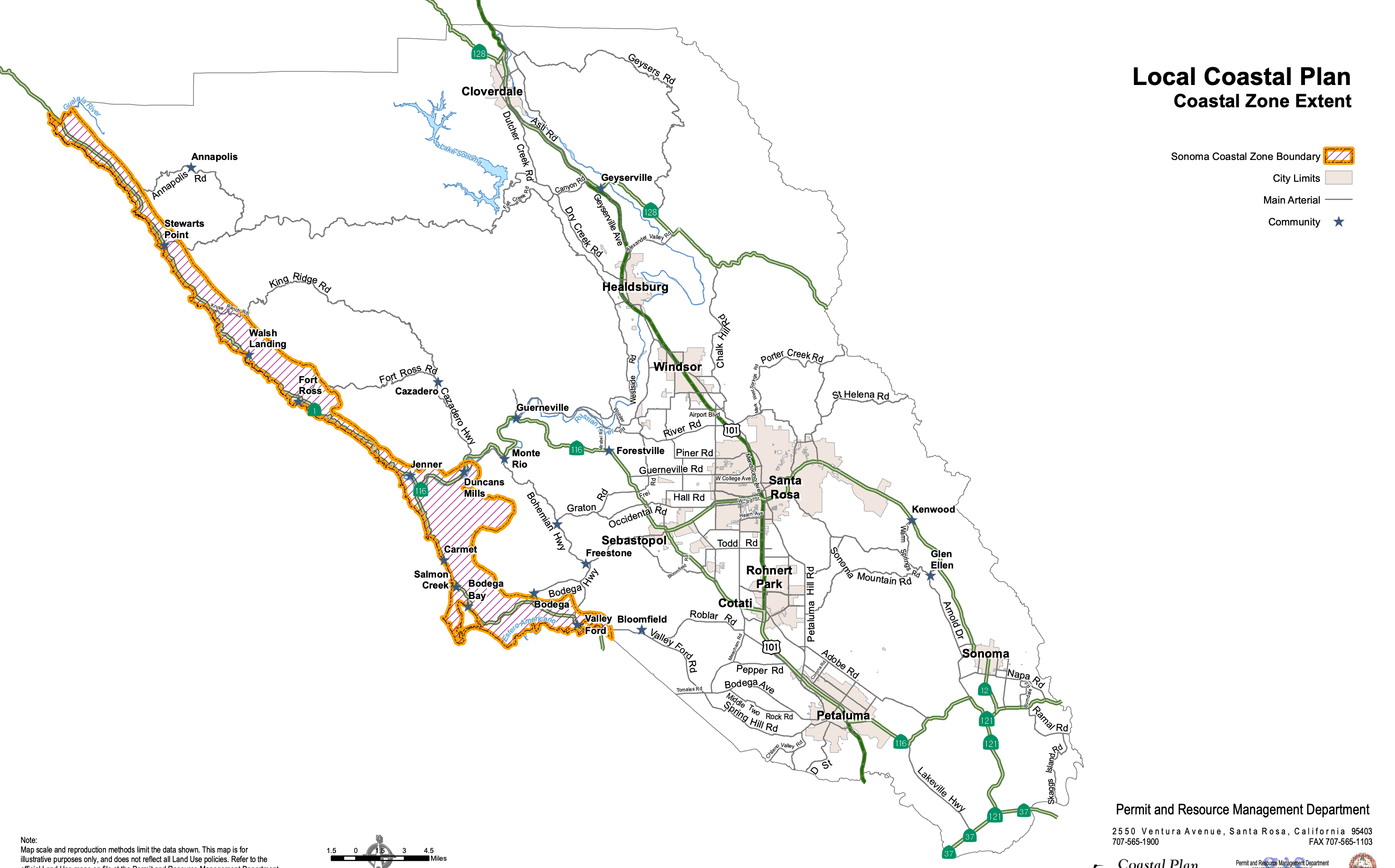 Step 2: Do you want to buy within the city limits or in an unincorporated (more rural) part of Sonoma County?
The rules for vacation rentals across the largest parts of Sonoma County are governed by the Sonoma County Planning and Resource Management Division (PRMD). However every city has its own rules so if you are thinking of purchasing a property within the city limits you will need to refer to the rules determined by each city. The rules for the main cities are as follows:
Healdsburg Short Term Rental Rules:
Vacation rentals are not allowed in any residential zoning district within the city limits. The only area where vacation rentals are permitted is in the CD (Commerical District) zone and then it is subject to a conditional use permit. For a property that is in the CD zone, a secondary or granny unit may be used as a vacation rental. (see Healdsburg vacation rental rules - last updated November 13th 2019)
Because of this limitation, the best area to find a vacation rental near Healdsburg is in the areas just outside the city limits such as on the southwest side of 101 or else to north of 101 in Chiquita Road or Alexander Valley Road areas.
Sebastopol Short Term Rental Rules:
Within the city of Sebastopol, vacation rentals are allowed but only for a maximum of 30 days per year. So while they are allowed, the rules mean that there is limited potential for vacation rental income. Hosted rentals are allowed where the owner remains on site and ADUs that were built prior to July 1st 2017 can be operated as a vacation rental within the existing rules. (see the Sebastopol vacation rental rules - last updated Dec 2018)
Santa Rosa Short Term Rental Rules:
Effective Dec 4th 2021, Santa Rosa introduced an Urgency Ordinance requiring all short-term rentals within the city limits to obtain a permit. Any properties that are within 1000 feet from another existing or proposed Non-Hosted short-term rental prior to applying for a permit will be denied a permit. Here is more information and here is more detailed information on how to determine if a property will be eligible.
Sonoma City Short Term Rental Rules:
Vacation Rentals were prohibited from Dec 4th 2017 and are no longer a conditionally permitted use in the residential, mix use and commercial zones. There are exceptions involving the adaptive re-use of historic buildings but this is dependent on conditional permit approval.
Petaluma Short Term Rental Rules
Petaluma does permit short term rentals but places a limit of a maximum of 90 days per year. As with many other cities, ADUs that were built prior to Sept 7th 2017 can also be used as a vacation rental. (see the Petaluma short term rental rules)
Step 3: Are there any restrictions based on the zoning of the property?
There are broadly two groups of zoning codes in Sonoma County: residential and agricultural/resource zones. The zones where vacation rentals are allowed with a permit are as follows:
Residential: AR (agricultural residential) and RR (rural residential). As of Aug 2 2022, R1 zoned properties are no longer eligible (low density residential)
Agricultural/Resource zones: LEA (land extensive agriculture), DA (diverse agriculture) and RRD (rural resource development). Properties that are part of the Williamson act cannot operate as short term rental)
Zones where vacation rentals are not allowed are in higher residential districts such as R1, R2, R3 and PC and also in one of the most common agricultural zones LIA. (see full description of the different zones here)
It is also worth noting that in Sonoma County ADUs cannot be operated as a separate vacation rental.
Step 4: Is the property in a vacation rental exclusion zone?
Even if the property has the correct zoning, it doesn't mean that it can be offered as a short term vacation rental. In May 2016, off the back of growing pressure from various communities that were experiencing a high volume of properties operating as a vacation rental, the Sonoma County board of supervisors adopted an ordinance that designated a large number of parcels within the north county and Sonoma Valley within what is called Vacation Rental Exclusion (X) Combining District. Any property within this zone cannot be used as a vacation rental.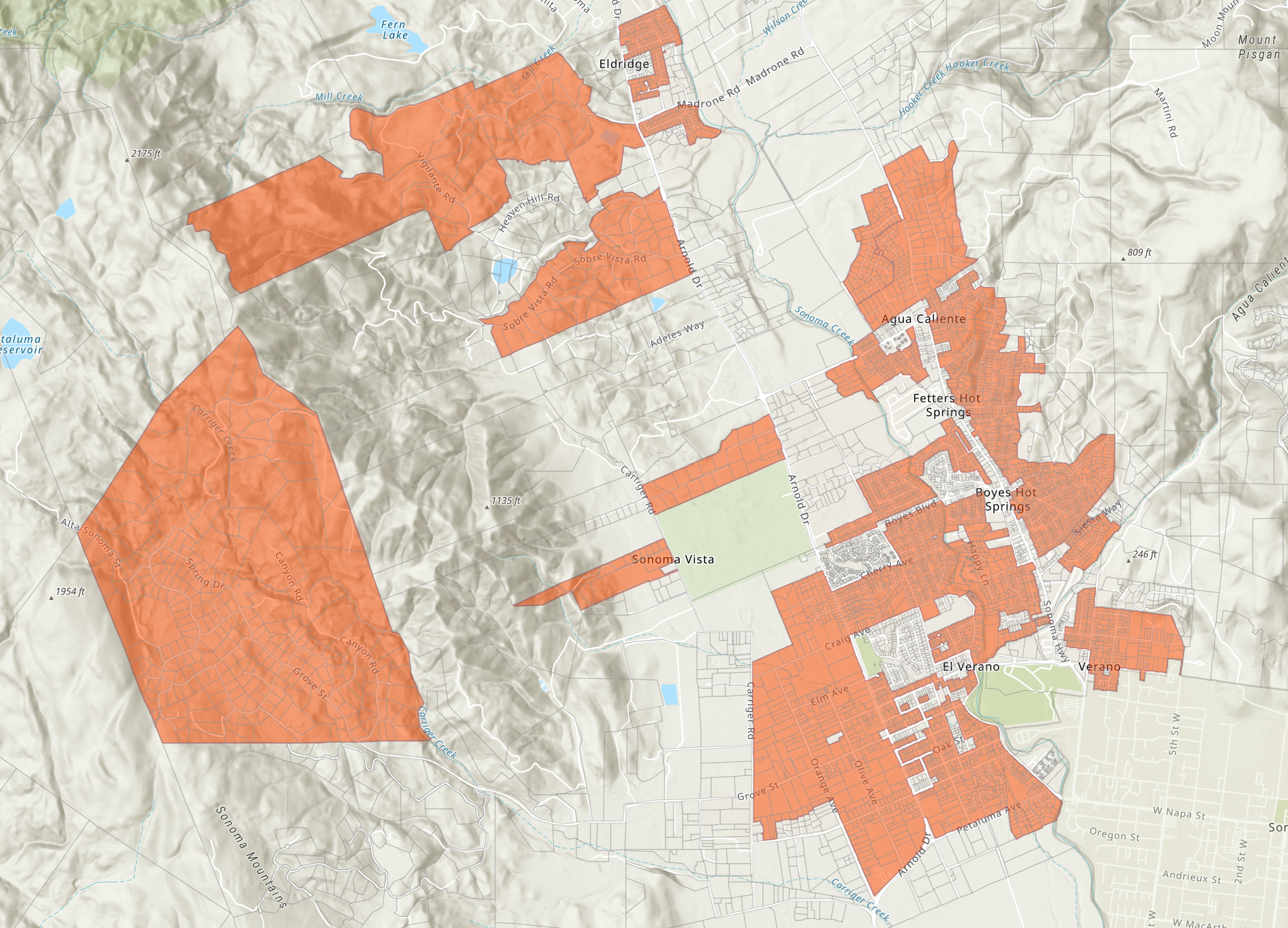 The main areas covered by the vacation rental exclusion zone are as follows: Aqua Caliente Knolls, Boyes Hot Springs, Diamond A, Fitch Mountain, Glen Ellen, Kenwood, Nut Tree/Apple Tree (Lovall Valley), Palomino Lakes, Slattery Road, Sobre Vista,The Foothills and Winter Creek Lane. Here are three valuable resources:
- A description of the exclusion zone ordinance
- A map of the different vacation rental exclusion areas
- A list of all the parcel numbers included within the vacation rental exclusion zone
If you find a property you like the look of and want to know if it is in an exclusion zone you can go to this website, put in the address or APN number, and then select one of the layers called "X - vacation rental exclusion" and it will show you all of the APNs that sit within the short term rental exclusion zone. Alternatively you can check this PDF to see if the APN/address is on this list of Vacation Rental Exclusions.
Step 5: Is the property within the Russian River Cap zone?
In August 2020, Sonoma County introduced a "temporary" cap on the total number of vacation rental permits across the county which was then reviewed at the end of 2020. At this point rather than introduce a cap across the entire county, they introduced a cap in two areas: a small neighborhood in Sonoma Valley that wasn't already covered by the vacation rental exclusion zone and across the lower section of the Russian River which impacts over 1000 parcels (Here is a list of all the APN numbers within the cap)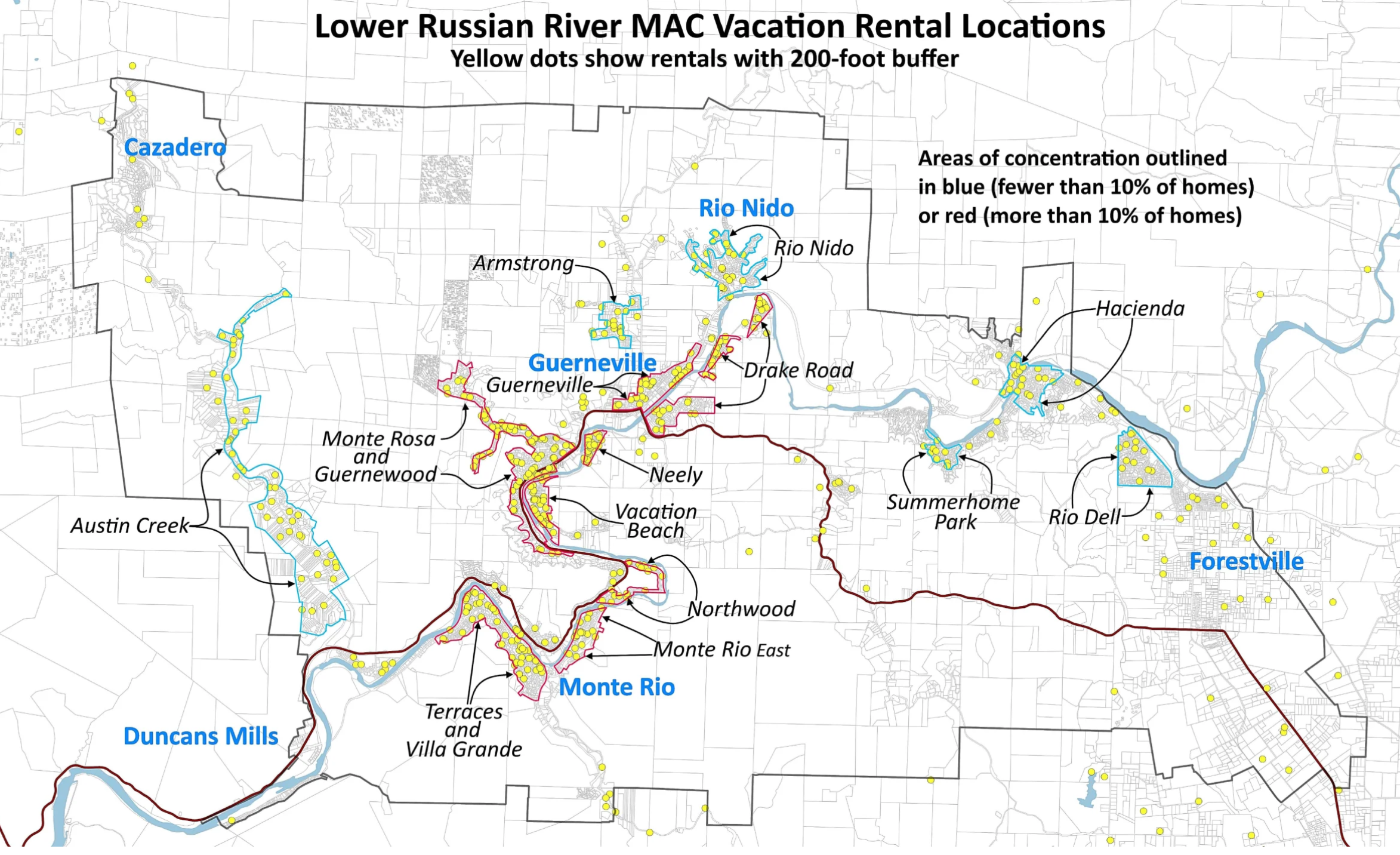 The Board of supervisors has committed to reviewing this cap on 6 Aug 2022. The good news is, that it is a cap, rather than an exclusion. At the time of writing, according to the county, they get on average 10-15 permit applications per month and 5-10 permits are released which means that the waitlist for a property within the cap to get a permit is not very long. (here is a more detailed blog post on the introduction of the Russian River Vacation rental cap). Please note that this cap expired in Aug 2022. However there is a new ordinance being developed which is not yet finalized. Please see this blog post for the latest news.
Step 6: Is the Property within a Fire perimeter?
On October 24th, 2017, the Board adopted an urgency ordinance prohibiting the issue of new vacation rental permits within the Sonoma Complex fires perimeter. It also prohibits increasing the expansion of bedrooms in a permitted home. It does allow the establishment of new hosted rentals. After the Kincade (2019), LNU Complex Lightning (Walbridge/Meyers) fire (2020) and Glass Incident (2020) fires this was extended to stop vacation rental permits being issued within the perimeter areas of these fires. This moratorium is due to come to an end on 31st December 2021 for the Complex and Kindade fires and December 31st 2022 for the Lightning and Glass fires. Finding out whether a property is within the fire perimeter is not always easy, however here are a few of links that can be used to enter an address or APN number and see if a property falls within a fire perimeter.
Here is a map that you can use. If you click on the "fire icon" on the top right you can select a fire to see the perimeter and then put in the address or APN number to see if it is within the boundary
Here is a map that can be used to find a property within the Complex Fire Area
Here is a map that can be used to find a property within the Kincade fire
Here is a map that can be used to find a property within the LNU Complex Lightning Fire perimeter
Here is a map that can be used to find a property within the Glass Fire perimeter
Step 7: Is the Property part of an HOA?
As a general rules, the vast majority of HOAs do not allow vacation rentals. there are some exceptions, but they are few and far between
Step 8: Is the Property Zoned A Multi-Family Property?
Any property that is zoned a duplex, triplex, fourplex is not eligible to be a vacation rental in Sonoma County.
If your property meets all of these conditions then you will be able to apply for a vacation rental permit!
What's Next For Vacation Rentals In Sonoma County?
On July 7th, 2021, there was a meeting of the board of supervisors to discuss the future of vacation rental rules in Sonoma County. At this meeting, the board solicited input from county staff members, members of the public and home owners. The recommendations for the future ordinance are due to be presented on October 19th 2021. While no decisions have yet been made there are a number of policy changes being considered (the full discussion paper can be found here):
Shifting from a zoning permit to a Business License to administer the county's vacation rental program. This business licensing would then be extended to vacation rentals in the Coastal Zone
Establish a new system for monitoring performance standards for vacation rental permit holders
Explore different tools for managing vacation rental density across the county (limiting the max number of days that a property can be vacation rented, adopting separation criteria between vacation rentals (eg 500 feet), Implementing a cap on vacation rentals at a district level or county wide.
Potentially expanding the X-zone areas
Develop moratorium in the existing wildfire disaster recovery areas that are due to expire in December 2021. (Update: On Jan 1st 2022 this ordinance was extended for the 2017 and 2018 fires by another year to extend the ordinance banning the issuing of vacation rental permits in those areas until 1 Jan 2023 at the earliest)
It will be interesting to see what policy changes are put in place. If the rules do change, historically, people with existing vacation rentals (and even those people who have submitted for a permit) have been allowed to continue to operate unchanged. I wouldn't imagine the rules will be relaxed so if you are interested in purchasing a vacation rental property, it would probably make sense to try to get your permit (or just apply to ensure you application will be processed under the old rules) before the new changes come into place.
This post was last updated in October 2022 to reflect the coming ordinance changes