Last year, Daniel and Tiffany, got in touch with me having read one of my blog posts on vacation rentals in Sonoma County which cover everything from understanding the rules for vacation rentals in Sonoma County to choose one. Earlier this month they launched their property on AirbBnb so I recently sat down with them to talk through why they decided to purchase a vacation rental in Sonoma County, why they chose Forestville and how they found the process from the completion of escrow through to launching their vacation rental.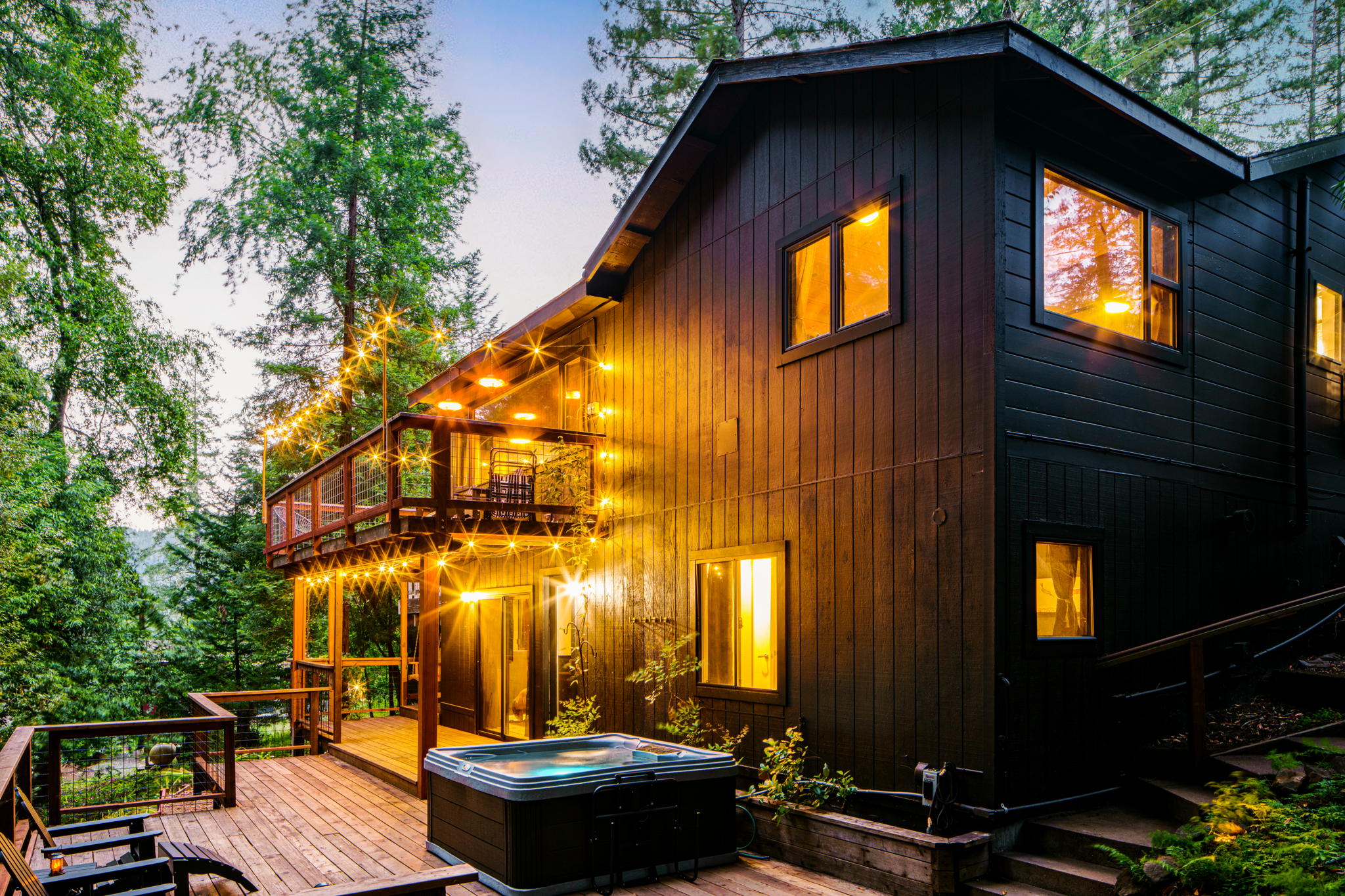 It was after the passing of Daniel's parents in 2021 that they decided to invest in something that was not just a viable financial investment but something that would become a family legacy and would enable them and their family to generate happy memories for many years to come. "We wanted to create something that was uniquely us, that we could share with people for them to enjoy. We are both creative people and always making and customizing things to our tastes, so we wanted to take this to another level by using a home as our canvas," explained Daniel.
Deciding Where To Purchase A Vacation Rental
Ever since she was child, Tiffany loved playing in the River in Texas, so it was an easy decision to center their search in the Russian River area of Sonoma County. On top of that, every year they would rent a place on the Russian River with a group of friends. In addition to floating down the river they would enjoy the food, the wine and the proximity to the ocean that this area has to offer. "Initially we were looking at places from Monte Rio to Guerneville and Forestville wasn't really on our radar. The more we looked at homes in Forestville, the more we realized it had a lot going for it. It has easy access to beaches that are not as crowded as some other areas of the Russian River, but it also has great access to wineries and is close to towns such as Sebastopol and Healdsburg," added Tiffany.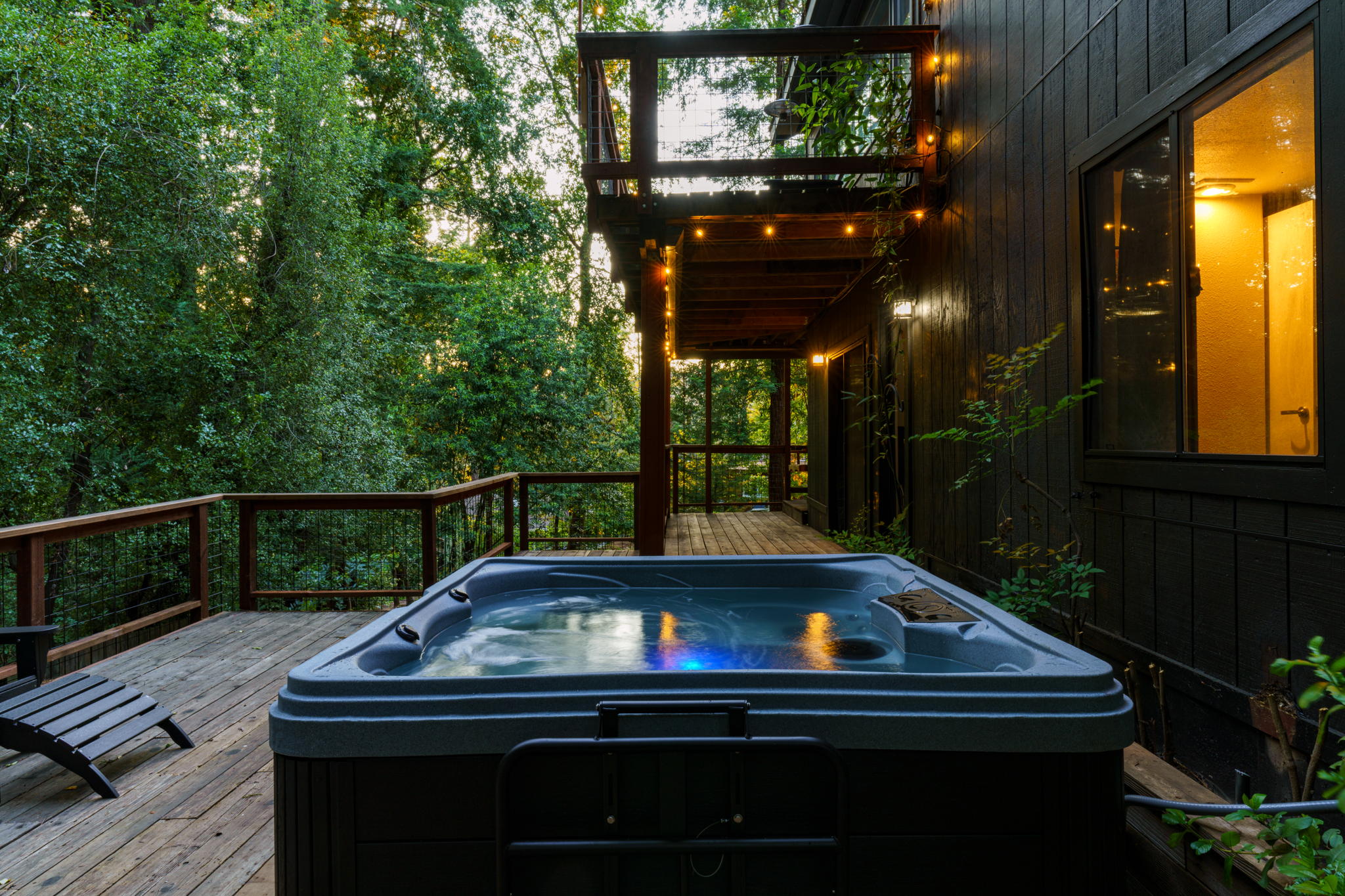 "As we looked at various homes, we quickly realized we loved the trees, we especially loved the "tree houses" but we also wanted a big deck. It was the combination of the trees, the large deck and the Forestville location which led us to the house we purchased," explains Daniel.
Prior to getting our offer accepted on the Woodside Drive home, I worked with Daniel and Tiffany, looking at various homes and submitting an offer on another home, 11001 Ogburn Lane. At the time it was October 2021 and the Russian River market was insanely competitive. We put in a really strong offer, 21% over the asking price of $555k. However, the house got 20 offers and sold for 40% over the asking price.
The Search Process
As I was chatting with Daniel, he reminded me that we went to see the property between Thanksgiving and Christmas in the pouring rain in the middle of the week. "Tiffany had seen the property online and liked the look of it but she didn't think I would like it. I decided to go and take a look at it. Because it was pouring with rain it felt like a misty wonderland with the big Redwood trees shrouded in rain. I took a video which I shared with Tiffany and the rest is history!" remembers Daniel. It definitely sometimes pays to look at homes in really quiet times when no-one else is!
I asked them about the search process and if there was anything that they would change. Daniel very kindly explains, "we started working with a different agent who didn't want to be held responsible for sharing information about the vacation rental rules and insisted that we do our own research. It was then that we came across your website and your blogs that are actually more informative than the Sonoma County website itself. We then had a call with you for 20 minutes and we learned more on that call than we had done in months of research."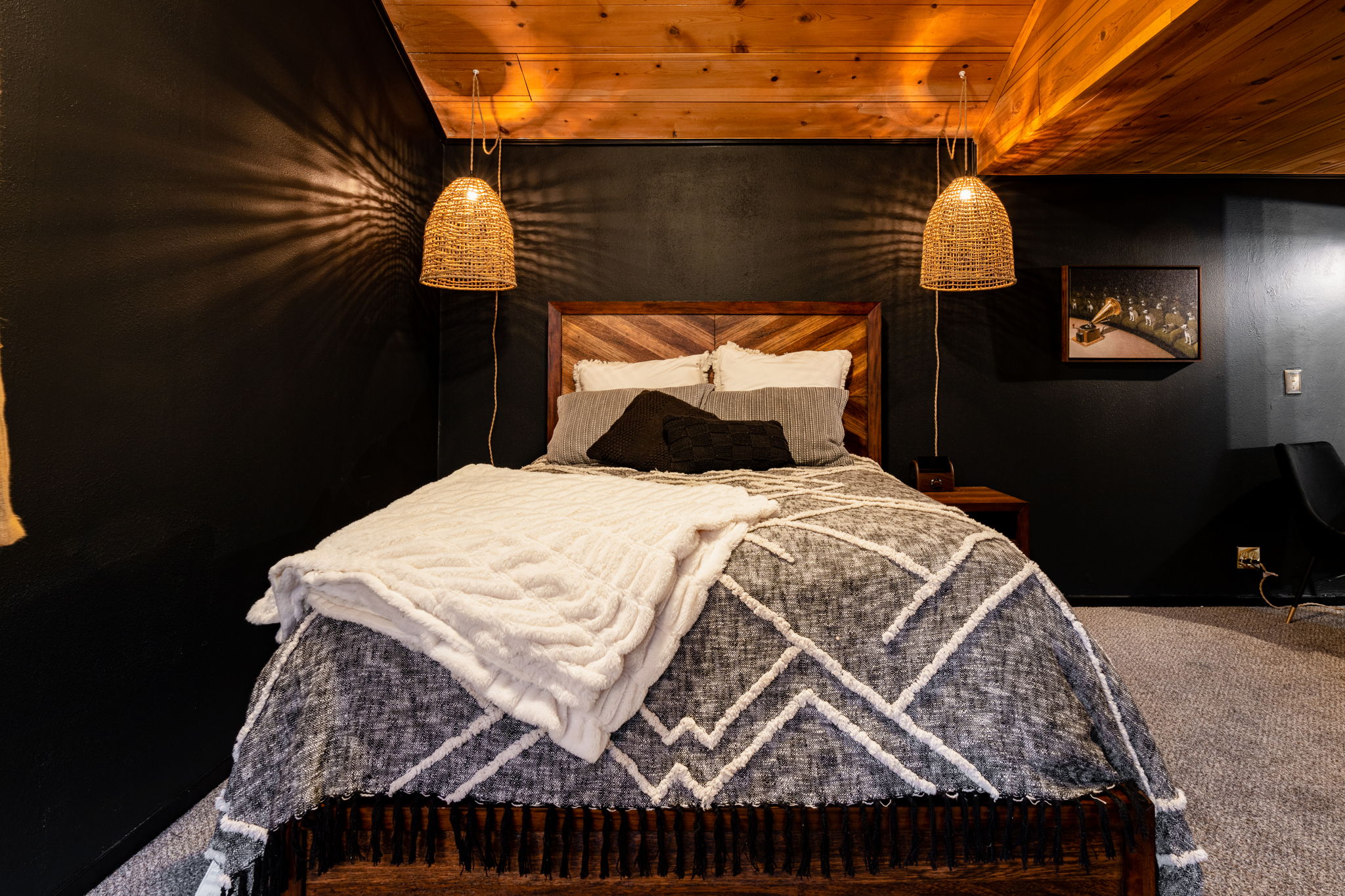 "We also liked the fact that when we went to a home, you were always very honest about your thoughts on the property. I remember going to one home that we really liked and we asked you about it. You pointed out the good things but also added 'it's a little weird!' We liked the fact you told us what you really thought. We really valued that honesty."
When it comes to the permitting process with the County, this is one area where I rely heavily on working with someone who is doing it day in and day out. I know what to look for and what are the red flags when it comes to a property but I don't work directly with the county on getting a permit, so I have partnered with Lindsay Darrimon on this part of the process so I introduced Daniel and Tiffany to her (see a separate blog post interviewing Lindsay about the process).
"We were initially a little skeptical because of the $3000 it costs to pay Specialized Permitting to go through the permit process because we felt we could probably do it ourselves. I am so glad we used her as I don't think this story would have turned out half as well if we hadn't," added Daniel.
Realizing The Vacation Rental Vision
When Daniel and Tiffany took ownership of the home, it was nicely presented and really clean and tidy so there were no major structural projects that needed to be completed which was perfect for them because it meant they could put all their energies into creating something that truly reflected them.
"We had a strong sense of vision about what we wanted to create but through the process we started thinking too much about the wide range of guests that we wanted to cater to. Somewhere in the process we found ourselves dumbing down our ideas and lost our way a little bit. It was only once we re-connected with our goal of creating something highly personal to us that it really started taking shape," explained Daniel.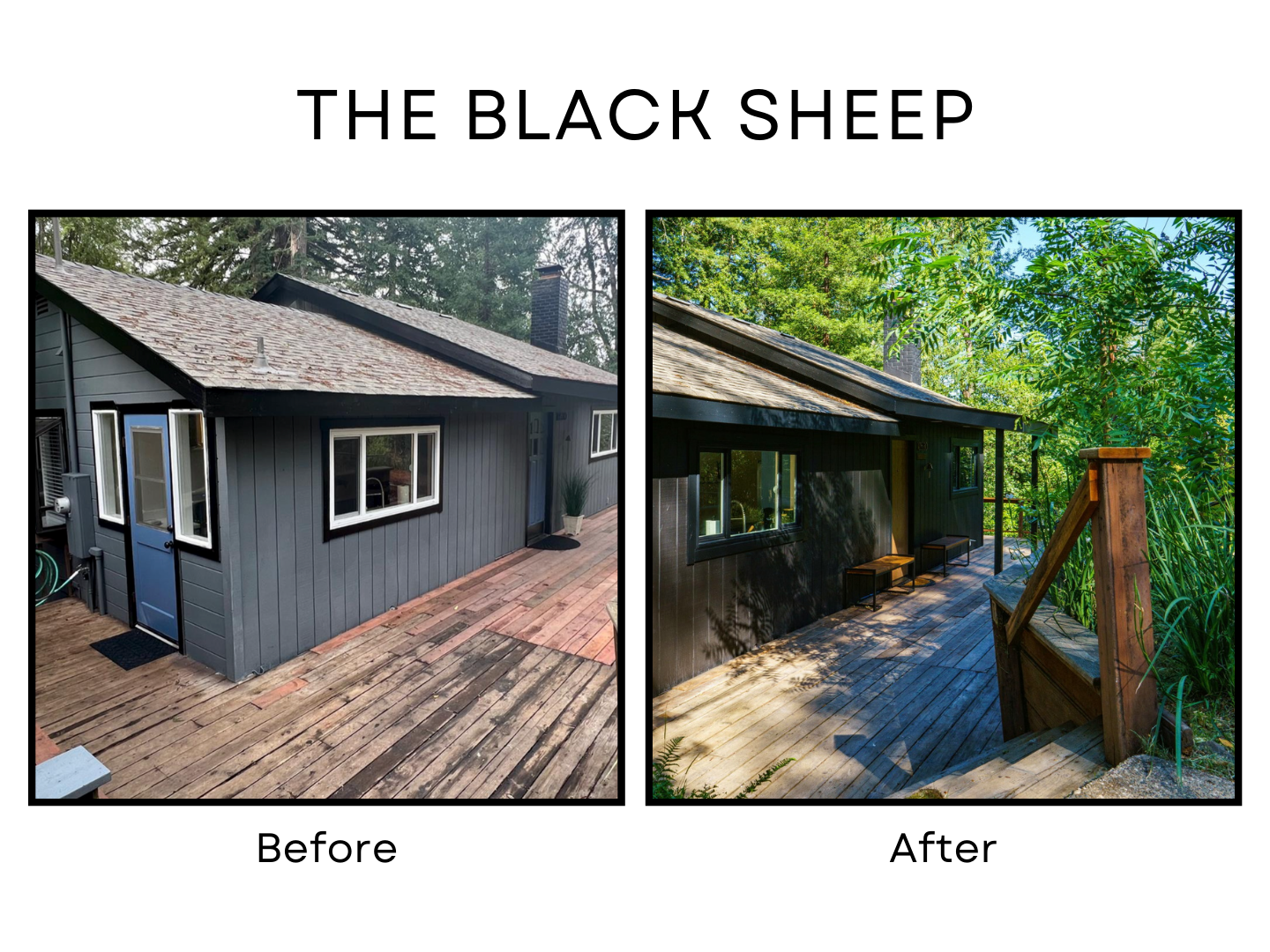 It's only appropriate that one of the biggest, boldest improvements they have made is to paint what was a newly painted house, black. It looks amazing. There is a small second unit, The Baby Black Sheep, that they have decorated to match Black Sheep down to installing the wooden planks on the ceiling.
"We have so many ideas moving forward. As artists ourselves, we would love to give local artists the opportunity to show their work at the house and for guests to be able to purchase prints but that is a little way off yet."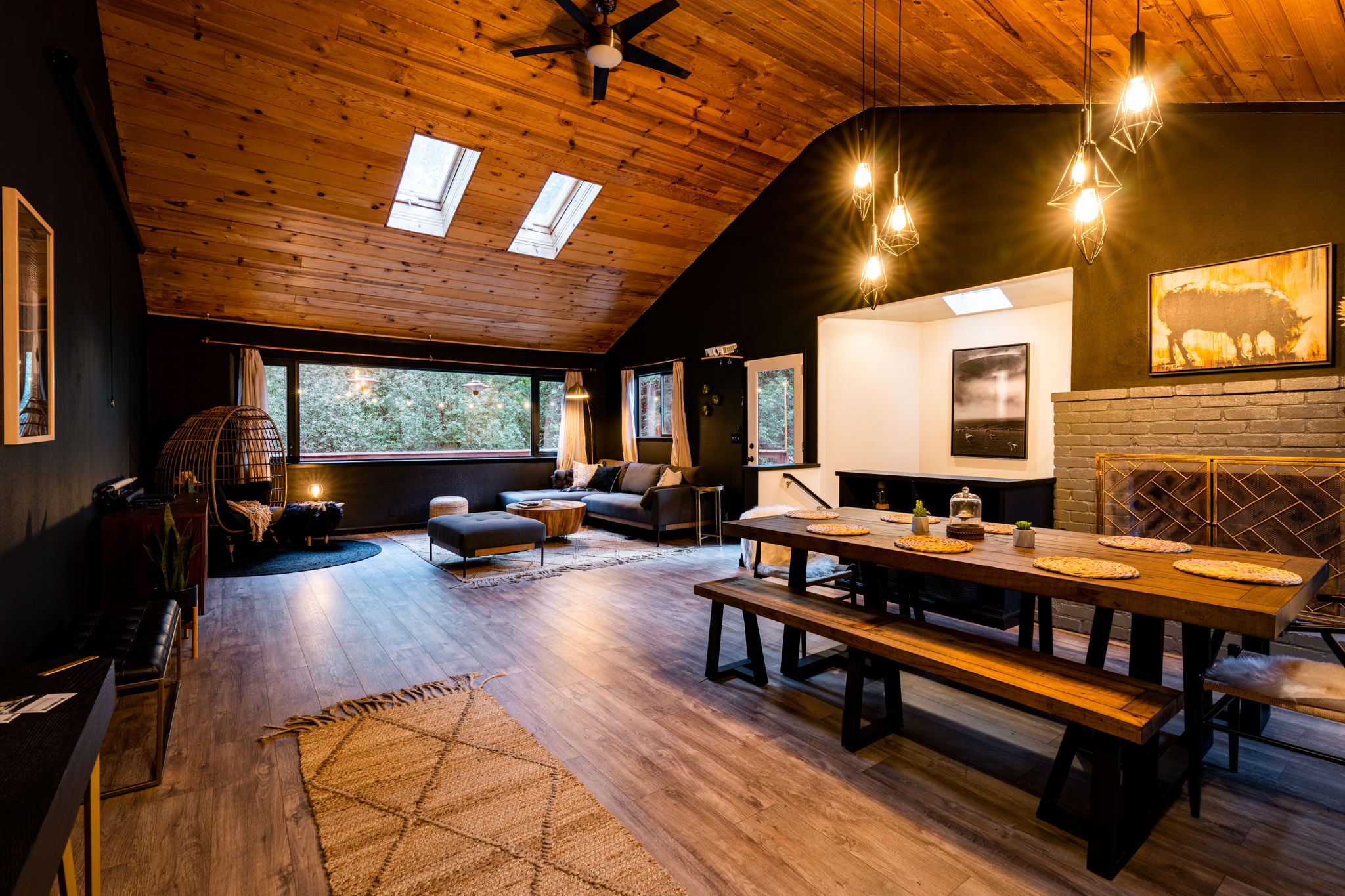 While they clearly both love the creative side of things, I wondered how much they will get involved with the ongoing management of The Black Sheep. Like many of my clients, they want to perform the role of host so that when people reach out with a reservation request, it is Daniel and Tiffany who they chat to but once the reservation is made, the property manager Nicole steps in to make sure the check-in and guest experience is flawless.
"One of the things we really valued about working with you was the fact that you put together a team to help us along each step of the process. Introducing us to Nicole was another example of helping make the right connections to make the whole thing work," added Daniel.
Launching on AirBnb
It's only been 10 days since the listing was launched but they already have 20 bookings which is a great start. As Daniel admits, they are still in the honeymoon phase so it's early days. As I get ready to leave, I ask Daniel and Tiffany if they have advice for other people thinking of going on this journey.
"We set out to create something that was unique to us. We had a little wobble in the middle but we quickly got things back on track and created something very special to us that we are very proud of. We couldn't do it without trusting a team of experts to advise us. From there you just have to take a big leap of faith as there will always still be unknowns. In the end staying true to ourselves and the big leap allowed us to create our story and we are excited to share it with the world," concluded Daniel. Go and see for yourself by booking The Black Sheep.