If you are new to Sonoma County or you don't live in Windsor, you probably haven't heard of Lakewood Hills. If you are looking for a property close to amenities, in the Windsor/Healdsburg area but with a spacious feel in nature, you should take a look because because it is definitely one of Sonoma County's and the town of Windsor's best kept secrets. It is a unique gated community that was developed in the mid-to-late 1980's that features large lots which are predominantly a third to a half an acre. In addition to the large lots, it has amenities which include a large grass field/picnic area, a pool, tennis courts as well as walking paths, all of which are private and for the use of residents only.
There are only 220 total units in the community, which given the overall size, means that none of the homes feel like they are crowing each other out but more importantly as you drive around you don't see many other cars and the facilities are are pretty much always available. What truly sets it apart is the location right in the heart of Windsor, near shopping, grocery stores, restaurants, medical facilities and more, while having a complete sense of tranquility and privacy in the community as you walk or drive through down the mature-tree lined streets.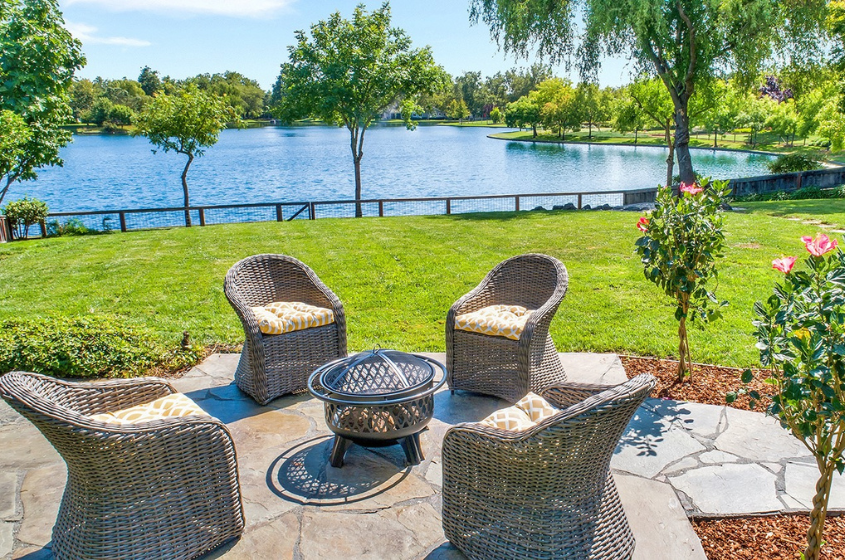 How Much Do Homes in Lakewood Cost?
As you would expect the turnover within the community is relatively low with just 6 sales in 2022 with another home, 340 Windflower Court, Windsor, currently in contract (which also happens to be one of our listings). The most expensive sale in the last 12 months was 384 Fireweed Ct for $1,160,000. However, both 340 Windflower Ct (listed for $1,498,000 and in contract) and 9312 Lakewood Dr (t) will close significantly above the $1,160,000 figure. A new record was recently set when 9312 Lakewood Dr, one of the largest houses on the lake at 2,962 sqft sold for $1.65m. It shows the scarcity of good homes around the lake that this came went straight into contract as it came on the market. The least expensive sale in the last 12 months was 9295 Lakewood Dr for $775,000. It was one of the brown townhouse style units and was not very updated.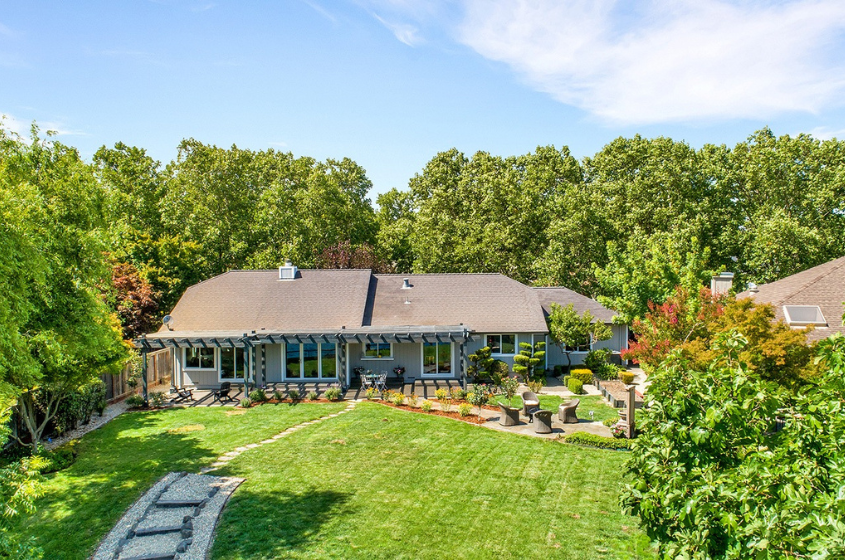 Homes that back onto the lake are definitely a rare breed with the last one, prior to 9295 Lakewood Drive, being sold in May 2021 by my business partner, Jonathan Bruington. This one sold for $1.475 at the time which was well over the $1.295m asking price. However, it was not the highest priced home. The highest sale in the neighborhood was a beautifully remodeled single story home on the lake that Jonathan sold for $1,600,000 in 2019. This was a 1,864 sqft single level home with a three car garage right at the top of the northern lake. This is arguably one of the best lots in the community for its expansive lake views.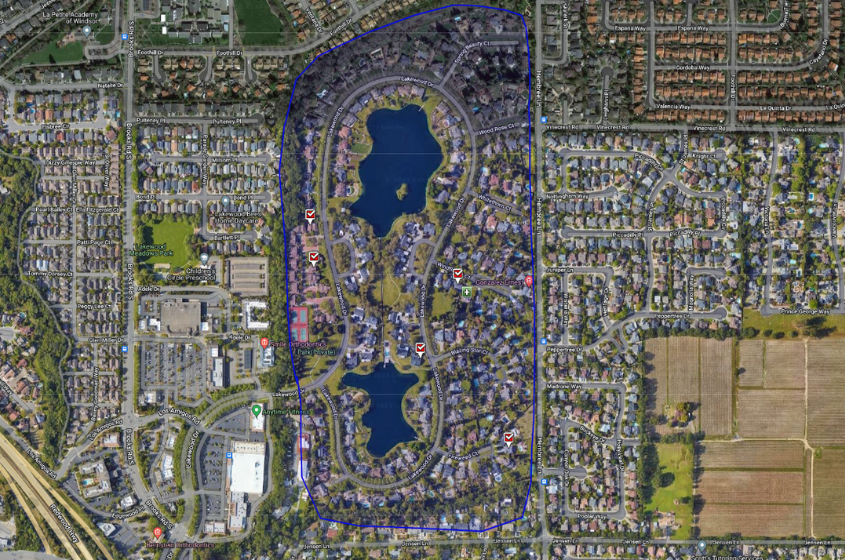 As you can see from the map above, there are two lakes in the community with the most prestigious homes being set around each of the lakes on the road that goes around the lakes with a number of homes also being built around off-shoot cul-de-sacs. While there are predominantly single family homes, there is a unique mix of properties, with attached two-story townhouses (known as the browns for their shingle siding), duet style single level condos (known as the blues for their soft blue exterior paint color), alongside the single family homes both on the lake and in the cul-de-sacs. The "Browns" are about 1,700 sqft to 2,100 sqft, the "Blues" are about 1,500 to 1,600 sqft, while the single family homes are predominantly about 1,900 to 2,300 sqft, while there are some larger semi-custom homes as well up to about 3,000 sqft.
The brown units are mostly recently trading around $750 to 800k, while the blue units are trading for $700k to $850k, while the single family homes range from about $1,000,000 to $1,500,000. Because of the facilities, there is an HOA fee that is $319 per month which is the same regardless of the type of home because the HOA does not cover any exterior maintenance, but does it does cover all the common areas, sport facilities, lakes, and the security gate.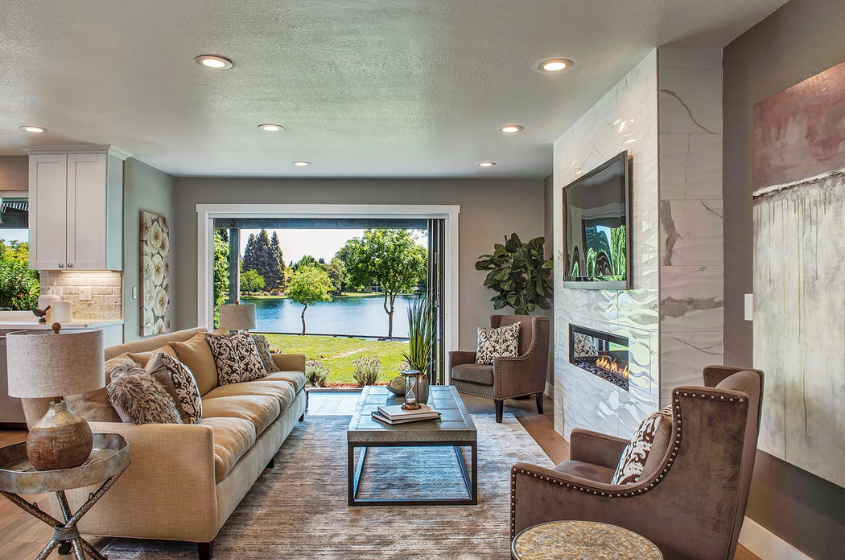 The lakefront homes are the most desirable, adding at approximately 25% to a home's value as compared to off the lake properties. The other factors which impact value aside from being on the lake are lot size, floor plan and the degree to which it has been remodeled. Many of the homes have not been updated and so have fairly ordinary finishes particularly since they were not particularly expensive houses in the 80's when they were built. However, as the neighborhood has established its own identity and is becoming increasingly sought after, some of the homes have been extensively remodeled with higher end finishes.
One example of homes that are being remodeled to take them to a new level, is a two story house that my business partner sold for $1.15m in 2020 that had not been fully remodeled. The new owners have since undertaken what will be a two year renovation to add an addition, modify the floorplan and do a full remodel to change the style of the home, In addition they are adding a pool and an outdoor entertaining area. They will almost certainly be into this home for over $2m once the project is complete.
Due to its desirability as a neighborhood, the homes do generally sell quickly. Over the past 5 years, there has been an average of almost 10 homes sold per year, which represents almost 5% of the neighborhood although 2022 there were half that number changing hands. The majority of the homes sold are original or near original owners who are now downsizing or moving out of the area for retirement.
Coincidentally, one of the big buyer profiles we see moving into the community is retiree's and empty-nesters looking for smaller houses with a private setting. They may be coming from large ranch properties, or large estate homes and they want something that is easy to maintain and close to amenities, but without sacrificing some of the aesthetic beauty or privacy they are accustomed to. We do also see some move-up buyers looking for the same peace and tranquility that their trac-subdivision homes do not offer. With the median home price in the county near $800k, it is pretty rare to get a third of an acre lot with a 2,000 sq ft house in the low $1m range in a gated community.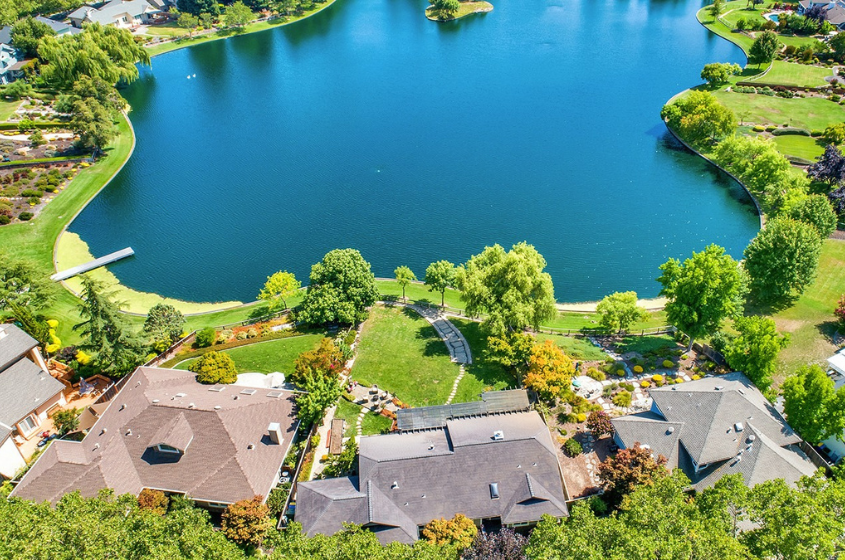 Is Lakewood Hills Right For You?
If you are looking for something that is close to amenities but which feels very different from other communities in Windsor or elsewhere, it is definitely worth taking a look. Between Jonathan and I we have represented 16 sales in the last four years in this community more than any other agent over that time. So whether you are a buyer looking to explore it for the first time or a seller looking to work with an agent who know the community inside out, please do get in touch.