I work with a lot of clients from the Bay Area all looking for a place in and around Healdsburg and yet very rarely to people considering the idea of buying a place in Shiloh Estates which is the lesser know part of the Mayacama Golf and County Club. To be honest, until recently, I have never really suggested it many clients largely because I have a seen a few of the Mayacama properties and for one reason or another I didn't feel the distinct Tuscan/Mediterranean style would resonate.
However, my business partner, Jonathan Bruington, has recently opened my eyes to Shiloh Estates which has all the benefits of a Mayacama property but with larger houses which are more varied in style and on larger 10 to 40 acre lots. So why does this development often go under the radar given it is gated community located at the south end of Chalk Hill Road? In this blog post, I'll outline the pros and cons of Shiloh Estates compared to buying a rural estate elsewhere in the Healdsburg area and also highlight some of the considerations if you are looking at this as a good location for a rural property in Sonoma County.
The History of Mayacama and Shiloh Estates
The history of the community dates back to the 1980's when the property was owned by a religious organization and had been utilized as a campground. Recognizing the unique convenience of the location, the highly regarded local real estate developer, Marv Soiland, and his business partner, Charles Schulz (creator of the Peanuts Cartoon), bought the land with the plan to create an exclusive high-end gated community featuring large parcels, possible for equestrian use, hobby vineyards, and more. The community abuts Shiloh Regional Park, and also hosts a private lake for the homeowners' use only. When they planned out the community originally, they planned the community to have 100 homesites ranging from 3 acres to 50 acres each. One of the distinct features of the area are the natural rolling hills and vistas that create both generous building envelopes and spectacular views. By way of comparison, properties with such spectacular views in the Healdsburg area are reasonably hard to come by whereas if views are what you are looking for, most of the homes in Shiloh Estates and Mayacama have some sort of special view.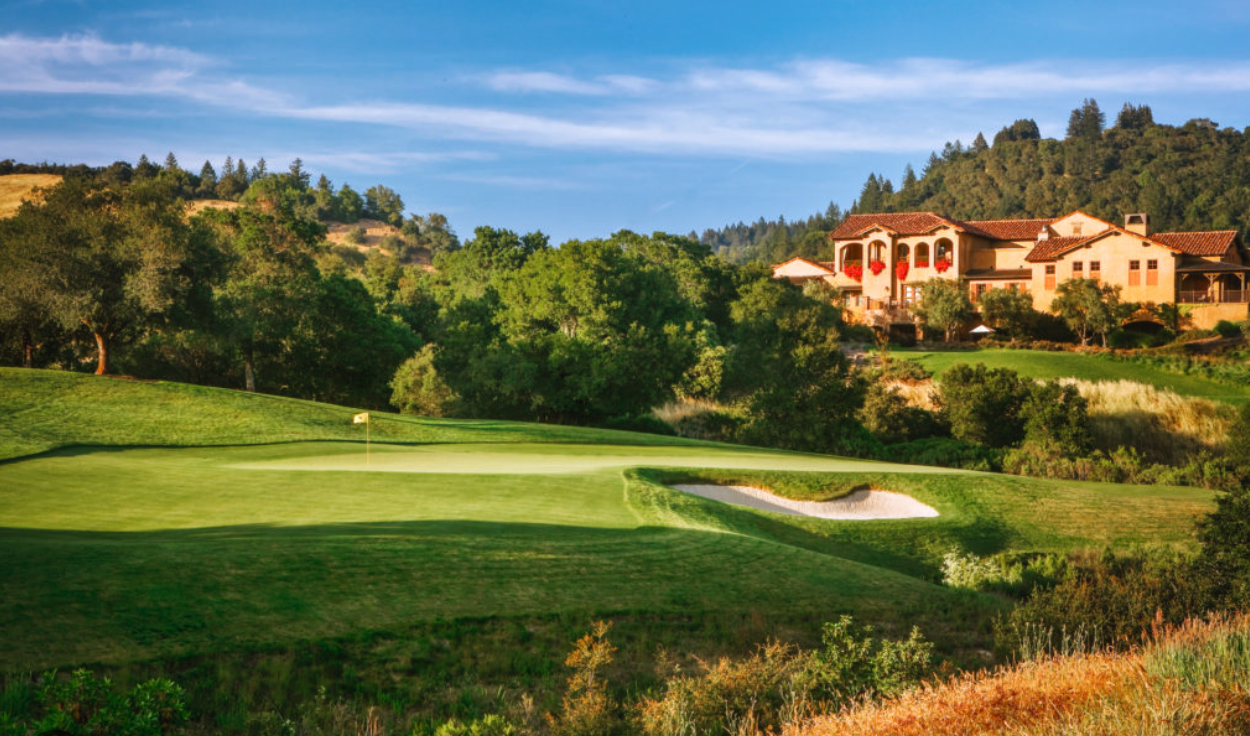 After the project was underway, in the late 90's, Soiland and Schulz struck a deal with another developer, David Wilhelm, to purchase 675 acres of land, which had been designated for 31 homesites in the original plans, to develop an exclusive Golf and Country Club, Mayacama. This is why the whole development now includes four distinct components: the Mayacama Golf and County Club, Mayacama Residents Club, the Mayacama home sites on which owners have built custom homes and then Shiloh Estates.
Mayacama Golf and County Club
The main attraction is the Jack Nicklaus designed 6,785 yard golf course which is reputed to be one of the best of the nearly 200 courses that he designed. If you are lucky enough to get invited to play you should know that it is a walking only course but you will have a caddy by your side to carry your clubs! I used to play a lot of golf but then fell out of love with it telling myself when I could no longer cycle, I'll pick up golf again! I do truly believe if you are a golfer it is definitely a course that should be on your must play list.
In addition to the golf course there is a full spa, restaurant, tennis courts, pool, gym, event space and much more. There are two types of membership options available, a full golf membership and a social membership. The sign up fee for a golf membership is $110,000, with annual dues of $27,550 and a food minimum of $1,500 annually. A social membership offers the same full access to all of the clubs facilities and events, except with limitations to golf and tournament play. Social members are permitted to play 8 rounds per year, and can have a spouse of child play as well. However, they do not have guest privileges for golf, nor access to golf tournament play. The initiation fee for a social membership is $40,000, with annual dues of $9,092 and a food minimum of $1,500 annually.
Myacama Residents Club
Mayacama Residence Club offers several variations of fractional homes a bit like timeshares or the fractional ownership model of Pacaso. The idea being that you don't have to spend your time worrying about the little things. Everything is perfectly maintained, so upkeep is never an issue. Your personal belongings are even stored away after your visit, so you don't have to stress about packing when taking a trip to Sonoma County. The fridge is fully stocked, so you don't have to deal with the hassle of shopping.
Membership in a Private Residence Club is a very different proposition compared to a second home but for some people who already have 2, 3, 4 homes it definitely has some mertis although I know Mayacama has always had challenges selling the so-called Casitas memberships.
Mayacama Homes
As well as developing the golf course in 2001, Mayacama also developed a real estate component to the club. They offered 31 custom homesites for sale that are about 1 acre a piece. Building restrictions limited the size of most of these homes to approximately 4,000 sqft but these Tuscan-style homes have recently sold in the range of $4m to $5m. With only 31 homesites, turnover is limited, as can be seen from the fact there have have only been four sales in the past 24 months. The highest sale during that time was a newly construction 4000 sq ft house at 6461 Cottage Ridge Rd for $5,400,000. As you can see from the image below, it is very much in the mediterranean style with the tiles roof. The lowest sale was a 2007 built home at 5733 Cottage Ridge Rd for $4,300,000.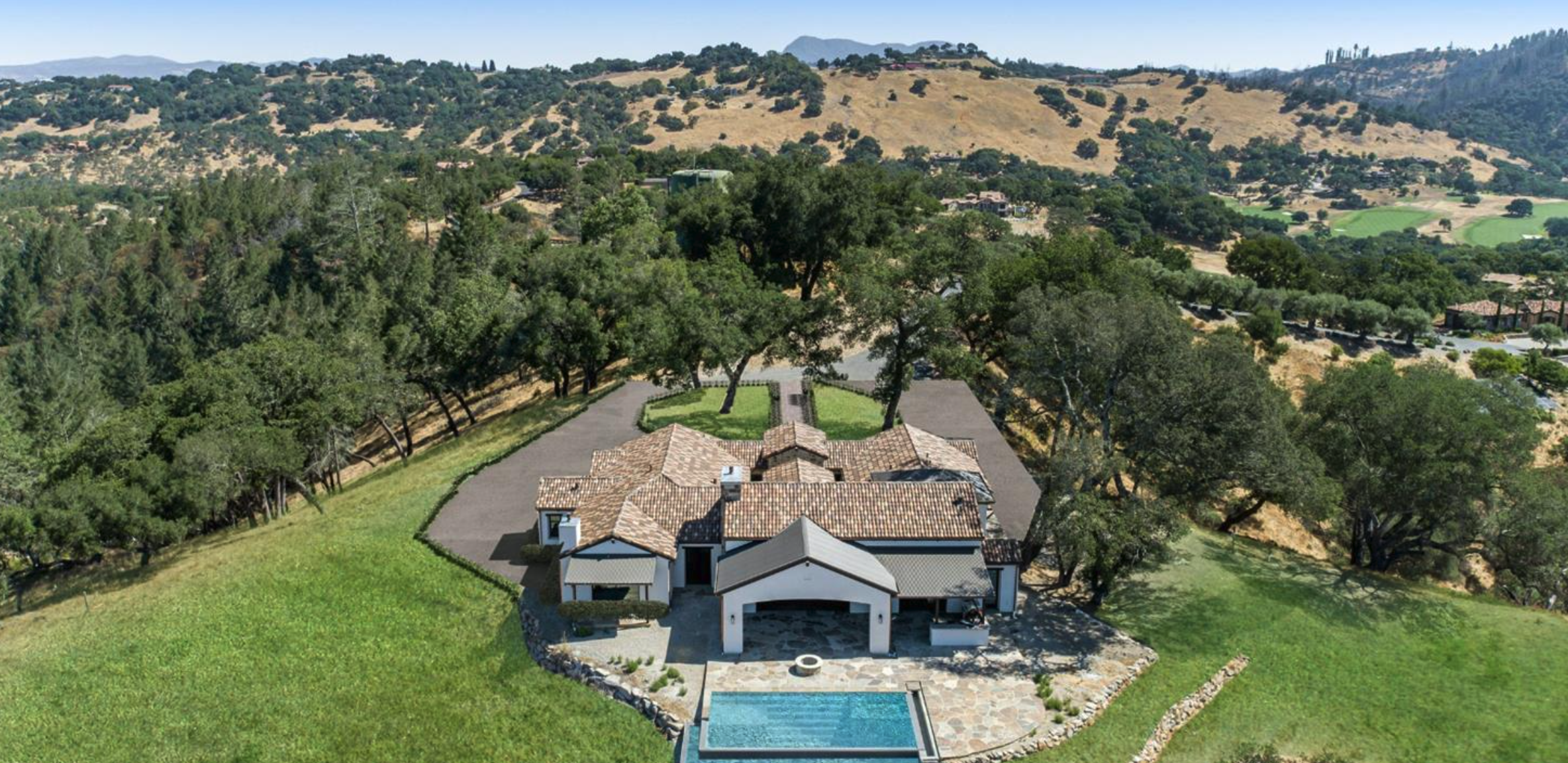 If we look at the average price per sq ft in Mayacama over the past 24 months it works out at $1,184 with an average purchase price of $4,895,000.
Shiloh Estates
Shiloh Estates is the community that was built on the land the land that wasn't sold as part of the Mayacama development and so comprises the remaining 69 homes sites of the total of 100 that was originally planned. These homes have largely been built out over the last 20 years, to create one of the most coveted residential enclaves in Sonoma County. Homes in Shiloh share many similarities with those in Mayacama, but do have some important differences as well. They share a similar topography and location with the studded oaks, rolling hills and often spectacular views. Beyond the first gate of Shiloh Estates, the roads are private and are for the exclusive use of those going to Mayacama or to their home in Shiloh Estates. They often offer similar view corridors and style, but they do often differ in the size and scope of the properties, with Shiloh Estates homesites being much larger as well as often having much larger homes. While 4,000 sqft is the average size in Mayacama, this is the size of the smallest homes in Shiloh Estates which generally range from 4,000 sq ft up to 10,000 sqft, with one home, 7384 Shiloh Ridge, topping 16,000 sqft. (This would probably be a little large for just me and my wife!)
As with the Mayacama homesite there isn't a huge turnover of properties with only 6 home sales in Shiloh Estates in the past 24 months. The price range varies more dramatically here given the difference in size and scope of the properties. The most expensive property to sell was a 10,424 sqft home with a pool, tennis court, guest house, and more that ultimately closed at $8,775,000. The least expensive house to sell was a 6,200 sqft home that needed repairs for $3,200,000.
We currently have the only home available in either Shiloh Estates or Mayacama at 300 Shiloh Valley Court. It is a 3,894 sqft home on 12 acres, including the guest house, and is listed at $3,250,000. While this is entry level home for the area it checks a lot of boxes for people looking for an estate home in wine country. As you can see from the photos above, it is a ranch style, single level home with an open plan living area that leads out to a very secluded, private pool area with great views. In the early spring we will have a larger home coming to market which will be a 8,900 sqft home on 20 acres, including the two bedroom guest house, and will be listed at $6,995,000.
If we look at the average price per sq ft in Shiloh Estates over the past 24 months it works out at $814 with an average purchase price of $5,064,000.
Who Are The Owners?
The homes in Mayacama have always been mainly second homes where the owners of properties in Shiloh Estates, until more recently, have been primary residents. However, this is now changing such that homes here are now increasingly being bought by second home owners. The homeowners are typically looking for an estate home with privacy in areas such as Chalk Hill Road, Santa Rosa Hills or Napa. As Shiloh Estates becomes a more popular second home destination, I am sure it will get onto the radar of more and more people in the Bay Area who are looking for an estate home up in Sonoma County.
Is Shiloh Estates Right For You?
If you love golf, want to be near Healdsburg and have a rural estate with spectacular views, Shiloh Estates checks a lot of boxes. One of the big benefits which perhaps gets overlooked are the benefits of having a rural property in a gated community. I have definiteley got clients who bought a rural property but didn't realize that they would have security concerns or would get frustrated with homeowners not keeping their homes and yards in the pristine condition that they would expect. In a community such as Shiloh, the majority of those concerns go away. The other positive side of a community such as Shiloh Estate is just that - the community. Living the rural life on 50 acres makes it hard to meet new people without really going out of your way. In somewhere like Shiloh Estates, even if you don't play golf, there is a built in community. It isn't for everyone, but I would encourage you to take a look if you are looking for a rural property at this price point in Sonoma County.