Every day in the news we hear of job losses and rising interest rates as the Fed grapples with getting inflation under control. However, as we enter the halfway point of the typically busy house selling and buying season, the Sonoma County housing market is certainly not showing many signs of strain. That being said it can be characterized very much as a market of two halves. With inventory levels down anything from 35% to over 80% depending on area within the county, the April housing market is still very much a sellers market. However, in a market which is a little more sensitive than the heady days of 2021, not all sellers are equal. Well priced, turnkey homes are still getting multiple offers and can expect to sell well over asking price, while homes with less broad appeal can sit on the market and struggle to achieve asking price.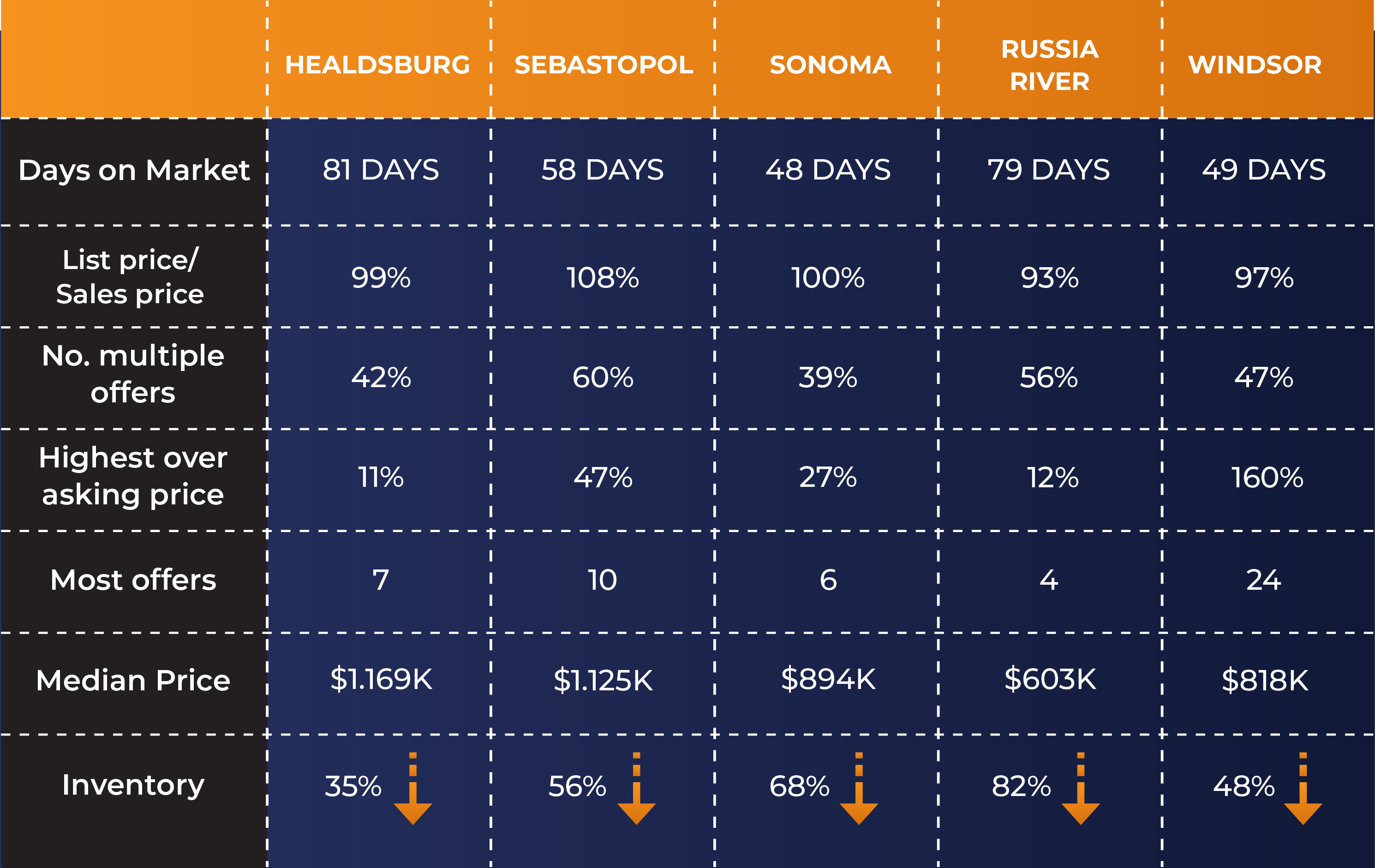 There was one property in particular that stood out last month in the crazy world of property sales was 4300-4320 Mark West Station Road. It was put on the market at $888,000 and sold for $2.31m, over 2.6 times the asking price. It was a pretty unusual property with two somewhat delapidated structures on 63 acres. I honestly have no idea what the listing agent was thinking putting it on at that price but it does show that generally the market will get a property to the price it deserves although $2m is probably a fairer value. The purchaser was Belle Summe vineyards clearly looking to expand its footprint.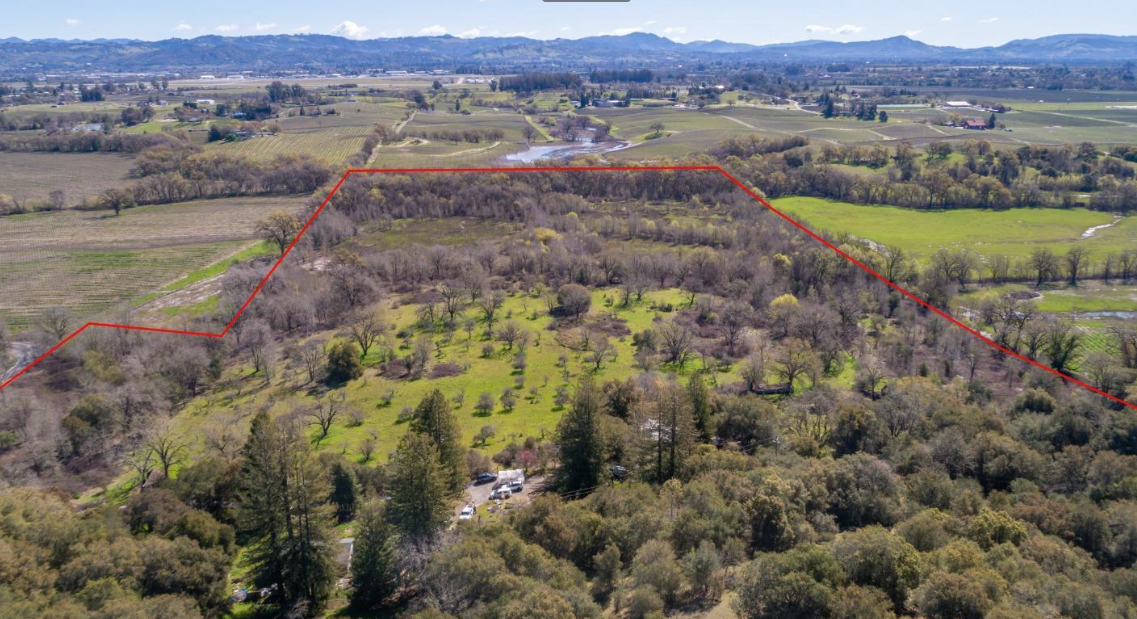 The good news is that this sale was a total outlier although as you can see from the chart below most markets are still getting multiple offers on a good proportion of properties. Aside from Mark West Station Road, Windsors highest over asking price was 9% over asking in April. As was the case during Covid, it is Sebastopol that is still attracting the most buyer demand with 60% of all sales in April attracting multiple offers with one property selling for 47% over the asking price. As we can see from the chart below, it is the unusually low inventory levels which is creating a strong demand as the relatively high number of buyers, even with the higher interest rates, compete for homes for sale. the worst hit area is Russian River with the number of homes coming on the market in April, 82% lower than the same time last year. It is a similar picture across other popular markets such as Sonoma (down 58%), Sebastopol (down 56%) and Windsor (down 48%)..
Prior to the pandemic, Sonoma and Healdsburg consistently had the highest media price of all the Sonoma County markets, however as people from the Bay area flocked to Sebastopol purchasing second homes during the pandemic, Sebastopol saw above average price gains. It has maintained its momentum maintaining a median price in April 2023 of $1.125m which is just lagging Healdsburg. If we were to look at the average price, Sebastopol would be significantly lower then both Sonoma and Healdsburg have many more properties costing upwards of $5m.
How is the Healdsburg Market Performing?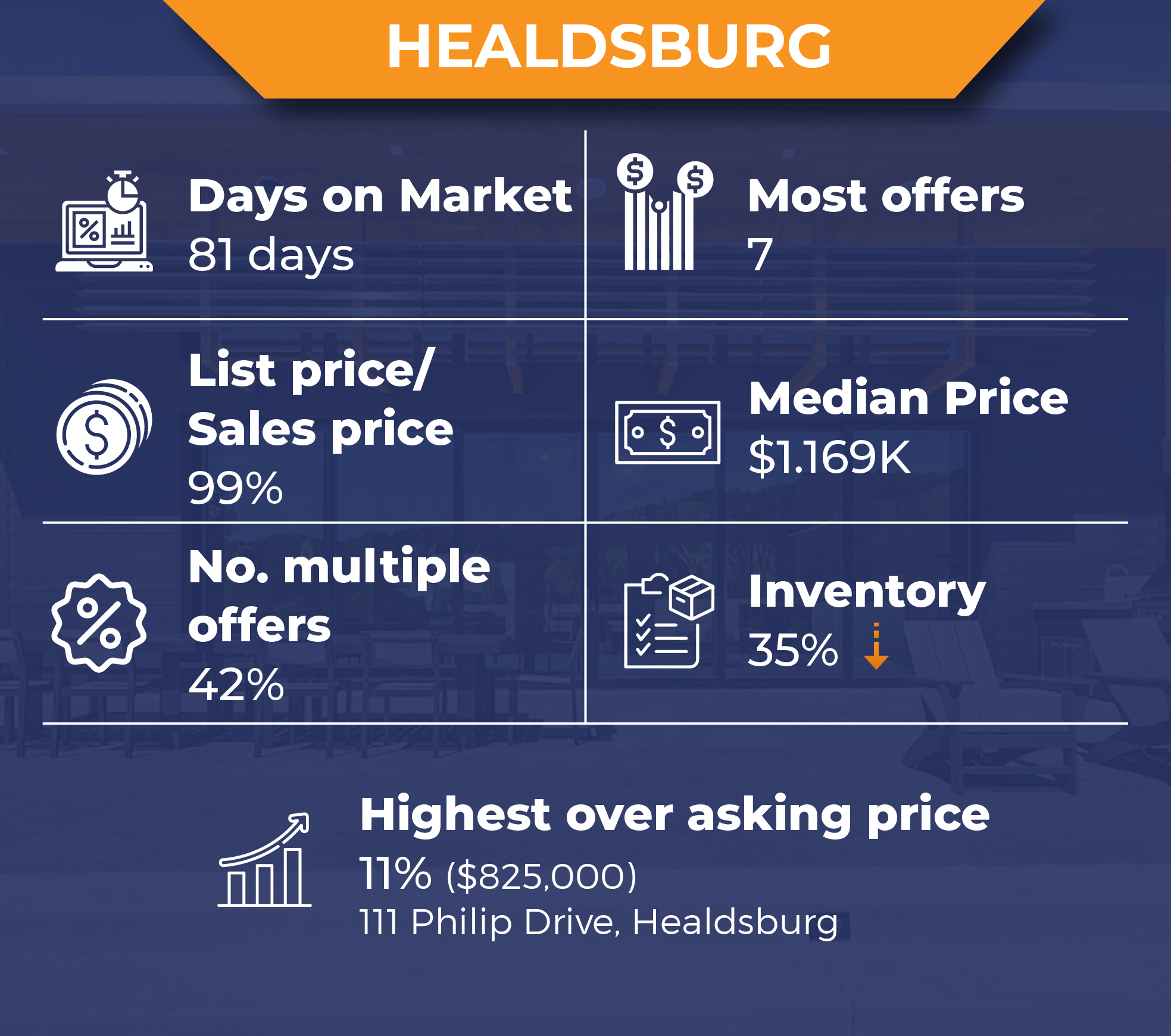 As with a lot of the markets, it is definitely a mixed bag. Certainly in the sub $1m market, Healdsburg is competitive with more than one offer on the majority of properties. However, overall, the number of properties getting multiple offers is running at 42% with the average sale price to asking price of just below asking at 99%. Unlike some markets, prices are not going way over asking even for the most competitive properties, 111 Phillip Drive got the most number of offers with the highest offer being $830,000 on a home with a list of $743,00 (a price that was clearly designed to drive multiple offers). Even with the number of homes getting multiple offers there are still a lot of homes that are sitting on the market for nearly 60 days before getting an offer as you can see from the average days on market of 81 days.
How is the Sebastopol Market Performing?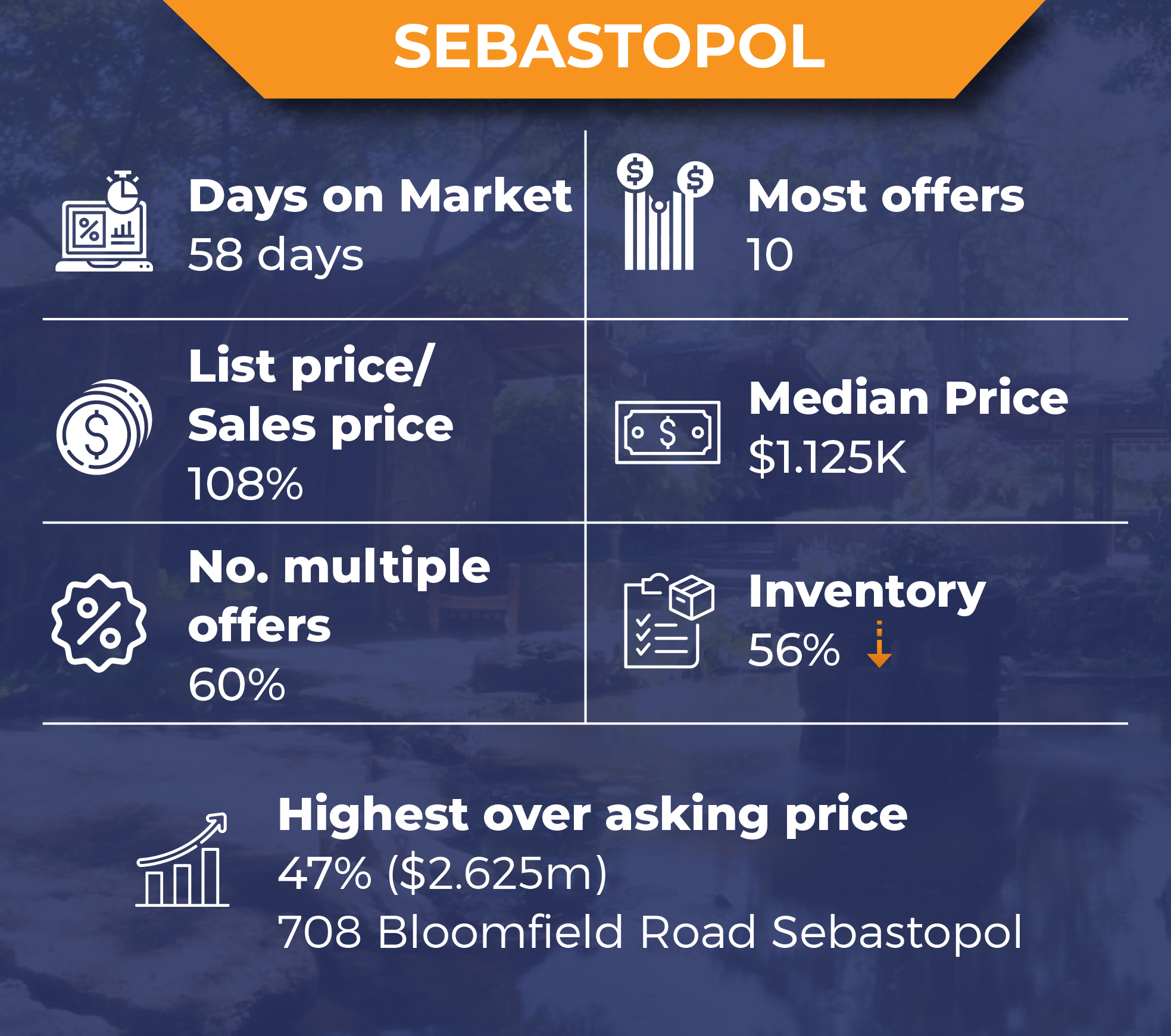 With 60% all home sales in April attracting multiple offers it is very much a sellers market in Sebastopol with most homes getting an offer within the first 30 days. As can be seen from a sales price to list price of 108%, if you are making an offer on any home that is turnkey or which checks the majority of boxes for the typical Sebastopol buyer you can expect to pay over asking price. The property that attracted 10 offers and a purchase price 47% over the asking price was 708 Bloomfield Road, was listed for $1.8m and it sold for $2.35m. The buyer of this single level, turnkey property was a primary, cash home buyer.
How is the Sonoma Market Performing?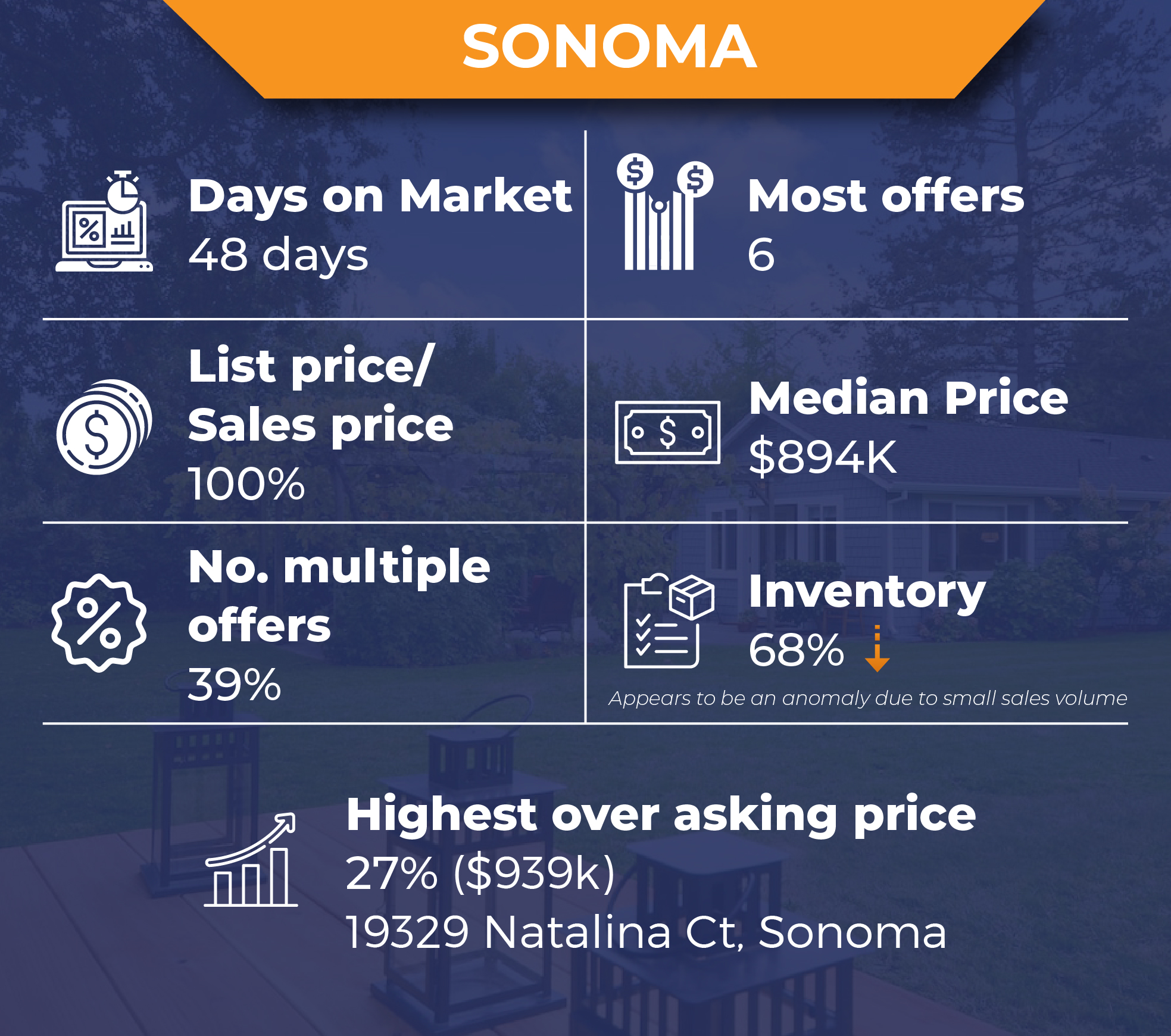 Of all the markets in Sonoma County, the Sonoma one saw the lowest number of days on market with properties, on average, closing within 48 days of being listed. This would indicate with an average 30 day close that properties are getting an offer after 3 weekends of showings. The median price data of $894k is a little misleading because we are looking at a relative small number of transactions. The median price for Sonoma, is typically very similar to that of Healdsburg in the $1.15m level. As with all the markets, Sonoma is struggling with a 68% reduction in the number of properties coming on the market.
How is the Russian River Market Performing?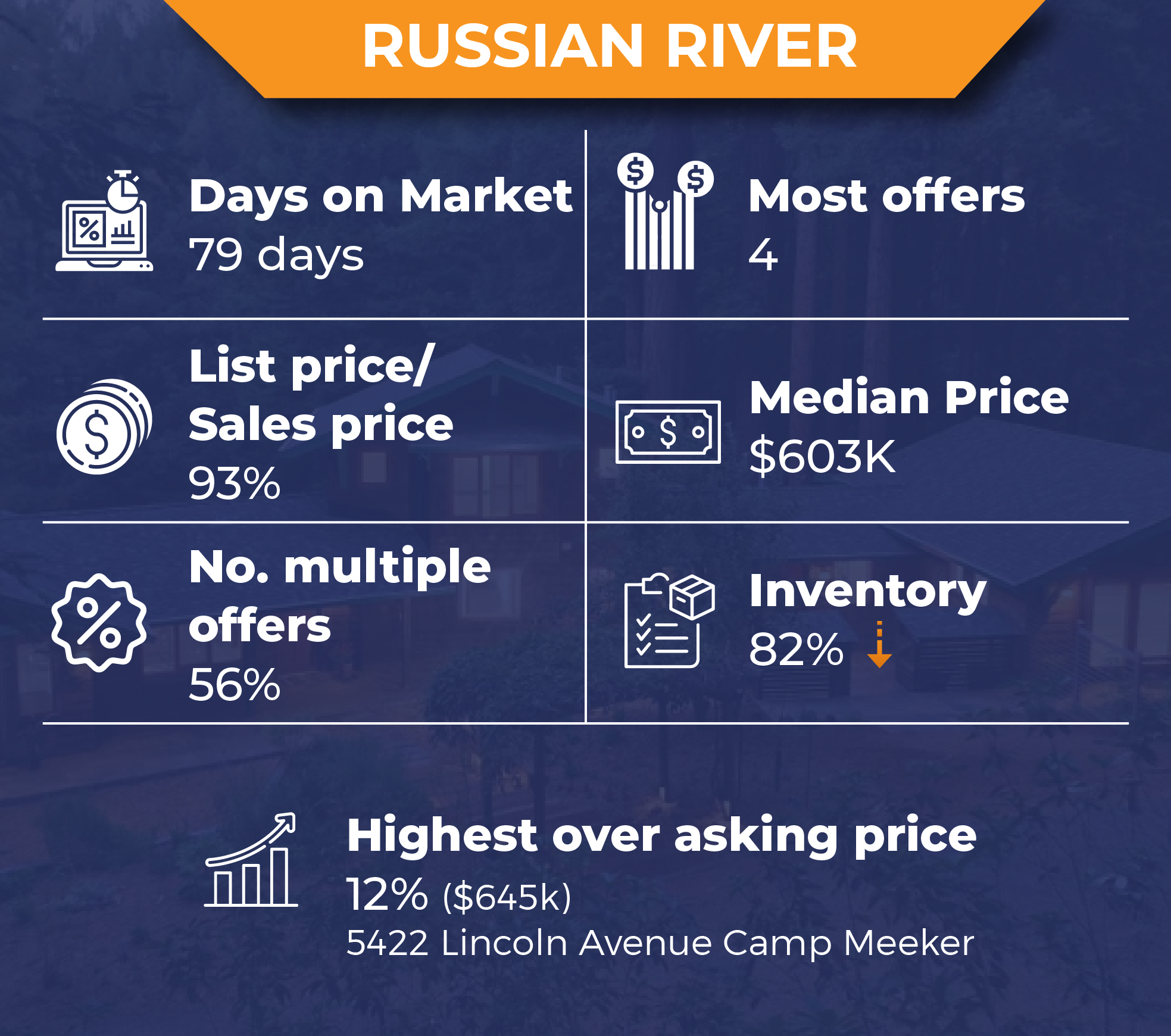 This market is an interesting one because it is the market that will be most impacted by the changes in the vacation rental ordinance. As we can see from the chart the inventory levels are down 82% compared to the same month last year. Whether that is because people were waiting for the moratorium to end or because they feel the market will not be a strong for their home, it is hard to say. It is also interesting to note that the average sale price to list price is the lowest of any market at 93%. That being said over half the properties that are coming to market are getting multiple offers. I know I closed a couple of deals in April to people who were looking to vacation rent once the moratorium ends so it was interesting to see that the home that did sell for the most over asking in Camp Meeker, would qualify for a vacation rental permit.
How is the Windsor Market Performing?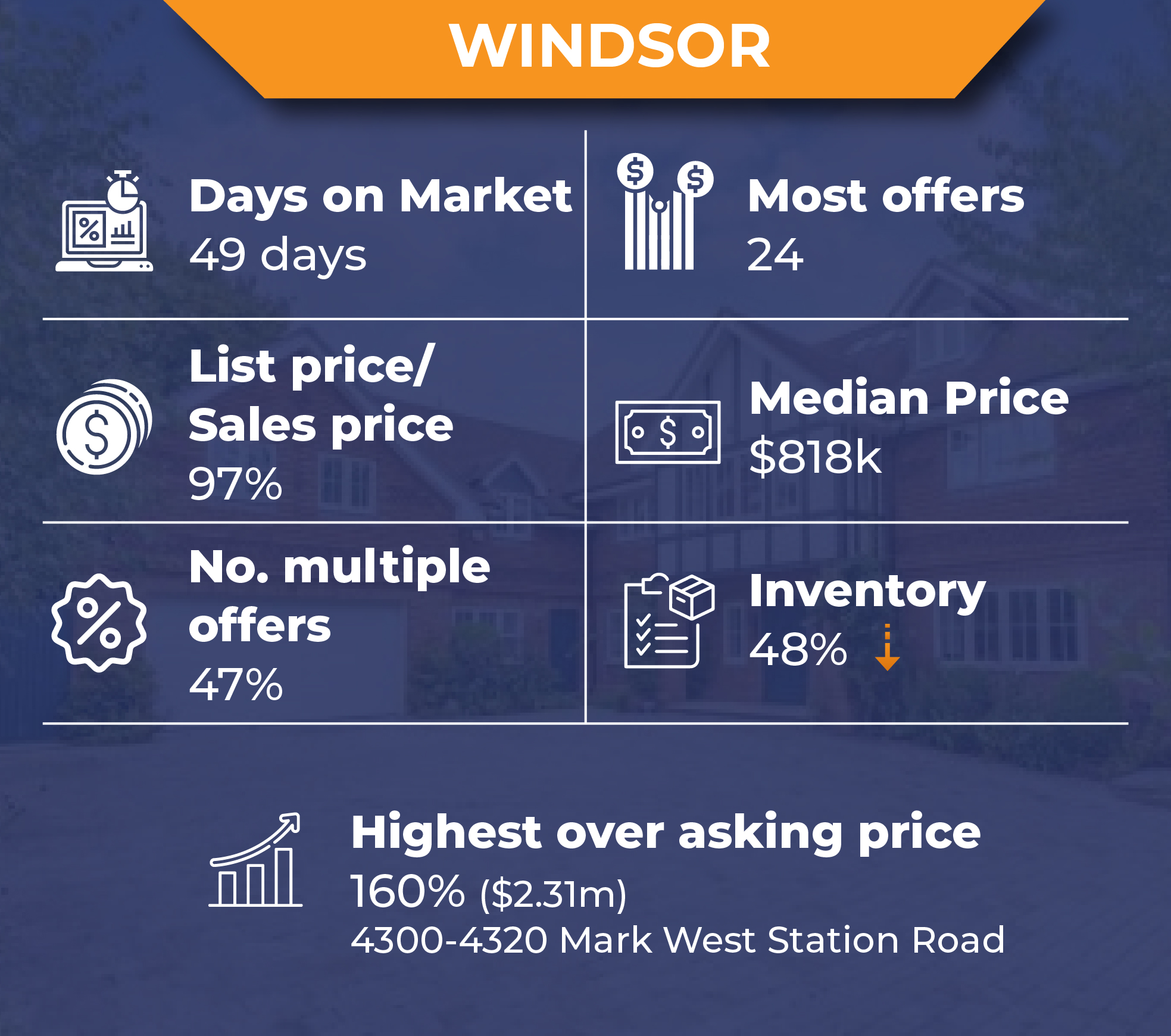 Apart from the crazy one off on Mark West Station Road, I would say Windsor was probably performing most inline with the rest of the county. Homes are generally selling for a little bit lower than asking price with nearly half of homes getting multiple offers and with inventory levels pretty much half what they were this time last year. The home that sold for the most over asking price (ager Mark West Station Road) was 825 Stellar Lane which sold for $710k after being listed for $649k.
In Summary
Many sellers are not motivated to move right now due to the current higher interest rates and the fact their mortgage is likely below 4%. If we think about it, if they want to move to a smaller home they will likely be paying the same amount for less house. If they are moving to a bigger home it may be prohibitively expensive. However, if you are in a position to move, despite what you hear on the news, it is actually a great sellers market for a home that is either turnkey or does not have anything that might put the average buyer off. that being said, as a seller you need to be aware that prices have fallen off 5% or so from the market of 2021 or early 2022 so expectation on price need to be adjusted accordingly. That being said, for the right property and the right price, you may well end up making up the different through getting multiple offers.