When it comes to vacation rentals, it feels like as one door opens, another one closes. Just as the moratorium in Sonoma County lifted earlier in May, the towns of Santa Rosa and Windsor put down the shutters. The good news is that BruingtonHargreaves has now launched a new web site that contains only properties for sale in Sonoma County that are vacation rentable. The site is exclusively for the use of BruingtonHargreaves clients and is updated every day with the latest eligible listings.
Given cities like Healdsburg, Sebastopol and Sonoma have already banned non-hosted vacation rentals within the city limits, and now with Windsor and Santa Rosa banning any new vacation rentals within the city, anyone looking to buy a property and establish it as a vacation rental really has no option but to focus on Sonoma County unincorporated. The rare exception is for properties that have a commercial zoning that are within some of the key cities, but these are hard to find and normally get snapped up by insiders. This is why we felt it is time to set up a dedicated website to make it easier for our clients to identify a qualifying property on the basis that it is harder to find one but then the rewards are bigger for those that are successful.
Since the beginning of May there have been 146 properties that have come up for sale across the county which would qualify for a vacation rental permit. If you look at the chart below you can see that the biggest number are in the greater Santa Rosa area (outside of city limits) which includes north east Santa Rosa in the Mark West Spring Road area as well as Bennett Velley in the south west of Santa Rosa as well as the area west of the 101, out of Santa Rosa city limits. The second most common area is in Sebastopol where there have been 26 properties come up for sale. This is because Sebastopol has a lot of properties that have the correct zoning coupled with the fact that there are no exclusion or cap areas in this part of the county. The other area that still has lots of properties for sale that qualify for a vacation rental permit is the Russian River area. Since the beginning of May there have been 5 properties in Cazadero, 7 in Forestville, 7 in Guerneville and 5 in Occidental. Surprisingly there have been 12 properties in the Healdsburg and Geyserville area that have come on the market. That being said, the greater Healdsburg/Geyserville covers an area of over over 200 square miles so it doesn't meant that these properties are anywhere near the city of Healdsburg.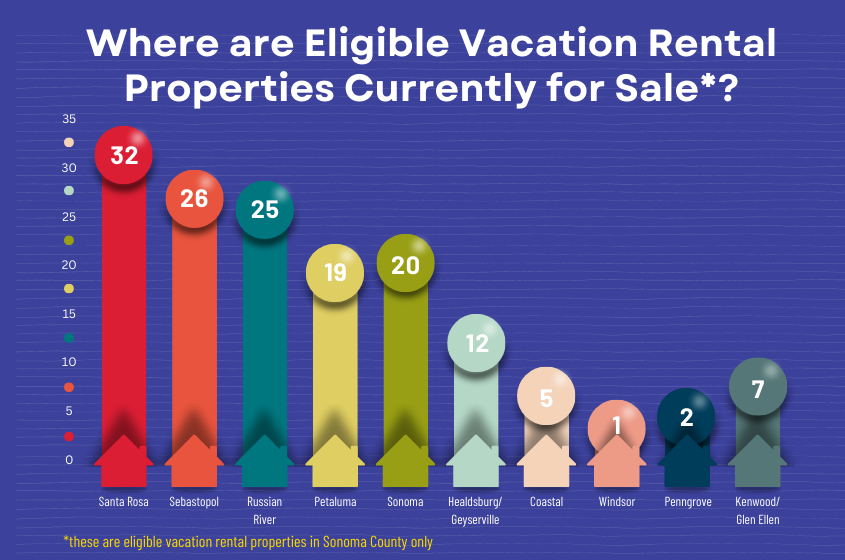 If we look at the price points of these properties we can see from the chart below that 36 properties, or 25%, are below $1m, 64 properties or 43% are between $1m and $2m and the remainder are over $2m.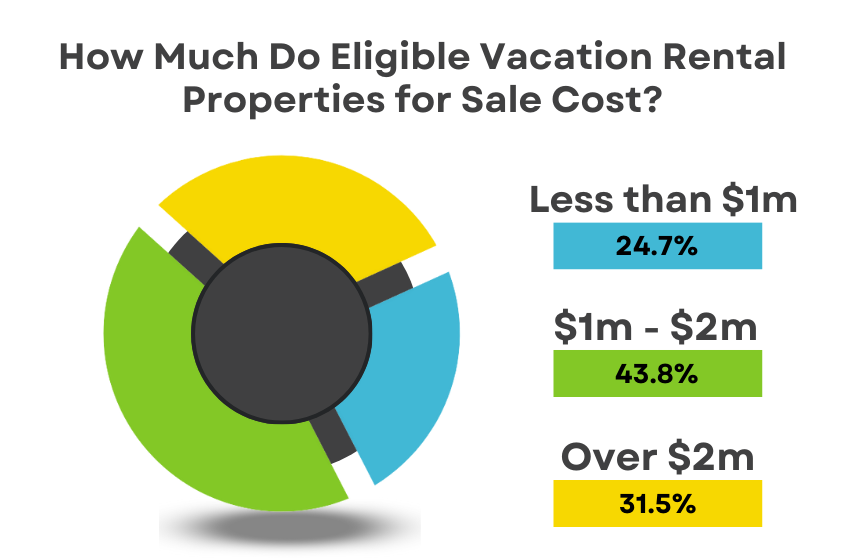 I talk to clients everyday about the best places to look for vacation rentals and so I know how hard it is for people to really understand all the rules and work out which properties will qualify and which ones will not. Even though we are doing this everyday it is still hard to look at a map and really determine if a property will qualify so we decided to create a list of qualifying properties for our own use. However, it quickly became apparent that there was a real value added service that we can provide to our clients which was to share with our clients, what was a list to start with and quickly evolved to be a website, In this blog post we cover the best areas to look for a vacation rental but it is one thing knowing where the best areas are and another thing being able to find a property in that area. Similarly in the video below, we highlight the best areas but with the new website hopefully it helps people identify some eligible options.
There are a few requirements for people to be able use the website but the main requirement is that they are on of our clients and they are happy to sign a buyers agreement if asked to do. If you are interested in getting access to the web site complete this form
Another resource that is helpful for people looking for a vacation rental is to see the location of current vacation rental properties but also to see on a map where all the exclusion zones are located. Below is a map of the county showing blue dots denoting where existing vacation rentals are. For example in the map below you can see the immediate area around Sonoma where the dotted red lines represent exclusion zones and the blue dots highlight existing vacation rental permits. As you can see there are lots of blue dots in the exclusion zones because these are all permits that existed prior to the exclusion zone and so are grandfathered in.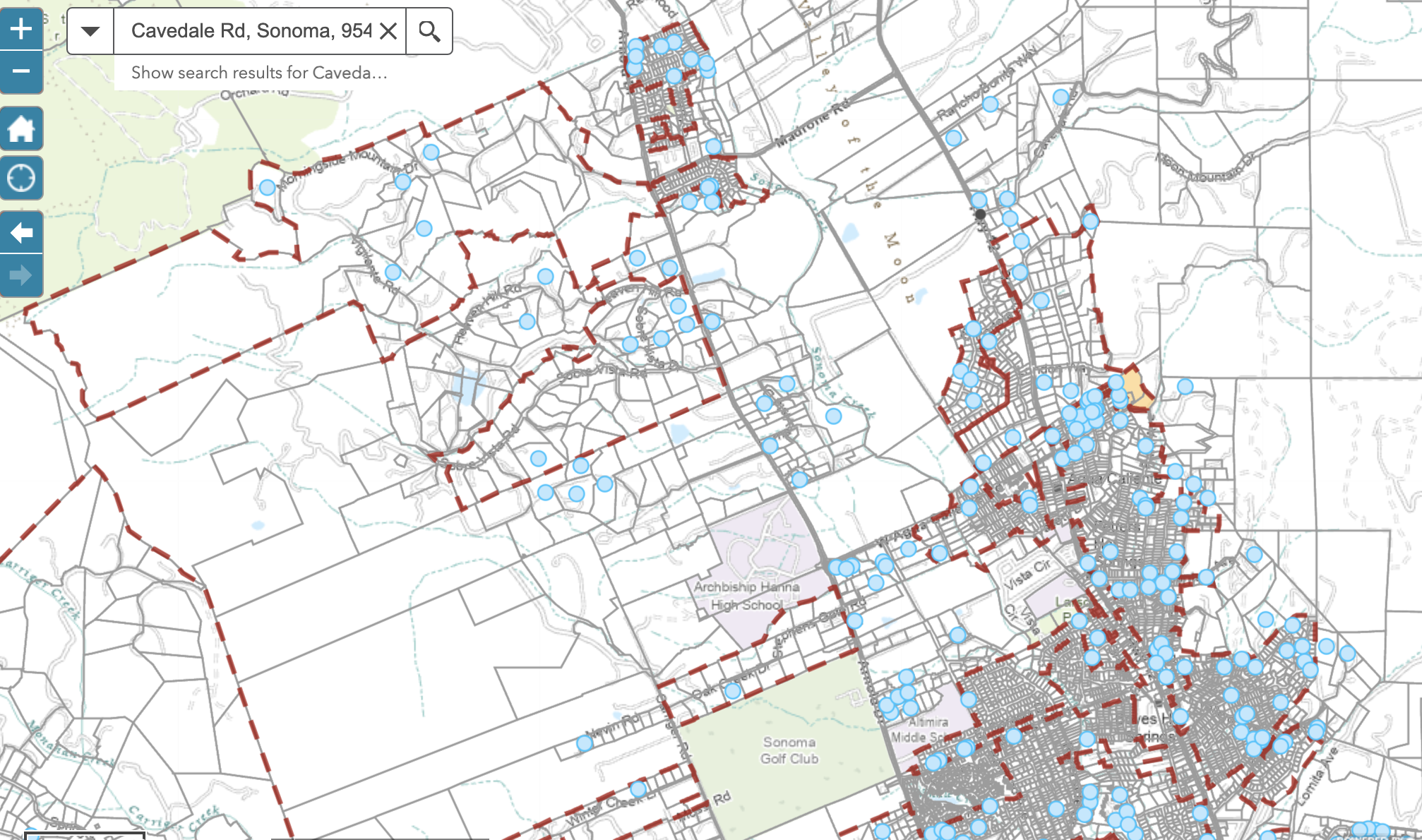 When I first have a conversation with people they will often start off the conversation saying "I heard you can't really get a vacation rental in Sonoma County now can you?" I find it interesting that that is the perception but then it is because the ant-vacation rental lobby is much stronger than the pro-lobby. This is true in any debate that raises emotions. It's always the squeaky wheel which is loudest. that being said, I totally understand and agree with many of the changes that have been made. The bit that I object to is the lack of any overarching strategy by the county but rather a whole series of somewhat botched and reactive rules that have been laid on top of one another over time. The good news is that there are still a lot of great options if you want to purchase a vacation rental, as can be seen from the over 50 homes that are currently available on my website. The irony is that buyers who go out of their way to identify the great eligible properties will likely now make more money than ever because there will be few opportunities for premium vacation rentals in the prime areas.