2020 Sonoma County Housing Market Highlights:
Sales volume growth across the county was 9.4%

Sebastopol attracted 4 out of 5 of the properties that were sold for most over asking price

Sebastopol overtakes Sonoma and Healdsburg in media house price sales value

27% of all homes purchased were none-owner occupied

The Coast and the Russian River were the destinations with the highest percentage of second home sales

The most expensive property sold for $14.75m, 19257 Admiral Lane, Sonoma
See a full infographic summarizing Sonoma County and one summarizing the key markets
2020 was unlike any other year in the Sonoma County housing market. The year started off as strong as any recent markets with a strong sales volume growth through January and February. As the graph below shows, as the concerns of the pandemic picked up with Shelter-in-Place coming into effect on March 17th making it hard to actually show houses to clients, sales through April and into May fell sharply to record lows. This coincides with 30-45 days after Shelter-in-Place came into place which represents the typical escrow period). As soon as Shelter-in-Place was lifted in Sonoma County sales went from historic lows to historic highs over the course of the summer. The pent up demand, from people looking to leave the city, drove sales to a peak in July. Over the following months, sales volumes reduced but still stayed at record levels, only surpassed by sales in November 2017 which peaked as fire victims of the Tubbs fire purchased replacement homes.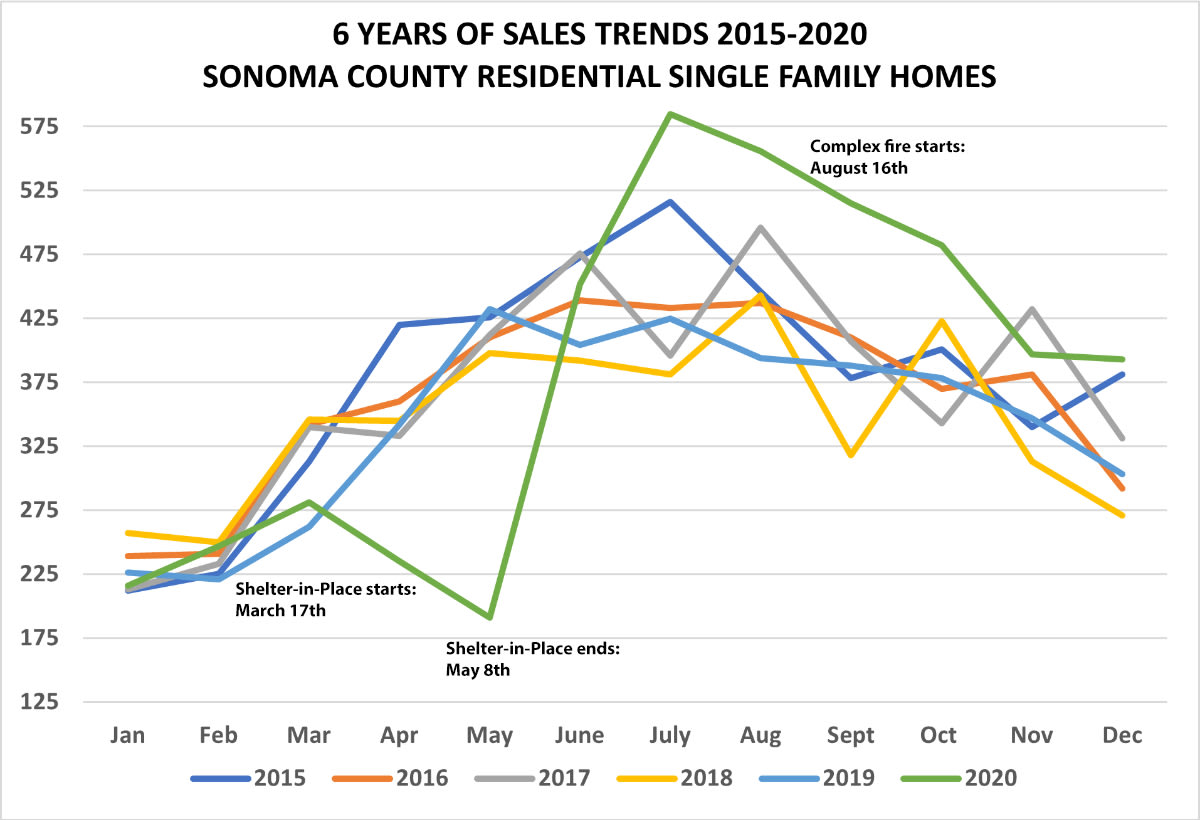 Overall sales volumes of residential properties was up 9.4%, median prices were up 8% to $675,000 and the average price sold was up 11% to $833,000.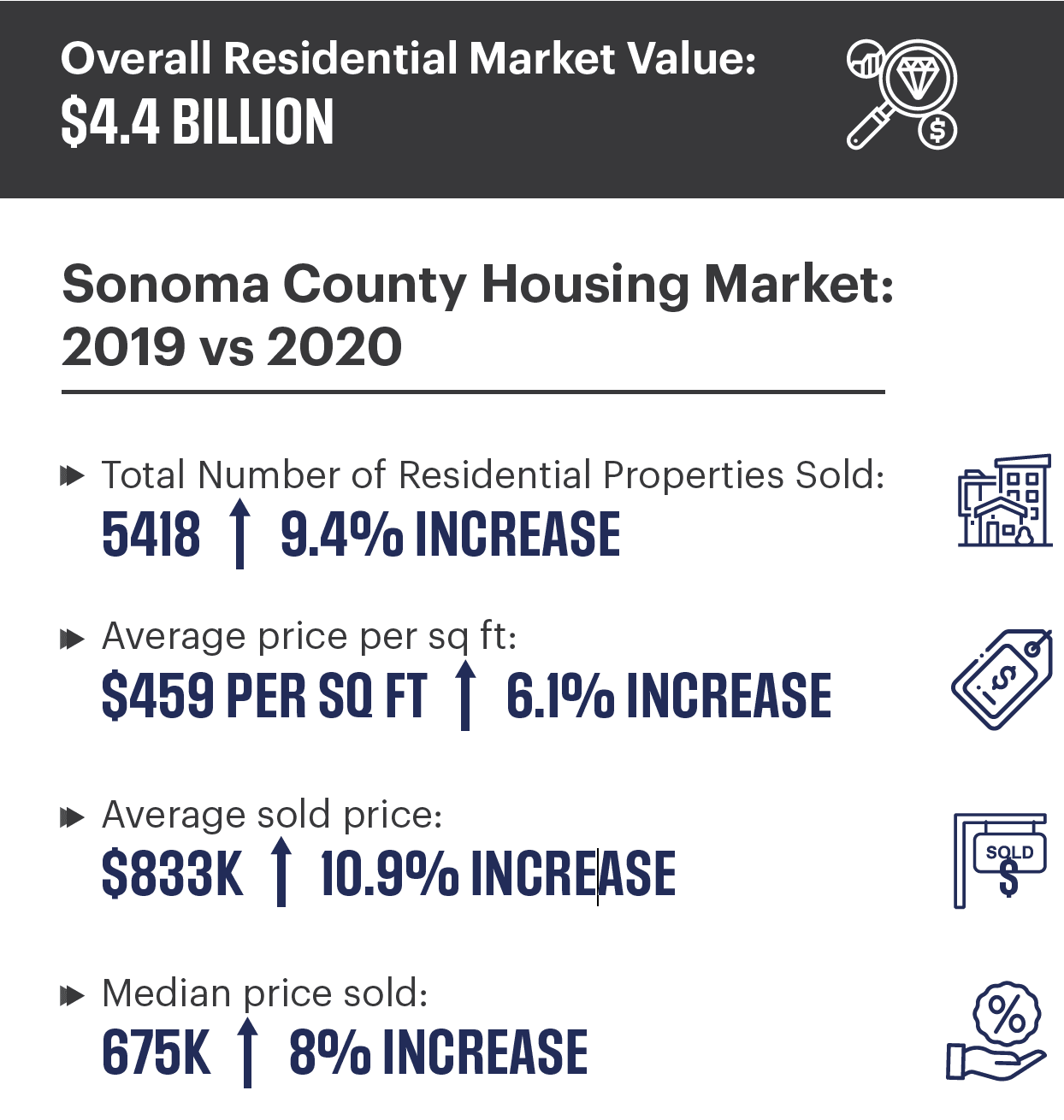 The largest market by value was Santa Rosa ($1.32bn) followed but Sonoma ($550m), Petaluma ($522m) followed by Kenwood ($345m) and with Sebastopol and Healdsburg in joint fifth place valued at $284m.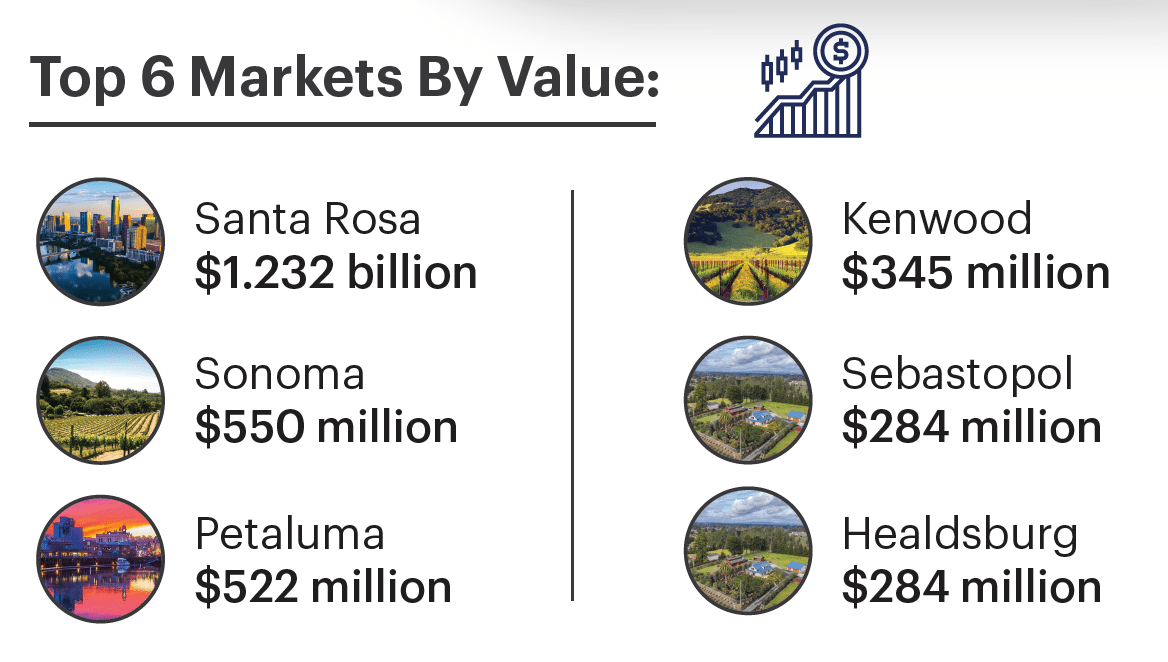 As people from the Bay Area expanded their home and second homes searches right across the county, it was Sebastopol, Russian River and the Coast that were the hottest markets seeing the highest offers over asking and purchase prices consistently higher than asking prices. While the increase in purchase volume was undoubtedly down to the pandemic, perhaps it is the lower fire risk of the western parts of the county that drove the sales of the highest percentage of homes that were not owner occupied

For the first time, the average price of property in Sebastopol was over $1m with sales volumes increasing by 19% over 2019 to 323 sales. Four out of the five million dollar properties with the highest sales price over list price were in Sebastopol with 969 Sexton Road and 11840 Peaks Pike Road selling for 148% and 142% over asking price. In third place was 1412 Highland Circle, Healdsburg, a foreclosure, selling for $1.342m, $134% above its list price.

At $950,000, Sebastopol now has a higher median price value than Sonoma ($825,000) and Healdsburg ($850,000). The places with the highest median hose price values in 2020, were Penngrove ($1.19m), Bodega Bay ($1.12m) and Glen Ellen ($1.12m)

The Russian River towns of Rio Nido, Monte Rio, Graton and Guerneville were the towns where properties were consistently sold for more than asking price. Average sales price to list price was also, on average, over asking in Sebastopol.

While many people from the Bay Area purchased primary residences in Sonoma County for the first time, 27 percent of all homes purchased were none owner occupied indicating they are most likely either investment properties or secondary residences. In 2020, the most popular areas for second homes were on the coast with the top 3 areas for purchases of none owner occupied homes being: Sea Ranch where 90% of all homes were none owner occupied, Jenner (79%) and Bodega Bay (78%). Monte Rio in the Russian River and Occidental had 63% and 57% respectively of purchases being none owner occupied. By comparison, 27% of Sales in Sebastopol were none owner occupied and 39% in Healdsburg.
The most expensive home purchased in 2020 was 19257 Admiral Cooke Lane, Sonoma for its list price of $14.75m selling in just 44 days. The second most expensive property was 6255 Dry Creek Road, Healdsburg for $10.1m and the third was 5282 Sharp Road, Calistoga for $9.6m