Even as we enter spring, with frost on the ground in the mornings, the memories of 2020 and the worst fire season on record, on top of a global pandemic, are still a very recent memory. The scramble to go down to home depot to buy a generator in the event of the inevitable PSP power shutoffs from PG&E is all too familiar. It was about June time last year that as part of a remodel at our home in downtown Healdsburg, that I took the plunge and decided to invest in solar and a battery back up system. I wrote a blog post as I weighed up the options between installing a generator and putting in a battery back up system. I decided to take the plunge and install solar and a battery backup.
Unfortunately, although I had to put a new roof on my house, Tesla didn't come back to me in time for me to be able to sue the solar roof tiles which would have been my preferred option (if you need a new roof, this is definitely the way to go). I should also say at the outset, my motivation for installing solar was driven by wanting to be environmentally conscious not by economic value. Although Healdsburg does have it's own utility company so is not impacted by PG&E PSPs, it does have the occasional power outage so once I have decided to have solar, it made sense to get a battery to protect against power outages but also to extract the most value from solar.
The System
Initially I got a quote from Infinity Energy for a 8.71 KW LG system with a forecast annual output of 12,352 kWh or 34 kWh per day couple with a single 13.5KW Tesla Powerwall 2 battery for a total cost of $47,026 without any of the tax credits. After terrible service from Infinity Energy, half way through and having paid a deposit, I decided to go direct to Tesla. It turned out to be a great decision. The process of ordering through the customer portal, reviewing designs, uploading documents couldn't have been easier. My installation was delayed because we were undertaking a huge remodel and what I hadn't realized is that Tesla, or any other provider, will not install solar on an active building site. (I am still not sure if this was related to Covid or not).
The system I ended up purchasing from Tesla was a 8.16 kW Tesla solar panel system estimated to produce 10,771 kWh per year with two 13.5kW Powerwalls. Because we had never lived in the house, we didn't know what our likely power consumption would be so our system was estimated based on a review of all the appliances we use, our air conditioning system and our overall usage patterns. The total cost of the system was $32,000 with a federal tax credit of just over $12,000 and an additional PG&E tax credit (to be determined)
The Installation
While all the designs are done remotely using mapping software, prior to the installation, a Tesla surveyor comes out to the site to look at where the panels will be situated, where the inverter will go, where the batteries go and how it all connects into the main panel. Fortunately our contractor made sure that all the necessary conduits were there to run the solar lines under the drive and get them to the main panel. If you are retrofitting solar to an existing house without a remodel, I can imagine it being quite a difficult process that might end up with unsightly cables running on the outside of the house.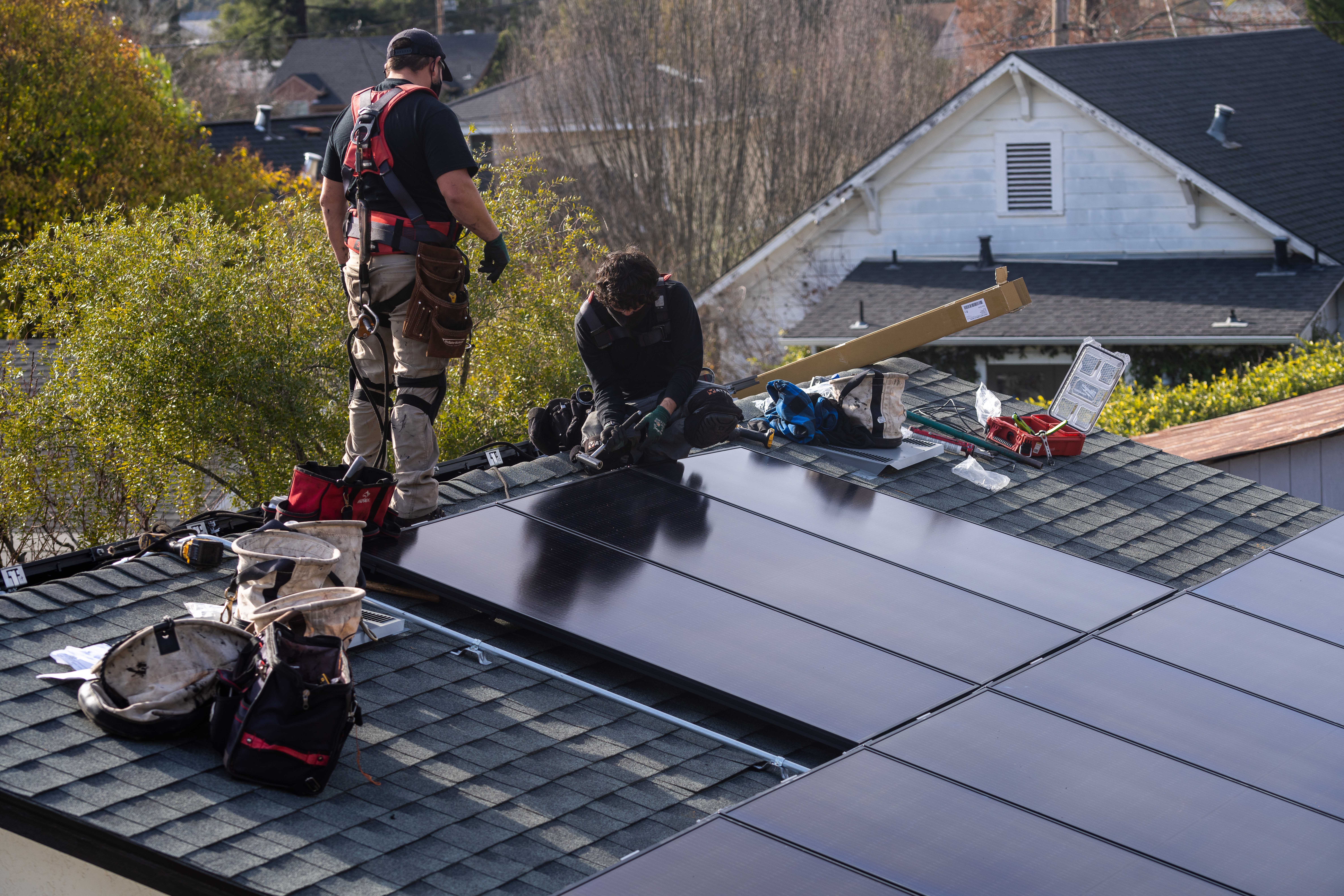 Once it is time to install the system (about 6 weeks later), it is like a military operation. Even during Shelter in Place, there must have been ten contractors all working to install the panels, upgrade the panels, install the inverter and do all the heavy duty electrical work that needs to be completed. They installed the entire system in a day.
All that remained was for the city to come and give the OK to connect it into grid and change out the meter so that we start to get credit for sending power back to the grid. As it happens Tesla actually turned our system on so we could start using it straight away, which I am not sure they were meant to do!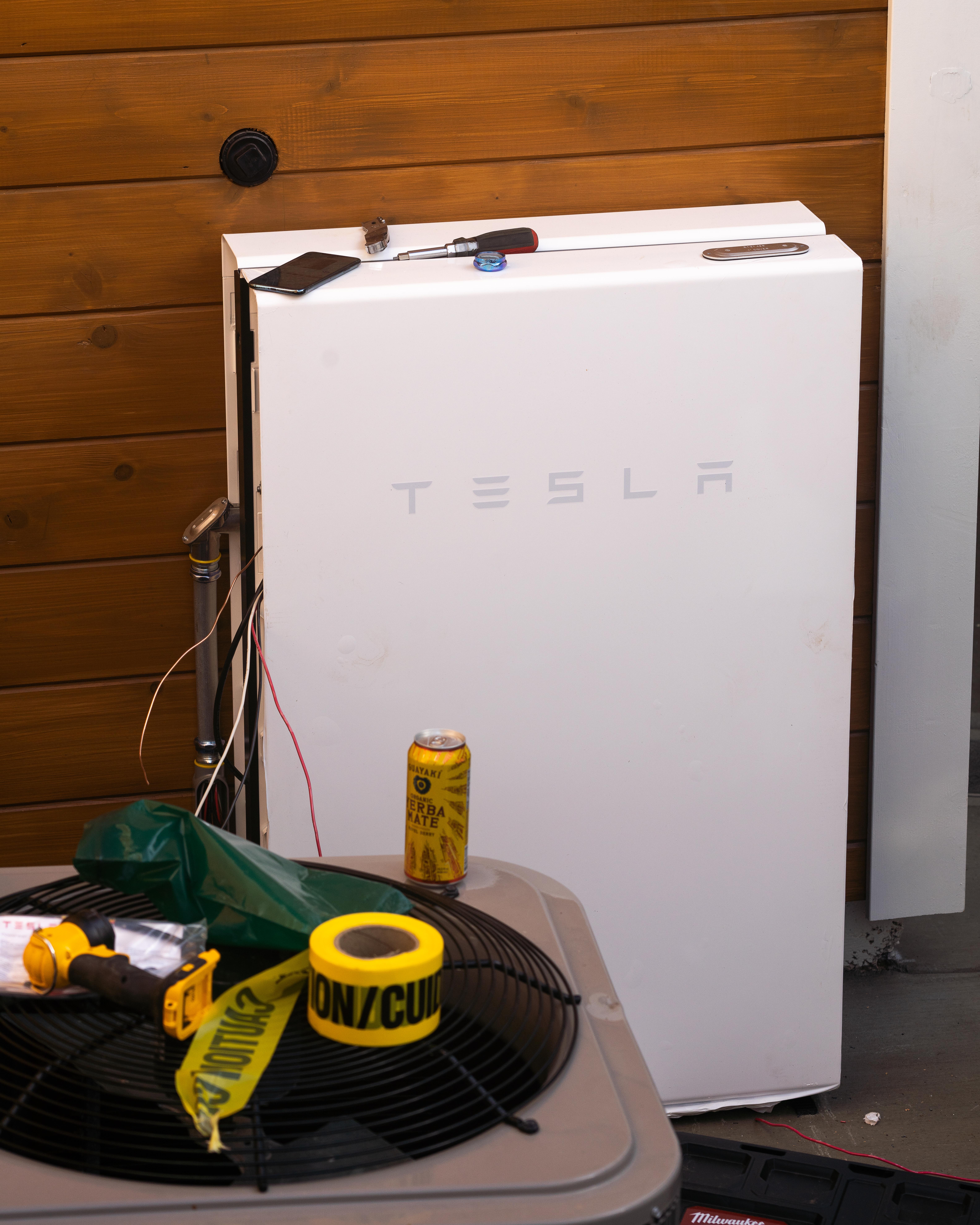 Back-Up Strategy
As part of setting up the overall system we had to make some decisions about what we would choose to back up in the event of a power outage. Clearly the first things to back up are the refrigerator and freezer. We made the decision not to back up the air conditioning if there is a power outage because of the high demand this would have on our overall system. We felt it was more important to keep the lights on than to stay cool in the event of an outage. I also decided not not back up my car because at the time I felt that my Tesla would use a lot of power. However the one thing I have learnt is that it uses surprisingly little power to charge it so that is something I may change down the line.
How Much Power Do We Generate?
I am not sure what I was expecting in terms of our energy generation and usage but I think because it is winter, my expectations were pretty low because we have a lot of overcast days, rainy days and not that many days of blazing sunshine. However, I am blown away by how much we generate even when it is cloudy.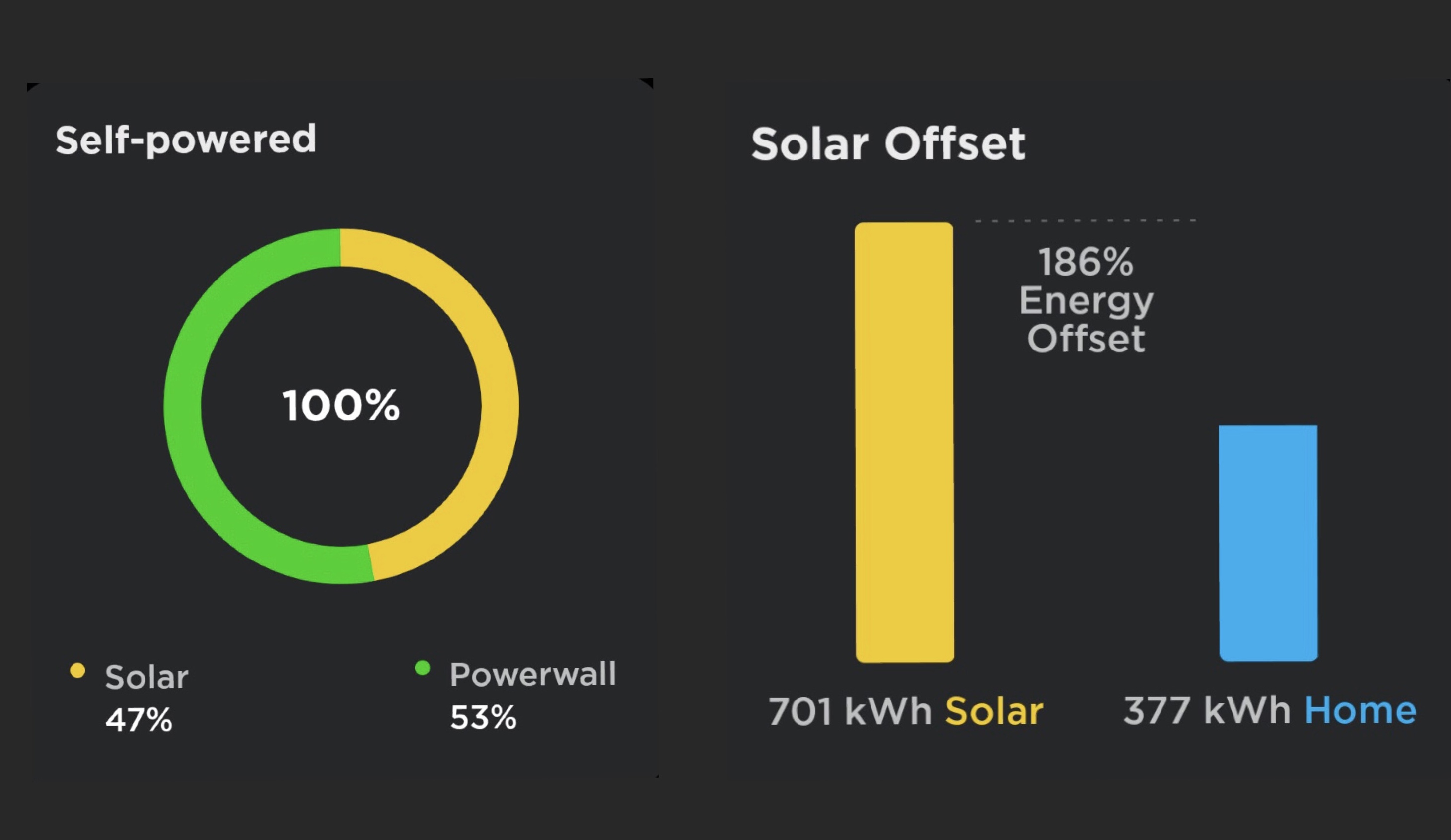 My first full month was the month of February which is probably going to be one of the worst months of the year along with Jan or March. Over the course of the month the solar generated 701 kWh compared to the 377 kWh we used. As can be seen from the chart below, 41% of the solar energy generated was sent back to the grid.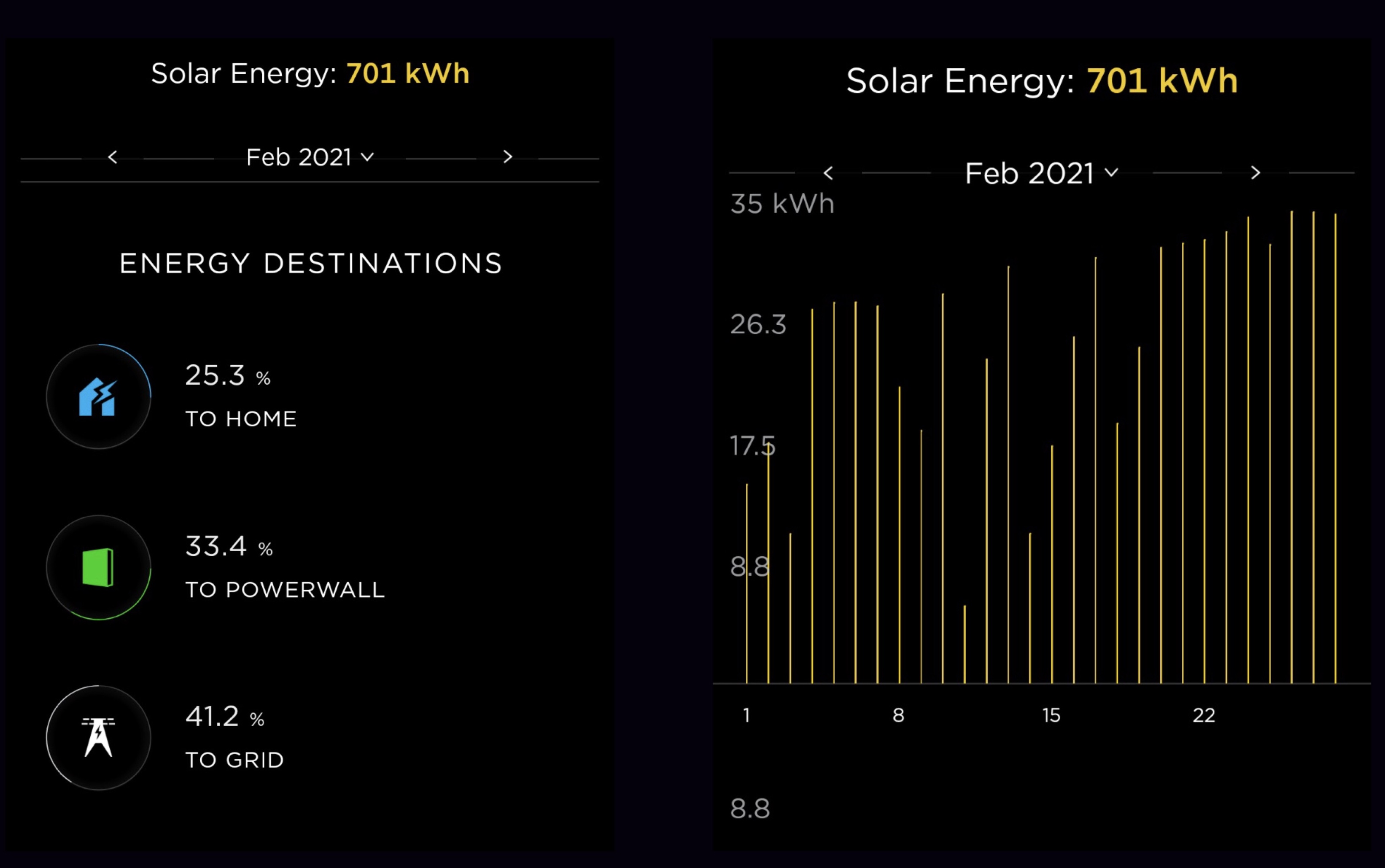 When we look at the daily generation of solar, on our lowest day of solar we generated 5.6kWh on a day when it was raining pretty much all day. Bearing in mind we used an average of 13kWh per day over the course of the month, there were only 3 days during the month when we generated less than we used. On these days the PowerWall provided the difference as well as powering the house through the night.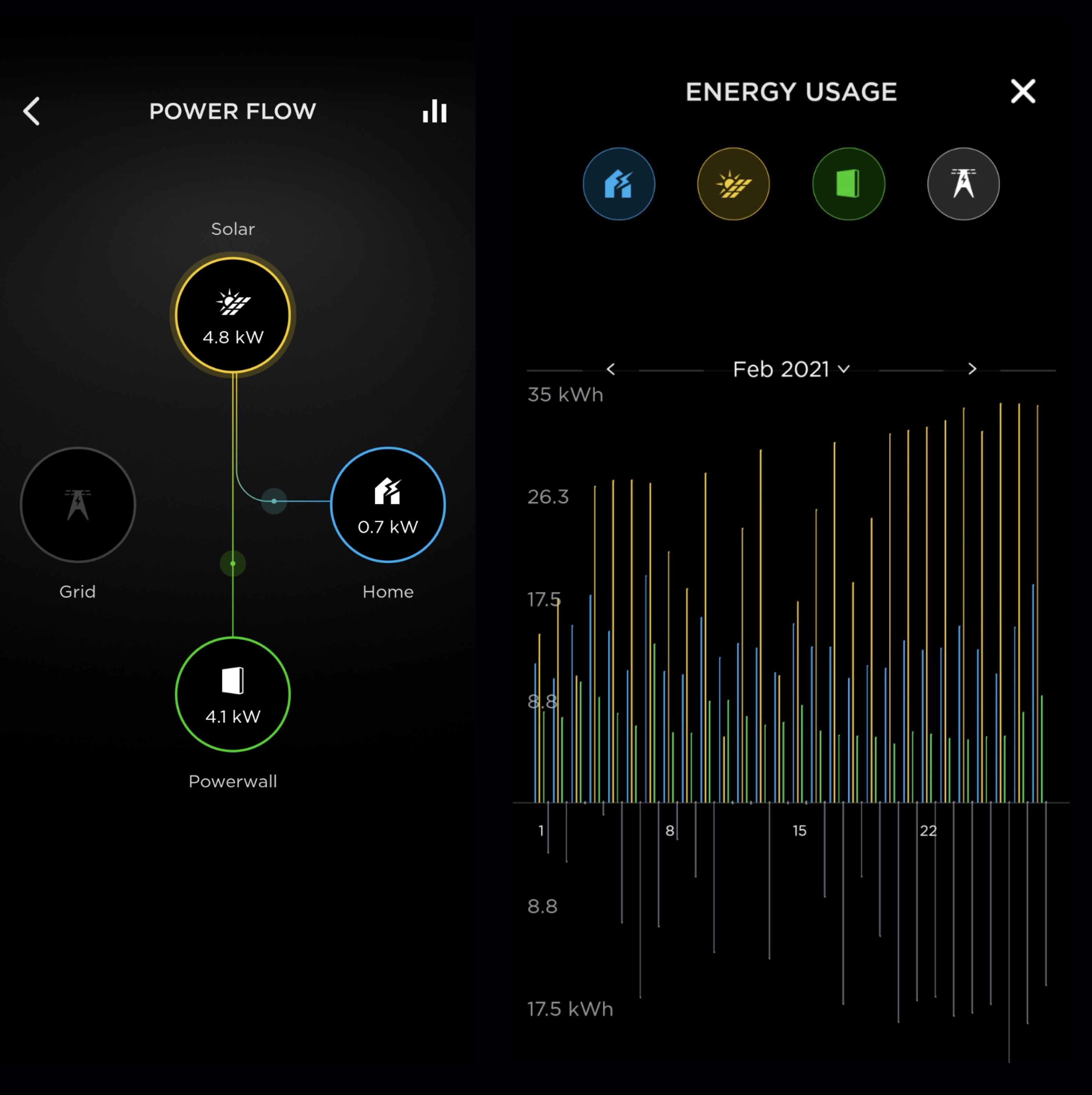 One the the great things with the Tesla app is that it gives you a visual display of where the power is going at any point in time. It just feels good to be able to look at all the power being captured throughout the day by the battery and also sent back to the grid (earning us money!). The app also makes it easy to set how much of the battery power you want to keep in reserve in the event of a power outage. At the moment we have this set to 10% although our battery very rarely drops below 50% charged. Once we get to fire season, or there is going to be a high wind event we would definitely make sure that we set our battery threshold much higher.
Free Miles
It may sound stupid to say, but one of the things I am most surprised about is that even during winter, we can easily generate enough to charge my Tesla, power the house, keep the batteries fully charged and also send power back to the grid. I didn't expect to be able to run my car entirely from Solar power through the winter, so this a real bonus given the miles I do as a realtor! If we wanted to get another electric car, I would feel pretty confident we could fully power that as well.
In Summary
I love it! Yes it is quite expensive but the idea that I can run entirely off solar during my first full month, in the middle of winter, is awesome. As I said at the start, the biggest driver for me was environmental, not cost savings, so it has definitely been a huge win on that front. With my realtor hat on, even if we end up selling our newly remodeled house in a couple of years, I know for a fact that the target buyer of a tech-enabled house (more on that in another blog post) in downtown Healdsburg with the risks of power outages will place significant value on being able to run the house from self generated solar. From my point of view, it has also been an interesting experiment to understand how feasible it would be to build/live in a house in a much more rural area which is totally off the grid.
If you are interested in looking into Solar in more detail and order a Tesla system, here is a referral affiliate link